WTM London 2015- Conference Guide for Bloggers
Did you know there will be more than 50,000 travel professionals attending WTM London 2015? With crowds that big, you need a strategy. And you can start planning now!
I know this because last year I went to WTM London for four days and was so grateful to have tips about the travel conference from my friend Jess who blogs at Love and London.
Just days before the conference, I contacted Jess who had been to WTM London 2013. She wrote a post on her experience in an effort to alleviate last minute blogger breakdowns like I was having. In the spirit of sharing, I took extensive notes with the intention of paying it forward to you too.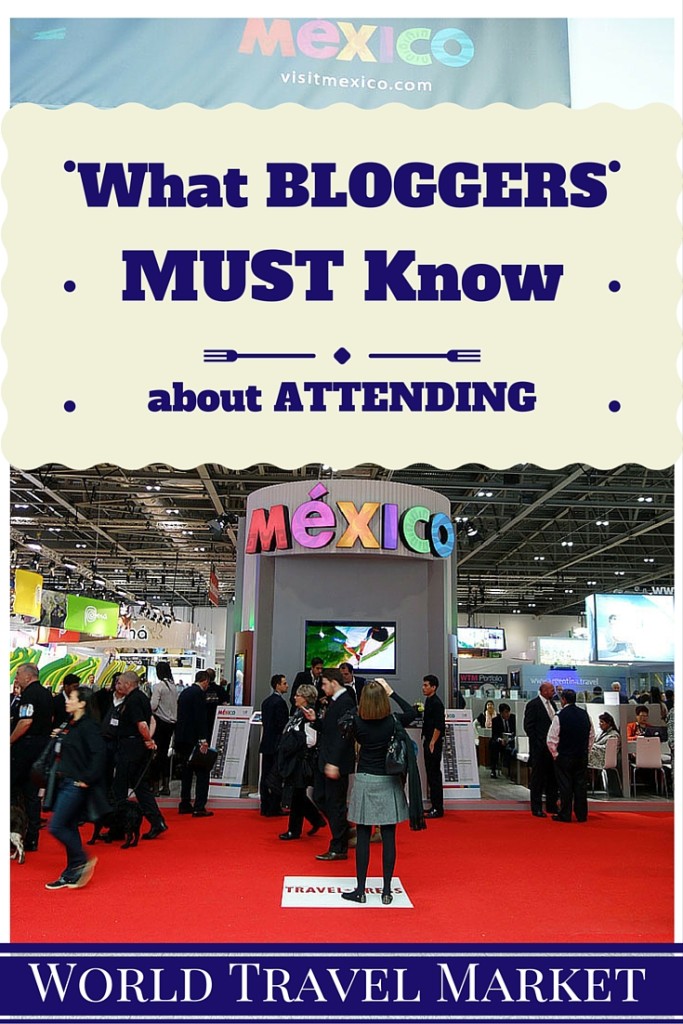 WTM London 2015 Blogger Conference Advice: BEFORE
You're going to minimise the opportunities you could earn at WTM substantially if you don't do some important things in advance.
1. Research and Contact
Spend time looking through the list of attendees. Don't just send messages or emails to everyone. That will annoy them and will be difficult for you to monitor.
Investigate companies to see if their clients match your brand and blogging goals. If yes, draft a 2-3 sentence message to request a meeting with them during the conference. Explain briefly what your blog could do for them. Offer to send your media kit. I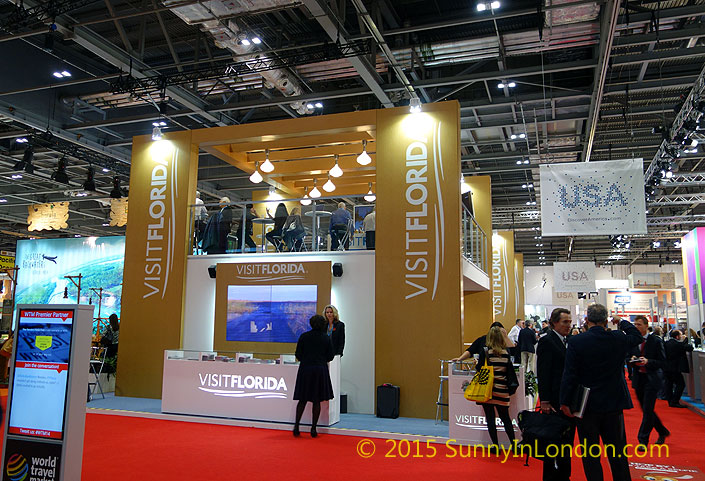 What? You don't have a media kit? Well… You should rethink that strategy. This conference isn't for the novice blogger. Billions of dollars in deals happen in these four days. You'd better be prepared to dazzle people.
I targeted London based venues and fun, sunny destinations for press trips outside of London.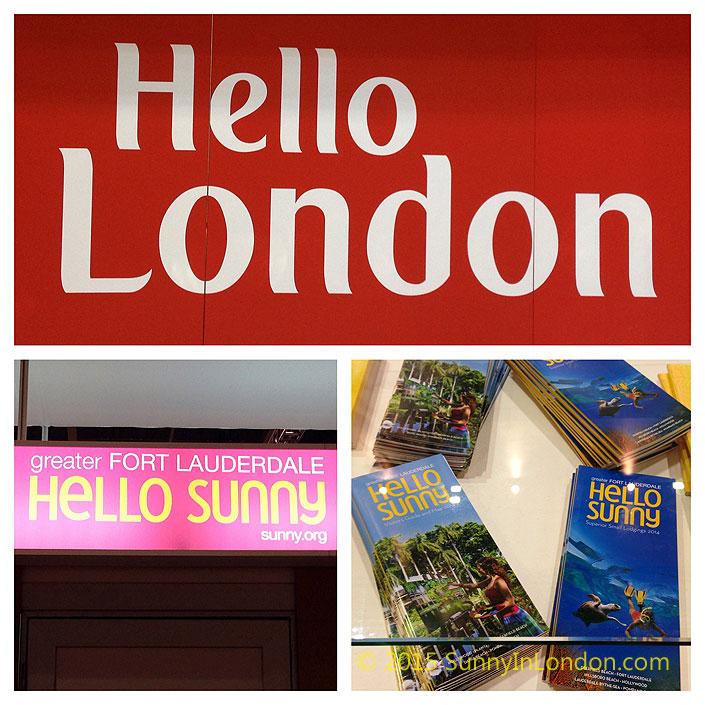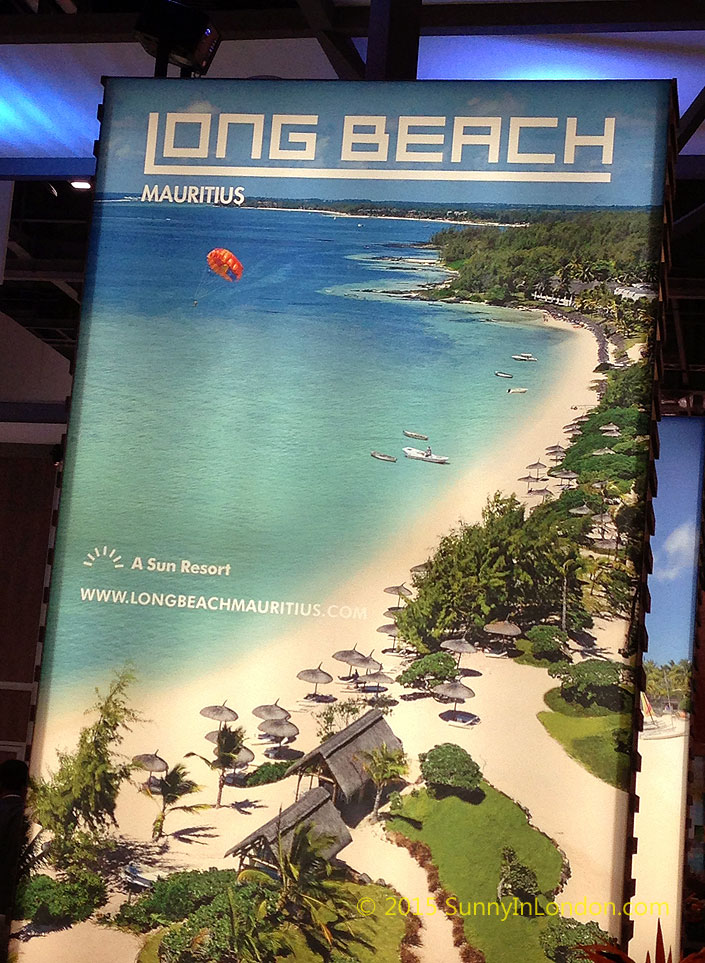 2. Disregard People's Schedules
I spent way too much time trying to organise meetings with people around sessions I wanted to attend AND their 'schedules' as indicated on the WTM website. Maybe the website will be better this year?
If not, here's a possible strategy…
Everyone I requested meetings with emailed me separately with a different time. It was a nightmare. I just kept my own schedule on a personal calendar and disregarded the app/website for WTM for business appointments.
3. Your Schedule
When you do hear from people, don't schedule more than two appointments in an hour. The Excel Centre is HUGE. Don't underestimate the size.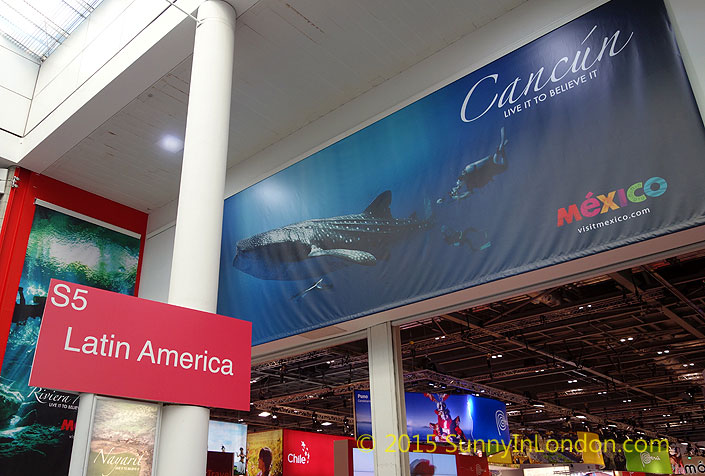 4. Plan Your Meetings:
Once you make a contact who is willing to meet with you, prepare a pitch specifically for that agency. This at least puts you in the realm of being taken seriously.
My experience last year was that bloggers were mostly bottom-feeders. Misunderstood species that were more like 'pseudo journalists' who kind of, but mostly don't, get paid.
There are many reasons for this perception, many of which you can learn by attending sessions.
If you are lucky enough to catch the interest of a company, be ready to set off your blogger fireworks. Give them a specific pitch tailored for how you can produce results for them.
5. Media Kit Ready
Upload your impressive media kit on to an iPad so you can showcase it during meetings. Also, be able to email it to people while you're there. Dropbox? (Jess had a fantastic example of this last year, so credit for this idea is all hers!)
6. Have Your Badge
You absolutely need to print your badge ahead of time. Also, cut or fold it so it's ready to throw in a lanyard. That lanyard is your life. Your badge will say 'Press'.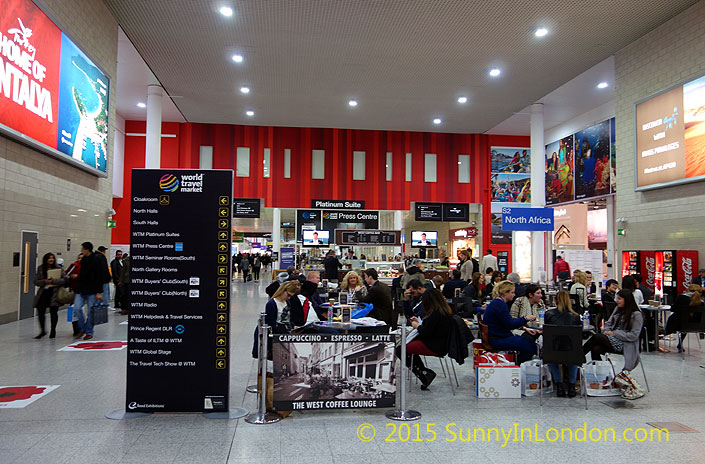 7. Bring Business Cards
I brought around 50 the first day. They were gone by the afternoon. It's a good thing I had placed an order for new business cards the previous weekend via my favourite custom business card site Moo.
Business cards are really good for events like these. However, it might be worth getting some other products to give out too.
WTM London 2015 Blogger Conference Advice: DURING
1. London Transportation
You're pretty much limited to one vein of the DLR to get there. Double your anticipated journey time. The first day the trains are PACKED! TIGHT.
Make sure your Oyster Card is loaded for the round trip or purchase it before you get there. I noticed the ticket purchase queues for people waiting to get home each day were massive. Here is a picture of the last day when things were much more quiet…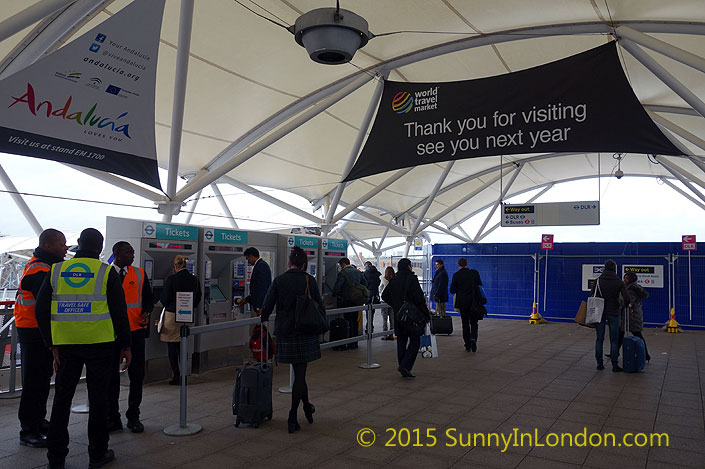 I will absolutely say that the Transport for London personnel are in abundance as you near the Excel Centre. There was always a platform full of personnel dispersing directions for confused travellers. Many people travel internationally for this conference. They're all a bunch of lost sheep on trains. TfL employees were fantastic all four days.
2. Dress Smart
Contrary to the image you have of knee socks with flip flops, this crowd of travellers is damn smart. Like I wrote above, big money is agreed upon here. Almost everyone is in suits. Girls, you can get away with a nice dress. Wear black.
The Press Centre for WTM London has a cloakroom. The wait is about 10-20 minutes during peak times. I made sure to get my coat prior to attending my last sessions so I could just leave as soon as the session ended.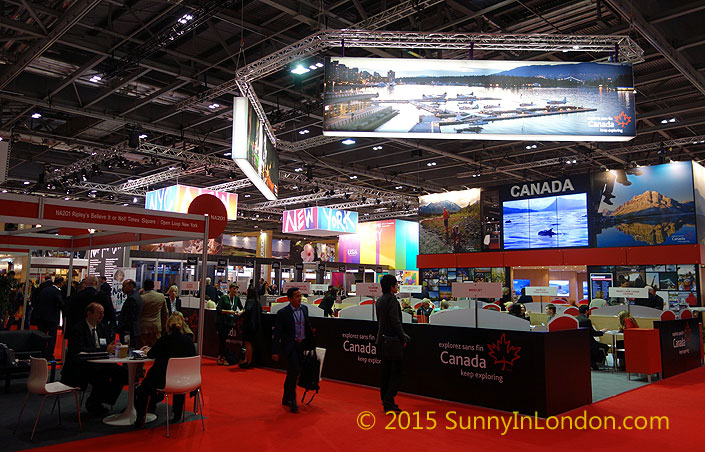 3. Bring Food
I brought some in my ginormous handbag and additional tote each day. Lines at food places in the Excel Centre were always long. Even for coffee. Bring snacks and a water bottle at the very least. I had the misfortune of paying £3.50 for two bottles of water one day. Ugh.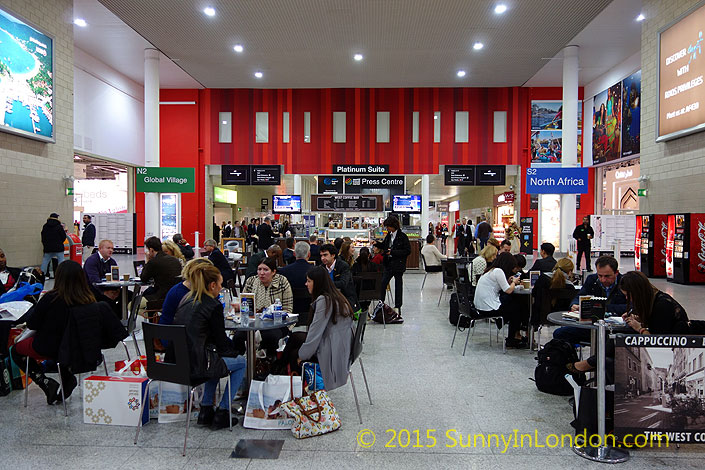 If you do go to one of the outside restaurants, you'll wait forever. I predicted this the day I had a huge meeting with an international PR company with whom I was dying to collaborate. They ran late to the lunch meeting, and I had an appointment much later. I was able to meet the agency team and pitched the ideas I had for them. Score!
However, our food didn't arrive until an hour later, and I had to skip the meal to make it for my next meeting.
4. Attend Press Conferences
When you have extra time, attend press conferences for topics that connect to your blog goals and brand. You learn a lot directly from the source. And sometimes they have treats for you!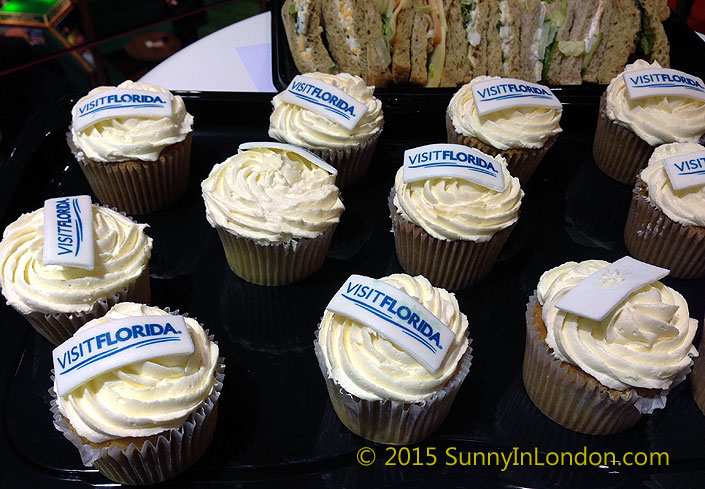 5. Use the App
If you still have extra time between meetings at WTM London, the sessions you don't want to miss and random introductions you make, use the app.
It's not great because I felt every time I opened it I had to wait a while for a 'new update.' However, I used it to keep a record of other sessions that were of interest. That saved time from running around and trying to find all the conference schedules boards that were sporadically placed.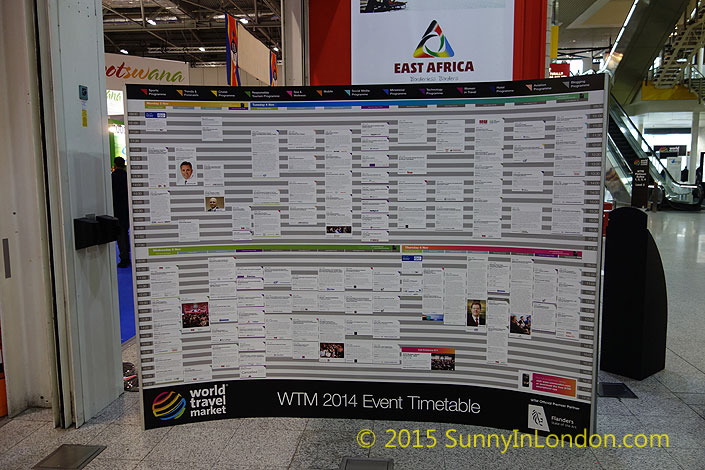 6. Electronics
My iPad got fairly fluent wifi at the Excel Centre. I wasn't so lucky with my iPhone 5. I left my phone on 'Airplane Setting' a lot. It saved battery. However, there is a charging centre there. But who wants to waste time with that? Bring a Compact Portable Charger
and cord for your devices. Yes, both.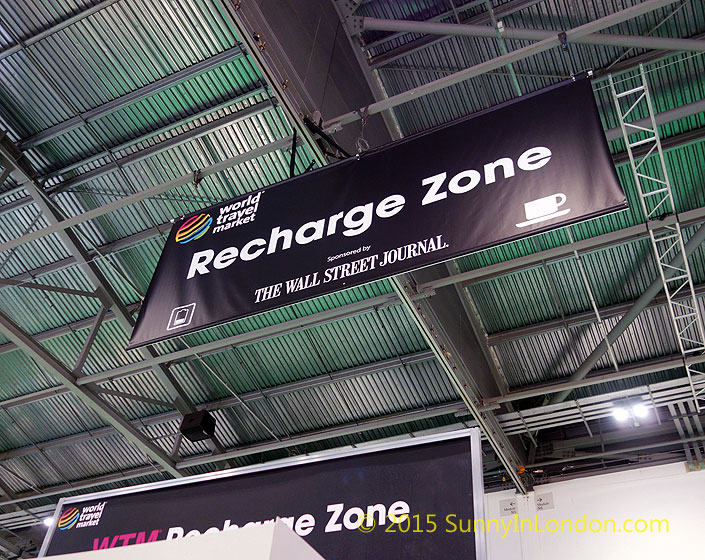 WTM London 2015 Blogger Conference Advice: AFTER
Follow up with all those great contacts you made. Send them LinkedIn invitations immediately so they don't forget you. Then draft an email covering your meeting and the next proposed step.
I actually had a system for this when I collected business cards because I always came away with a lot of them. So, I needed to establish a method that would make it easier for me to manage them. So, when it came to organizing my cards, any contacts and information that I absolutely wanted to see right away went in one part of my handbag. Those that weren't top priority went in my separate tote bag. Or vice versa. I'm not giving up which one went where in case you see me at an event some time using this strategy.
WTM London 2015 Blogger Conference Advice- Final thoughts
I tried to cover almost everything. A girl has to keep some tricks up her sleeve though ;-). What strategies do you use at conferences? Did you find this guide useful? If so, please share it on Pinterest, Twitter, Facebook or other networks where you think bloggers attending WTM London will see it! And of course, if you'll be there this year Tweet Me!