Sexy, sumptuous and savoury. 1947 London has proven in its launch as a modern Indian restaurant in London to attract diners with discerning palates.
It is an exciting new venture from the founders of the Chai Thali restaurant group. Protege of Michelin-starred Vineet Bhatia, Chef Krishnapal Negi created a menu which nods to recipes that evolved out of the movement of people and culture during the 1947 Partition.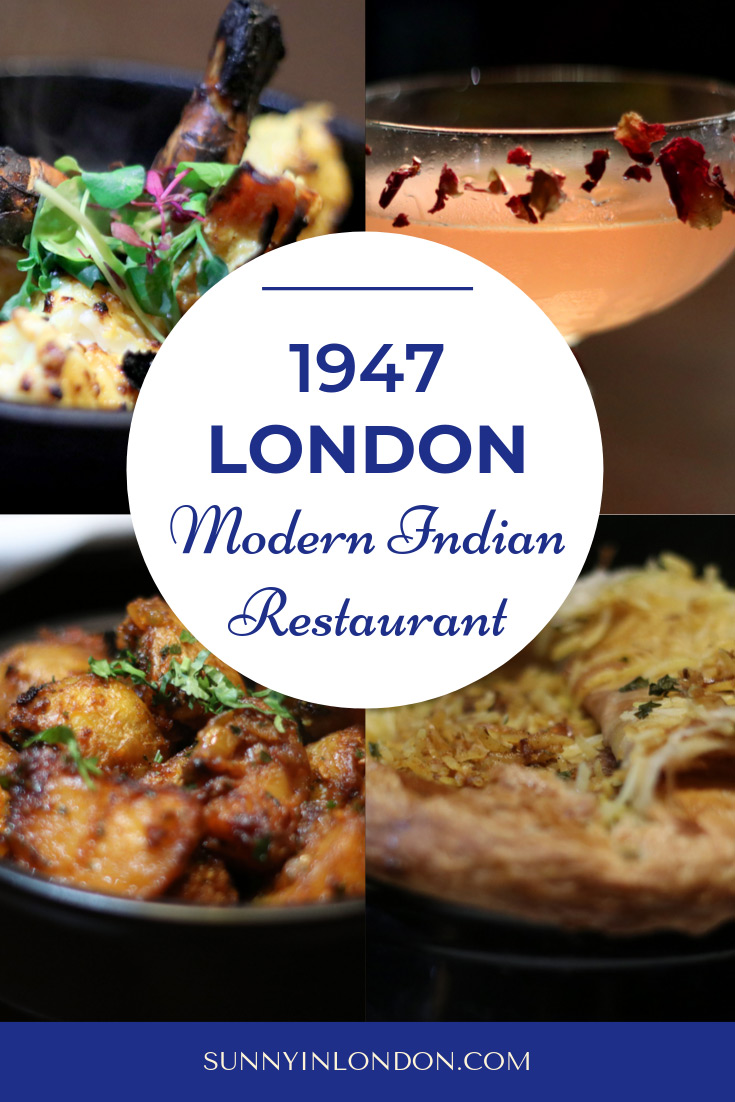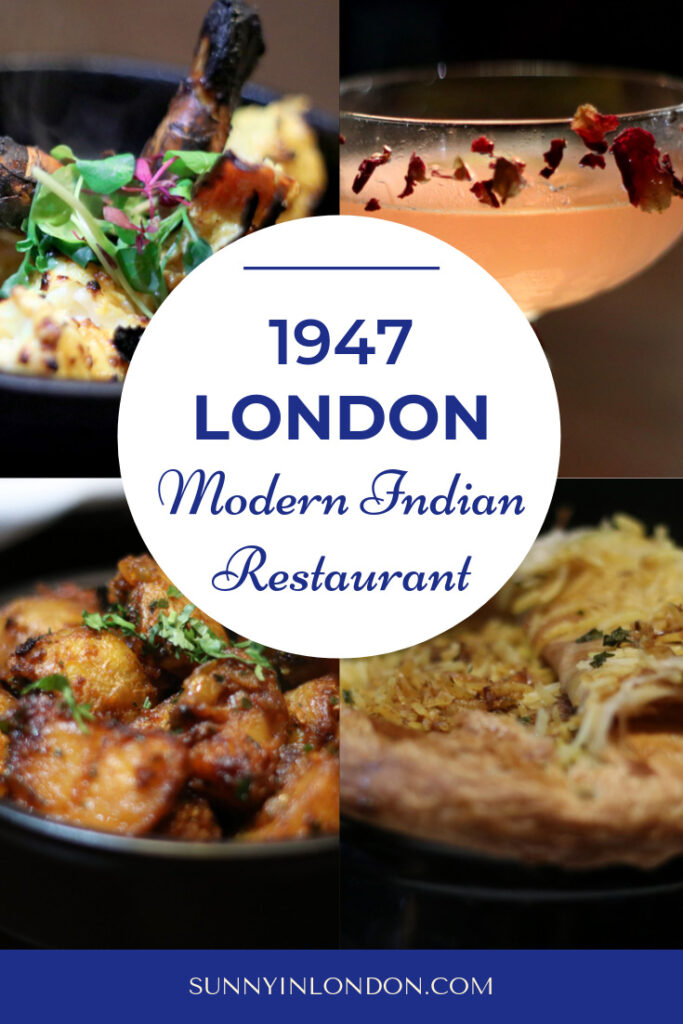 1947 London- The Menu
On a Monday evening in October, just two weeks after 1947 London opened, Mr Sunny and I had the opportunity to review this modern Indian restaurant. We looked forward to the evening as soon as the review invitation hit my inbox. Mr Sunny, who has far more experience and knowledge about Indian food, combed over the menu. His enthusiasm for trying many dishes at 1947 London drove our anticipatory conversations prior to our date night at the restaurant.
Intentionally short and easy to navigate, the menu features dishes from a Tandoor oven and Robata grill for theatrical cooking in view of diners.
We had many conversations about the menu with servers and managers throughout our evening. I learned that out of the hundreds of desserts they can offer, they choose to keep the selections limited to a handful so as not to overwhelm guests and to give the restaurant clear focus on exquisite taste and excellence. This also gives them flexibility to rotate items frequently, which will mean 1947 London will surprise and delight guests upon every visit.
Is the proof in the pudding?
Keep reading, Sunny friends.
Sample menu items at 1947 London include:
Nano Plates
Beetroot Masala Uthappams £6 and Avocado Bombay Bhel £8
Small Plates
For example, Wild Mushroom Tikki & Chickpea Masala £9 and Crispy Cheese Kebabs £9
Sharing Bowls
Including Punjabi Lamb Masala £14 and 1947 Dhaaba Murg £14
Sides
Including Pomegranate Raita £6, Asparagus and Sugar snaps with Fresh Coconut £9 and Daal Tadka £8
Briyanis & Rice
A selection from Steamed Basmati £5 to Lamb Dum Biriyani £24
Breads
Such as Caramelised Onion & Cheese Nan £6 and Butter Naan £4.
Desserts
Made in-house by pastry chefs include Kulfis in Pistachio & Rose and Mango £7 and Phirni, a cardamom-flavoured rice pudding £7
1947 London- Atmosphere
Perhaps competing with their experienced Chef's training as a unique selling point is the decadent atmosphere. This modern Indian restaurant is no where to dine by yourself. And judging from the tables filling up with couples and crowds on the Monday night we visited, that message is in place.
The shimmering rose-clad doorway ushers guests in to an exotic night in low light. Once you plunge down the copper-toned staircase and turn the corner overlooking the dining room, you immediately transcend in to a world of glamour and opulence. This environment is best enjoyed with company.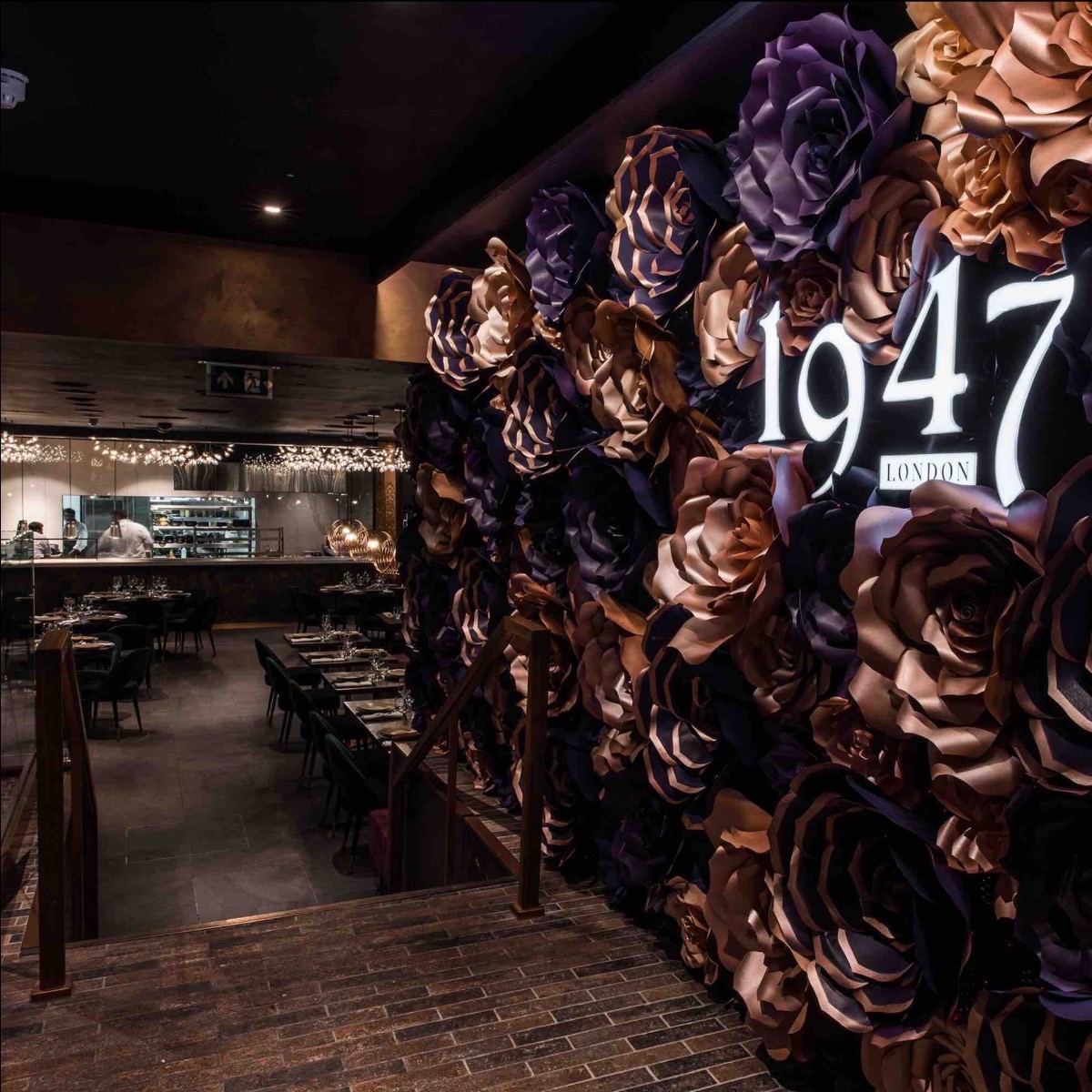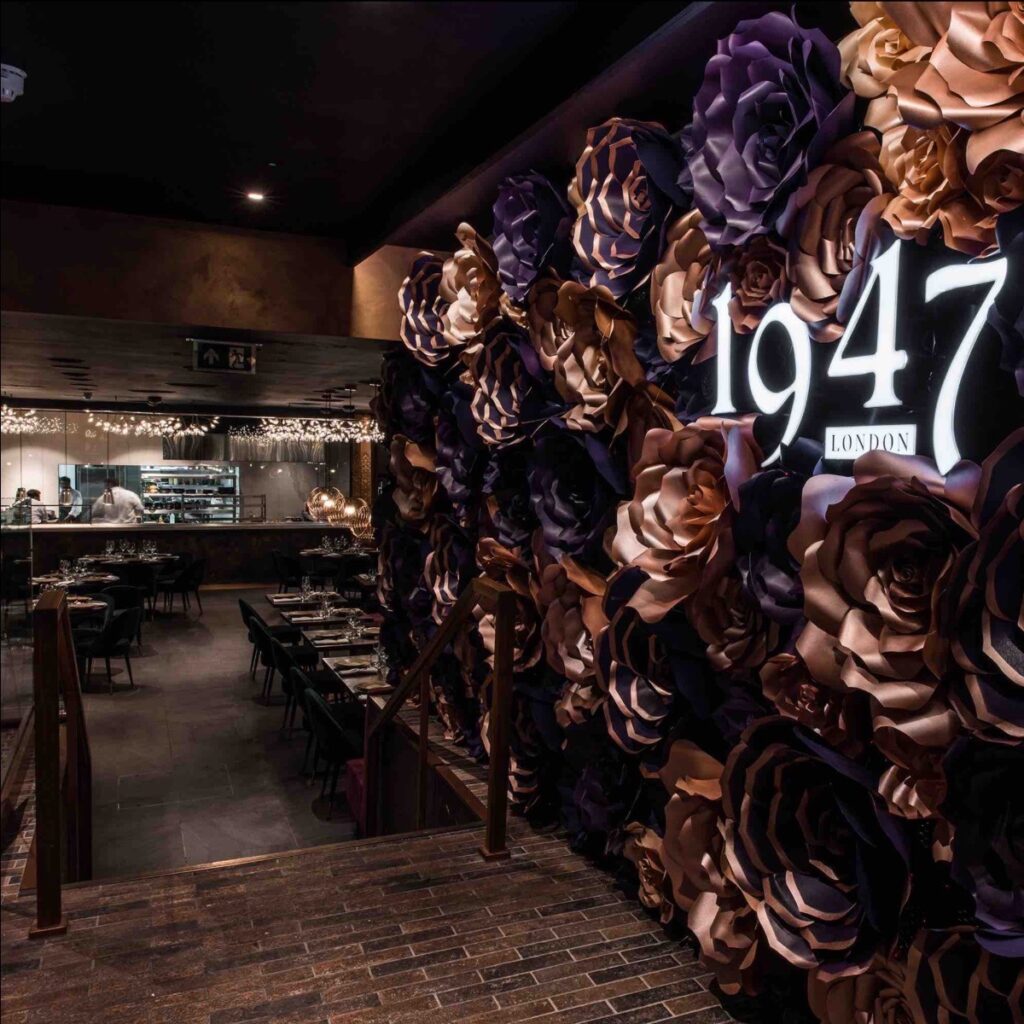 Unlike many of London's cramped food experiences, 1947 London has giant circular dining tables which offer plenty of space. The walls are copper, gold and green. These colours combined with the overhanging globes containing micro L.E.D. lights and myriad of candles infuse the room with a subtle glow.
And let's not forget the velvet.
From the velvet drapes in crushed purple to the crushed velvet cushions, 1947 London just plain feels sexy.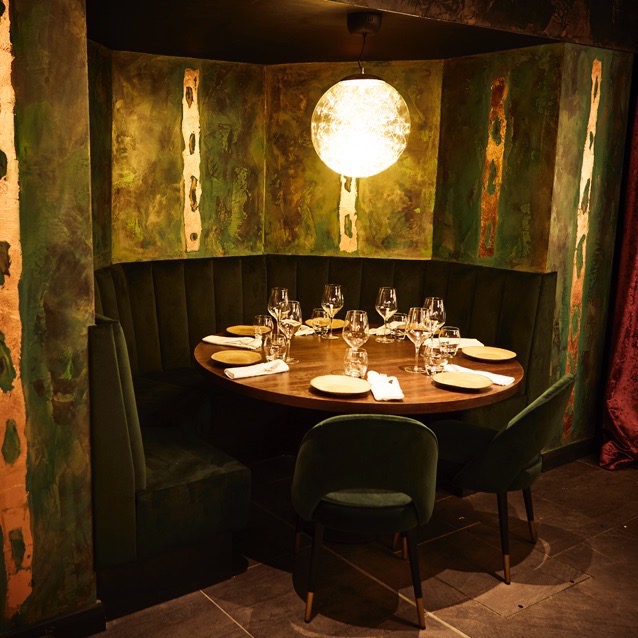 1947 London- Drinks
Our first order of "business" on our sexy date night included ordering our cocktails.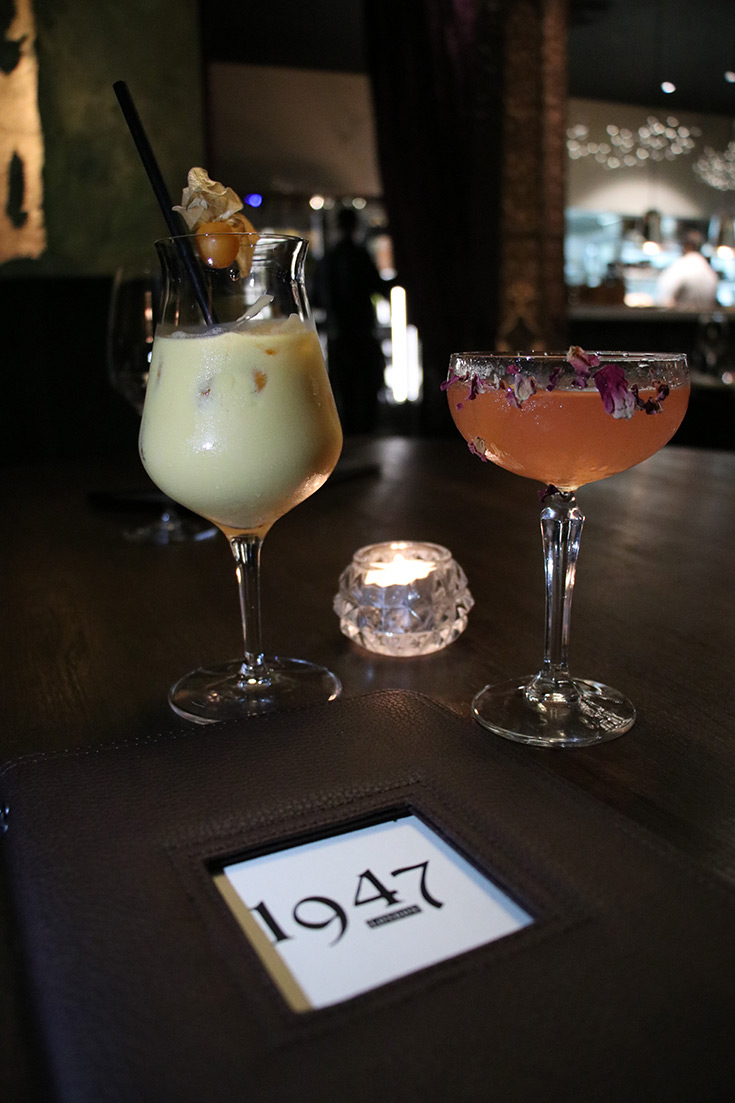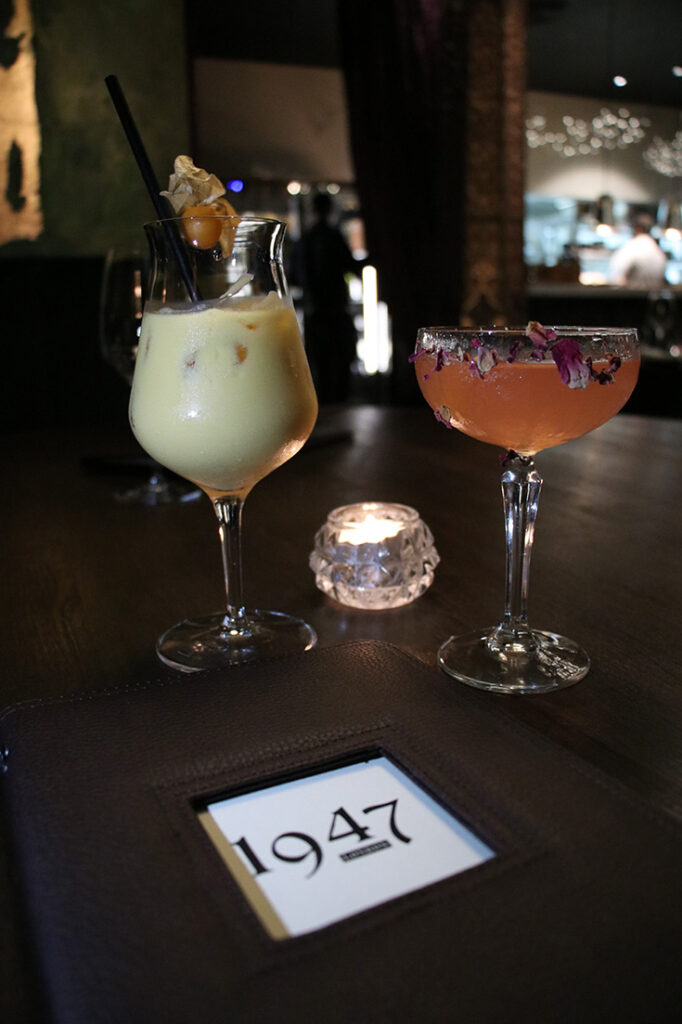 When I blurted out that I would like the "Indian Rose", our server thought I had prior experience so knew exactly what to order. I confessed to him that while Mr Sunny had focused on the food, I had poured over their cocktail menu prior to our arrival.
The Indian Rose is a cosmopolitain with an Indian twist. It features a mixture of vodka, Contreau, Rooh Afza, orange juice, rose syrup and lime.
However, Mr Sunny's "Hello Lassi" really got my attention. My drink had more visual sex appeal, but Mr Sunny's "pina colada with no pina nor colada" stole the drink show. It features mango lassi, Baileys and white rum. It is luscious.
The cocktail menu and bar are impressive not only for what you see and taste, but also for the price. I have had equivalent cocktails in London's posh bars and paid double what 1947 London charges.
1947 London- Food
You have probably already guessed through the atmospheric description and drink summary that 1947 London doesn't hold back on flavour in their dishes.
For Small Plates, Mr Sunny and I chose the Baby Squid with garlic and green chilli. Next we had the Maharaha Prawns (jumbo praws lightly marinated in a blend of spices and cooked in a clay oven).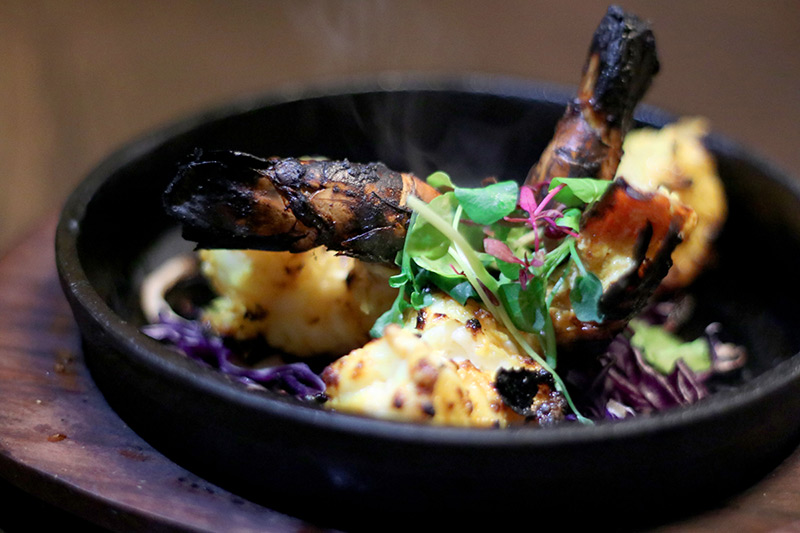 Finally, we picked the grilled lamb chops (rack of lamb marinated in Kashmiri chilli and selected homemade spices served with green herb chutney. Mr Sunny scored the prawns the highest. I couldn't resist picking my winner to be the lamb chops, which were lit on fire as they were brought from the kitchen to our table.
I am a sucker for theatrics. We can safely say the lamb chops got flare. 😉 However, to see some of these dishes in motion, you had to have watched my Instastories from the evening.
For our Main courses, we of course had Naan bread and Mini Poppadums. I dined on the Malabar Lamb and Pulao Rice.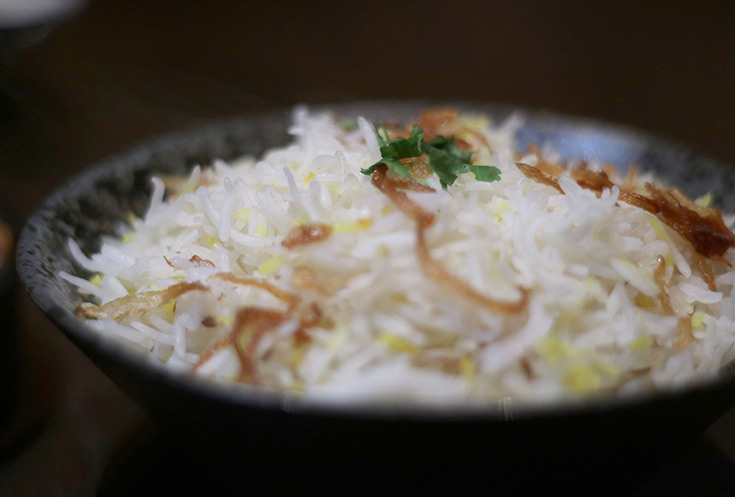 Mr Sunny strayed from his normal Indian restaurant selections and had the Lamb dum Biriyani. This dish is an aromatic basmati rice and pieces of tender lamb, cooked in a dum style served in a pastry sealed pot with a burani raita.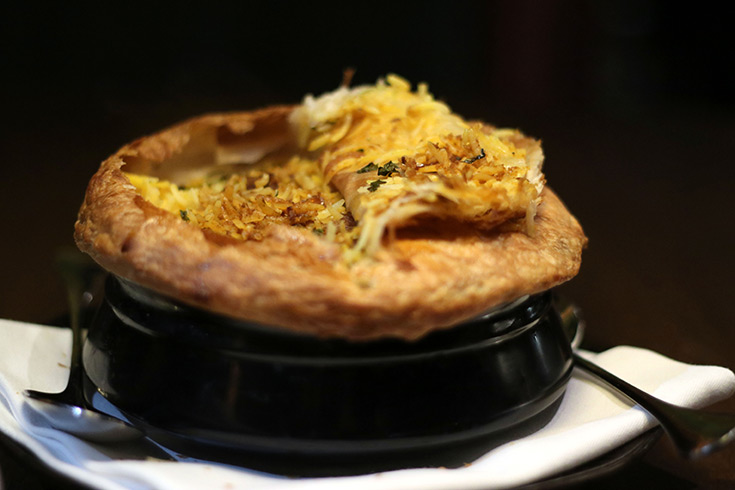 I am not accustom to as much spice as was in my lamb, but I have only been eating Indian food a few years. Plus, I was desperately trying to save room for the cheesecake.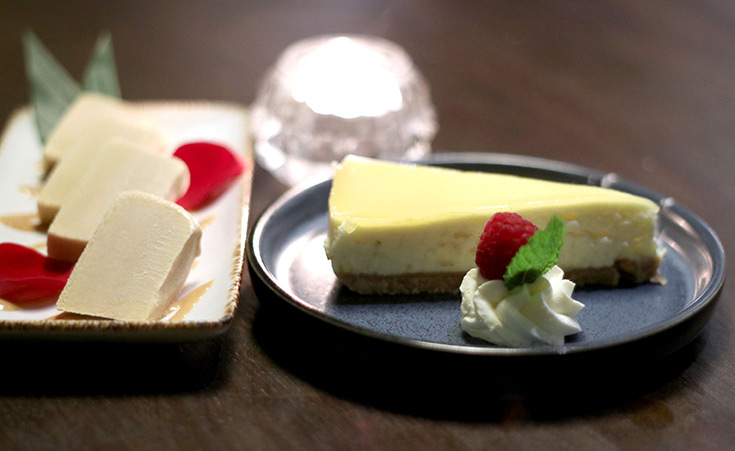 Dessert dazzled us. The presentation of the "1947 Choice of Kulfi" gets a gold star. Would you ever have guessed the dish on the left is ice cream? That's Mr Sunny's salted caramel. Its mix of salty and sweet taste rolled beautifully over the tongue. My cheesecake didn't disappoint either!
Given those two experiences, I can only wonder how gorgeous the Kulfi can be in the other flavour offers- rose and mango.
1947 London- Final Thoughts
Since taking over the address 33 Charlotte Street, Fitzrovia W1T 1RR this Modern Indian restaurant has caught quite a bit of attention. The reviews I have read on various websites match our experience.
So, while we enjoyed our night as a complimentary review, our feedback is consistent with the other guests who have rated it "absolutely outstanding" and declared it an "amazing place."
1947 London offers an excellent evening for a couple's date night. However, there were large tables of people who appeared to be work colleagues present while we ate too.
My advice… find someone you know, and give 1947 London a go!
Want a freebie Guide to London Restaurants?
Subscribe to the Sunny in London email and immediately get the 'Local's Pocket Restaurant Guide to London.' It's the ultimate free travel accessory for your London trip. The Guide has top recommended restaurants from a local, organised by neighbourhood. With it you can easily find a place to eat when you're on a London street. Downloading the file to your phone means skipping Wi-fi and finding a fab foodie place- fast!