The Best Pubs Near King's Cross London
Mr Sunny and I never thought to share a King's Cross Pub Crawl with you until this past summer. Generally, the King's Cross and St Pancras International Station area is where we change trains or get trains. For example at these two stations it's common to take either the East Midlands Railway Link, Eurostar, Southeastern or Thameslink.
This means that Mr Sunny and I don't spend much time in the actual neighbourhood because we are likely just to have a drink at a pub or bar before or after a trip and then head to our travel destination.
For people visiting London for the first time, the British Library would be the only iconic place of interest in the immediate King's Cross area. It is not a neighbourhood I would suggest getting a hotel if you want to be centrally located near many attractions or great shopping.
However, it is great for those taking a trip on the Eurostar to France, Belgium or the Netherlands before or after staying in London. Or, people planning additional trips within the UK to York or Edinburgh might want to stay close to the stations if they have an early train to these destinations.
So, what happened this summer that made us think you would want to know the best pubs near King's Cross London?
Train delays and cancellations!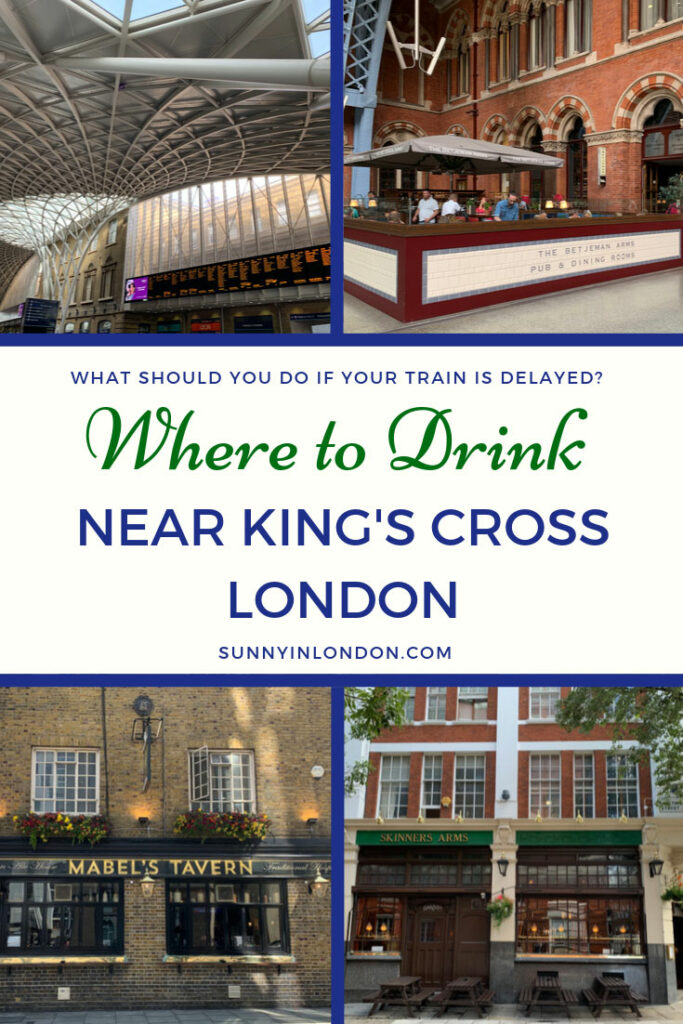 Pubs at King's Cross and St Pancras Station
On a few nights during the summer in 2019 all trains were cancelled from King's Cross. This caused thousands of people who commute to London for work to either be stranded for hours, or even worse for them, stuck in London overnight.
If you know British culture, you know that the solution to being delayed is to wait in a pub with a pint. Or two. Or three…
Therefore, Mr Sunny felt it his moral obligation as an Englishman born in London to 'help out humanity' by preparing a list of the best pubs near King's Cross. He recommends you have this list in your pocket so it is ready to help you cope with severe train delays at Kings Cross or St Pancras international station.
Perhaps the easiest pub to find at these stations is the Betjeman Arms, which is in St Pancras International Station on Euston Road. It is the poshest pub on our King's Cross pub crawl.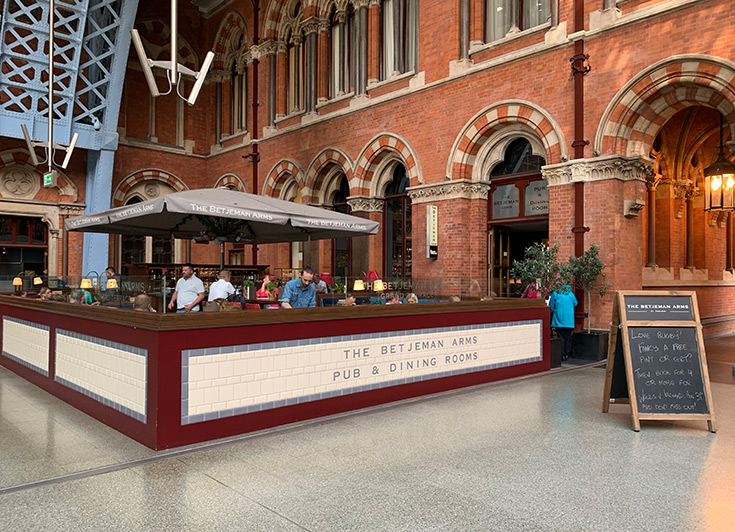 The Grand Terrace at the Betjemen Arms has a great view of St Pancras Station and the famous The Meeting Place statue. In fact, that's probably why I have had drinks there a few times. It is really easy to find because you can just direct people to meet you at the 'pub near the statue at the station.'
This Geronimo Inns pub is open early for breakfast. The British menu changes seasonally, and they have craft beers and moreish wines from around the world.
Of our two pubs at the stations, King's Cross Wetherspoons (AKA The Barrel Vault) is the top pub that Mr Sunny recommends. He chooses Wetherspoons because it is known for its cheaper prices. They also offer a good English breakfast. He is pretty sure that you can get it as takeaway too, if you are in a rush to catch a train. The Barrel Vault pub also is closely located to screens displaying train times, which is smart to keep your eye on while you are waiting.
Best Pubs Near King's Cross- A Short Walk Away
If you leave either station and make a right on Euston Road, you will find O'Neills on 73-77 Euston Road. It is technically located in Marylebone.
O'Neills is an Irish Pub and Bar chain in London. This specific location is closed for a remodel until 21st October. We'll be sure to include an update when the doors open again.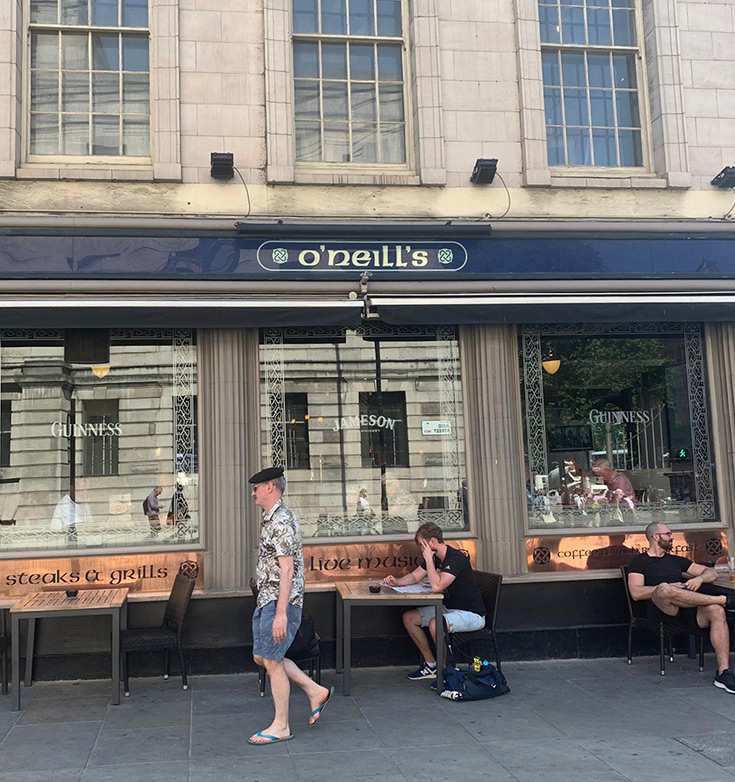 Not too far down the road you will find The Euston Flyer at 83-87 Euston Road. Mr Sunny says this pub near King's Cross is a great place for watching major sporting events. It is a lively location and is part of the Fuller's pubs experience. Avid readers of Sunny in London know that we love their food and have reviewed many Fuller's pubs.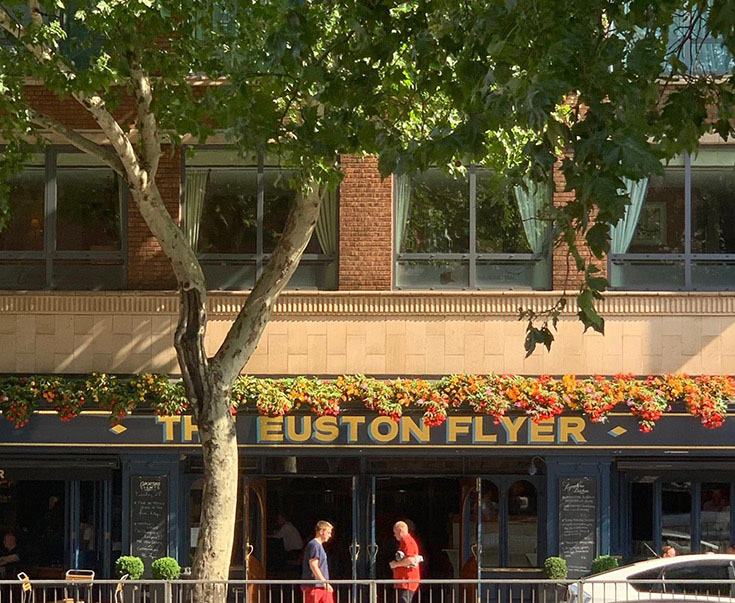 Mabel's Tavern is just around the corner on a side street off of Euston Road. At 9 Mabledon Pl, London WC1H 9AZ this tavern is allegedly haunted. Mabel's Tavern is a traditional alehouse with a wide variety of superb beers and freshly prepared food on the menu.
At Mabel's Tavern you will find commuters and tourists plus local office workers at lunch time. Crowds gather at this pub near King's Cross in the evening to watch live sports events.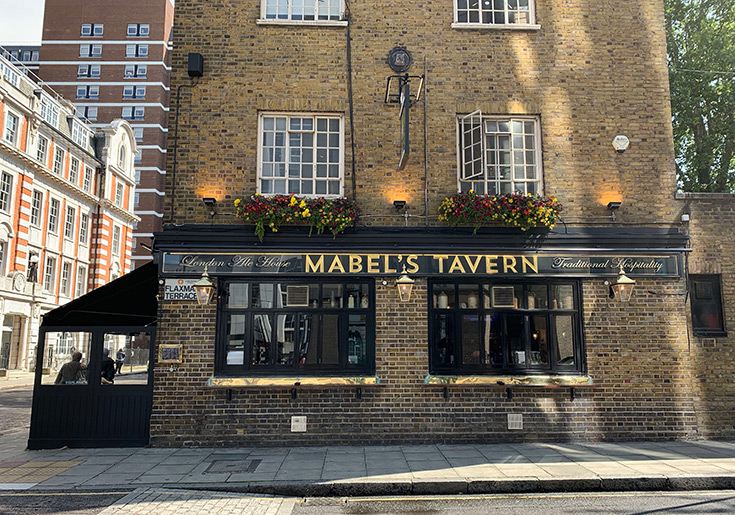 Just when Mr Sunny thought he had been to all the pubs in London, we discovered The Dolphin the day we did our final research for our list of the best pubs near King's Cross and St Pancras stations. It is a straight shot from Mabel's Tavern and is on 47 Tonbridge Street.
He loved it because he feels it is a "proper old traditional pub.' Mr Sunny said The Dolphin and the next stop on this pub crawl are probably the last of the pubs that can be considered 'local pubs' in the King's Cross neighbourhood because so few people can afford to live in Central London now.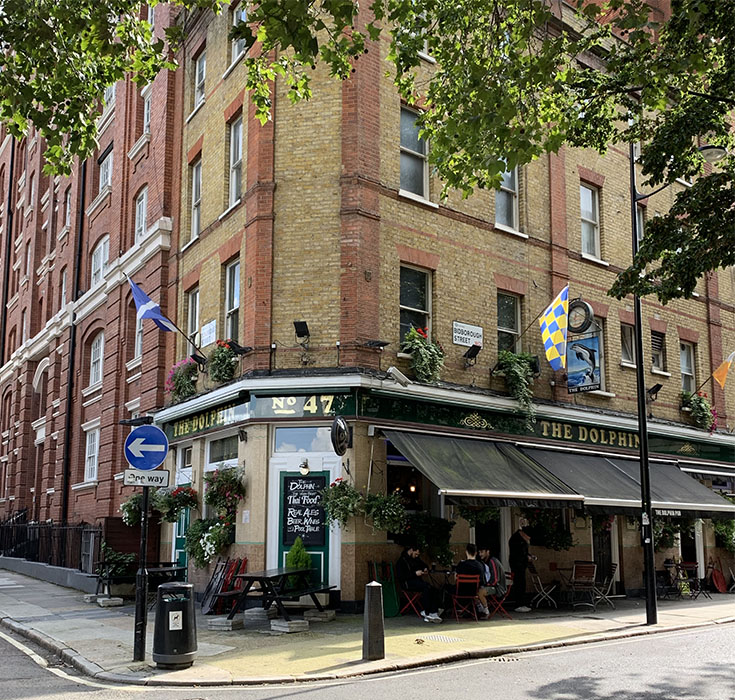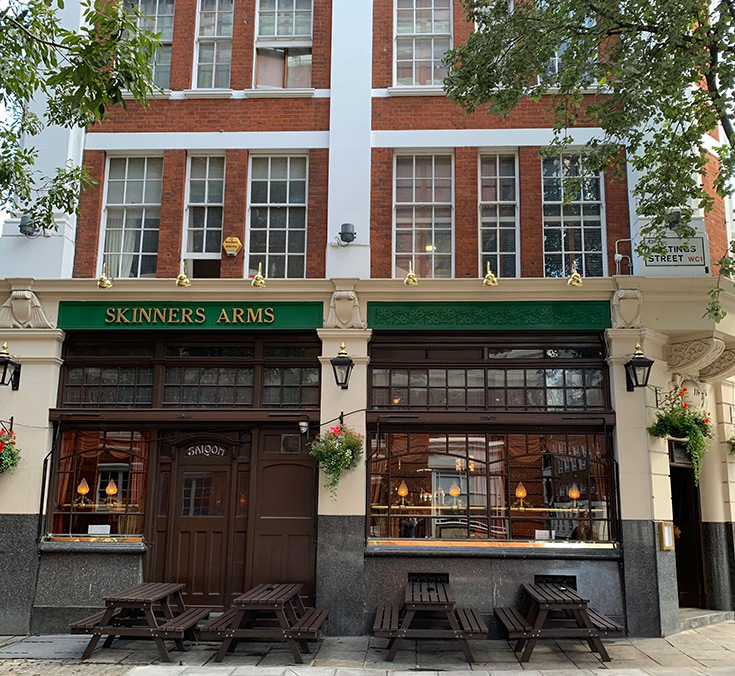 You might call the Skinner's Arms an old London boozer. What caught Mr Sunny's attention the day we visited is the "saloon" insignia above the door frame. He explained to me that back in the day, a saloon bar was separate from the public bar. It was an area for those deemed more elite and had better seats and drinks. The public bar was cheaper and an area where working class would mainly just get drunk.
The Skinners Arms has a friendly atmosphere for all. inside and outside you will regularly find London's working commuters and visitors. The pub is located in Judd Street WC1, just far enough away from the hustle and bustle of Kings Cross station and Euston Road.
Best Pubs Near King's Cross- Food
With all this beer, we feel it would be best to give you some food tips to soak up the alcohol. Mr Sunny gravitates to burgers or steak to compliment cold beer. He is a huge fan of Five Guys, which is just outside King's Cross Station. My favourite burger joint in London is Shake Shack, which has locations in Covent Garden, Leicester Square and Victoria Station.
Another burger place near King's Cross that we know is good is Honest Burger. Many of Mr Sunny' mates who work in the area go to The Big Chill for after work drinks. It's a laid-back bar club with basement and roof terrace, hosting busy and eclectic DJ programme. The Big Chill is on 257-259 Pentonville Road.
For a stronger meal, we recommend Bar and Block. They have great deals, so it's worth following them on social media to know what's on offer.
However, if you are on the run, The Kiosk is an independent takeaway kiosk offering deli-style roasted-meat sandwiches, plus iced teas and coffees that is right inside St Pancras station.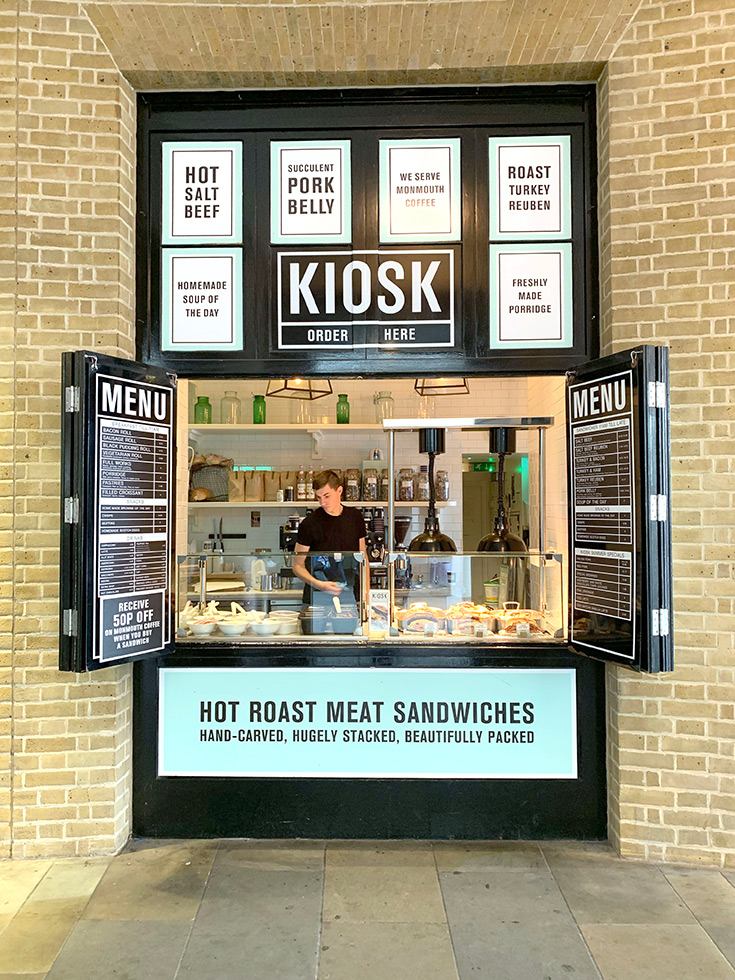 Best Pubs Near King's Cross- Final Thoughts
Please let us know if you visit any of these pubs, because we are always interested in feedback. Plus, if you have any experiences at pubs in the King's Cross area that you can add, that would be great!
To be honest, if there ever is an occasion when Mr Sunny hasn't been to a pub in London, he relies on the Good Pub Guide. If you are in America you can get it either as a hard copy or the Kindle version on Amazon here.
Want a Freebie for London food?
Subscribe to the Sunny in London email and immediately get the 'Local's Pocket Restaurant Guide to London.' It's the ultimate free travel accessory for your London trip. The Guide has top recommended restaurants from a local, organised by neighbourhood. With it you can easily find a place to eat when you're on a London street. Downloading the file to your phone means skipping Wi-fi and finding a fab foodie place- fast!