What's a great way to put a "bah humbug" on your Christmas in London? Be the guy who ruins the work Christmas party for everyone.
Actually, there are a few options for characters who take down Christmas for colleagues. The first is the iconic Ebenezer Scrooge gig where the person turns her nose up to festivities of every kind. You know the one. She refuses to pick a Secret Santa, is on a diet when the boss bakes Christmas cakes and dresses in her Game of Thrones cosplay on "Christmas Jumper Day."
A popular false hero is the guy who drinks too much and throws inhibition to the wind at the office Christmas party. While he may get some laughs at his own decency's expense, we actually don't want the whispers and awkwardness it brings to the water cooler on Monday morning.
Finally, there's the one we all dread being more than anything- and that's the person who planned a lame Christmas work party.
The first two are actually pretty easy to avoid. So, how do you make sure you aren't the last guy during the holidays?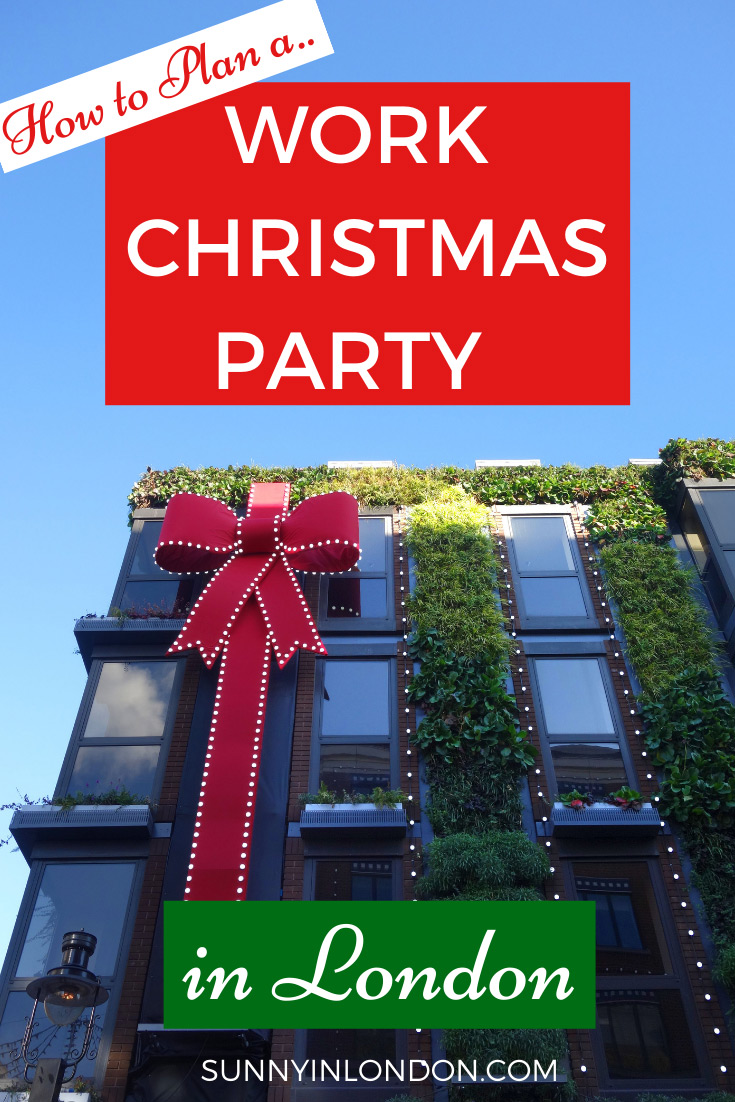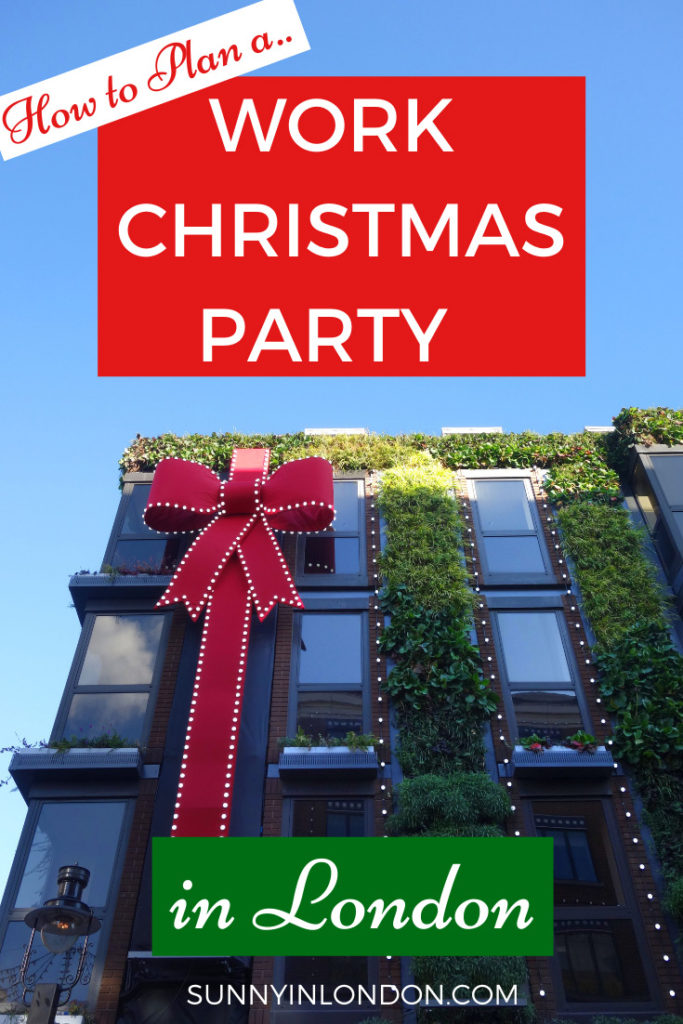 Planning Work Christmas Party Ideas in London: Research
You might want to conduct a quick office poll that is anonymous and electronic. Ask colleagues what a comfortable price range is for them to spend on their attendance at the party. You could also take suggestions from them about things they expect to be included in the party, starting from the choice of beverages and food. We know that you can't please everyone. However, if you extract feedback on certain things like the price range for the event, location preferences, and dress code expectations, you have a much higher chance of making the evening memorable for good reasons.
Next, you should do research well in advance. Don't fall for the early August marketing push that most venues do for their Christmas bookings. Instead, take time throughout the year to checkout cool places to eat in London that match what your colleagues indicated would make them happiest.
If your company isn't giving you free financial reign on the corporate credit card to try restaurants in "the name of Christmas party research", you have alternatives. Use gift vouchers you received for your birthday or the previous Christmas to explore places where you have not been previously but have heard are fab. Just like Santa, you should be making a list and checking it twice to find out which ones are naughty and which ones are nice.
As a London food blogger, the invitations to check out Christmas menus at restaurants are always an annual highlight for me. Often, they have parties to share their holiday menus. Perhaps you can ask to attend one of these launch parties for a pub or restaurant's Christmas menu offer?
While looking for ideas of how to help you, I discovered 15 pages of venues that are booking Christmas parties in London on one of the most popular restaurant booking websites.
Planning Work Christmas Party- Ideas in London
Based on my experience at these venues and/or numerous contacts in the London restaurant and hospitality industry, the ones I think could be the most fun for an office Christmas party in London are:
Christmas at Bluebird- for those who want to pretend they are socialites like those on the cast of Made in Chelsea
Christmas at One Aldwych- for those who like boutique hotel glamour and exquisite food
Christmas at German Gymnasium- for those who love good beer
Christmas at Mango Tree- for an authentic Thai experience with a Christmas theme
Christmas at London Transport Museum- for those just haven't had enough of the London Underground every day
Christmas at Lord's Cricket Ground- for those who want a sporty vibe to their yuletide
Christmas at Tropicana Beach Club- for those who dream of surfing santas
Christmas at Radio Rooftop- for those who want to chic view of London while sipping cocktails
Christmas at ICEBAR- for those who aren't afraid to be cool at Christmas (Please note IceBar closed in late Spring 2020. This post was updated on 14 April 2020 to reflect this.)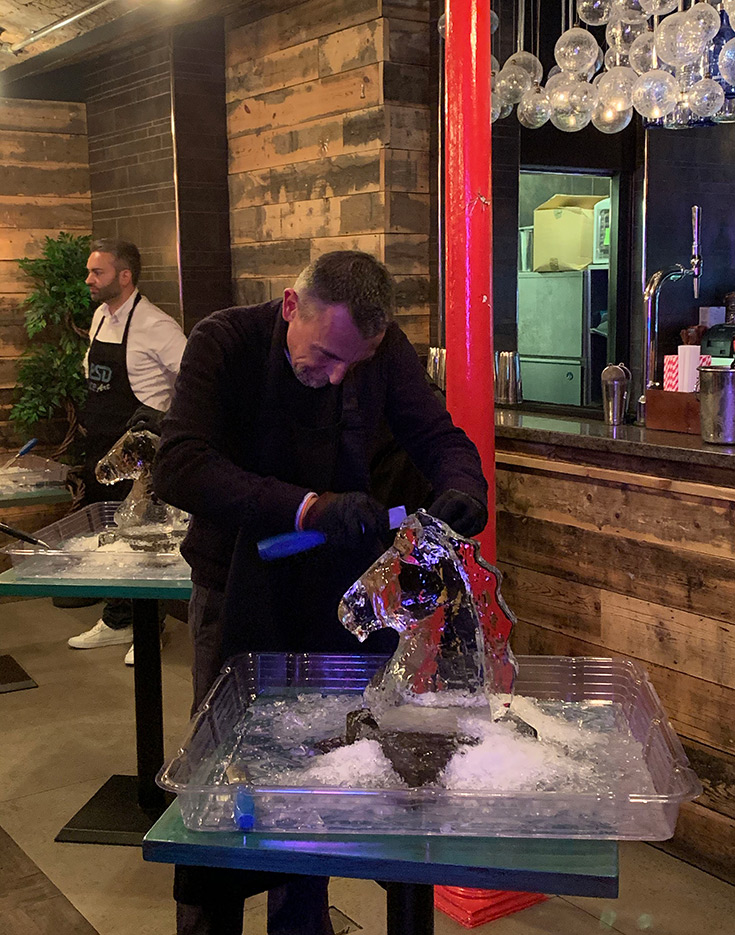 Having a work Christmas party at a restaurant or iconic venue certainly isn't the only option. You might want to arrange for your colleagues to take part in an activity. Some fun things to do around London at Christmas are:
Mini Golf
Ice Skating
Roller Skating
Curling
Cooking Classes
Ping Pong
Curling
Karaoke
Want a London Food Freebie?
For a great list of 100+ restaurants that I recommend, subscribe to the Sunny News email. Whether it's for ideas for an office Christmas party in London or you just want to easily find a place to eat when you're on a London street, downloading the file to your phone means you'll always be able to find a fab foodie place fast!
And of course, let's not forget what happens in London pubs at Christmas too.