How to Be a Social Media Influencer in 2017
Are you ready to move from being a blogger or vlogger to a serious social media influencer? If so, there's a list of things you need to do and have to rock 2017.
If you've been relying on still visuals and creatively drafted blog posts to achieve social media stardom, then you haven't been paying attention the past few years. Everyone is moving toward video. Storytelling through moving images is now more important than ever. The ability to do that, at a high production quality level, is what will set you apart as a 2017 social media influencer.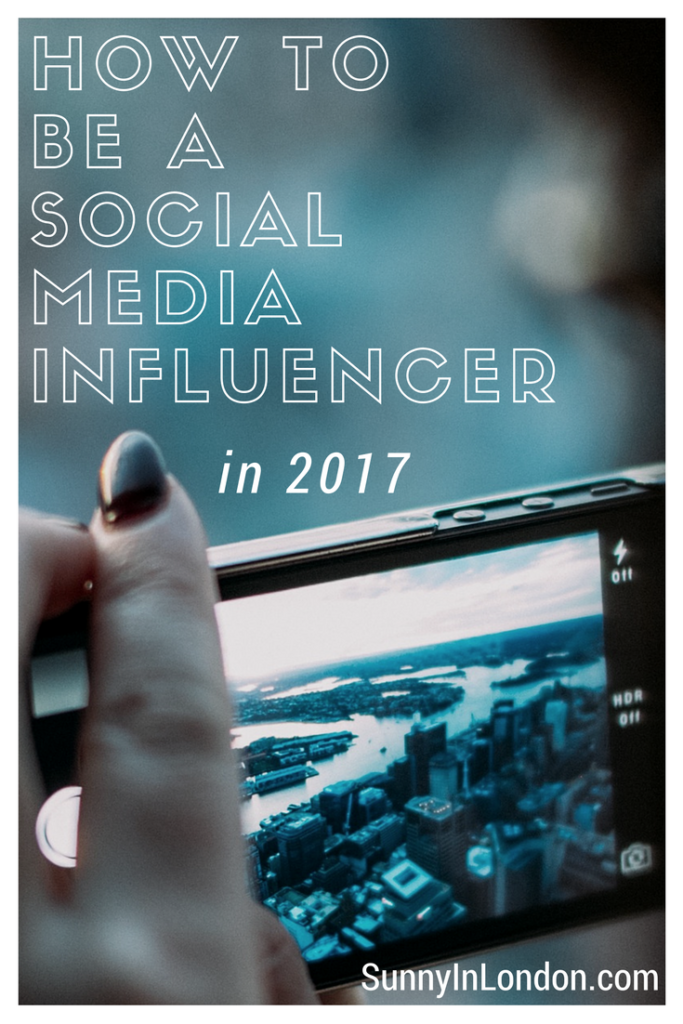 Be a Social Media Influencer- Step 1
First, you need to have built a fairly successful blog or website with a clear brand identity and following. This means you've created a recognizable logo, guidelines, niche market and content focus. You've established your target audience and understand what they're seeking. Furthermore, if you use Instagram frequently as a blogging tool, then you might also want to consider working out a plan to schedule instagram stories using a platform such as Sked. A book on How to Style Your Brand helped me discover key ideas when I rebranded recently. It was a short read packed with visual examples and rich information.
Be a Social Media Influencer- Step 2
You know how to deliver a pitch. It's likely that many companies are finding you, but there is also value in reaching out to them too. Maybe you have a story idea that you know will work well and want to make it happen sooner rather than later? If you're actively creating content that's fresh, you'll also want to make some effort to gain information proactively through outreach.
While I have had great success with PR and Media companies contacting me, I've also made substantial effort to pitch them ideas that I know my readers and watchers will need. There's a whole section on my blog about how to work with PR companies. I even have an article about how to host an event with social media influencers for companies.
You must not only create a template of a pitch letter, and a visually stunning media kit that's rich with information and statistics, but also have a contract of what you can offer and are willing to do.
Be a Social Media Influencer- Step 3
Your gear list. To reach people, you need fantastic moving images in great lighting with excellent sound quality. Once you capture those things on film, you need to make sure they're stored and backed up. It's not easy doing all this work. And, no matter what you read on the internet, it's not really cheap either. Sure, there are corners you can cut. But to do it right, there is a list of gadgets that you need to use.
Cameras:
Obviously, the first item you need is a camera. I love my Sony RX100 M3 Advanced Camera
for so many reasons. It's super small, so it easily fits in to a tiny evening bag. Also, the picture quality is fantastic. Battery life is impressive too. I've also used one with a tiltable screen. While the day time pictures are impressive and it's great for selfie photography, I don't feel the second camera mentioned does as well in low lighting compared to the first one.
Next, you want a GoPro HERO
for stories that have movement as a foundation. If action-adventure isn't solely your content as a social media influencer, you don't want to spend a lot of money on an additional camera that isn't used regularly. The lack of a monitor or viewing screen makes framing shots difficult, but it's the more economic answer for when a story surfaces that needs you to GO! I love its waterproof ability, as it comes in very handy for capturing water sports or video on the beach.
I used it for the video below. I noticed this London attraction hadn't been covered extensively on YouTube but the few videos that were doing well were shot with a GoPro. When I showed myself riding the longest slide in Europe with this camera on my head and again on my chest, it achieved thousands of views quickly.
Of course when you film at home or are doing something more concentrated, you'll want a DSLR. A brand that works well for me is Canon. Specifically, I love the Canon EOS 70D.
Stabilizers:
With video becoming more and more competitive, you want to bring your content as close to professional quality as possible. That funky hand held shot that's shown on many vloggers channels is becoming less and less popular. To get a truly great shot, you need some type of stabilizing device for a camera or mobile phone. This means having a tripod that's durable and sturdy.
I didn't spend much money on my Tripod
. For around £17, it has more than produced its ROI. I love the carrying case that comes with it. It's very easy to throw over a shoulder and go!
However, to upgrade your video quality, you'll want a tripod with a fluid head. That means you can pan and tilt smoothly. I'm not totally in love with my Manfrotto tripod because I struggle with moving the release plate quickly and it's heavier that my other one. But, it's clearly the better way to shoot video.
However, for livestreaming video from home, you want this little holder honey…
It holds my iPhone 6 either vertically or horizontally. The Universal Mini Tripod Holder Mount Stand
cost me less than £5. BOOM! Finally, what you're seeing becoming more and more popular are steadycams. Currently, the handheld Gimbal stablizer is the top rated. If you're still cool with keeping it light and simple, stick with a Mpow selfie stick. I bought mine for a whopping £6. Again, I used it for the YouTube video above.
Lights:
You can have a fantastic filming device in a stable position, but if your lighting isn't great, you'll be a shadow in the social media influencer show. For this reason, I use the BPS Softbox Studio Continuous Lighting Light Box
for all the videos I shoot at home.
To capture that perfect selfie in lowlight, don't leave your house without a diva ring light.
Sound:
Great images with great lighting is good, but you won't have the ability to be a social media influencer if people can't hear you. The video below features both Rode microphones that I use. In the opening I use a lavalier mic with my iPhone, and for the rest I use the VIDEOPRO mic. There's no way I would livestream video on Facebook or record anything while at attractions and events in London without my lav mic.
Accessories:
The little things in terms of organisation, power and storage go a long, long way. Without power and memory, nothing else can happen. These products travel with me everywhere:
Oh yeah, and just when you think it's all about the electronic game, let's not forget the power of the pen. Yes, you still need a good, old fashion writing tool. Well, sort of. I think to be a social media influencer with something to say in 2017, you need to have a kick ass stylus. When you're sharing your wisdom and comments to the world on Snapchat or through
Instastories
, have some colourful style. I grabbed this set of
10 touchscreen pens
for less than £1 and love every single one of them!
So, what's on your gear list to be a social media influencer in 2017? Any suggestions you have to maximize your year and outreach? Most importantly, how do you carry all of your gadgets and devices from place to place?
If you found this valuable, please share it on Pinterest, Facebook, Twitter or any other network.