Being invited to the Namaaste Kitchen in Camden, the 'Best Indian Restaurant of 2014', is quite an honour, especially when it's to be one of the first people to eat from their Christmas menu.
Actually, I am still learning about Indian food, as I had never eaten it until several months after I moved to London. The first time I tried it was on a walking food tour of the East End when we visited Brick Lane. Londoners know that this is quite a popular place to eat Indian food. Mr. Sunny loves the cuisine. Some of his favourite dishes include Madras, Vindaloo and Lamb Pasanda. He thought he knew a lot about Indian food, until we checked out the menu at Namaaste Kitchen. Right away, he realised it is very contemporary, and this was new adventure for him.
On a Saturday night, we arrived a half hour before our table booking, eager to learn more about Namaaste Kitchen and their excellent reputation in a very trendy part of London.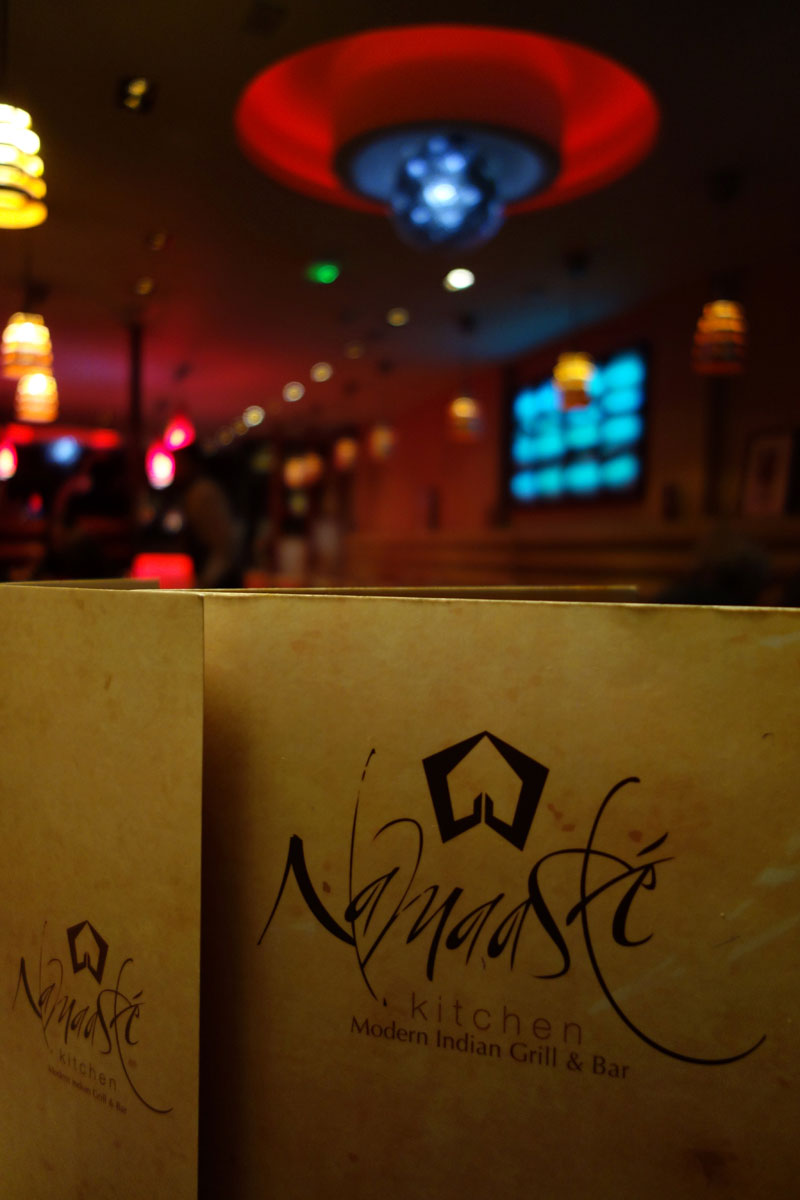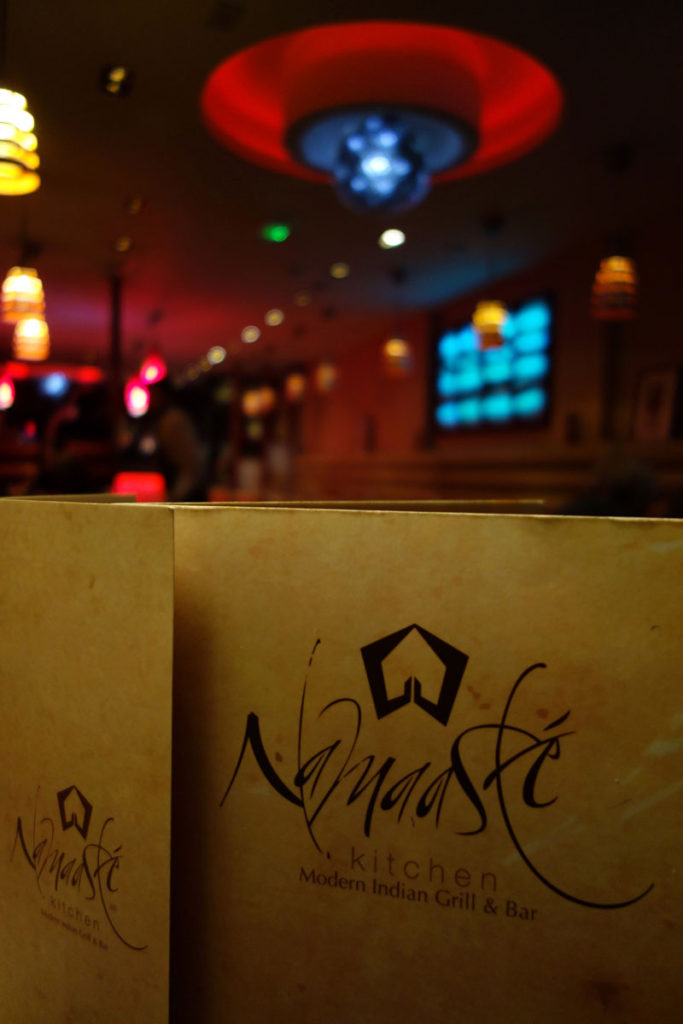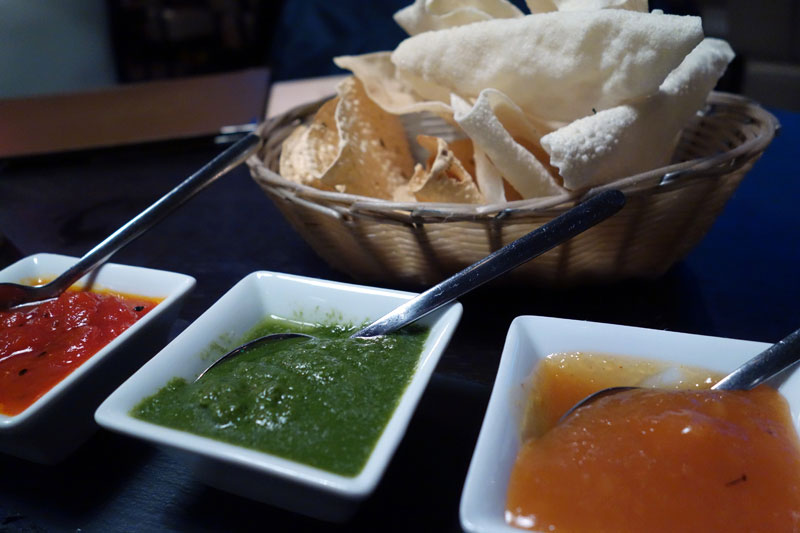 The staff quickly gave us a table and didn't seem bothered that we had arrived so early. We ordered our standard beer and red wine and perused the menu while munching on poppadoms. I adored the mango sauce featured on the far left in the picture above.
Mr. Sunny wanted to try food from the a la carte menu. Since I  have had the festive spirit since mid-October, I was all over the Christmas menu. Namaaste Kitchen has quite an extensive holiday offering. I chose menu 'C', as there are three set menus from which to choose.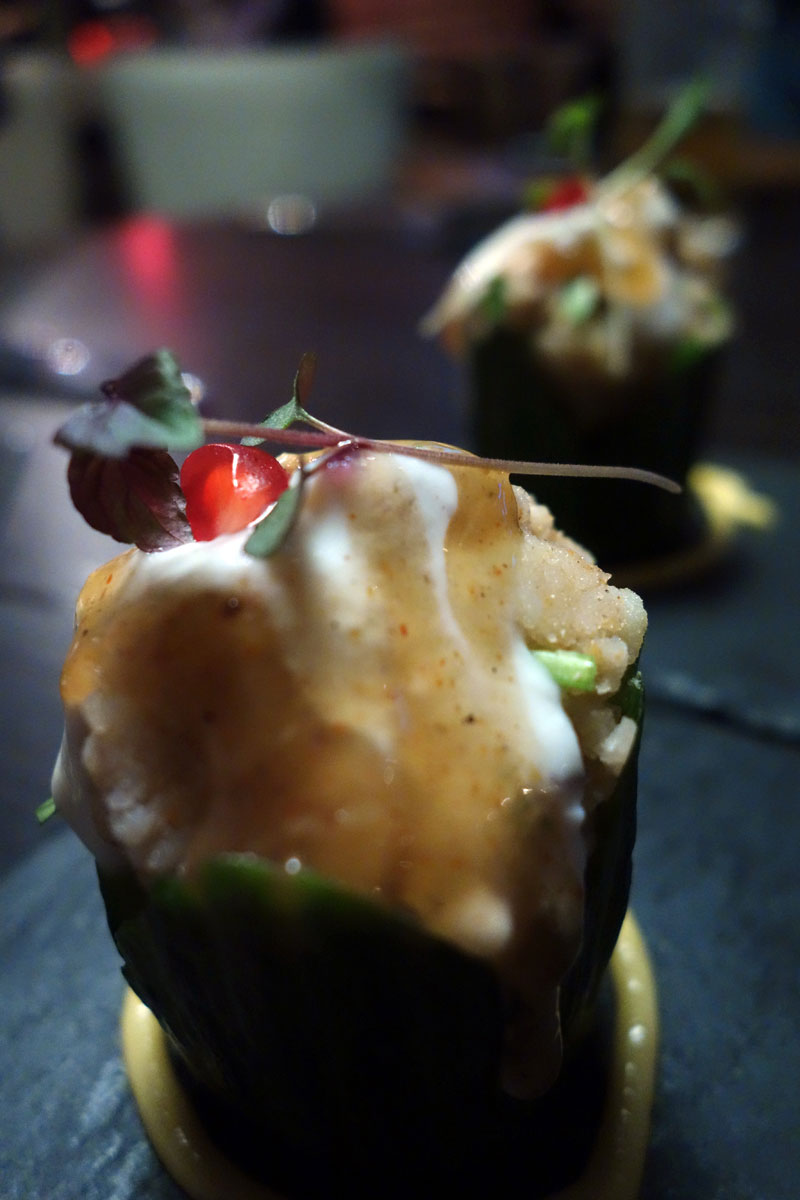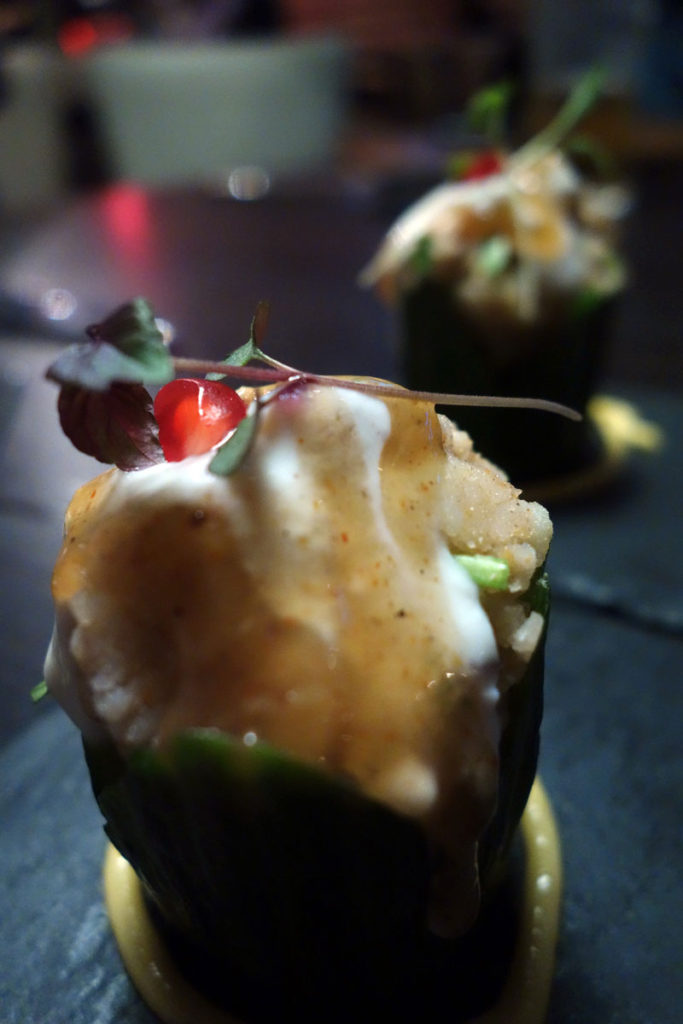 Namaaste Kitchen Review: The Food
Above is the first bit to arrive at our table. We weren't quite sure what it was. However, it was pretty good. Next, Mr. Sunny had his Starter, Tandoori Aastish-e-Jingha. This is jumbo prawns marinated in English mustard. I had Dal Chini Salmon, which is salmon fillet infused in Dhungar with Cinnamon exotic spices. This is traditional quick smoke procedure used to flavour a dish.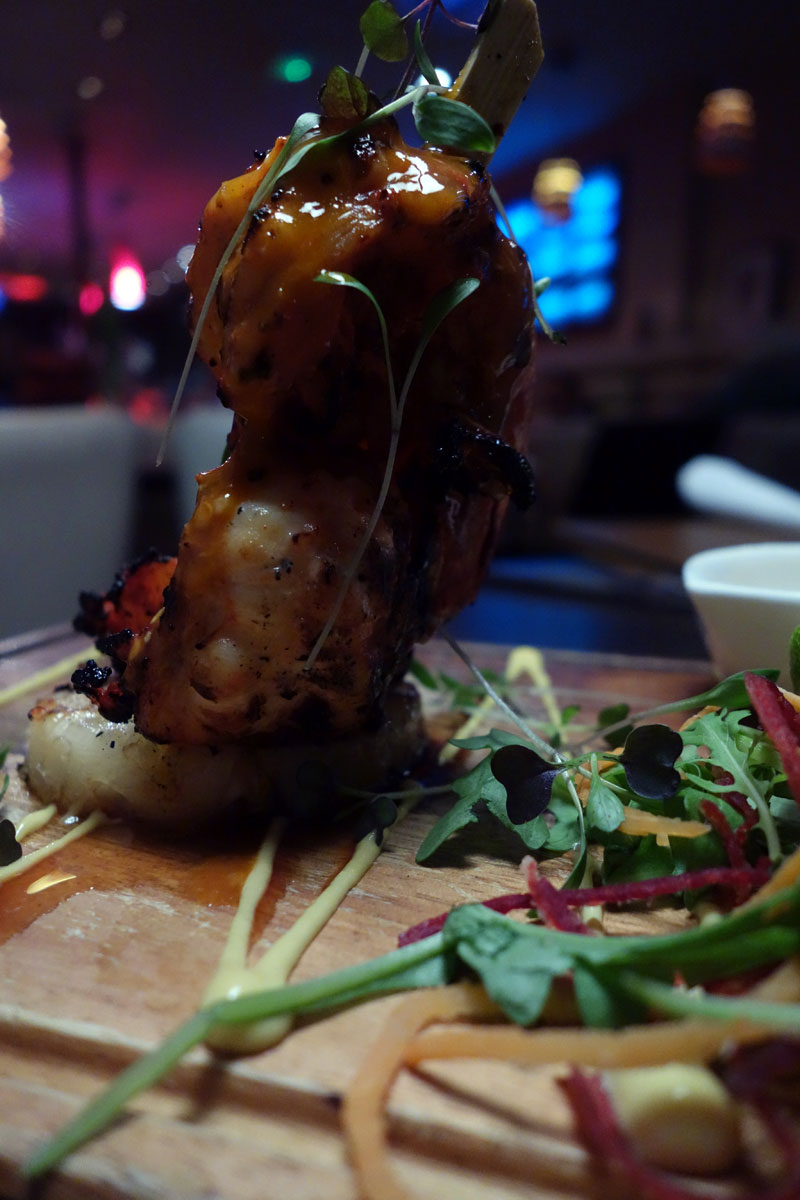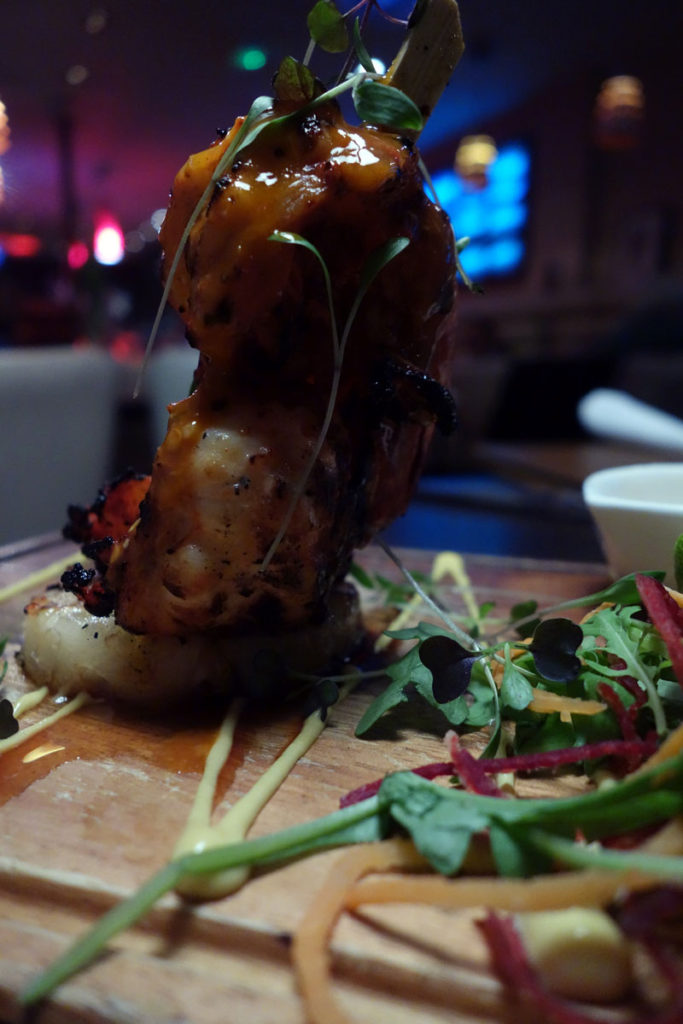 Mr. Sunny thoroughly enjoyed his prawns, and my salmon was a homerun. I rarely order salmon on a menu, unless I feel pressure to be really healthy. The salmon on the Namaaste Kitchen Christmas menu is different. I would really get excited about having it again because the incorporation of cinnamon with a beautifully cooked piece of seafood is extraordinary. Well done to the Chef!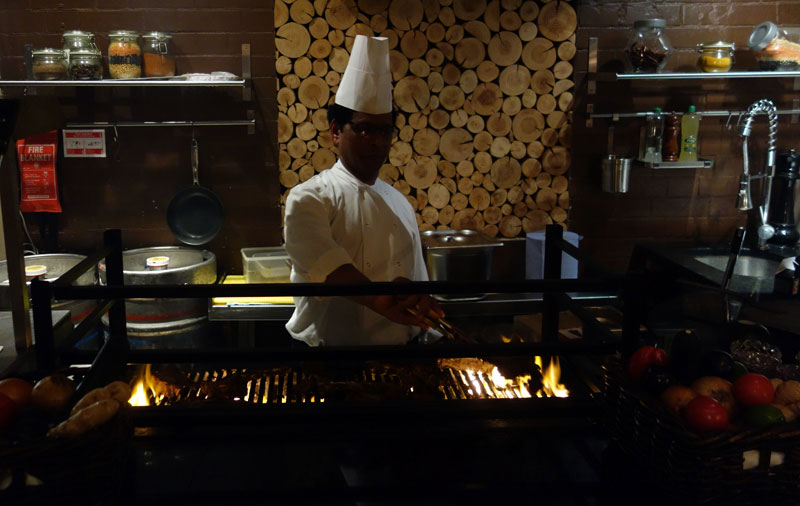 For our Main courses, Mr. Sunny ordered lobster and I ate the Lamb Xacuti. My dish is tender boneless lamb cooked in a paste of fresh ground coconut, cumin and coriander. This dish packed some serious flavour. I'm a real lightweight when it comes to spice. Further, cumin and coriander have never been high on my list. I tried to eat as much as possible, balanced with gulps of water and a splash of wine.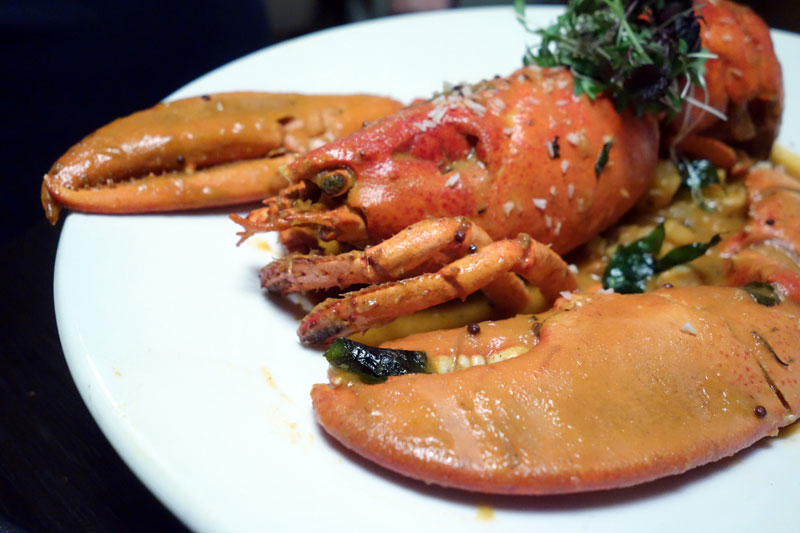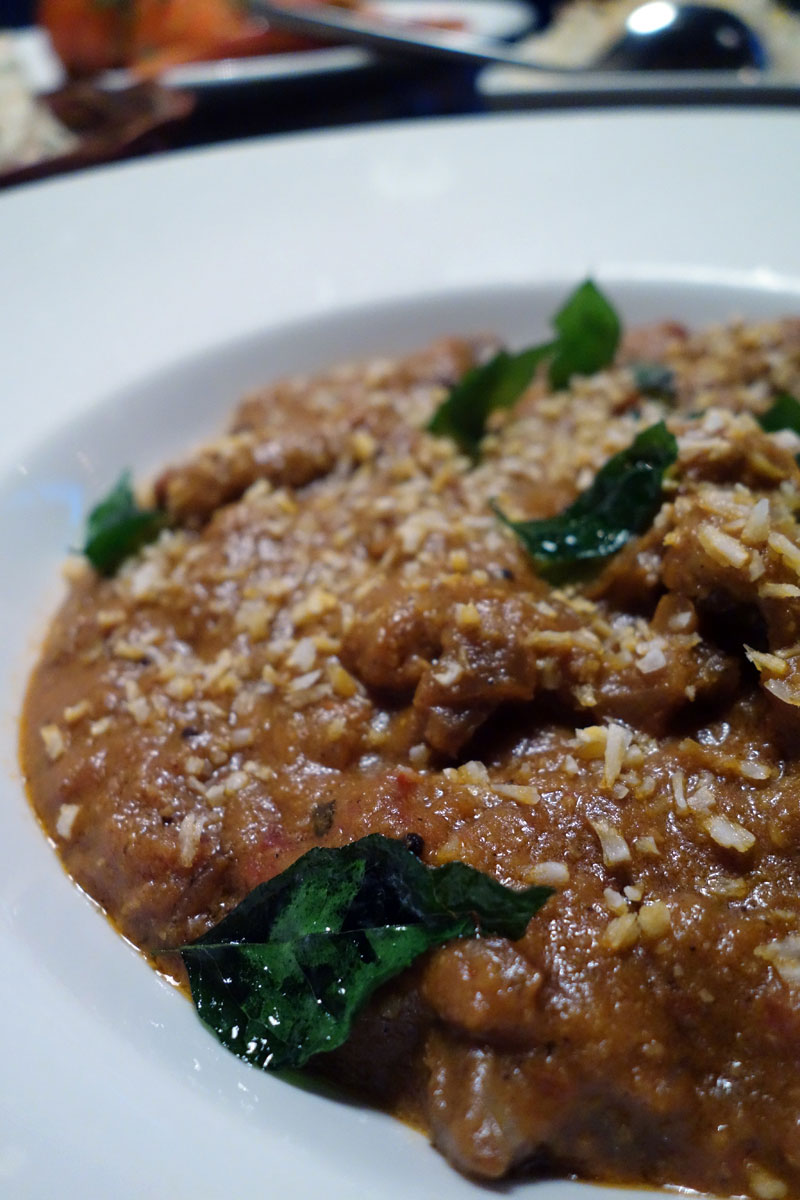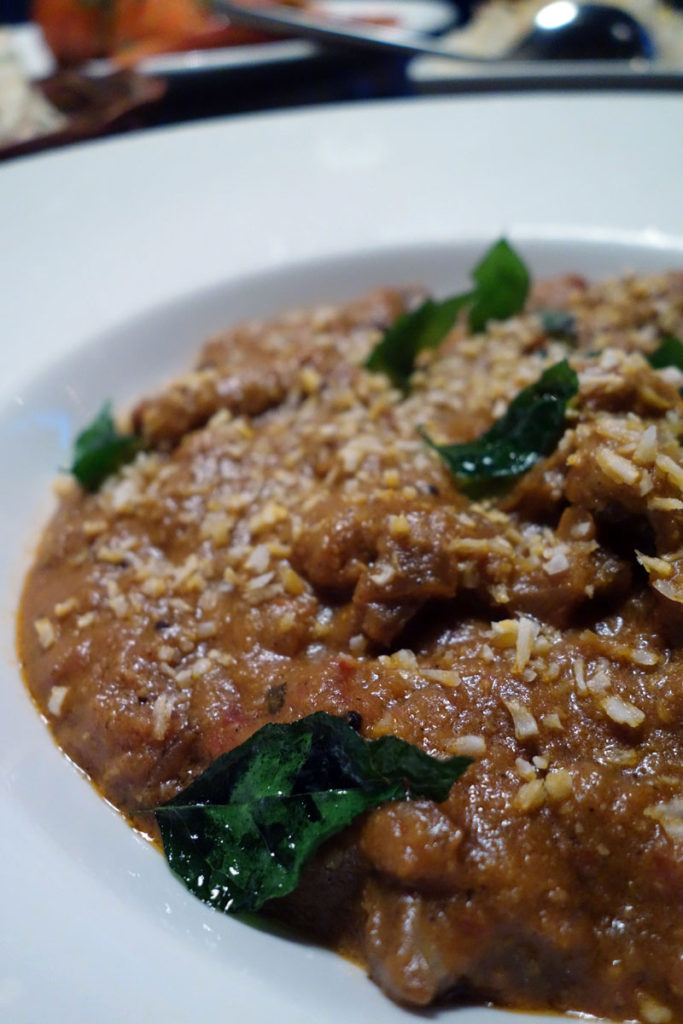 For me, it was a little too hot. Again, I'm new to Indian food, and Mr. Sunny didn't think it was too spicy at all. His lobster was gone before I knew it.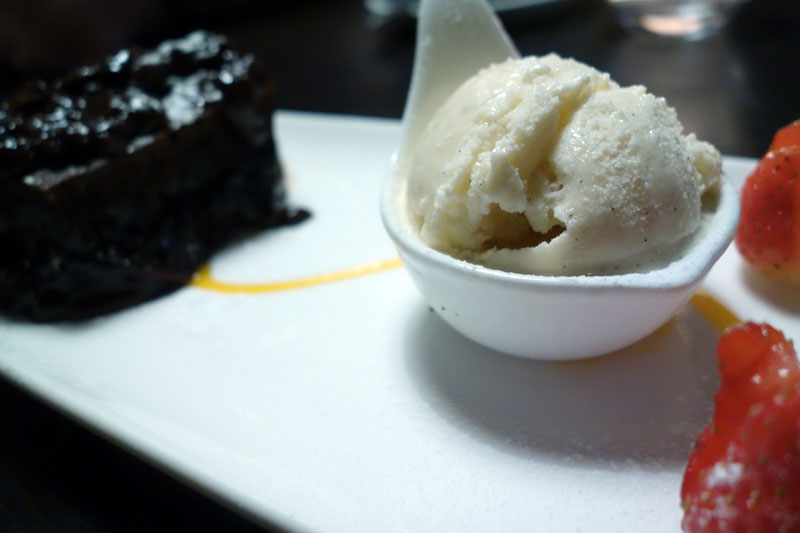 Finally, we shared a Christmas pudding because we knew we were too full to manage a dessert each. While we both loved the Christmas pudding with Saffron Vanilla Custard, Mr. Sunny was especially happy. He said it wasn't traditional English Christmas pudding and that's why it was so good. 😉
Hmmmm. Yet, he's the one who said Christmas pudding should be in the 'What Do British People Eat for Christmas' video…
Namaaste Kitchen Review: Food Quality
We both felt that the value for the money is well worth it for both the 2016 Christmas Menu and a la carte menu at Namaaste Kitchen. I'm guessing the Indian and Pakistani restuarant is very consistent with their food and service because there wasn't a table available when we left. Our experience was fantastic, and I would look forward to trying other items on their menu. Well, as long as they are super mild. I'm still working my way through understanding Indian cuisine and what resonates with me.
Namaaste Kitchen Review: Location
The restaurant is inches from Camden Town underground station on Parkway, which is Camden High Street. It's a buzzing area at all times of the day, especially at night. The ambiance and decor of Namaaste Kitchen match the contemporary theme. Our first visit was complimentary for the purpose of a review. However, we are eager to return again on our own, as we are sure the experience would be just as lovely.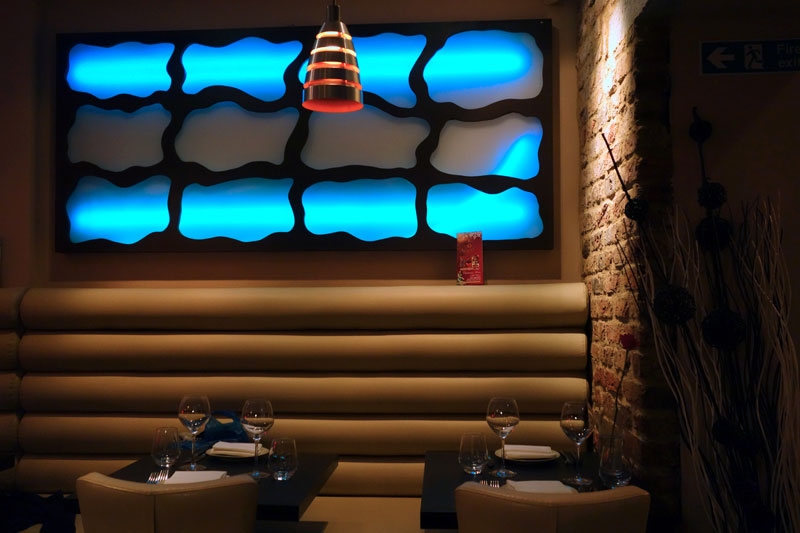 What Christmas menus in London have you had the chance to try this year? Are there annual Christmas things to do and events in which you look forward in London every year?