Spring in London is truly glorious. The temperatures rise. The sun stays out longer. Cherry blossoms bloom. And then there's my favourite thing to see… Spring menus bursting on to the food scene!
Mr. Sunny and I selected Brasserie Blanc this year for our first official Spring restaurant experience for some very sentimental reasons. The loss of his mum earlier this year slowed down regular publications on Sunny in London. As you can appreciate, life changed for us quite a bit and we needed time to adjust.
But we decided as winter shed its final flakes (we hope), that we would start heating things up again on the blog. The press release for Brasserie Blanc's new menu in my inbox ignited the relaunch. And this is why…
We love French food. And, my mother in law did too. After reading through the new menu together, our overall impression was strong. Raymond Blanc's concept of joining a collection of dishes inspired by his travels is enticing, especially when it's such a popular time of year to energize and begin new adventures. So, the menu also captured our feelings of moving forward with a bit of vibrancy.
However, we both were targeting the same dish to have when we walked in to Brasserie Blanc Chancery Lane location on a very hot evening in mid-April.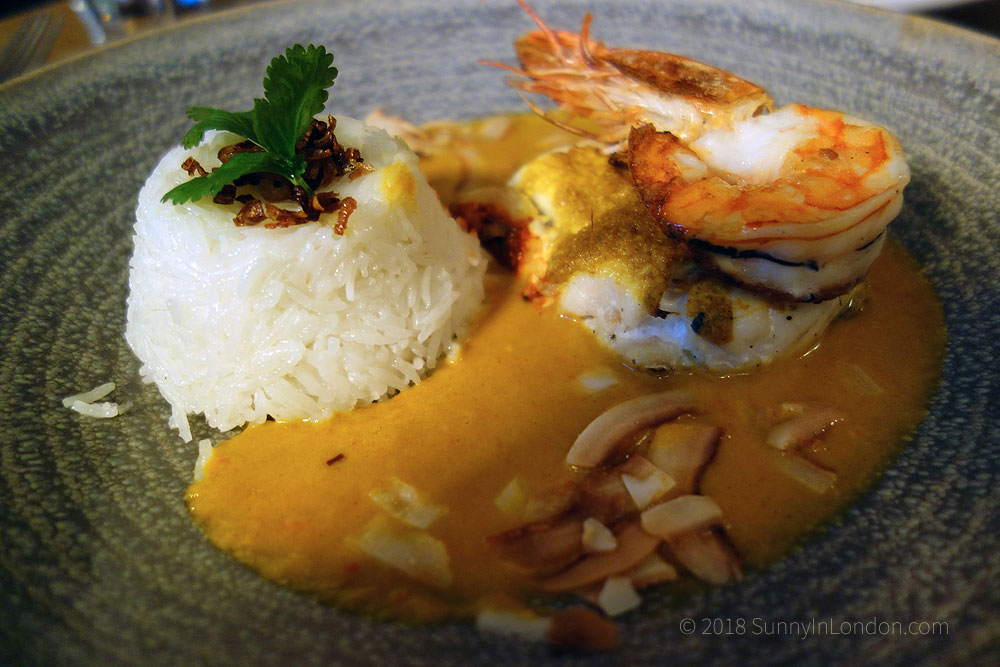 Brasserie Blanc Chancery Lane- The Food
That's the Malabar Fish Curry with Toasted Coconut. And, I won the draw to have it as my Main Course. It is roast hake with aromatic spices and coconut milk, grilled king prawn, shallot crisps and coconut rice. I can attest to the fact that it is divine!
Backing up a bit in my food journey, I started with the Mediterranean Fish Soup. This was an odd selection for me because I never order soup and rarely eat it at home. Further, the near 90° Fahrenheit temperature outside certainly wasn't beckoning me to the dish. But, again the ingredients sounded so scrumptious.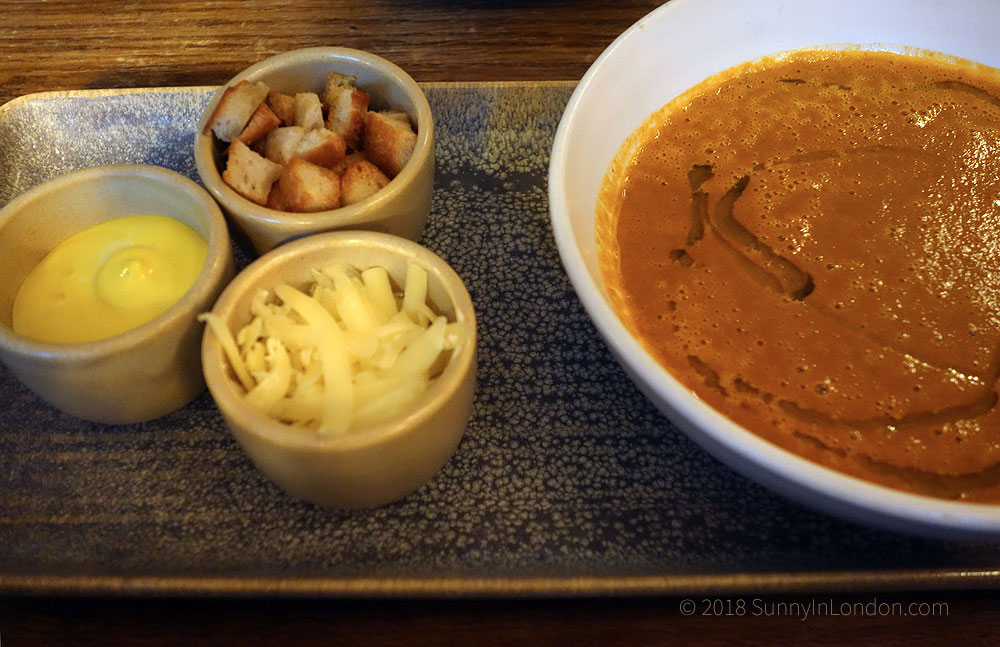 I loved it. And, adding the final touches of cheese, croutons, etc myself was a little fun too. The soup is rich with balanced flavour and the texture is silky smooth.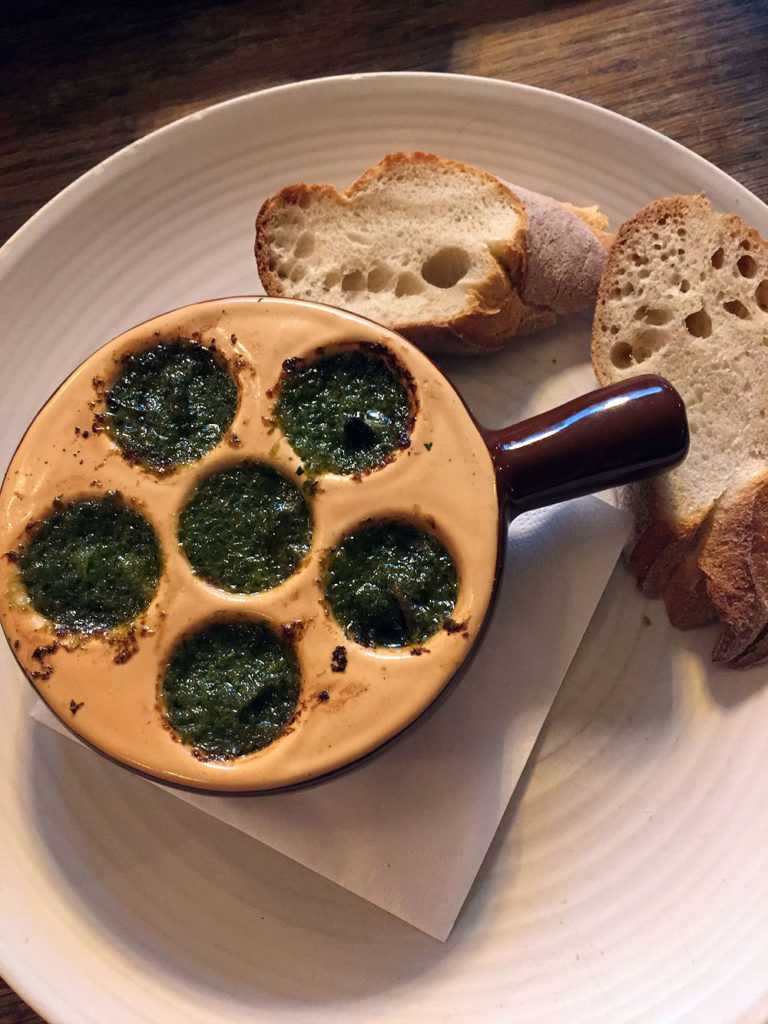 Mr. Sunny or his mother would never pass up Escargot on a menu. It's their favourite. Well, that's if Buffalo Wings aren't on the menu, because Mr Sunny is an avid wingman. However, it would be rare to  see a restaurant feature both on a menu because they are cuisine worlds away!
He enjoyed them and followed the Starter with his other French fav- Moules Frites!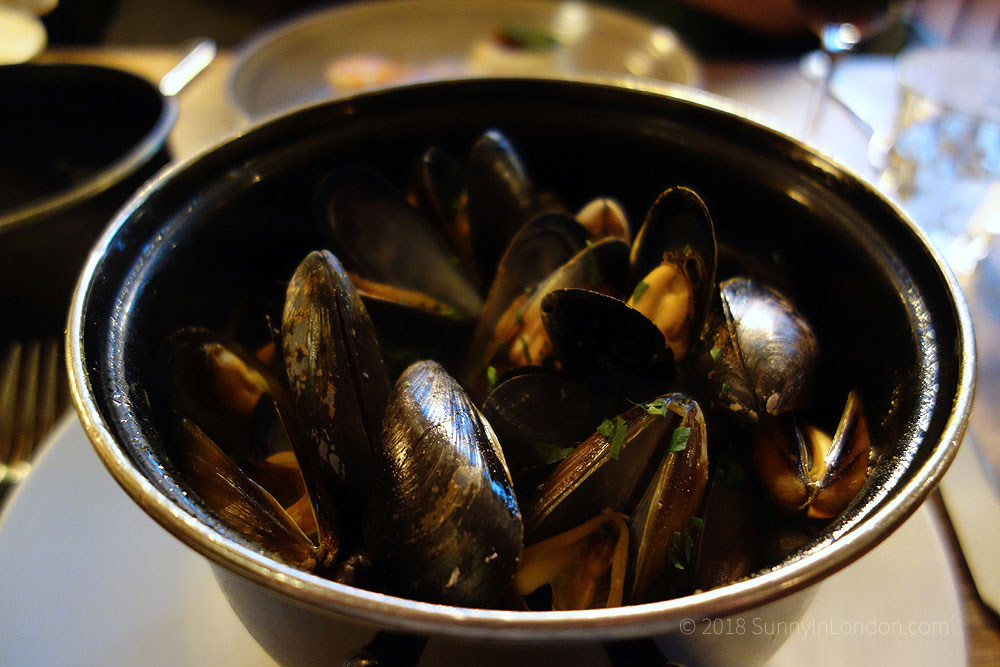 While he indicated his preference for mussels is slightly different from how the chef served them, he said the dish was thoroughly enjoyable. He felt both his courses would have been real winners with his mum too.
For our final selection, we decided to share one chocolate fondant, one of the evening's specials, because our first and second courses were so filling. Sharing food (especially dessert) is not something for which I am known. 😉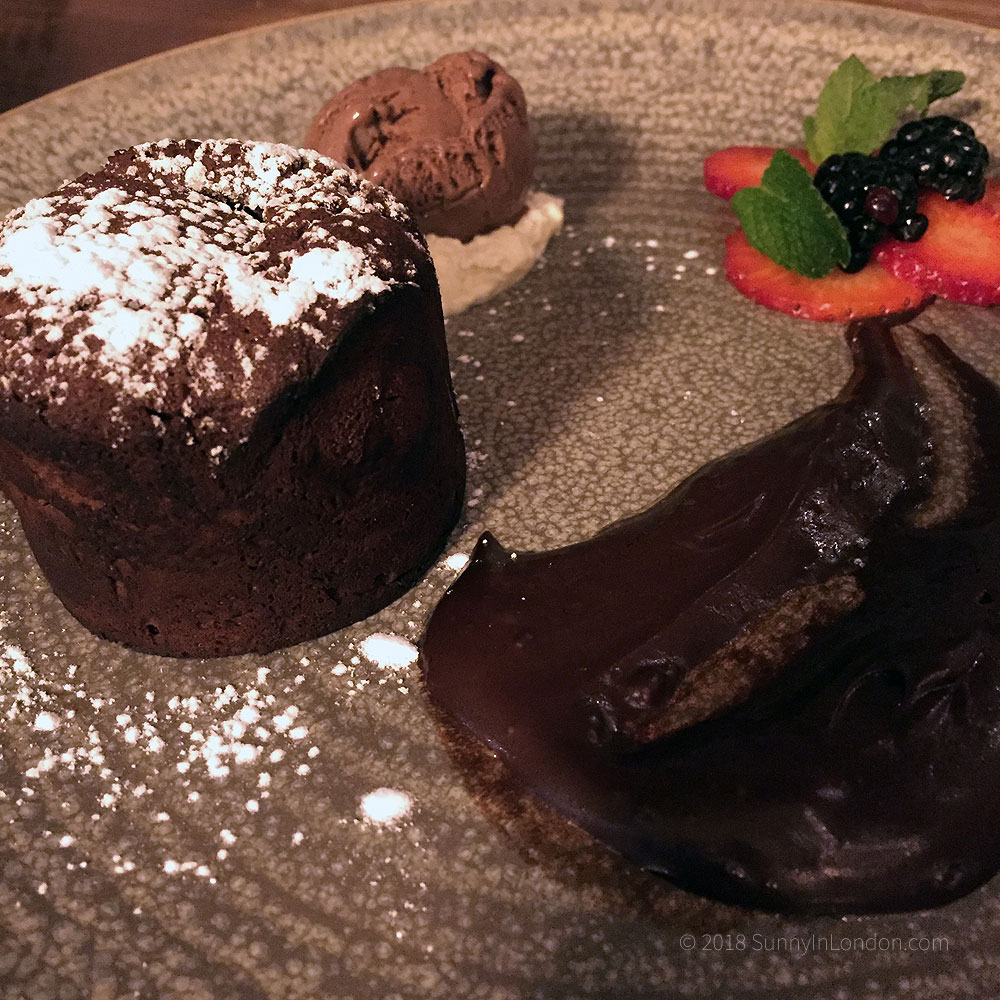 Initially, I was disappointed at the small size when it hit the table. However, after a delicious few bites, each of us felt that only ordering one was indeed the correct thing to do. They had warned us that it was a chocolate lover's feast, and they were exactly right!
Brasserie Blanc Chancery Lane- Service
It is rare that service during a blog review goes wrong. So, I try to look for signs that would be consistent regardless of the circumstance so readers trust my recommendations. We had the chance to talk to many staff members while at Brasserie Blanc. Their communication with one another and system for managing each table was solid.
Further, each person offered extensive knowledge at various points. Our server, Christopher, knew the menu well and offered suggestions that worked to exceed our expectations. Also impressive was the Brouilly Domaine des Dames de la Roche that we enjoyed upon the suggestion of the manager. We were initially concerned that since all of our courses featured fish that we would be remiss by not having white wine. It was the perfect red wine pairing for a vibrant spring day.
Brasserie Blanc Chancery Lane- Ambience
Mr. Sunny and I usually schedule our blog review dinners early because we find it easier for photographs and less distracting for other people dining in a restaurant. When we arrived at 6.15pm there weren't many tables filled, and that was expected at such an early booking. As the evening progressed, Brasserie Blanc had a strong, steady crowd.
It seemed nearly all patrons entering were French. For a culture known for its passion and appreciation for fine food, seeing so many 'natives' at tables gave even more credit to my thoughts about our experience. Again, restaurants can put on their best face for a pre-arranged, complimentary blog dinner, but observing this type of clientele to me says there is consistency with Brasserie Blanc Chancery Lane.
Finally, I also appreciated that the tables were fairly spaced apart and we weren't crammed in to a small space elbowing other guests. However, ladies make sure you don't have too much champagne or wine before you attempt the tight spiral staircase to the loo!
Brasserie Blanc Chancery Lane- Final Thoughts
An additional point worth noting is that Brasserie Blanc has an extensive gluten free menu. Also, impressive is the new Sunday Lunch Menu.
They have many restaurants in London (Charlotte Street, Hammersmith Riverside, Southbank, Threadneedle Street and Tower of London). You can also find them in Bath, Leeds, Oxford, St Albans, Portsmouth and several other locations in England.
Our evening was a blend of past, present and future as when said a toast to my mother in law, enjoyed a spring revival for the blog and discussed our upcoming trip to Prague.
Brasserie Blanc is at the top of my suggestion list for Londoners and people who visit London that are seeking classic French cuisine with a fun flair and flavour.