Porky's BBQ Review- Bankside London
What do you think of when someone says American food? Cheeseburgers? Barbecue? Large portion sizes? If those are images you have and they sound appetising to you, then a visit to Porky's BBQ in London is something you might want on your list of places to eat.
Ironically, Mr. Sunny and I kicked off our Christmas celebrations with a trip to their Bankside location this year. We hit the restaurant at 1pm the day after the Southbank Wintertime Festival started. On the days leading up to our visit, we really were salivating on my iPad as we struggled with decisions about what to have while we reviewed the menu online.
I felt like I needed to order the 'Big Ben Burger' because Americans always flock to the clock and would probably want to read about the experience of 'eating' such an iconic item. And, in all honesty, I actually wanted to try the Quinoa and Feta Salad too. However, since I was invited to write a review, I thought it would be a bit cheeky to order a salad at a BBQ joint. Mr. Sunny loves ribs, burgers, wings, and all meaty types of things. So, he was torn between many different menu items. Ultimately, this is what we decided…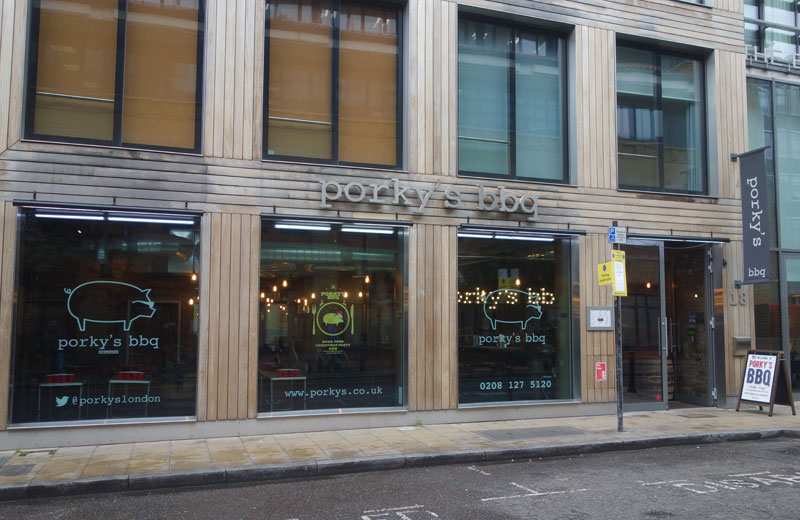 Porky's BBQ Bankside- Food
For Starters, I couldn't resist the Chilli 'n' Mac 'n Cheese. Yep, I know I shouldn't have gluten but since this is one of my all time favorite American dishes, I had to try it at Porky's BBQ.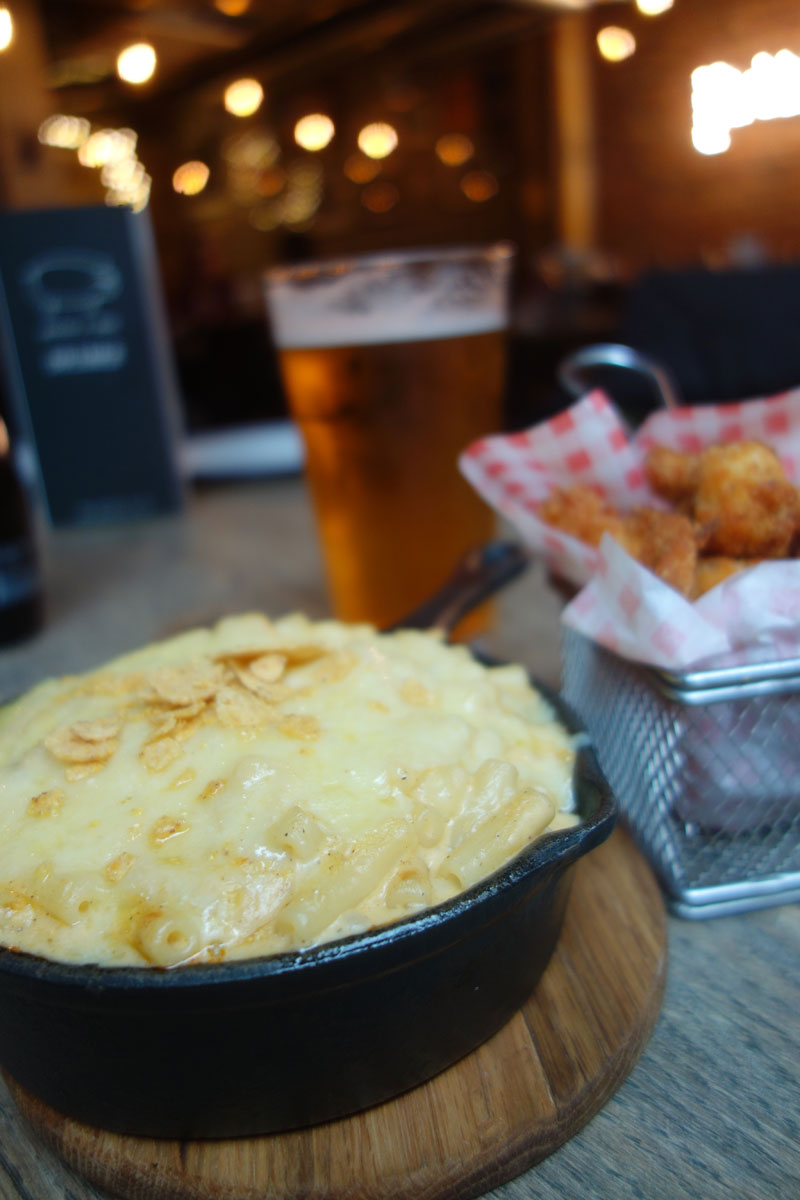 Hot damn it was good! If you caught my Instatories that day, you got to see my fork pulling out the first bite of the cheesy chilli dish.
Since I didn't really feel like taking one for the tourist team, I chose the Porky Burger to have next. It is ginormous in terms of portion size. Each bite is a challenge because the burger is so big. I loved the flavors of all the ingredients but after several bites I realised that since my Starter was so heavy there was no chance of me finishing their signature burger. And, this is also one of the few times I could find no room for dessert.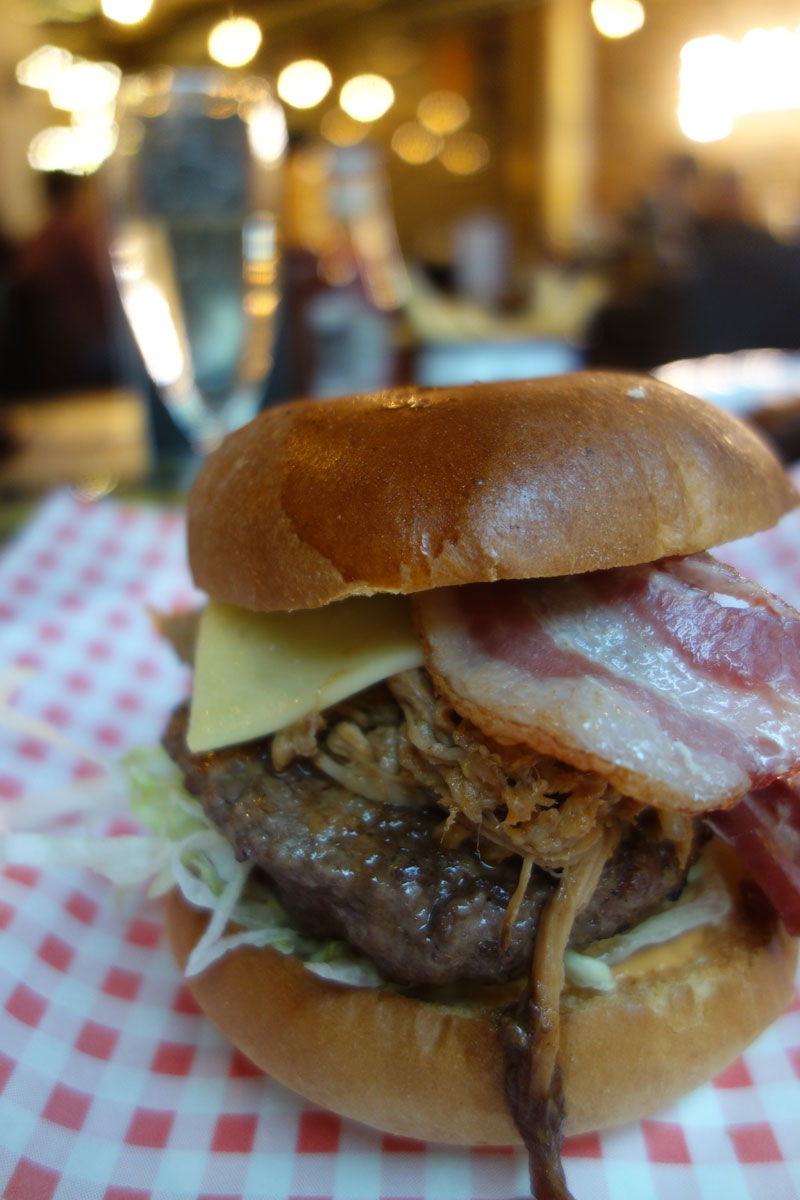 Mr. Sunny had the Popcorn Chicken as a Starter and then attempted the BBQ Feast. We suspected it would be too much food for him and appreciate that our server brought us an empty platter for us to see prior to him committing to ordering it. But, perhaps this Half Rack Baby Back Ribs, 1/4 Chicken, Pulled Pork, Burnt Ends, Fries, House Slaw and Beans is best shared between two meat lovers, unless someone is training for Man vs Food 😉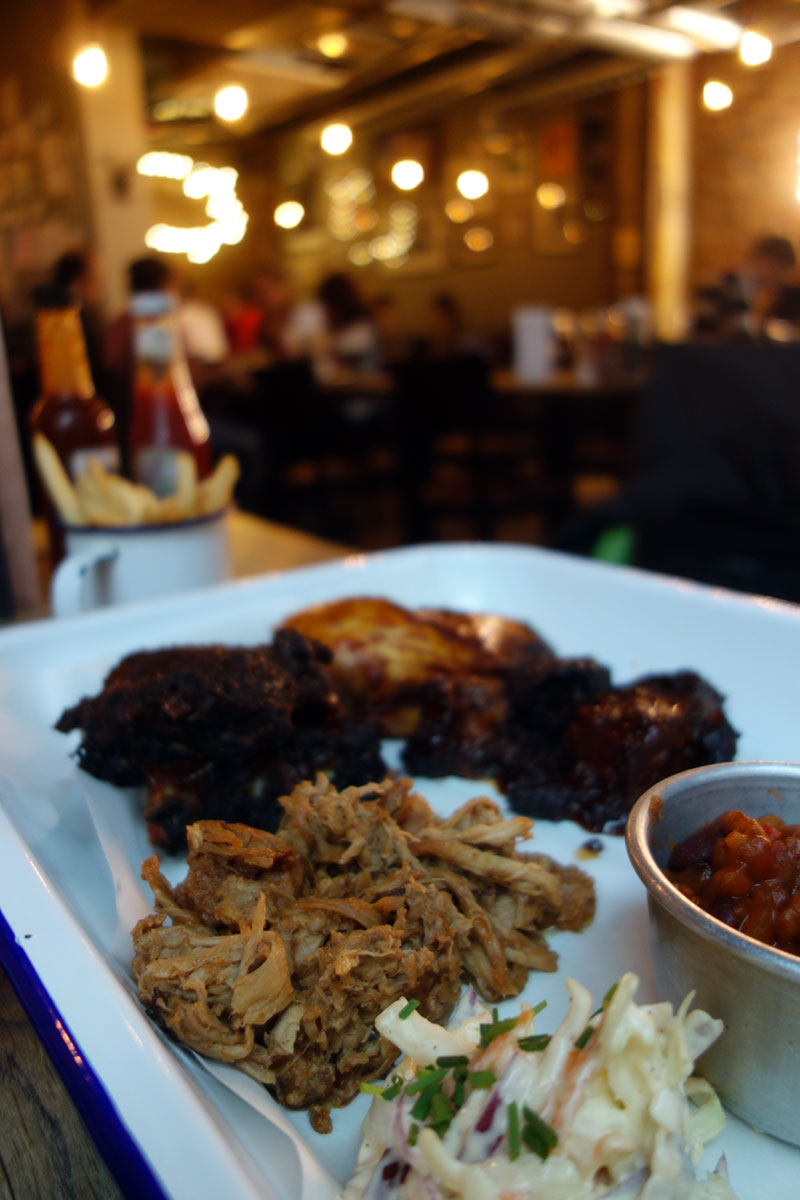 Porky's BBQ Bankside- Atmosphere
Despite the fact that the Southbank Wintertime Festival had started and it was also Remembrance Day, we found the restaurant to be spacious and quiet. My guess is that later in the evening it might not be as roomy. I can see the Beer Pong Tables attracted quite a big crowd at night.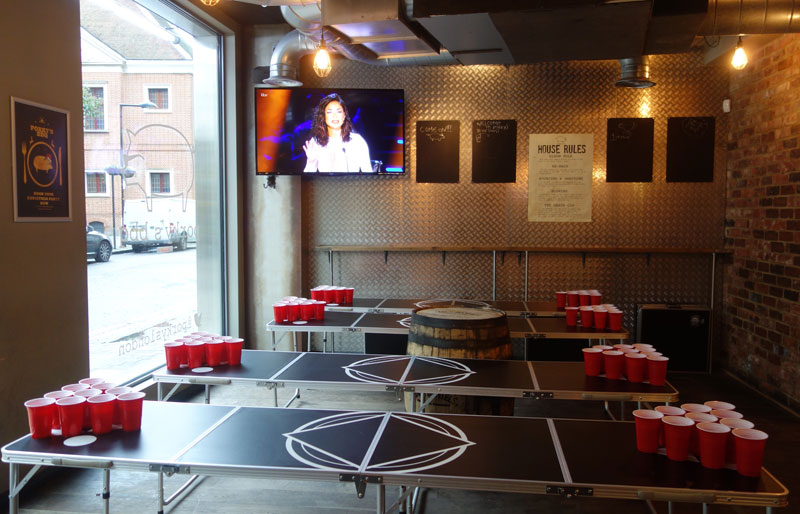 Porky's BBQ seems like a great location to meet a large party of colleagues, friends or even family. In fact, it seemed there was a 25th birthday celebration happening next to us with about 10 people at combined tables. Also, a very big party was just finished when we arrived.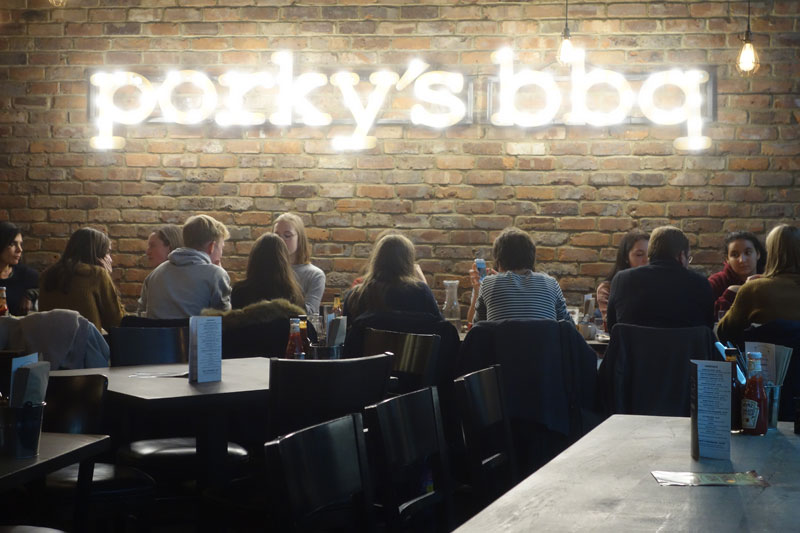 Porky's BBQ Bankside- Service
When we arrived, they weren't really clear about our table being reserved and why. But they immediately put us at a great table when I indicated natural lighting would be ideal for photos in a review.
Our server seemed to know general information about the menu but not intricate details. However, as I mentioned above, it was smart for her to show us the actual plate that the BBQ Feast was served in when we asked if it might be way too much for one person to eat with a starter.
Our food was served fast and at a great temperature for grilled meat. Our server seemed really busy after our meal, so we made sure to stop by the kitchen door to thank the staff and say goodbye. Once out in the street we heard our server call to us to return to the restaurant. Apparently, they thought we left without paying a bill. The confusion swiftly cleared when I showed them the messages coordinating a restaurant review. I include this information not to point out any errors from them but really to highlight that our experience took place with truly honest intentions from the staff. We really feel we were not treated 'special' or better than other customers because of a complimentary review because they actually didn't seem to know we were doing one.
Porky's BBQ- Final Thoughts
When trying to have an authentic American BBQ experience in London as an American expat like me, a tourist who doesn't want to try British cuisine, or as a Londoner like my husband who genuinely loves a good grilled food, Porky's BBQ is a strong option. They have four locations in London: Camden, Bankside, Shoreditch and Crouch End.
In fact, I loved seeing their Thanksgiving Menu, which includes pumpkin pie this year! I will certainly suggest Porky's BBQ to my American expat friends in London who are seeking a casual Thanksgiving meal.
As for the rest of our day, we will need to revisit Southbank Wintertime Festival because we didn't try any of the food there nor eat dinner later that evening. Porky's BBQ sure was a filling and enjoyable experience that extended well after our last bite!