For nearly 20 years Christine and Christine have been molding their chocolate fortune, Choccywoccydoodah. What started off as an idea launched by finishing a bottle of gin, is now a sweet international success. Sunny friends, I'm about to tell you the Choccywoccydoodah Secrets!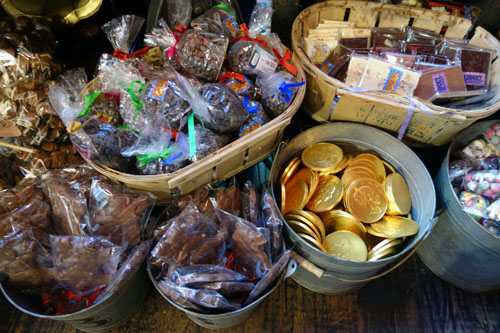 Aside from currently taping its fifth television season, Choccywoccydoodah is also days away from opening a second location in Brighton which features both a chocolate shop and café. The first one is located in the Newburgh Quarter of Carnaby Street.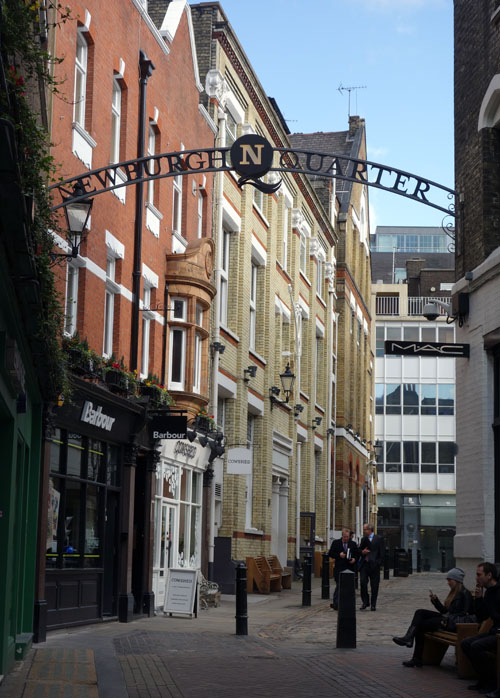 I had the pleasure of meeting with Henry, the Director's Assistant for Choccywoccydoodah, on one beautiful Sunny in London day.
When I first stepped foot in Choccywoccydoodah London, I felt like Dorothy opening the door to Oz.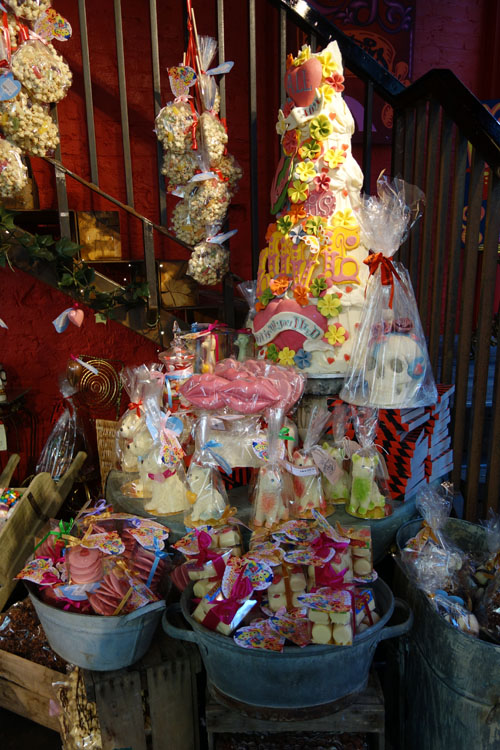 It was an immediate transformation into the surreal as I sifted through piles and piles of chocolate goodies to meet Henry.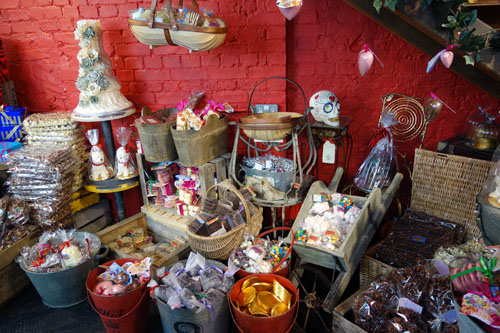 We headed upstairs to the café and ordered 2 chocolate drinks, a white chocolate and a mocha. Henry suggested the chocolate dipping plate for lunch. Oh Henry!!! (I think he'll be my new BFF.)
For the next hour, we dipped chocolate in to molten chocolate, and I learned the secrets behind this magical kingdom.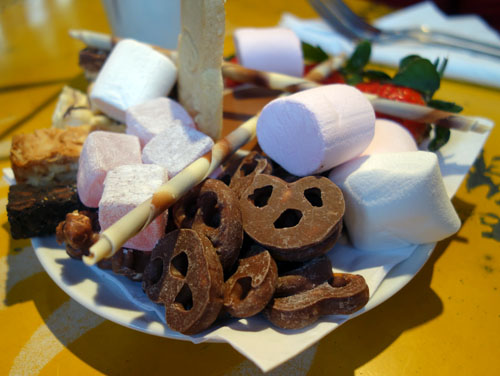 Choccywoccydoodah Secret #1-
To create the beautiful designs, Choccywoccydoodah only uses Belgium chocolate. With it, they have made everything from popcorn lollipops to cakes (wedding, anniversay, divorce and even funeral).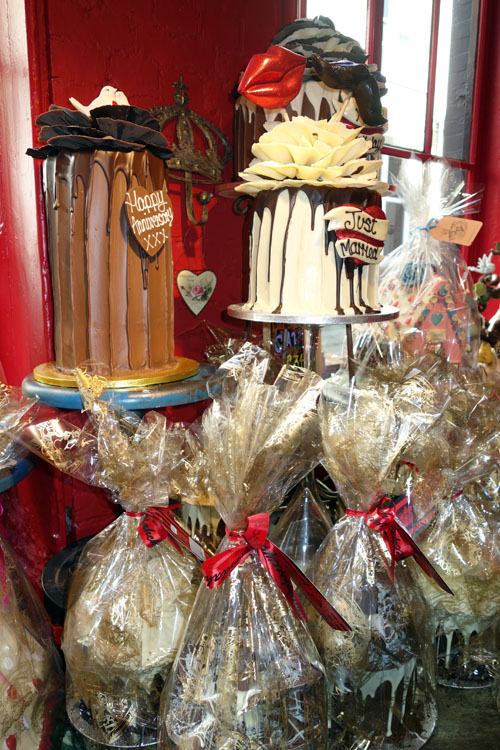 Choccywoccydoodah Secret #2-
Celebrity clients have included: Whoopi Goldberg, Joan Collins, Rihanna, Madonna and Kylie Minogue. Oh yeah, and Choccywoccydoodah made Elton John's wedding cake. As you can see from this glittery list, their cakes appeal to those who are ready to go mad with chocolate design and fun.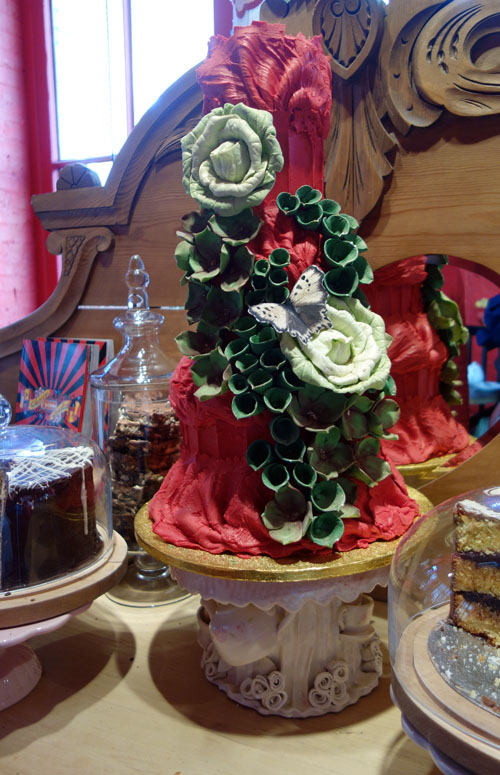 To have a bespoke or custom made cake, a client needs to contact them via their email 3-6 months prior to the special date.
Here's what they call a Taster Cake.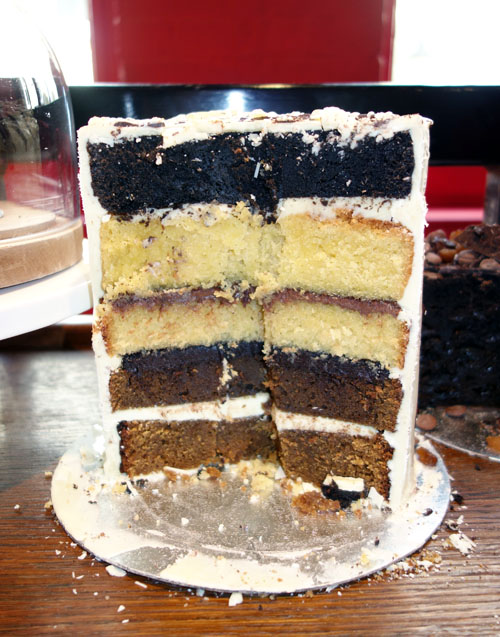 It features one layer of each flavor they offer (chocolate, lemon, ginger, coffee or coconut).  Each one-inch layer is separated with a truffle filling in either dark chocolate, white chocolate, praline or champagne.
Previous designs have featured dragons, carousels, horses and even a full blown amusement park including a roller coaster! Here's one of Christine's favorites, a chocolate cabbage leaf.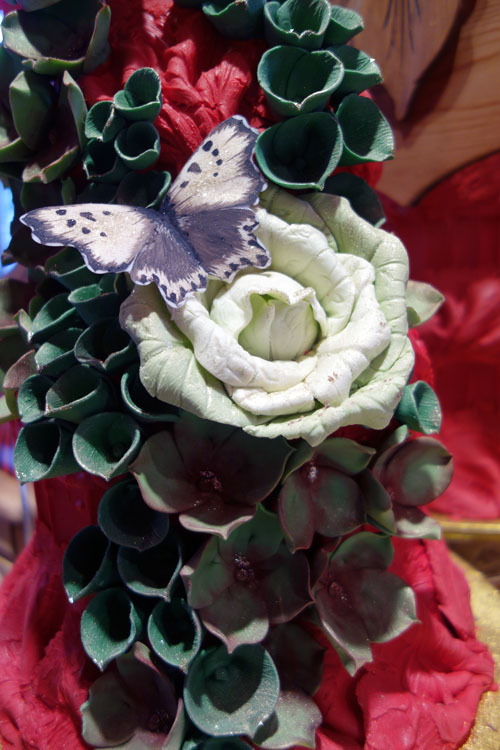 Cakes start around £450 for 40-50 portions. The "Midi" is 2 feet tall and is from £795-£1000. It features 3 tiers and includes 120-150 portions.
Once they respond to your email, Choccywoccydoodah arranges a consultation in which they discuss your event's themes, colors, venue and mood.
Choccywoccydoodah Secret #3-
Every design and creation is handmade. No machines are involved. In fact, Henry said he could easily name each person who made each piece of delicious candy in the store. Whoa!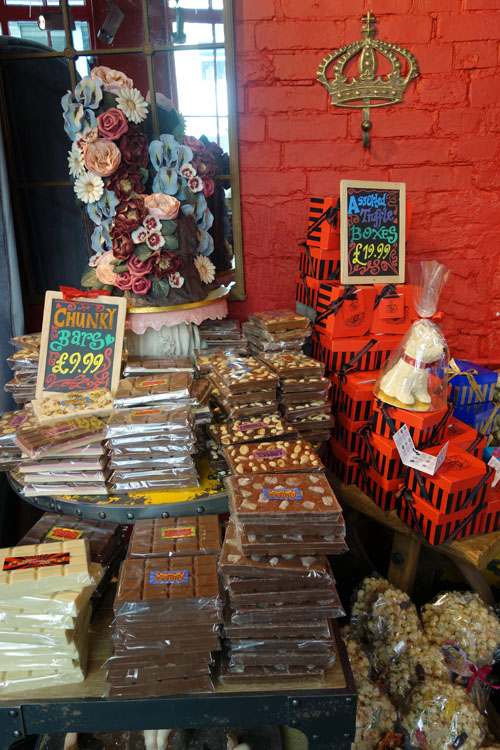 Choccywoccydoodah Secret #3-
So how does one score a golden ticket for a job here? Henry indicated that there's a close group of people who come from an array of artistic backgrounds on the team, which is more like a family. One of the bakers is actually a musician. The owners seek people with creative abilities and high problem solving skills, rather than culinary degrees. In fact, one of the Christines comes from a graphic design background.
Choccywoccydoodah Secret #4-
The London location has a Secret Room. Sunny friends, you are getting a peek today!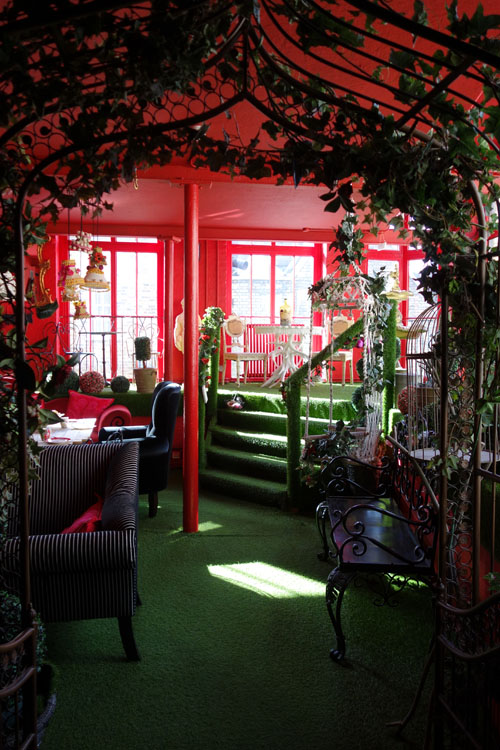 This room is available for corporate events, office meetings and team building events.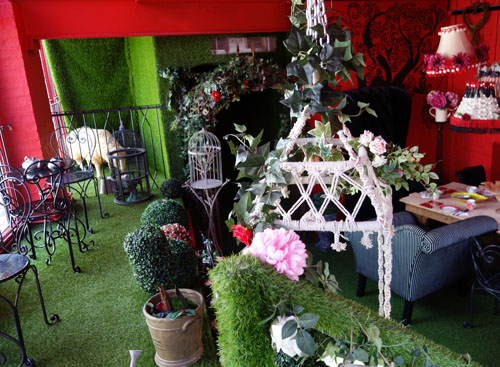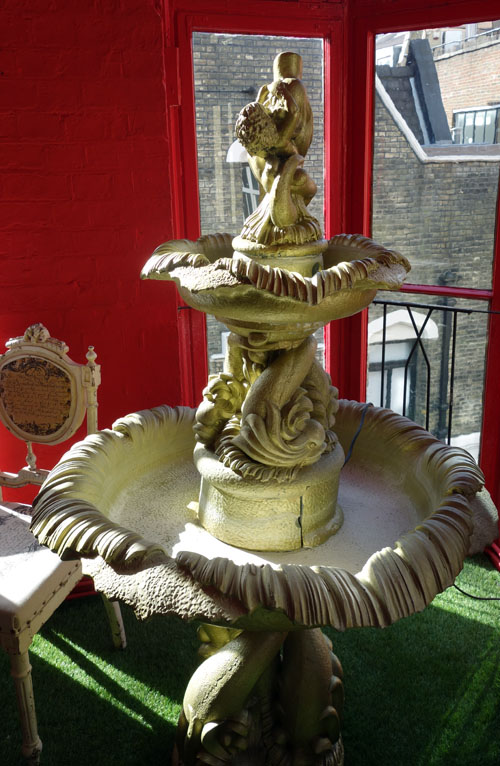 Oh, and Henry said they've hosted quite a few bloggers' teas. Hmmmm.

Choccywoccydoodah Secret #5-
This year's Easter theme is DINOSAUR EGGS! It would've been pretty sweet if I had scored a picture of the sample Henry showed me on his phone, but the eggs haven't been officially hatched yet. You'll just have to show up at the London or Brighton locations in about a week for your very own peek.
So, Sunny friends, I hope you enjoyed this sugary bit of inside information. Keep this great place in mind for Easter, or better yet Mother's Day (March 30 in the UK).
P.S.- I'm still running off the calories from my chocolate lunch, but like Henry said, "It's sooooo worth it!"
Special thanks to the staff of Choccywoccydoodah in London and Henry for an absolutely DELICIOUS day!