Climb the O2? Most Americans don't even know what Londoners mean when they say 'the O2,' much less know it's a London attraction that even locals visit. Maybe that's because it's one of the newer iconic buildings in London. Maybe it's because the O2 has had several names in less than the two decades it has existed.
During the 2012 Summer Olympics  and Paralympics in London, the building was called the North Greenwich Arena due to sponsorship issues with the games. It was originally built to celebrate the year 2000 and was first named the Millenium Dome. When became sponsored by the telecommunications company O2 (which happens to be my mobile phone provider) in 2007, the name changed to the O2.
When I did a livestream video on my Facebook page, my American friends were quite curious about the attraction.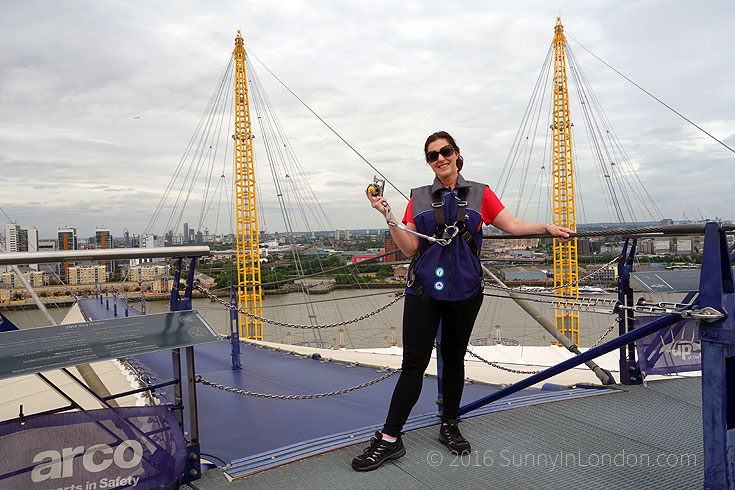 In summary, after the Manchester Arena, it has the second-highest seating capacity for an indoor venue in the UK. In 2008, it surpassed Madison Square Garden for the busiest music arena.
Aside from its use for concerts and changing name through the years, the O2 also offers an adventurous activity called Up at the O2. In comparison to the London helicopter ride I took, I felt the views were better at the O2 'summit.' Perhaps not quite as spectacular as The View from the Shard, but then again, you are talking about a big difference in height. I really loved my climb the O2 experience and have some advice for anyone considering this attraction in London.
Climb the O2: Advice
1. Plan on wearing their shoes. If you're OCD like me, definitely bring a pair of socks. You can see what they give you in the first photo of this blog review.
2. Choose and prepare your photography equipment ahead of time. I managed to squeeze my iPhone 6, a GoPro Hero and my compact digital camera in to the two pockets of the jacket.
It was tight, and I wouldn't recommend it. I took the cameras without covers so they would fit. Luckily, I had some Kleenex in my purse. I wrapped it around the two cameras hoping they wouldn't get scratched during the climb. It wasn't smart, but it did work.
3. Plan on wind. It was a relatively nice day in London. On the ground, the weather was perfect. As I predicted, at the summit the wind was significant. If you plan on filming video for YouTube or doing a livestream broadcast on Facebook like I did, bring a good quality lav microphone. You can see what a difference it made for my sound in the video below.
4. Be in shape. The first set of stairs is fairly easy. But the actual incline is pretty steep. You aren't going to be able to count the climb the O2 experience as your daily workout. However, if you have a bad back or trouble with your knees, this London attraction isn't for you.
5. Plan for a manicure after you climb the O2. The only way you can get to the top and back down is by using your hands. Every 5-6 feet you need to shove your cable attachment through some gears. It's not easy, but eventually you get the hang of it. Nails with a pretty paint job won't make it through that. It's best to have a spa appointment booked after you are up at the O2.
Climb the O2: Fear of Heights
I feel you can enjoy the Climb the O2 attraction if you are afraid of heights. It's one of my fears but I didn't have a single issue or moment of doubt during my trip. The guide we had, Carolina, may have had something to do with this too. She's worked there three years and is amazing.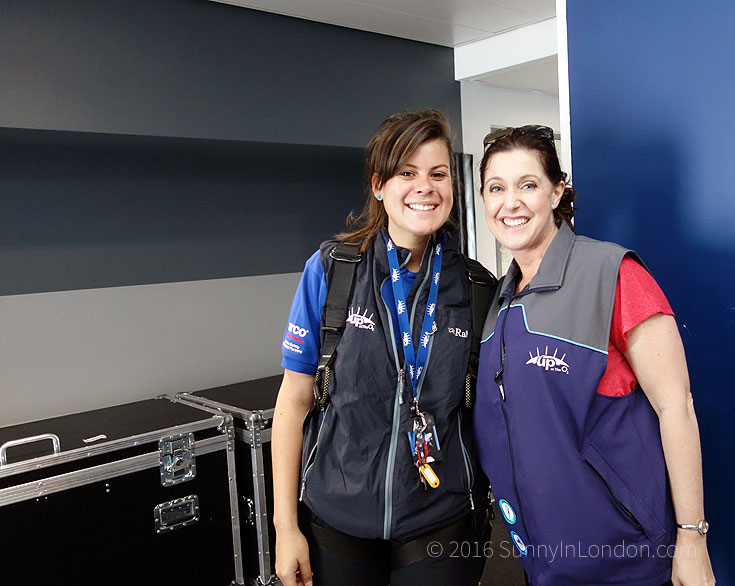 We had a swift but thorough safety training first. She took time to make sure each of us understood the process too. Carolina also made sure we all had photos before, during and after we did the Climb the O2. In fact, she took one with each person's camera. This is mine.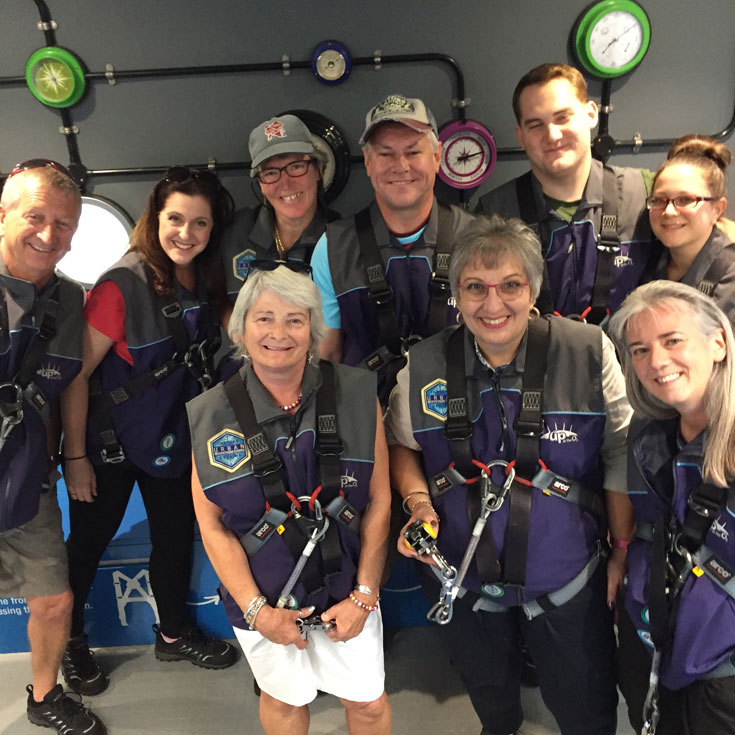 Climb the O2: Londoners Do It
Surprisingly, nearly everyone on my climb was from London. Usually when you go to attractions, you pretty much see Americans and other foreigners. One gentleman said Climb the O2 was on his list of '50 things to do before I turn 50.' What a cool idea!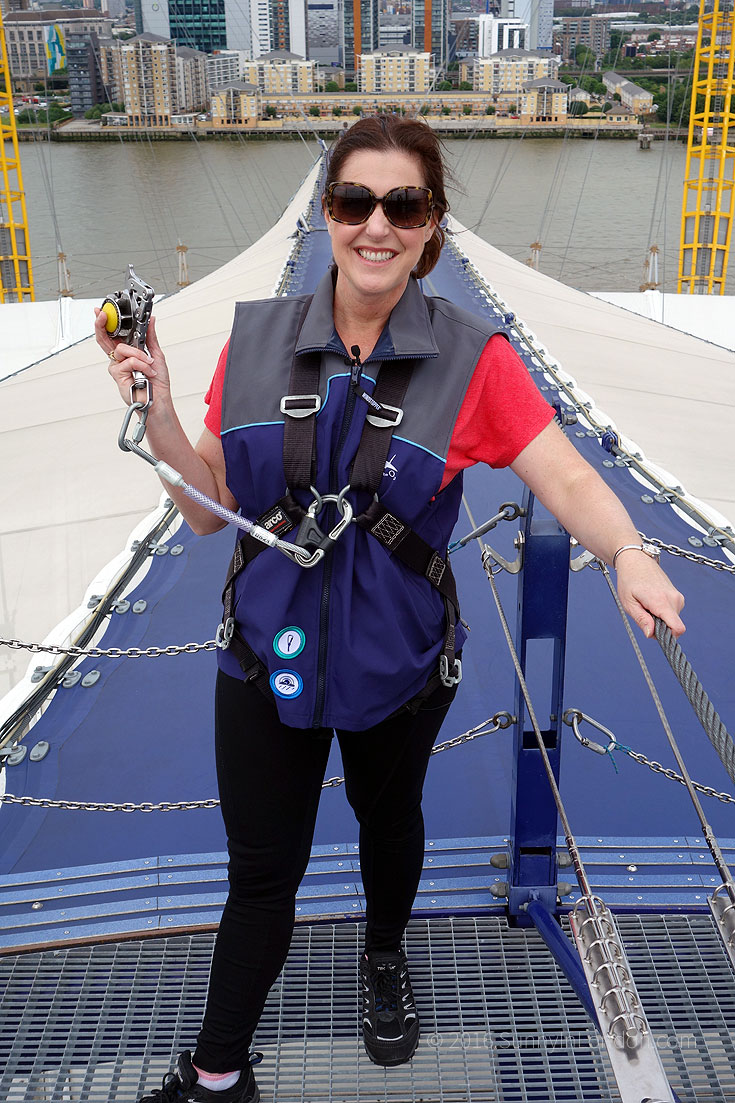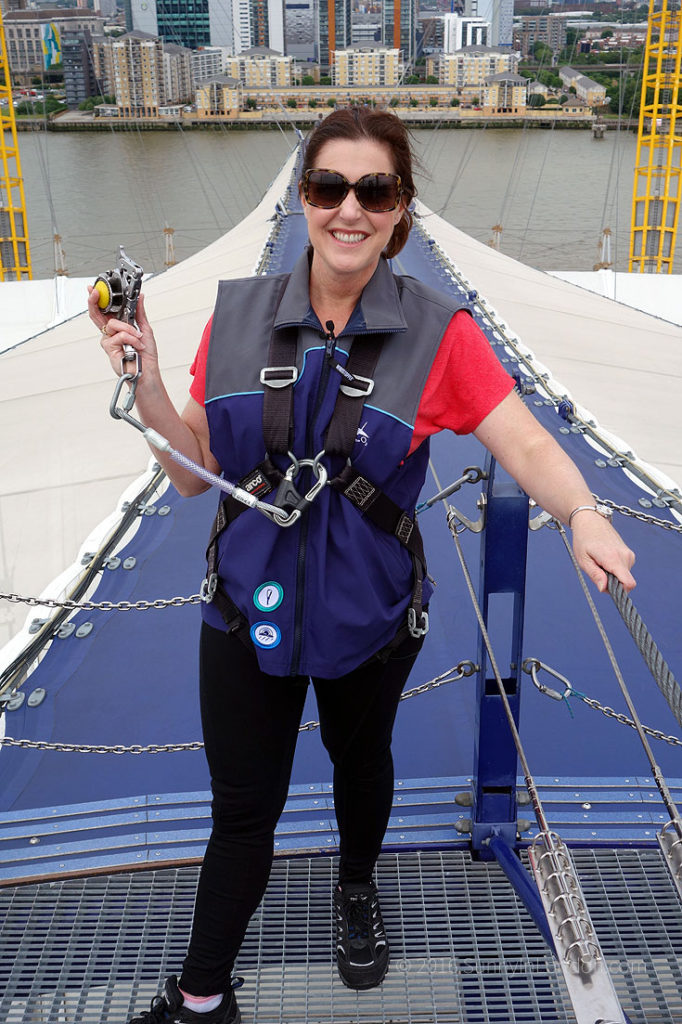 Climb the O2: Watch on YouTube
I can write about what's involved and how much fun it is Up at the O2. However, I think you'd probably appreciate it more if I show you…
My Climb the O2 experience was complimentary for the purpose of a review. You can see in the YouTube video how much fun I truly had. You can also read about their excellent reviews on TripAdvisor. They also offer sunset climbs, twilight climbs and private climbs.
If you're an American visiting London, make sure to bookmark my Guide for Americans Visiting London on the blog, which has reviews for hotels, restaurants, attractions, afternoon tea, events and more. I look forward to reading your comments about the tips in the video and answering any other questions you might have about the American expat experience in London, or perhaps ideas for an NFL in London trip. Oh, and if you are planning a journey here, be sure to pin this to your London trip board. Of course, you can always share it with friends on other social media too.