Did you know that Daytona Beach has some secret locations that only locals know? They're not as invisible as London's 'Platform 9 3/4' but restaurants like Our Deck Down Under register high on the locals only list.
I've always found Daytona Beach similar to Honolulu with regard to the attitude locals show each other. By this I mean, when you grow up in a highly transient, tourist area, you tend to favor those who are around all year and have a sort of 'Omerta' with them.
As I mentioned in what it's like to grow up in Daytona Beach, things got pretty crazy in the town during the Spring Break days when MTV visited us. With so many places being utterly packed with tourists, we really treasured our own areas.
Londoners, you do the same when you skip venues and pubs near Trafalgar Square, Covent Garden and Piccadilly Circus at certain times.
So, during my recent trip to Daytona Beach, I made a mad dash to a local restaurant, Our Deck Down Under.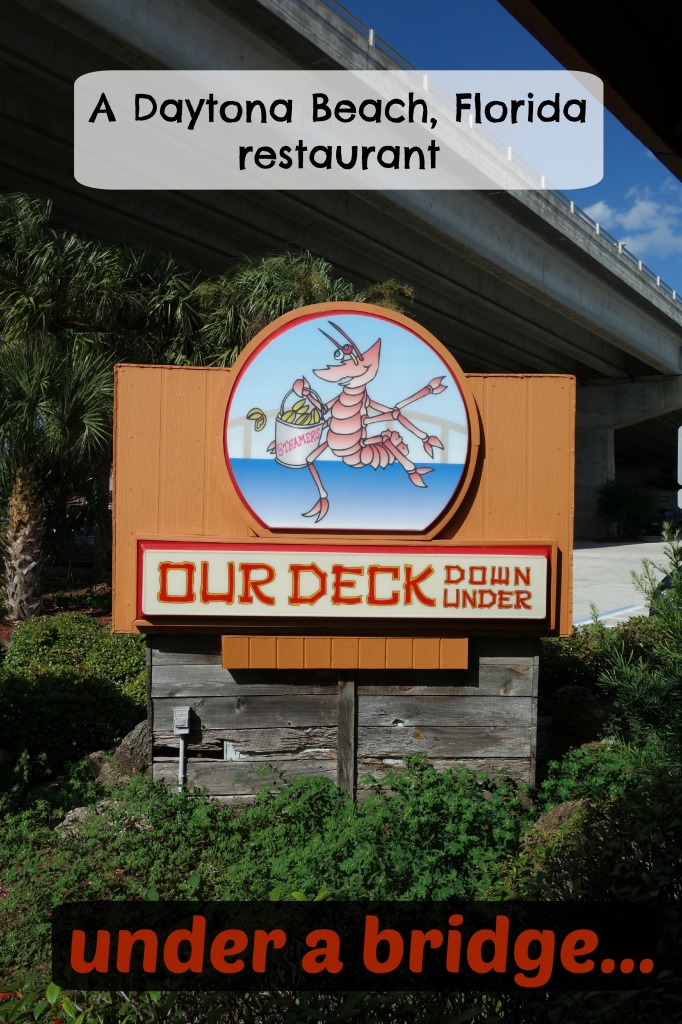 The mere location of this casual seafood restaurant always makes me giggle. It's practically under a bridge. Talk about sneaky! So, maybe you could say I just had to get my Daytona 'troll on… 😉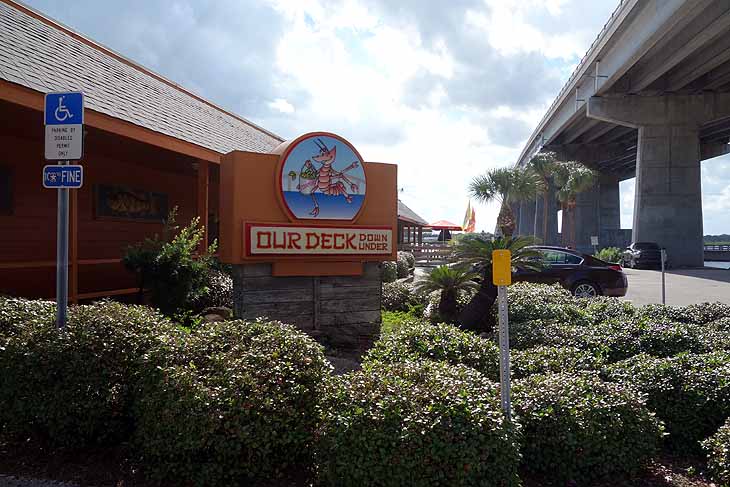 Sometimes I think Daytona Beach residents make the special trip under the bridge just so they can park their cars in the shade while they eat. Have you ever opened a car door in 95º Florida temperatures plus humidity? Hot damn! Notice how nearly all the spots under the bridge below are taken first…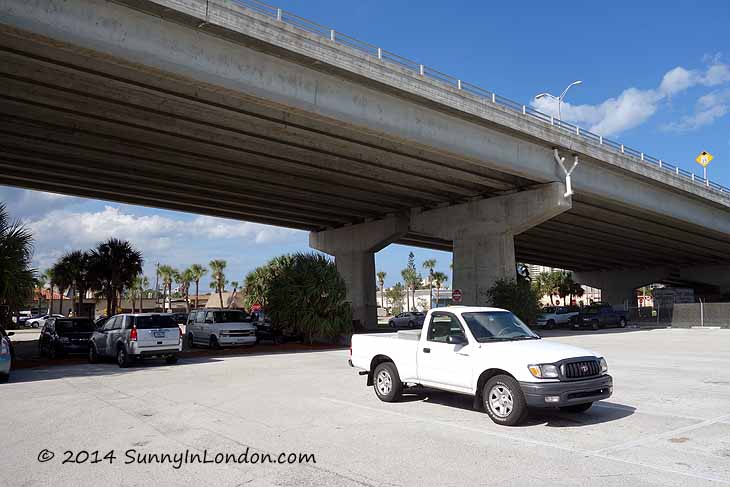 They're not the closest to the restaurant. Our Deck Down Under is actually behind where I stood to take this picture. Those cars for sure belong to some smart locals.
And, now I want you to follow me on a little virtual tour of this extremely popular Daytona Beach food and drink destination! Here's a few shots of the outside…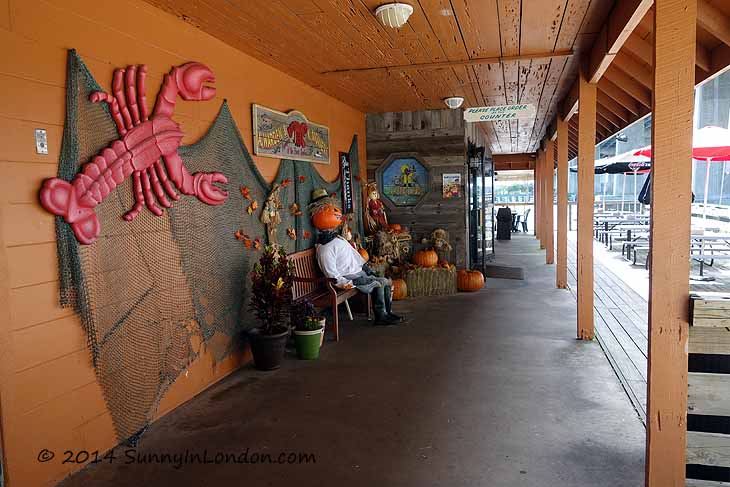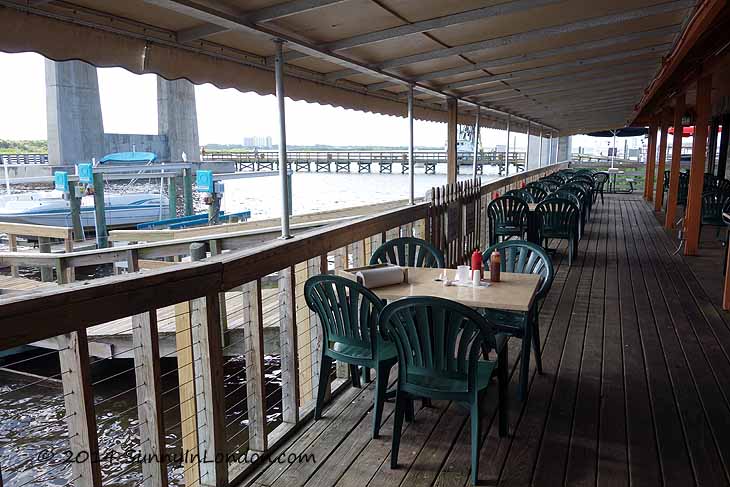 No, it doesn't have views of the Atlantic Ocean or beach like I showed you in my blog post on Racing's North Turn. It does have docks for boats and a full bar inside.
Our Deck Down Under is located on the Intercoastal. If you're a local, you probably call it the 'Halifax River', knowing full damn well it isn't a river.
Nonetheless, on a sunny day, the water views are still soothing. And, seeing a few dolphins or porpoises is very likely and fun. I saw a few during my visit, but I couldn't photograph them fast enough for you.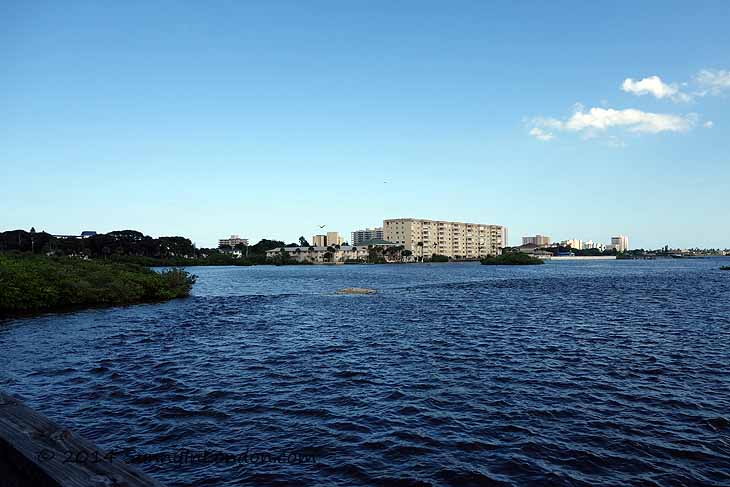 The inside of Our Deck Down Under certainly reflects the very casual atmosphere of Daytona Beach. In fact, the menu is on the wall, and there's a roll of paper towels most tables. Check it out…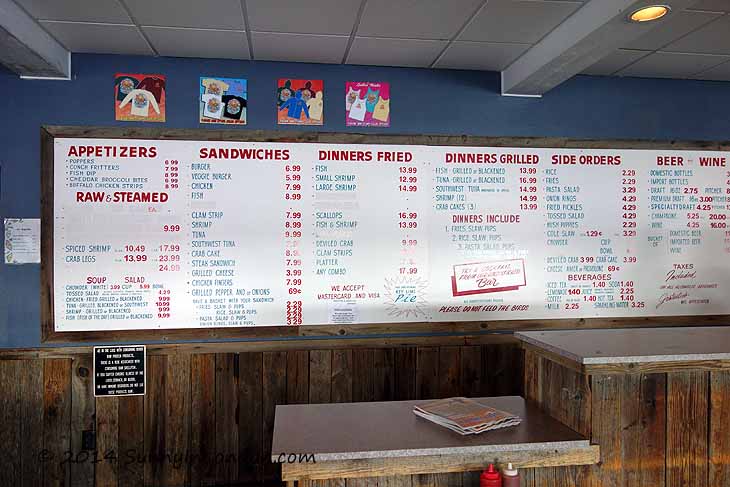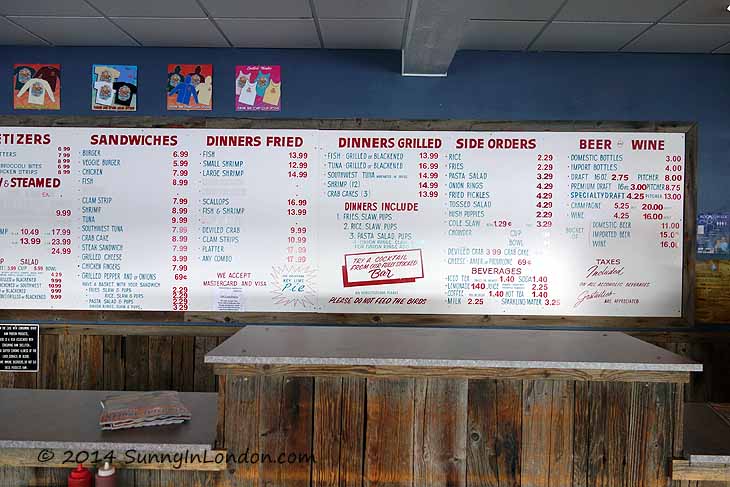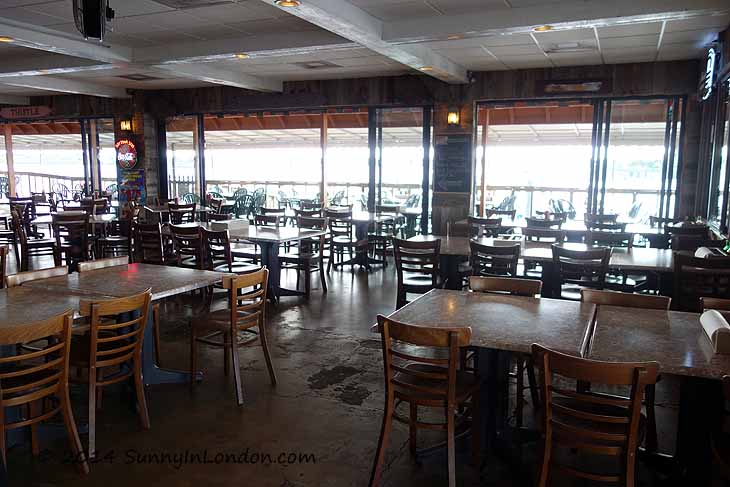 Yeah, I've made 'that's how we roll' jokes before regarding the race car and Harley Davidson culture of the town, but there's also another way we roll. Affordable and not pretentious. No Michelin stars for us. And it works just fine!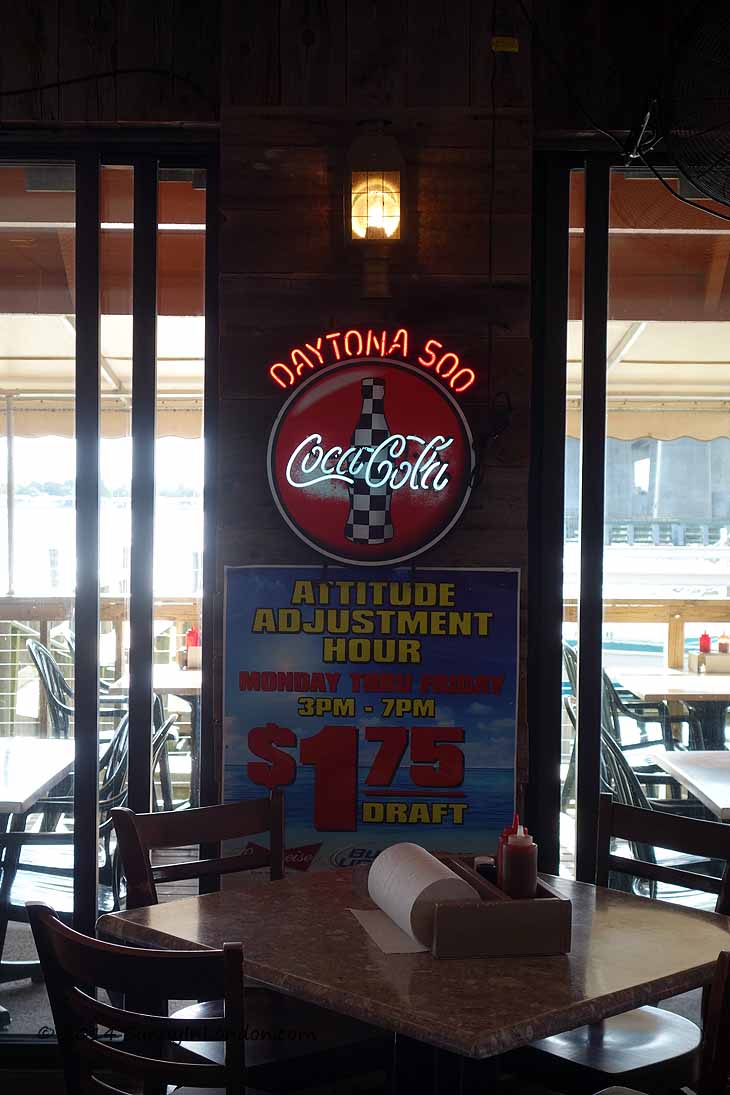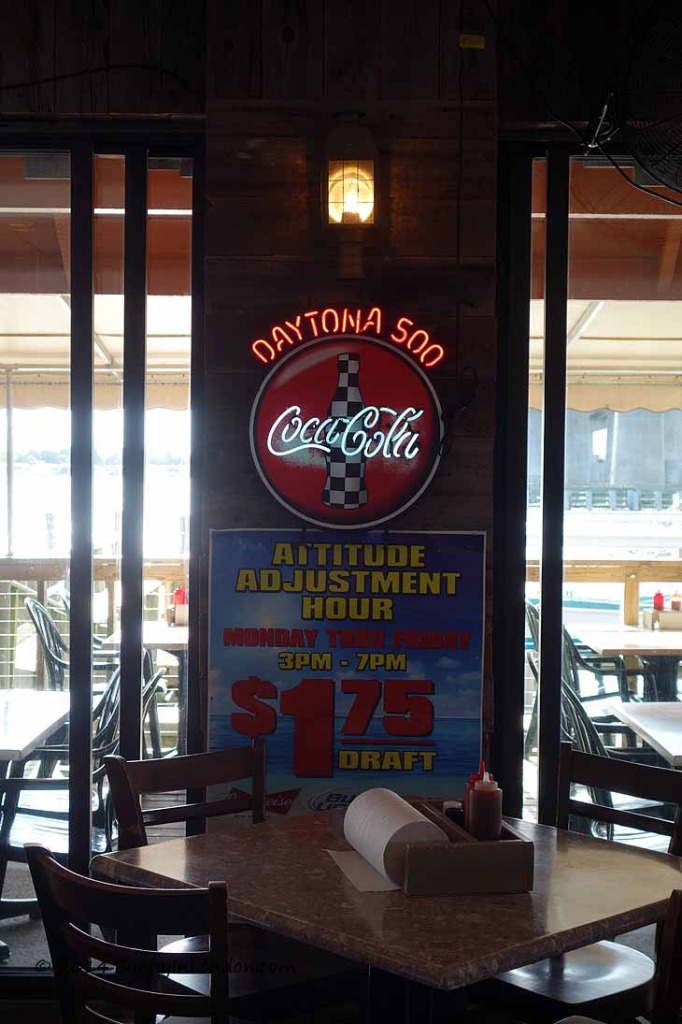 I went with my mother, godfather and another close family friend. We were there at 3:30pm on a Friday in October, so don't be deceived by the empty tables. You wouldn't be able to get a table or parking spot anywhere near the place a few hours later. Trust me.
The food at Our Deck Down Under is good and ridiculously affordable. They had a Fried Fish Dinner, Grilled Fish and Crab Legs.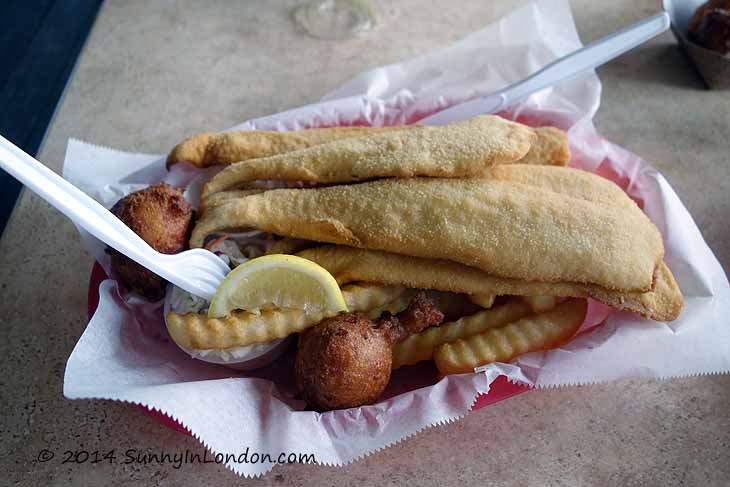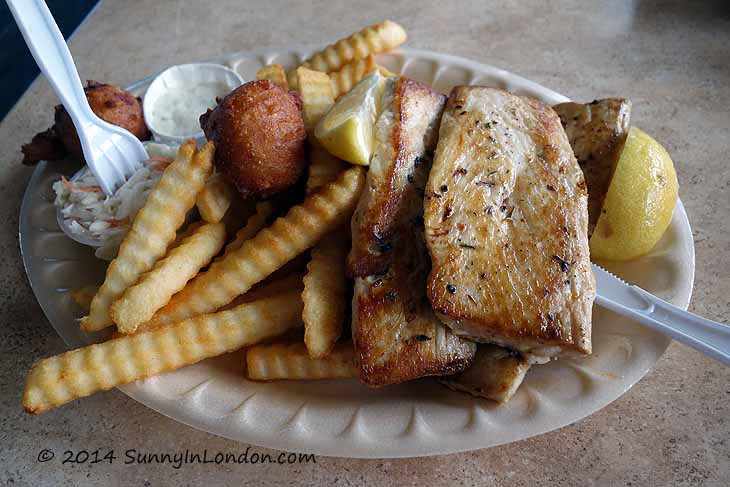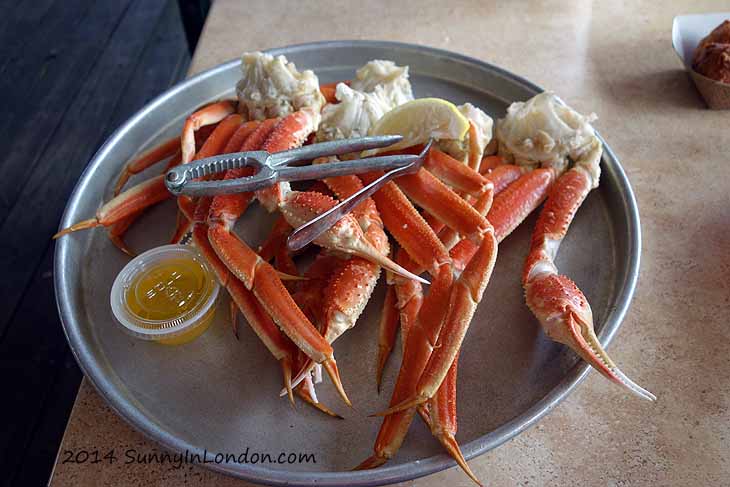 Oh yeahhhhhh! You know those are some seriously huge crab legs! They were $13.99. That's about £8.70 to my British mates.
Now, for me, I pulled a sneaky local trick. I ordered a seafood wrap. It's not on the menu. It's neither healthy nor photogenic. But it's heavenly! It's stuffed with shrimp and parmesan cheese.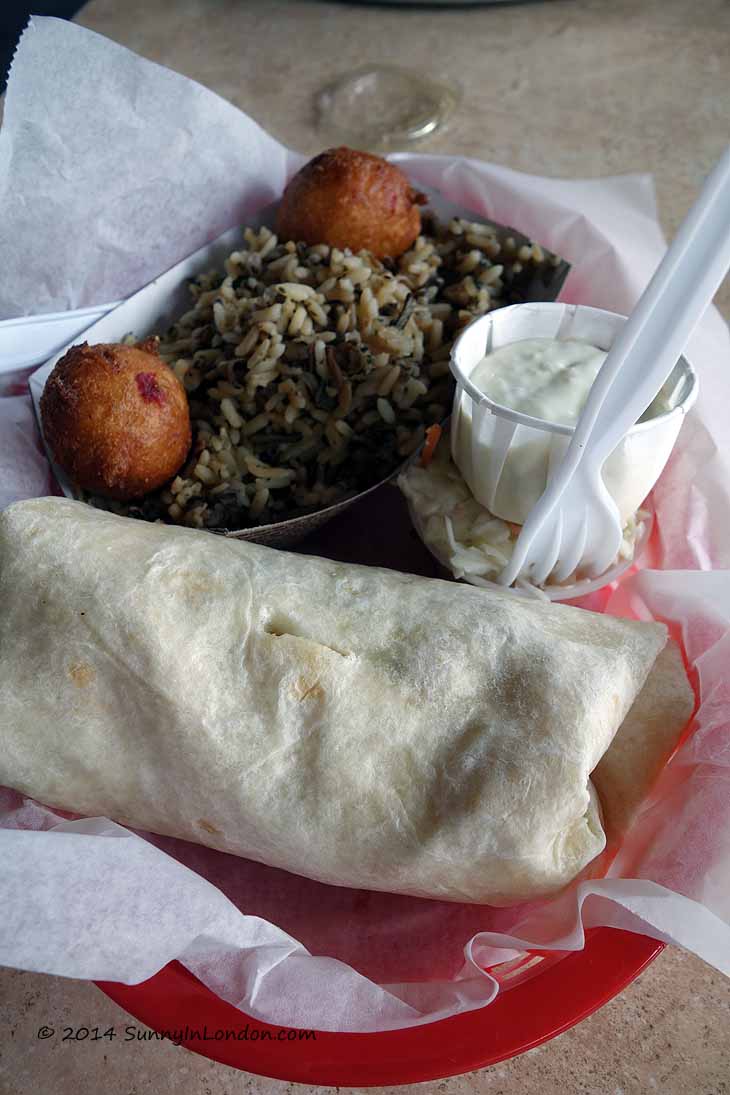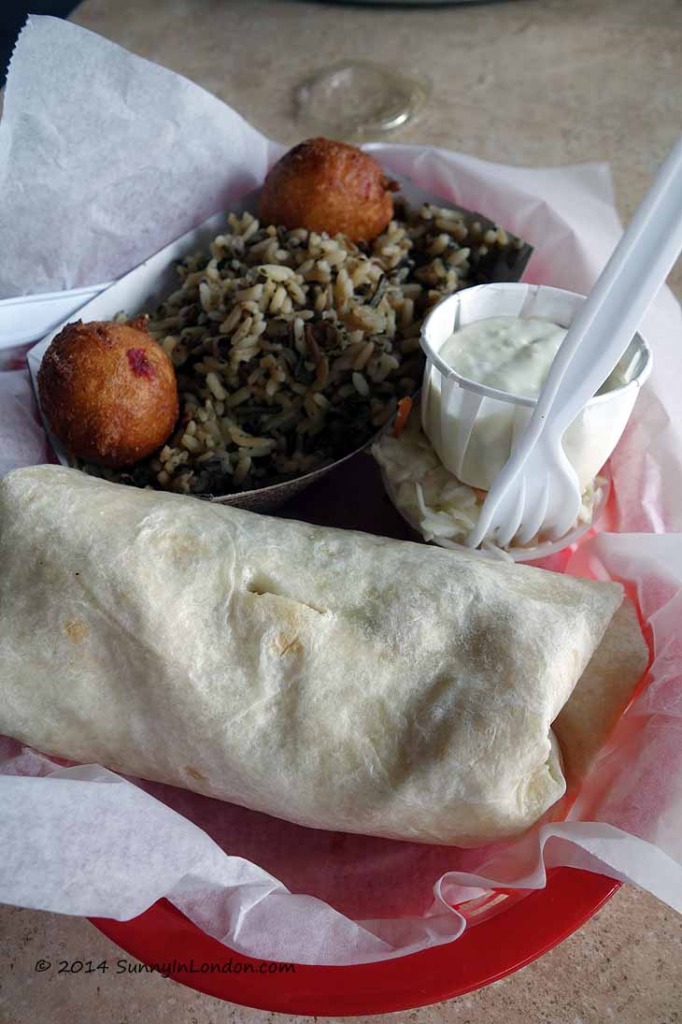 However, what I'd like you to notice the most is those two things in the back. Those are hush puppies and are incredibly popular for Southern folk in America. My godfather ordered an additional batch for me to eat and to show you Londoners.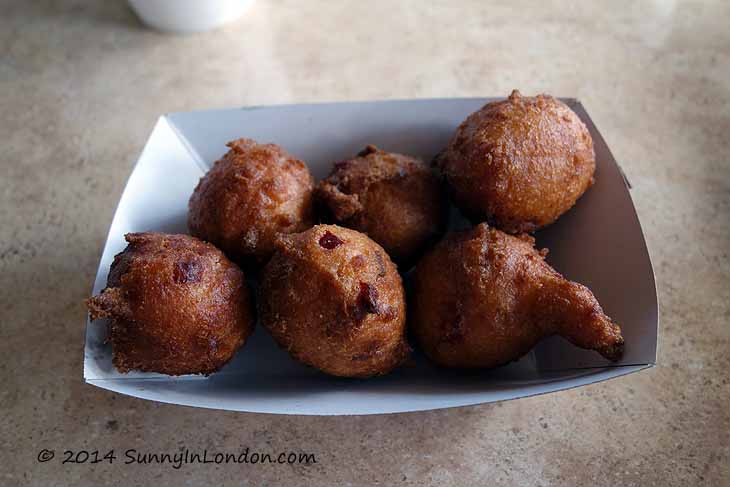 They're deep fried savory treats. They're made from cornmeal batter and are popular at seafood restaurants. I'm sure Paula Deen has a recipe or two, or three, for them somewhere. Rumor has it Jamie Oliver might too. 😉
If you haven't had one and aren't heading to Florida any time soon, here's an insider's view…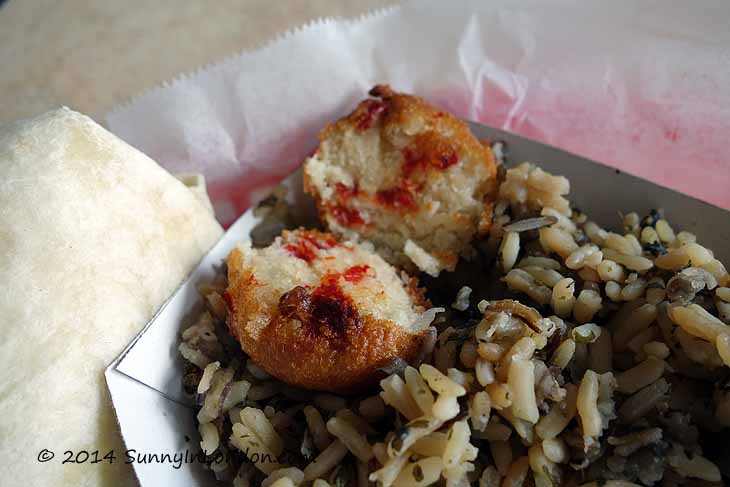 I can't put in to words for you how scrumptious they are! Mr. Sunny found the pictures very curious and is eager to try them when he visits Florida with me for the first time.
So, there you have it, Sunny friends. Our Deck Down Under is local treasure in the Daytona Beach area. You'll have to Google it for the exact location. I have to stay a bit loyal to my peeps. In all seriousness, you'll definitely find tourists and non-Daytona Beach residents there. We're not that guarded. However, here's a tiny secret…
They'll all be the ones waiting in line. Daytona Beach residents know exactly how to walk in to Our Deck Down Under and avoid the queue. But, I just can't give that little tip on how we do it away to you. Well, not today… I'm just not that kind of troll. 😉
Are there any local places that are coveted in your neck of the woods? What secrets do your town's people have?