Duty Free Price for Chanel, Chocolate, Michael Kors and More!
Do you find a duty free price tempting when you're travelling internationally? Have your eye on Chanel perfume or a handbag and waiting to see if it's cheaper at the airport? Need a last minute gift for your holiday host and think chocolate from duty free could be an easy answer?
On a roundtrip flight from the London Heathrow Airport to Hartsfield-Jackson Atlanta International Airport in the United States, I spent some time comparing specific products based on blog readers' inquiries over the years.
Initially in 2014 when the currency exchange rate was $1.75=£1, I compared items like Jack Daniels whiskey, champagne, Marlborough cigarettes, and various perfumes to see if duty free is worth it.
On a trip in January 2016, the exchange rate was approximately $1.49=£1. This time I compared different items.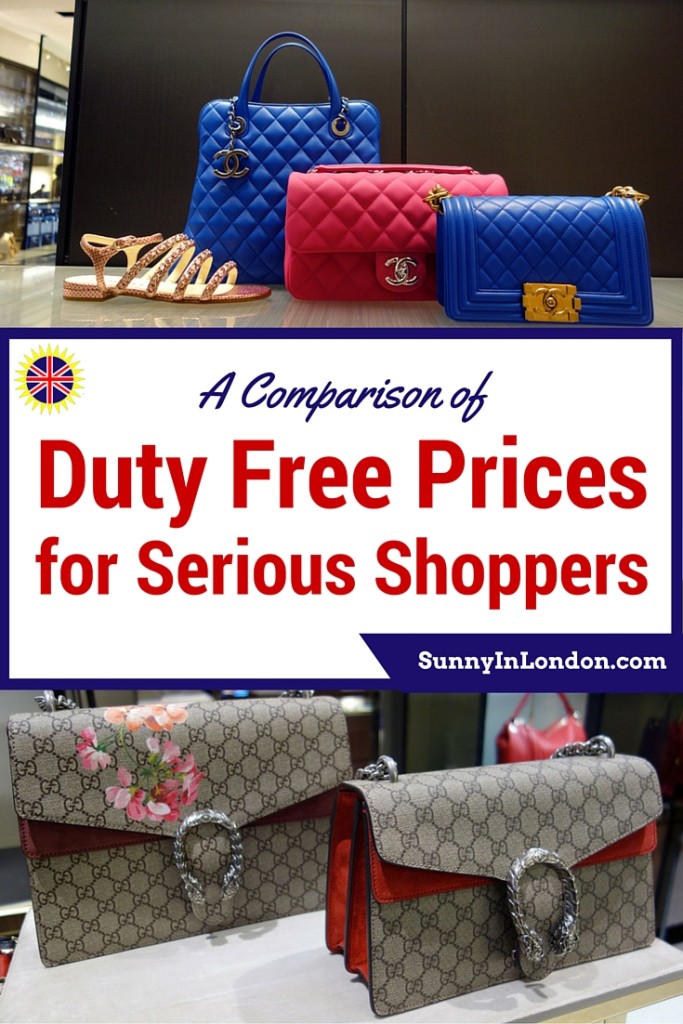 Duty Free Price for Gucci Handbags:
This comparison is very interesting. The Dionysus GG Supreme Shoulder Bag featured below is sold for £1020 ($1488) at London's Heathrow Terminal 3. That's the one with the red suede in front. On the Gucci website it's listed for 1500 Euro (£1119, $1633) The Dionysus Blooms Print Shoulder Bag bag behind it is £1230 ($1794). Online it's listed as 1800 Euro (£1343, $1960). So, if you're flying through Heathrow Terminal 3 and fall in love with a Gucci handbag, it's certainly worth it in comparison to shopping online in the UK.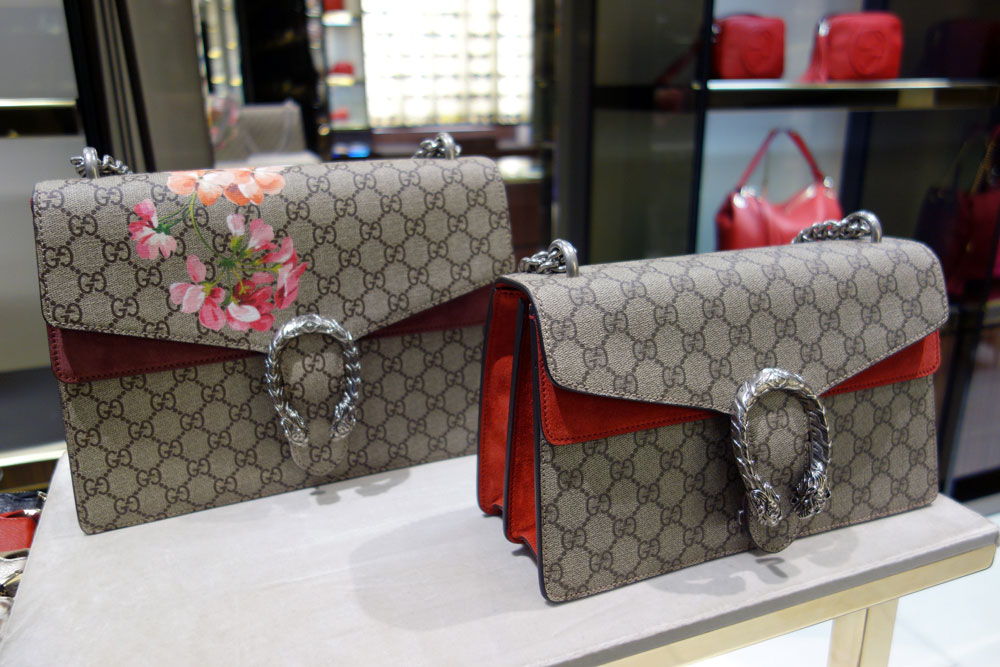 I could not find a Gucci store in the Atlanta airport international terminal. However, I did find the same Gucci handbags at The Mall at Millenia in Orlando, Florida. The small bag below is £1429 ($2100) and the big bag is £1542 ($2250). It looks like the clear winner here is London's Heathrow Airport.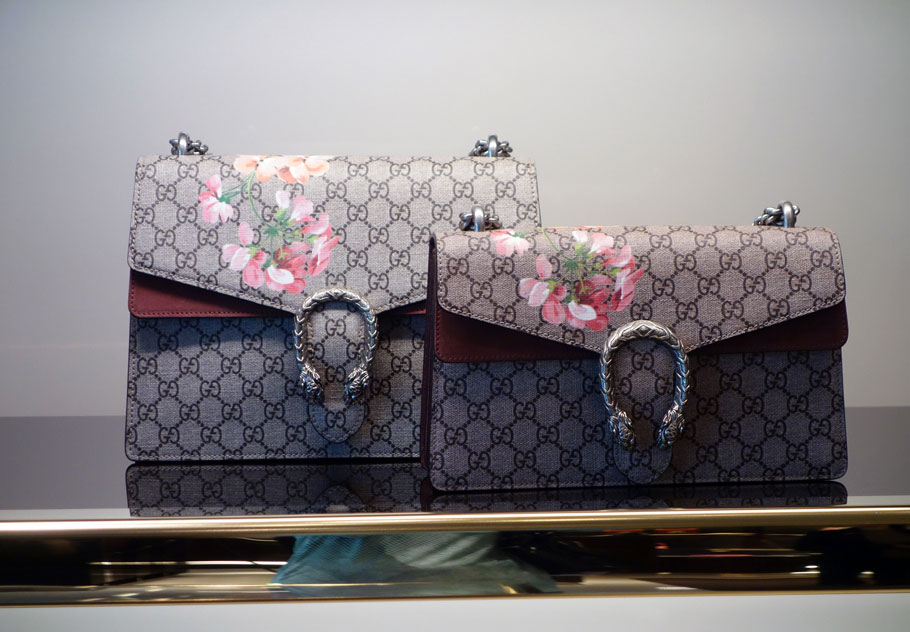 Duty Free Price for Chanel Handbags:
When shopping at Chanel at Heathrow Terminal 3, I noticed the prices of these handbags from their Cruise Colletion. The fuschia Chanel handbag is £1415 ($2064. The bigger blue patent leather Chanel bag is £1850 ($2699), and the smaller blue bag is £2104 ($3069). The shoes are £650 ($948). Neither the handbags nor shoes were featured on the Chanel website.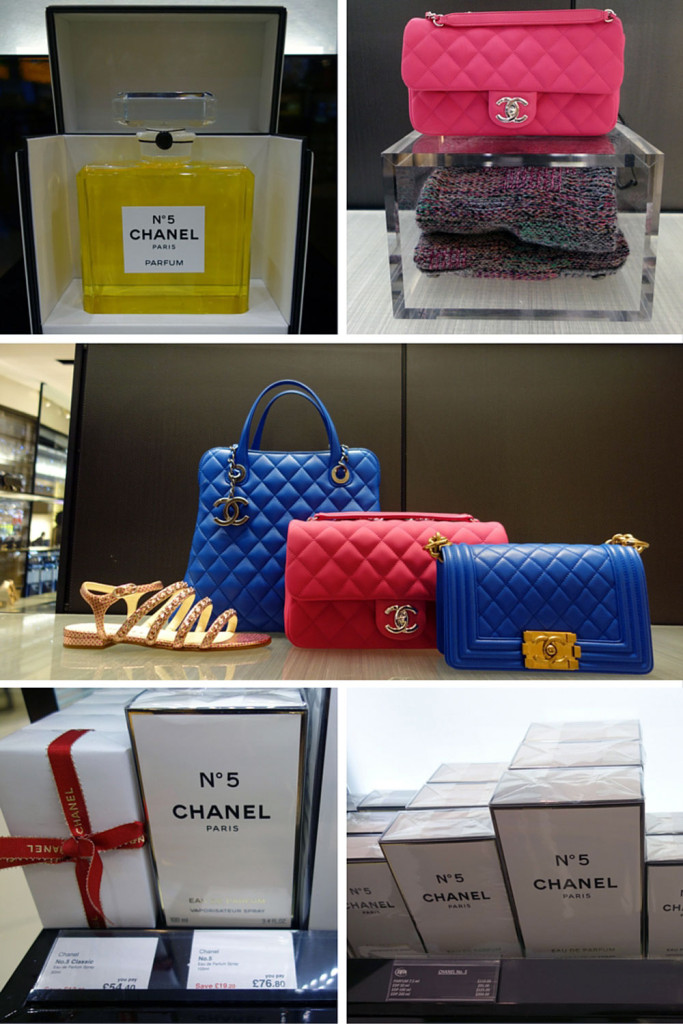 The Duty Free Price for Chanel No 5 Eau de Parfum:
London's Heathrow- 50ml is £54.50 ($79), a 100ml bottle is £76.80 ($112)
Selfridges in London- 50 ml is £68 ($99), a 100ml bottle is £96 ($140)
Atlanta Hartsfield-Jackson- EDP 50ml is £65 ($95), a 100ml is £85 ($125)
Sephora in the US- 1.7 ounces £68 ($100), 3.4 ounces £90 ($132)
If you love Chanel perfume and are flying through Heathrow airport, it looks like this is where you get the best deal. However, for US readers who have international travel plans elsewhere, and love Chanel perfume, don't wait until your trip to get the perfume.
Instead, visit Sephora online and consider getting the Chanel travel spray. This means you put it in your checked luggage and not have to be bothered with it the day you fly.
Duty Free Price for Ted Baker Handbags:
Not every Terminal at Heathrow has a Ted Baker. Luckily, Terminal 3 does, but it's super tiny. However, they did have a few handbags on display. The black tote below is the Shelcon bag and is on the Ted Baker website for £29 ($42) at the time of this blog post. As the tag shows below, it's £24 ($35) at Heathrow Airport.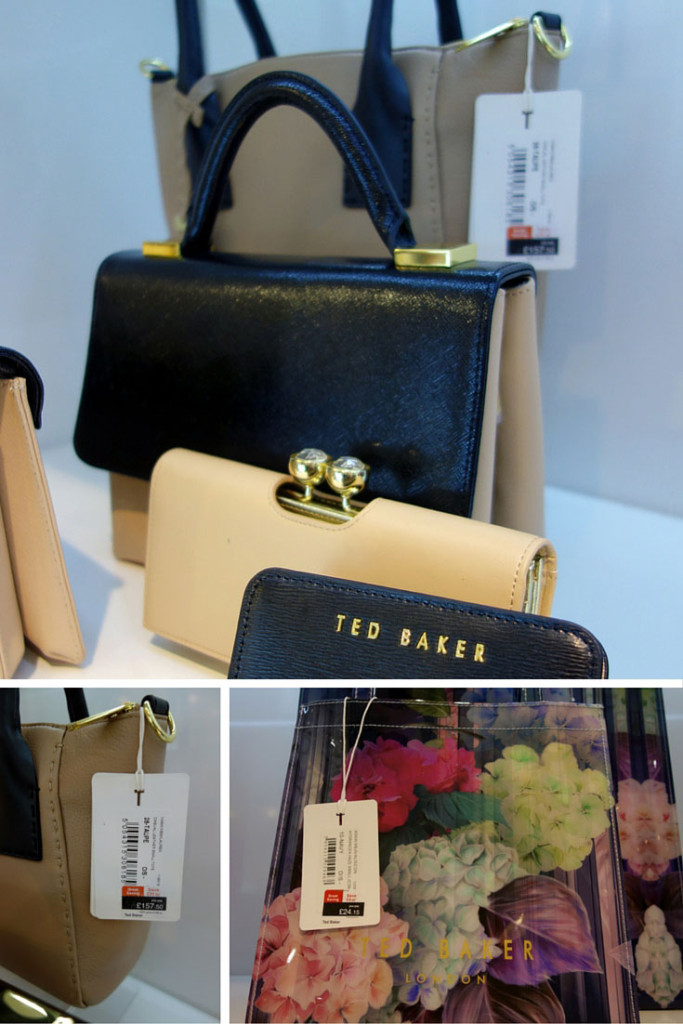 It's really difficult to compare these handbags to American prices because Ted Baker is a British brand. They do sell it at some US department stores, but the selection is extremely limited.
You can take your chances at Heathrow because the prices are better. But, there's a slim chance the exact handbag you seek may be there the day you travel. For Ted Baker, I absolutely suggest buying a handbag on their website if there's one you are dying to have. Save the duty free shopping for one that catches your attention the day of your international flight.
The Duty Free Price for Michael Kors:
Now we are going to examine my favourite brand, Michael Kors. People in London always compliment anything I have that's Michael Kors. For this reason (and because I've always LOVED it), I stock up on MK everything whenever I return to my home country, America. These are the items I picked up over the summer, which you can read more about in the Expat Shopping List.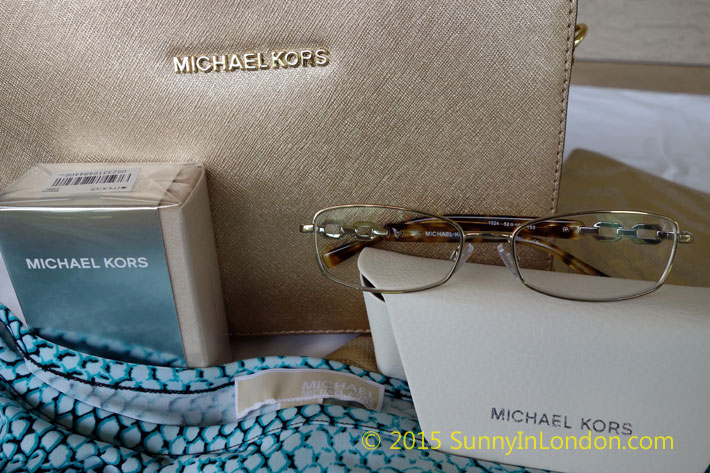 What can I tell you about shopping duty free for Michael Kors? According to a store representative in the Atlanta airport international terminal, they not only sell the bags tax free, but they beat any local competitors by at least 10%.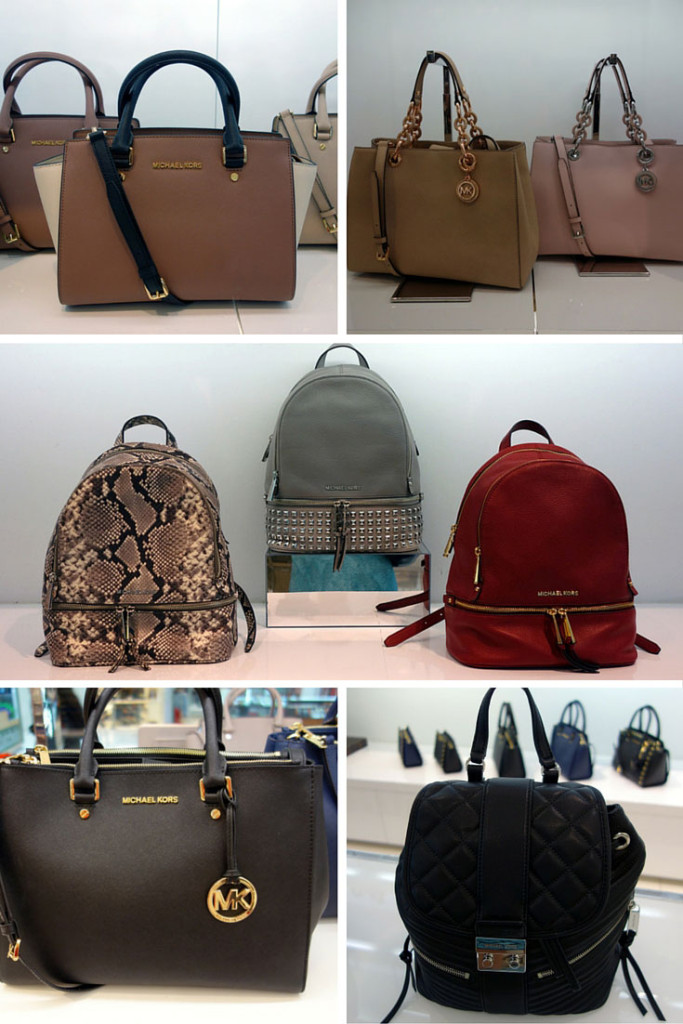 This makes shopping for a duty free Michael Kors handbag in US airports totally worth it.
However, if you don't have any international trips planned or just can't wait for the handbag that's caught your attention, American readers should visit the Michael Kors selection at Macy's.com. This is where I buy nearly all of my MK gear. The deals and selection beat anything I've seen anywhere. With sales and coupons at Macy's I got the Fulton Harness Rainboots for £60 ($90) and the Red Asymmetrical-Zip Belted Coat for £87 ($125).
They do have Michael Kors watches at both London's Heathrow and Hartsfield-Jackson Atlanta airport, if you're curious.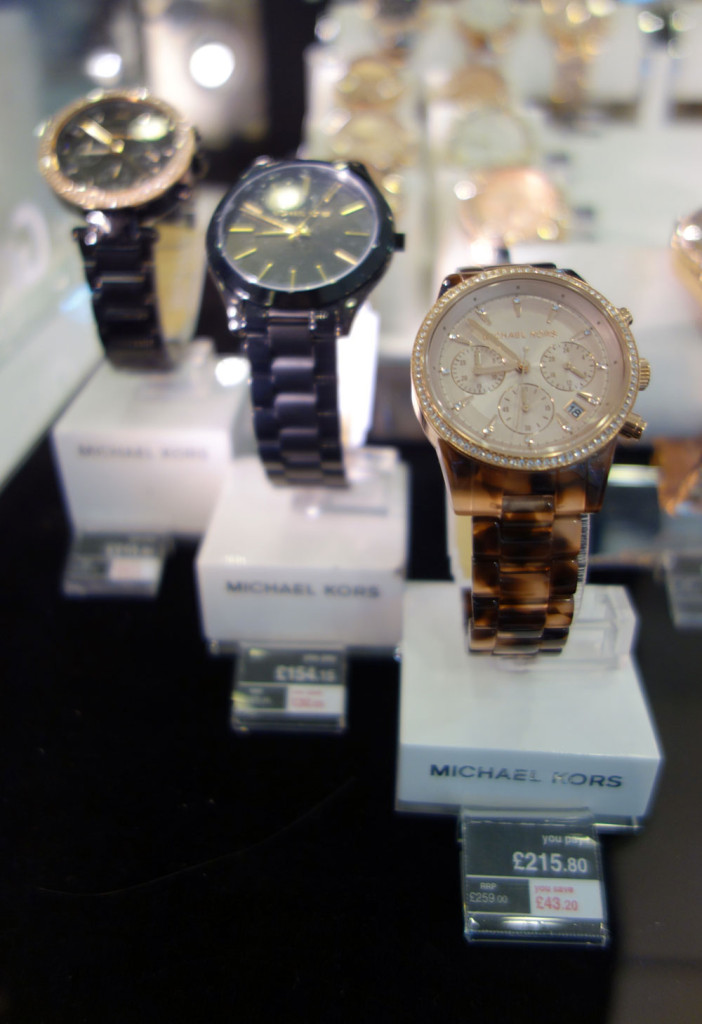 The Duty Free Price for Chocolate:
Chocolate isn't something I would purchase when travelling from London to my home town Daytona Beach, Florida because I would be afraid it would melt on the second leg of the journey. However, many people found my previous Heathrow Duty Free blog post because they google 'duty free chocolate.'
So, I snapped a few comparison shots for you at both airports. In the US, the duty free shops are stocked with chocolate that isn't too appealing to the British, in my experience. At London's Heathrow, there is definitely a better selection of quality chocolate. The Godiva boxes are unique to London, so they make nice gifts to people who could be hosting you during your visit.
The box below is £15 ($21) for 180g. Of course, the range of chocolate products you'll find online at Godiva in the UK is certainly more extensive. It's one of my favourite places to eat chocolate in London.
The savings on Lindor seems good too.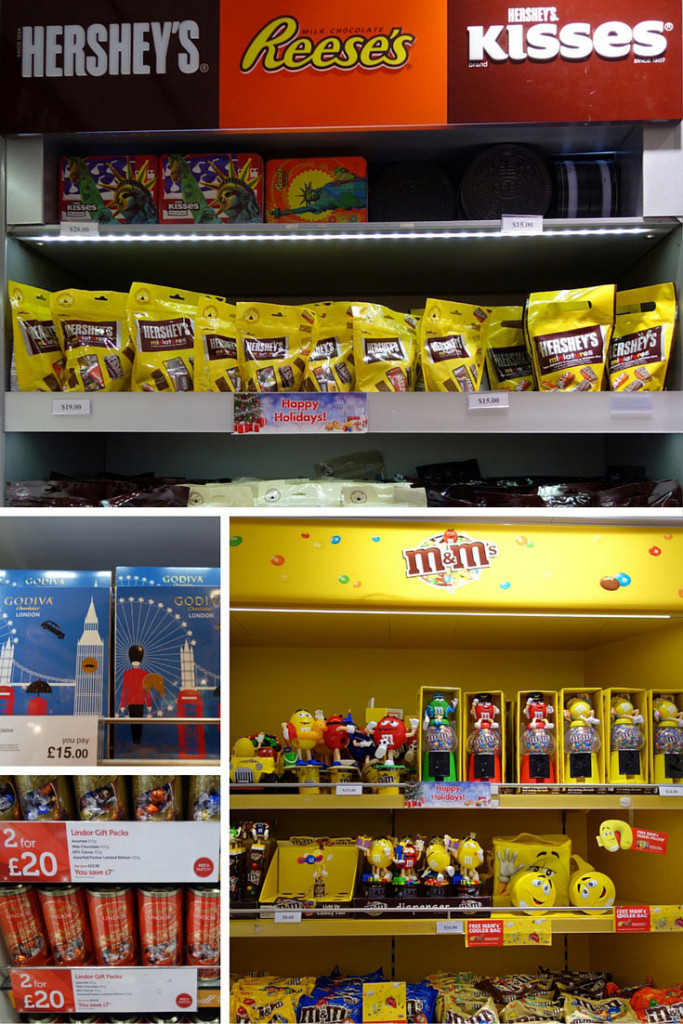 The Duty Free Price for Fortnum and Mason Tea and Biscuits:
Last Christmas, this is the gift I picked from duty free at London's Heathrow for my mother.
Fortnum and Mason tea is one of the oldest and most reputable teas in England. It's not available at the Atlanta airport. Americans who want this tea need to purchase it online, or visit the luxury department store on 181 Piccadilly Street in Central London. I found that the tea and biscuits are exactly the same price online at Fortnum and Mason as they are in London's Heathrow airport.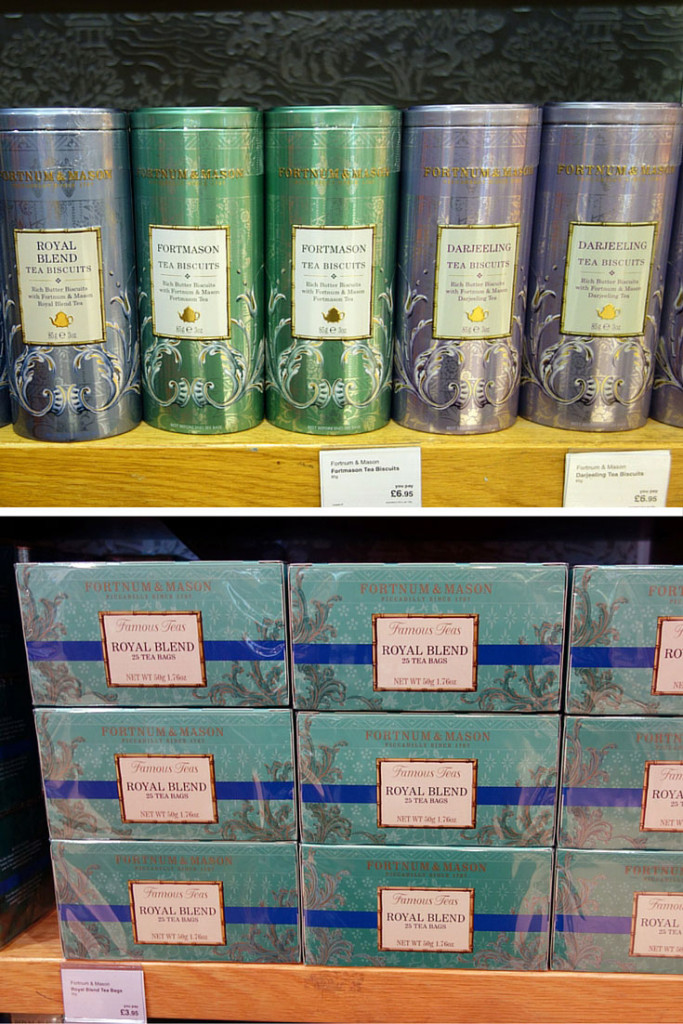 Duty Free Price for Macbook and Headphones:
I don't buy electronic products in the UK because they are so expensive compared to US prices. However, I did make my way through an electronics shop in Terminal 3 to show you what's available.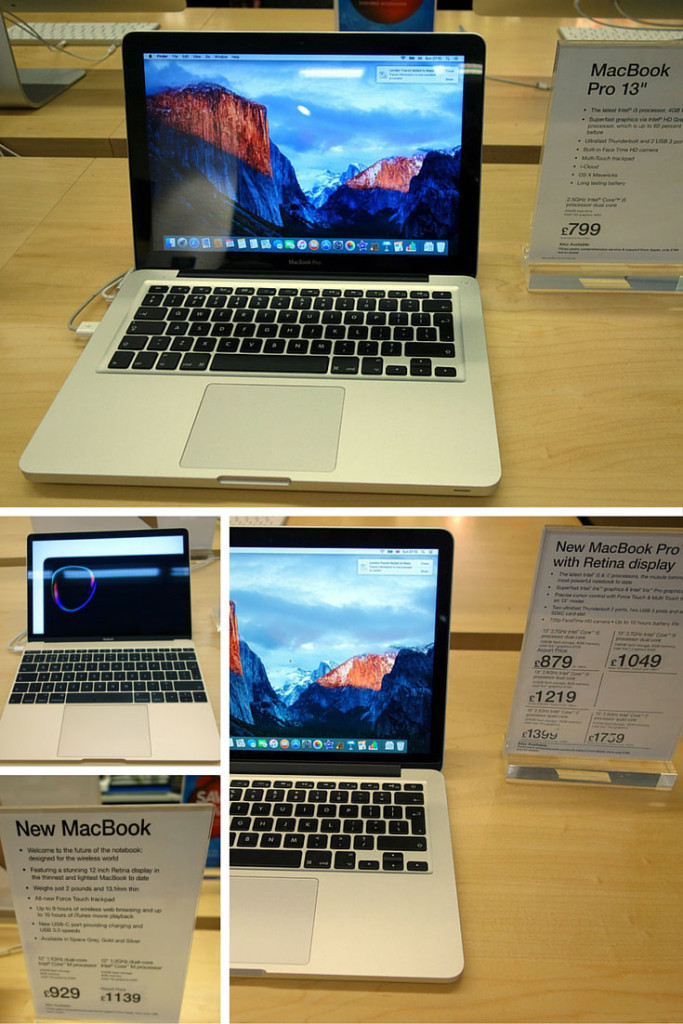 If you're living in the US or travelling there, I find the best deals are at BestBuy. Take a look here at how cheap you can get the Macbook Pro.
Further, if you're shopping for headphones, this is what I found at Heathrow…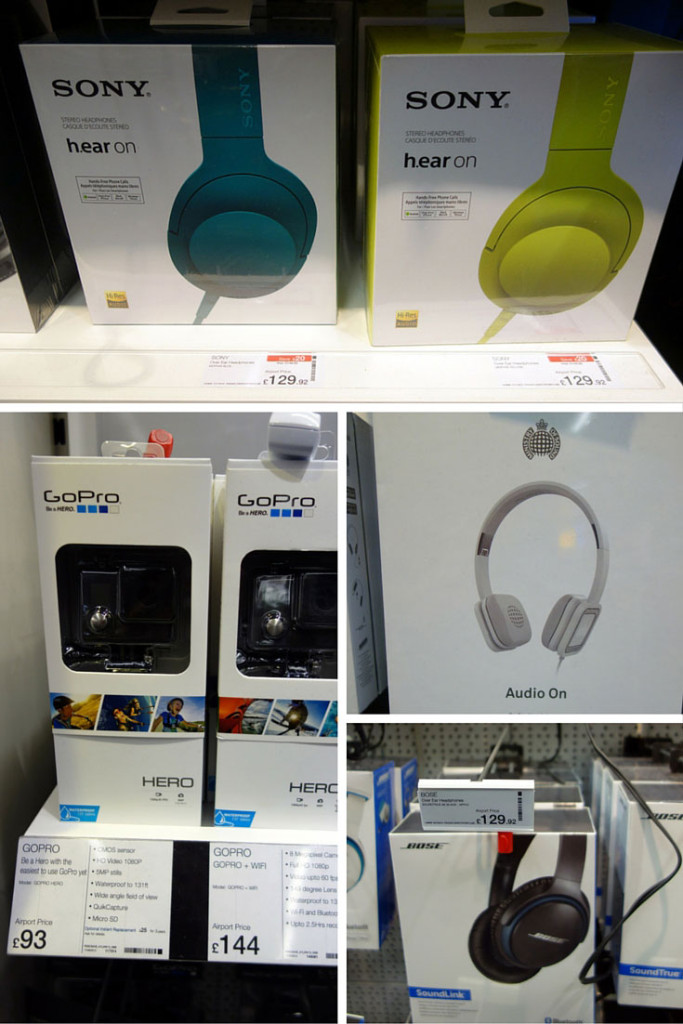 The salesperson at the store said the ones above are the most popular for people to buy at the airport while waiting for an international flight. It looks like the Sony h.ear on headphones
run about £20 ($29) cheaper at the airport, rather than on Amazon UK
. That seems to be the same with the Ministry of Sound Audio On Headphones
and Bose headphones
.
However, a GoPro HERO Camera
is exactly the same price.
The Duty Free Price for Converters:
Finally, just for last minute fun, I shot a picture of these converters.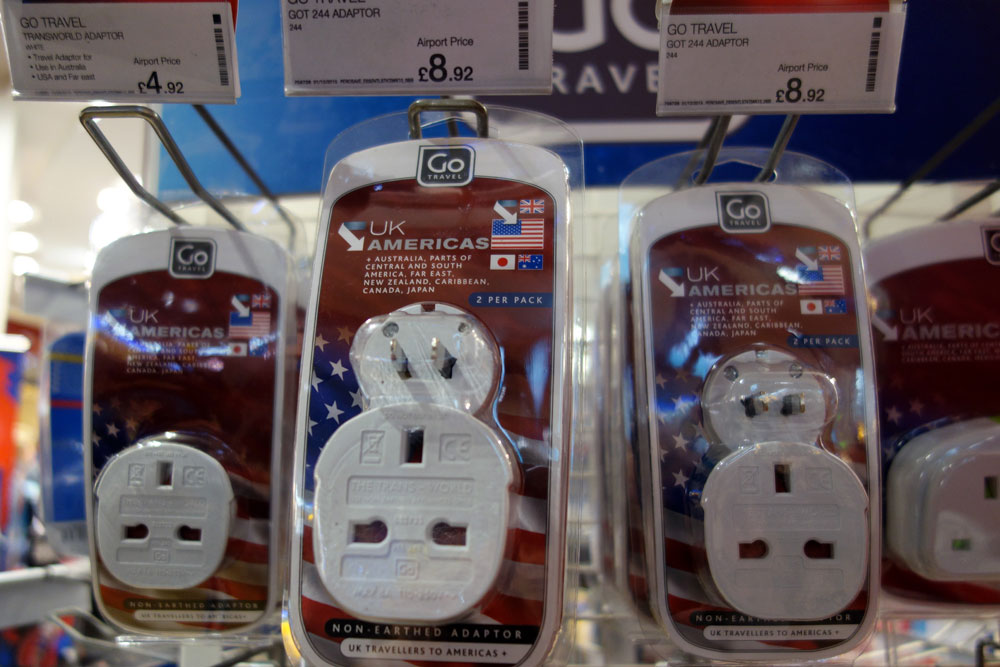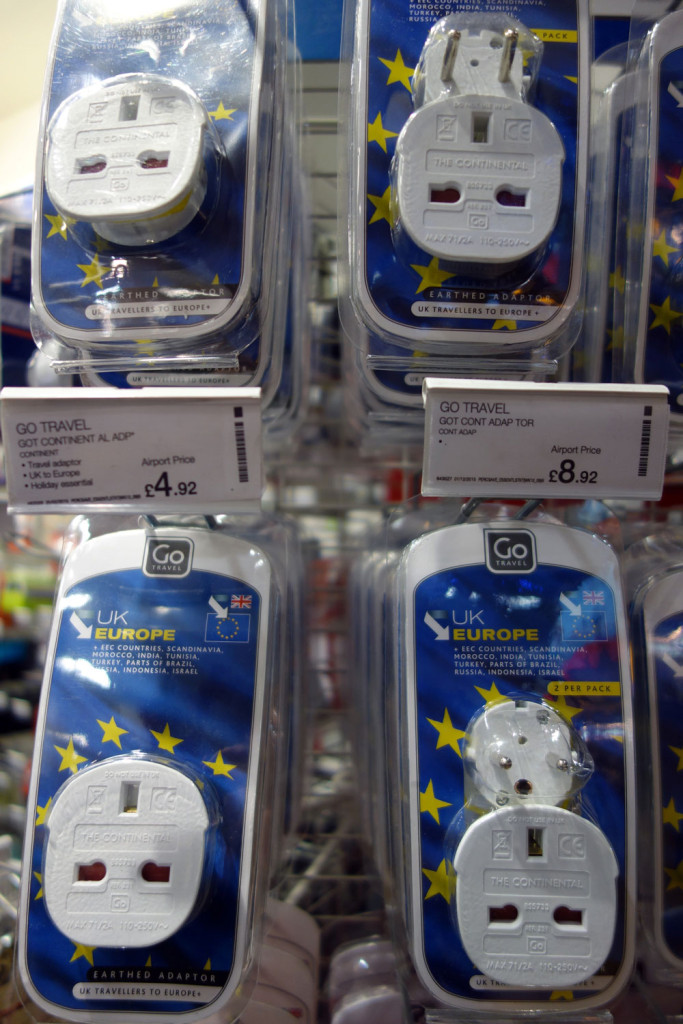 With the uncertainty of what can happen with travel plans, especially at airports, I wouldn't wait to get an electric plug converter
until I was at a London airport. But, it's likely if you forget them for your international trip that you might be able to grab one pre-flight.
Duty Free Price: Final Thoughts
Those are the more popular items that I have found people purhase while duty free shopping. I'd love to hear what's on your list. Do you look forward to it at the airport? Are your purchases planned or implusive?
If you frequently fly through London's Heathrow Airport, be sure to read World Duty Free Heathrow- What You Don't Know before your next trip. It shows offers that are only found in duty free shops. And- there's a link to a shopping loyalty card for the airport! Also, on the Sunny News YouTube channel, I have a Shopping Guide for London as well as Safety Tips, Visiting Pubs advice, and fun things to do in London.