How to Fly Virgin Atlantic Heathrow London to the US
Why was my first Virgin Atlantic Heathrow London to the US flight an unpleasant experience? Oh… let me count the ways!
After years of only flying Delta Airlines roundtrip London to the US, I was forced to fly Virgin Atlantic (their partner airline) over the Christmas holidays due to ginormous price differences. I wish I could say this was a positive experience. While there were a few positive things. Sadly, I can't say I would ever be pleased about flying Economy with this airline again.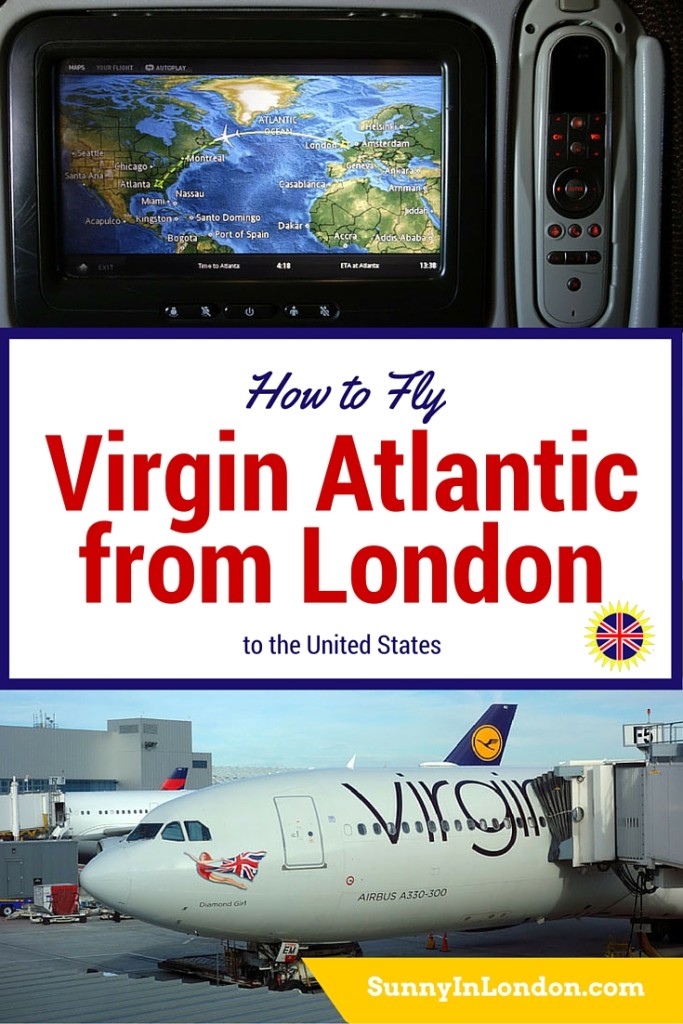 Virgin Atlantic Heathrow London: Seat Selection
This is by far the biggest issue I have with the flight. While I booked the Christmas holiday tickets for my husband and I in September, we weren't able to select our actual seats at the time of booking.
As someone who has had vein closure surgery on both legs, trans-Atlantic flights are tough. Further, my husband, a proud London beer drinker, is a big dude. We need space and access to the aisle. And, like you, we're not interested in jumping over people to gain it.
After several hour long phone calls with Virgin Atlantic airline, we were told that unless we paid £25 per seat, we couldn't pick our actual seats until 24 hours before our flight. This is in addition to the original £1732 ($2528) price tag. Seriously?
What's the big damn secret for seats, Virgin Atlantic?
For weeks I had sleepless nights worrying if we would be stuck in the middle of their Economy seat selection. The rows are comprised of two seats, four seats, and two seats. It's a couple's nightmare if you get the middle sets in the section of four.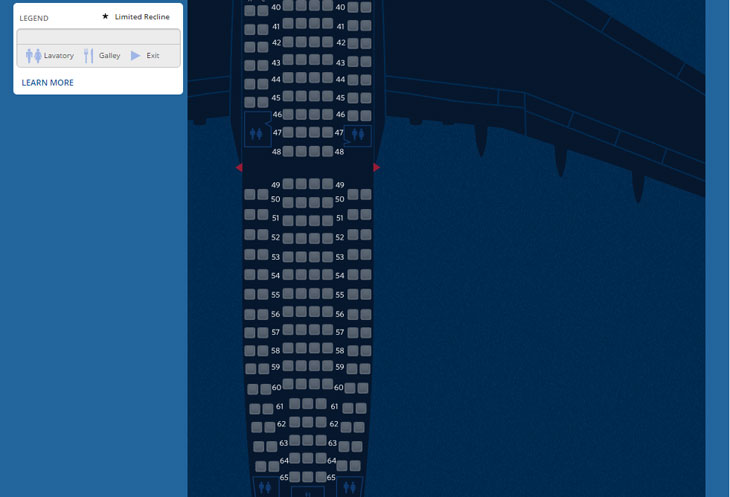 After seeing me in tears so many times after booking our flight, a week before the flight my husband said he'd pay for our seat selection as part of my Christmas present.
So, instead of a cool olloCase for an iPhone 6
or iStabilizer Shutter Remote
that I put on my Cool Blogger Gadgets Must Have List, I got reassurance that I would not sit next to a stranger for 10 hours on a plane. We received two seats together in the left side of the plane in row 60-something.
Virgin Atlantic Heathrow London: Boarding Process
WTF?
I felt like I travelled back two decades to either you're First Class or you're not! That's basically how it felt.
As usual, people started queening pre-maturely. Then, Virgin Atlantic staff announced everyone should get in line to board, in two sections, Upper Class or not.
Two giant lines and one big mess.
Virgin Atlantic Heathrow London: Overhead Cabin Space and Seat
I struggled to put my barely acceptable carry-on in the overhead compartment. Thank goodness my husband just brought a backpack. We shoved our stuff overhead and took our seats.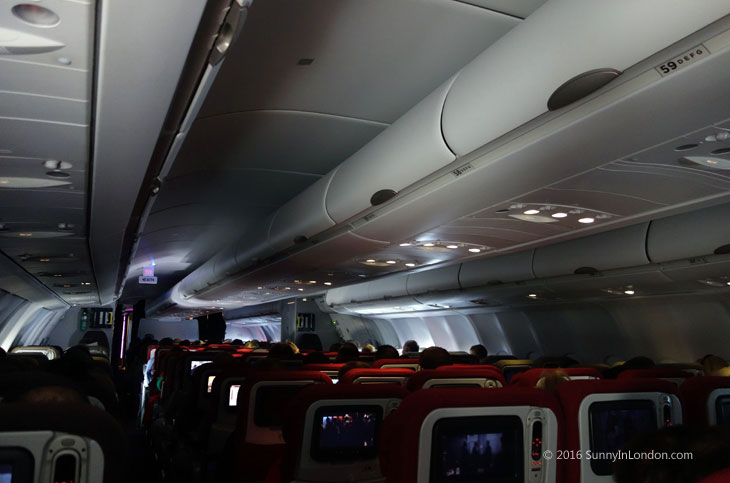 The most painful part of the Economy flight experience is the seat. For nearly 10 hours, I barely had enough room to extend my legs. Further, my husband and I had trouble not jabbing each other in the ribs with our elbows because the seat width is so small.
However, with regard to positives, I will say the in-flight entertainment far surpasses that of Delta's Economy or Premium seats.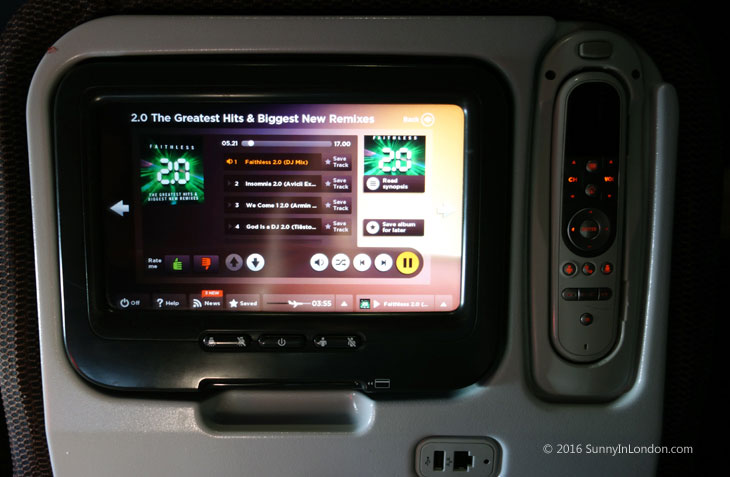 The music selection is excellent. For half the flight I did some serious seat dancing to Electronic and Dance tracks. I figured if I was going to supercede my seat barrier that I should do it with some stellar disco dance moves. I also had a few 'bottles' of wine to ease the journey too.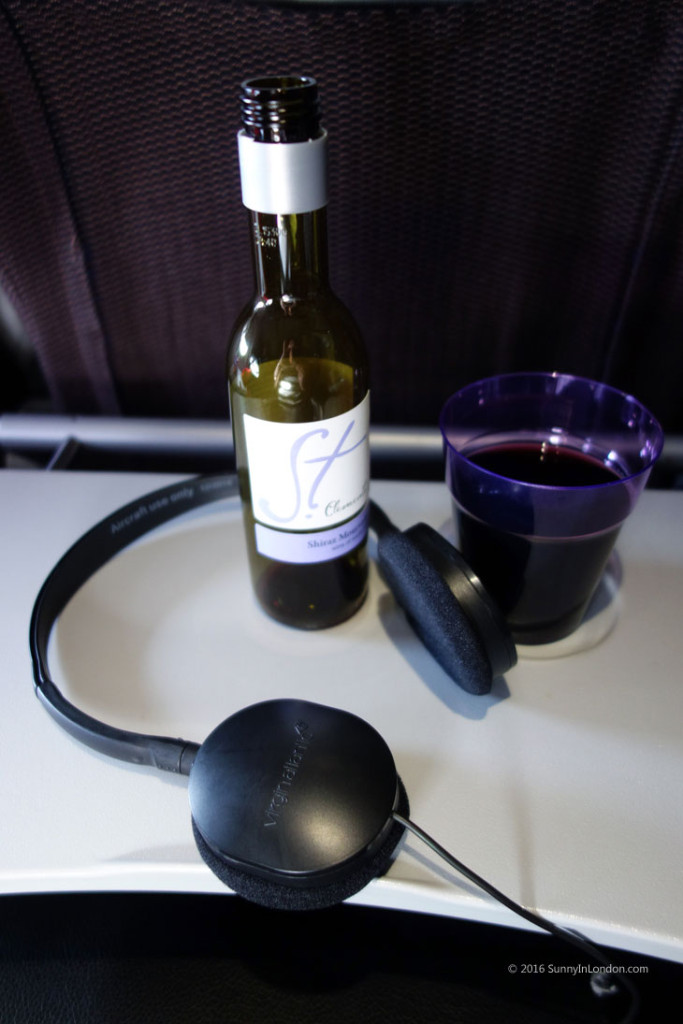 I noticed from the side that it's difficult for other passengers to see what's showing on your seat screen. This was handy when I was watching the scenes from Entourage: The Movie
that were for adult eyes only. 😉 So, I didn't feel too uncomfortable about my movie choice because I knew everyone behind me couldn't clearly see my screen. It's so much better than watching this for 10 hours…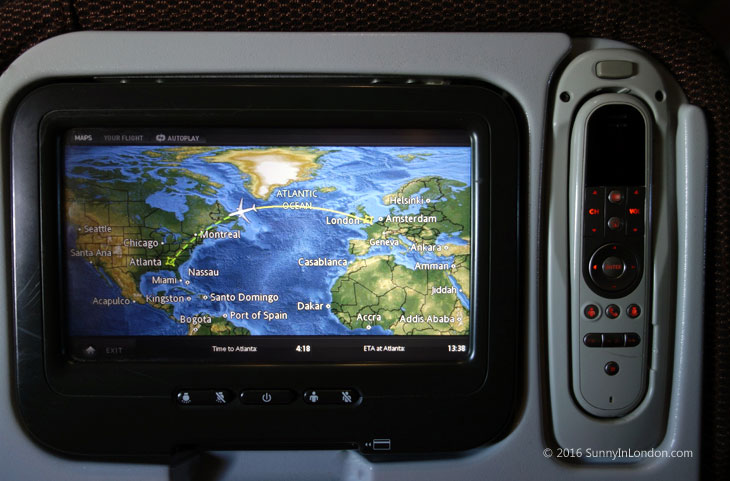 Virgin Atlantic from Heathrow London: Other Economy Positives
Wow. Virgin Atlantic crushes Delta when it comes to airplane food. We liked our meals, except for the fact that they ran out of pasta by the time they got to us.
And, we each had inseat chargers. You know how valuable that is on a ten hour flight if you play games (like my husband) or blog on a plane like me. In comparison, you're lucky to have this on a Delta flight in Premium Class, as chargers aren't standard.
Virgin Atlantic Heathrow: Upgrade to Premium
My husband's return flight was on Delta because he had to be back in London earlier than me, and the flight times and prices were best for his needs.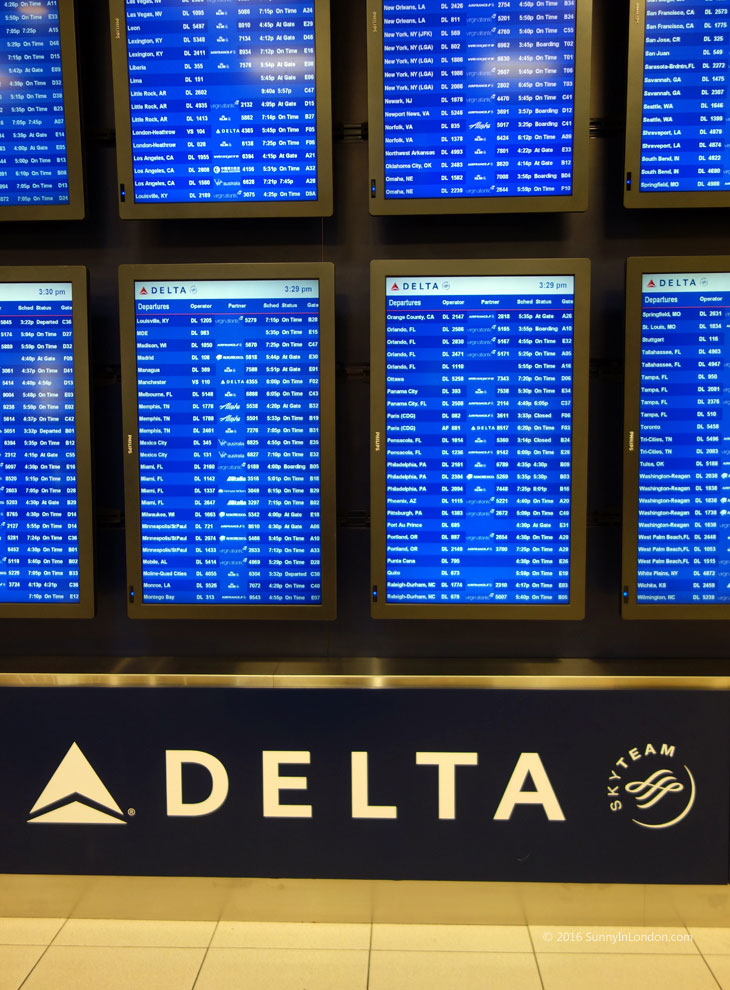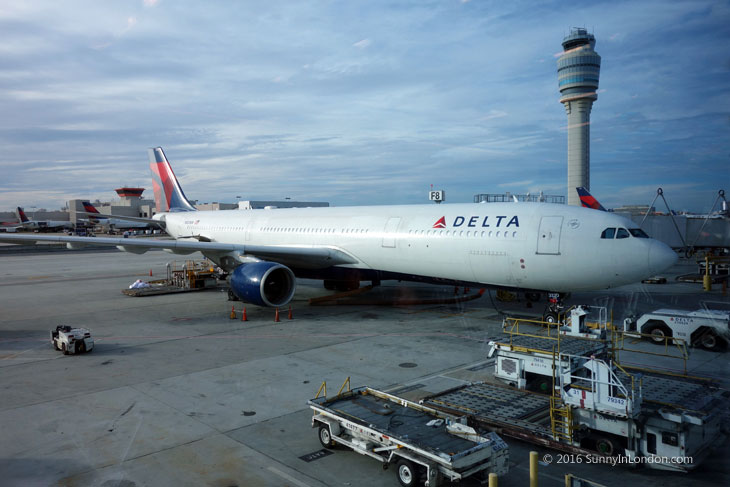 I dreaded my return trip on Virgin Atlantic. However, on my Daytona Beach, Florida to Atlanta flight on Delta, I was automatically upgraded to First Class. Cooooool.
Because I am a Silver Medallion member on Delta and was travelling by myself, apparently I got upgraded to a Premium seat on Virgin Atlantic too. However, I didn't know this until I logged in to the 24-hour online check-in. Being in a Premium seat on the Virgin Atlantic flight from Atlanta to Heathrow meant I got to board quickly. It was much more organised in Atlanta.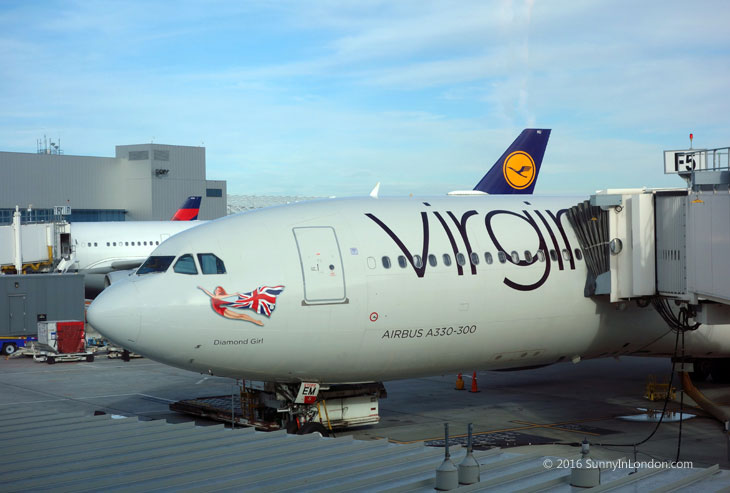 My seat (21D) was much bigger than the in-bound Economy flight, offered tons more leg room, and was soft and comfortable. (Well, as much as can be expected on an airplane). The middle rows in this part of the plane only have three seats, not four.
There was a bottled water waiting for me when I arrived. And I was offered three glasses of Prosecco before the plane even took off. My damn #DryJanuary New Year's Resolution was the only reason I wasn't dancing on the chair before we headed for takeoff.
Another benefit included receiving super fast attention and assistance from flight attendants. The views are of course, the same.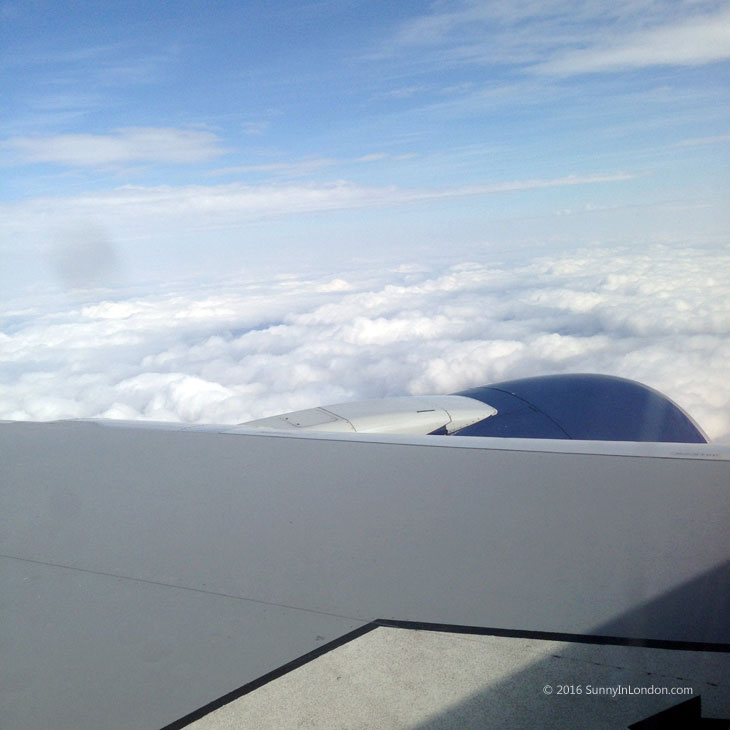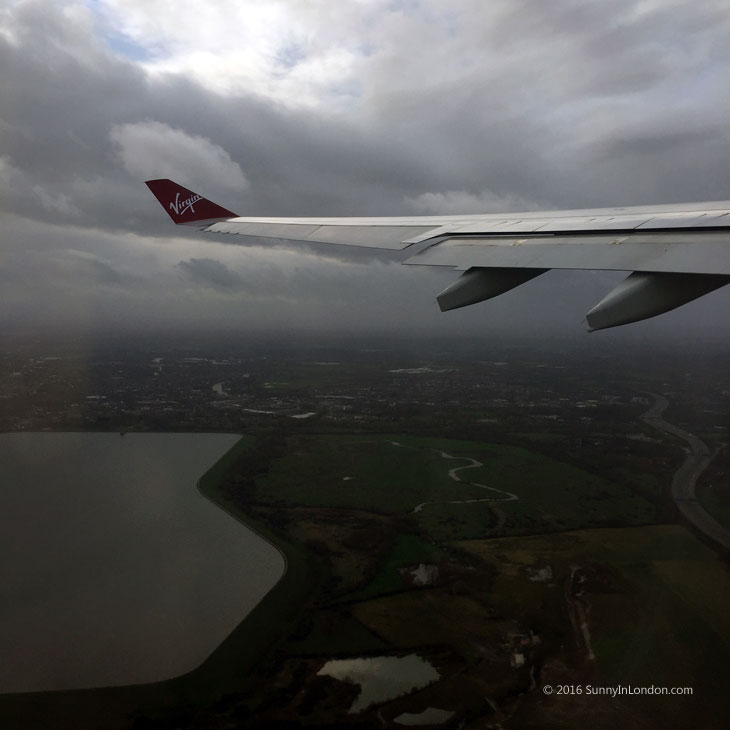 Virgin Atlantic Heathrow: Economy vs Premium
I will never fly in the Economy section of Virgin Atlantic on a trans-Atlantic flight again, unless it's the last possible option on Earth. I'd suggest to you that it's worth the additional money to upgrade to a Premium seat, if this is the airline you pick.
While Delta's Economy seats are nothing to cheer about, I find they're better than Virgin Atlantic. But, when it comes to matching the Premium seats, Virgin Atlantic easily beats Delta.
This makes me even more curious as to what the Upper Level experience is like on Virgin Atlantic. My mother had the opportunity to fly it from New York to London en route to Ireland once. I was more jealous of her flight than of her trip at the time!
Hey, Richard Branson and company, are you looking for a blog review of your Upper Class service? *Shameless pitch*
I strongly suggest that you book a premium seat when you fly Virgin Atlantic, if you can't travel Upper Class.
Have you ever flown Virgin Atlantic roundtrip London to the U.S.? If so, what are your thoughts? Any Delta frequent fliers out there like me who have flown Virgin Atlantic due to the airlines' partnership?
Oh, and if you fly through Heathrow often, it's worth reading World Duty Free Heathrow: What You Don't Know. It has a link for a discount card that's a great way to save money while at the airport!