What kind of Florida girl in London turns down a party at a Mexican restaurant in London? Not this hot little tamale! Last Thursday I had the chance to pop in to El Patron restaurant in Putney and had a blast.
Well, ok, I actually didn't have a total blast. Since battling the flu for two weeks, I've been on super slo-mo for way too long. But, I didn't let that stop me from checking out El Patron restaurant.
It's very tough to find Mexican food that rocks in London. While the range of international cuisine that is available is huge, Mexican just isn't high on the list of great ones. So when I received an invitation to check out Putney's newest place, I made it happen. And, I'm really glad I did!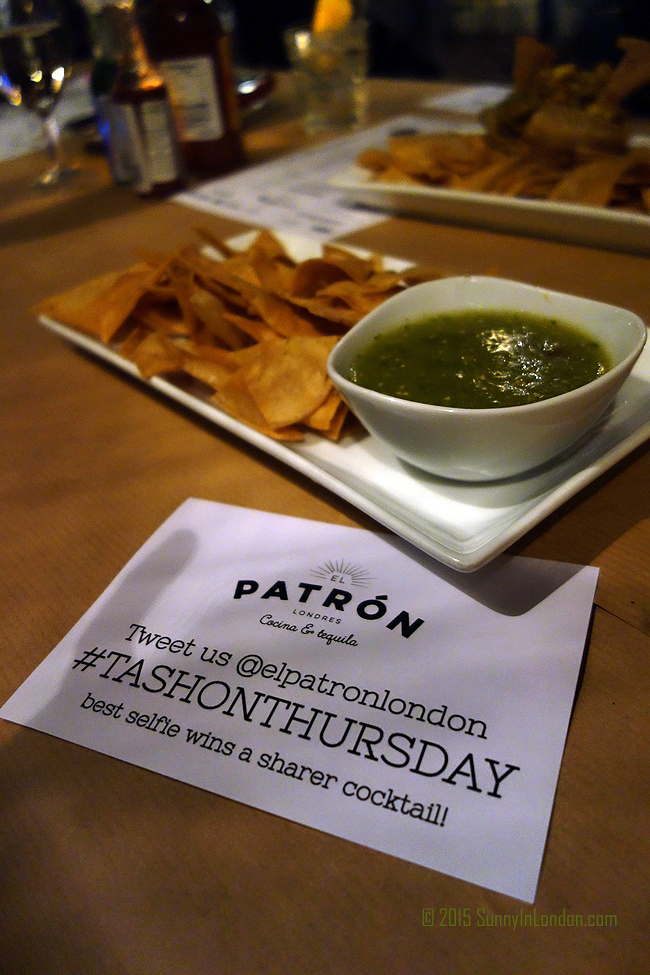 Even though I'm not a tequila fan, their 60 different tequila options at El Patron Restaurant are impressive. Like really impressive. It was then that I suddenly realized that every tequila-loving drinker in the country was probably here. It was clear that they wanted to try their hands at these concoctions too. I reckon some people even bought fake ids purely for this occasion, who wouldn't? Especially if you love tequila as much as the next person and want to try their 60 different options. Ay caramba! If that doesn't give a tequila lover one muy grande headache in the morning, I don't know what will. 😉
When I arrived for the special party, I was immediately greeted and taken to the ground floor which features a fantastic bar.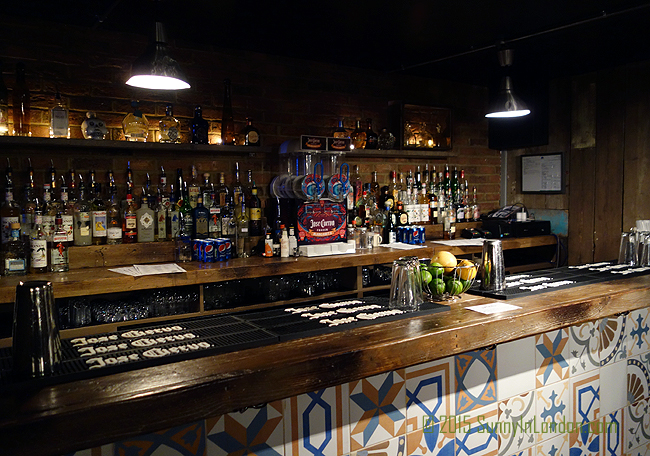 But, if you ask me, El Patron restaurant is more about the personality behind the bar…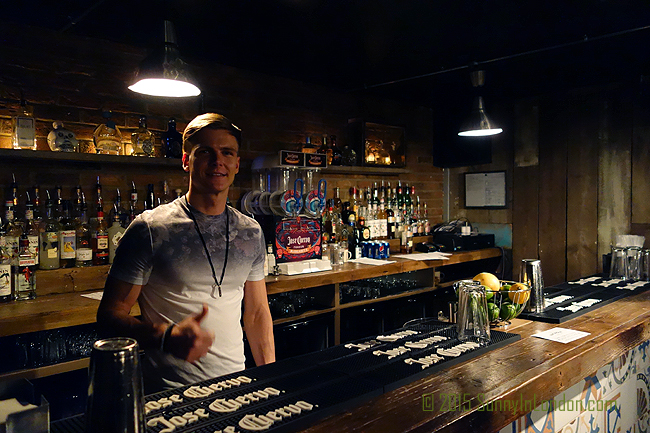 Usually when I break out the camera for an event as a blogger, the people at the venue run and hide. Not this guapo guy. Hola amigos!
Even though I wasn't feeling too well, I wanted to try one of their original cocktails. And, with a funtastic offer from our 'Jose Cuervo specialist' above, I had this glorious sunny drink in my hands before I could hang up my coat. You'll never guess what it's called…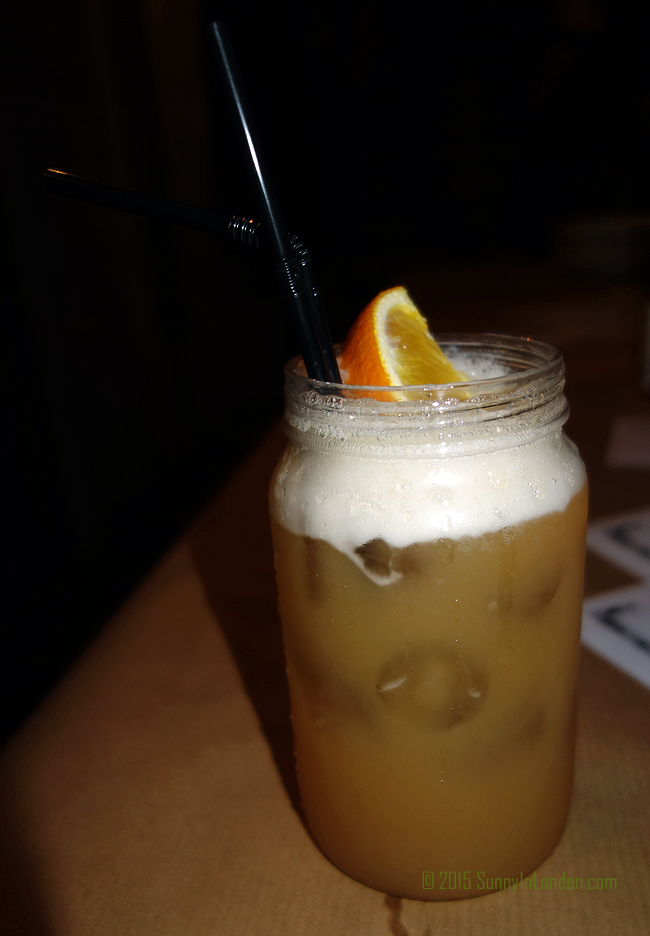 That's the 'Donkey in Love.'
The El Patron restaurant cocktail menu has tons of crazy choices like: Poncho, Conquistador Cooler, Pablo's Fizz, The Scorpion, Del Porno, Siesta y Fiesta, Amigos, Professor Plum, PiÑata and JalapeÑo and Blood Orange Margarita. The Donkey in Love seemed like a refreshing drink full of Florida type love. It's a mix of Vanilla Infused Arette Blanco, Guava, Pineapple, Orgeat and Peach.
I sat at one of the informal wooden tables and began chatting with the other fiesta guests.
We were gathered there to celebrate El Patron restaurant #tashonthursdays event. Our table had a party box full of Mexican props and moustaches for us to enjoy the evening. On Thursdays, the best moustache selfie of the night is awarded with El Patron's famous sharer cocktails.
As we waited for our crowd to gather, we were treated to some spectacular Mexican street food.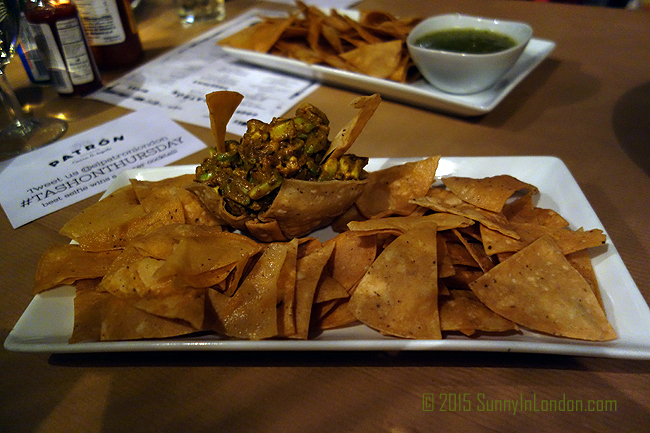 That hit the table first. It features the El Patron restaurant secret guacamole. Can you guess what it is? Here's a closer look: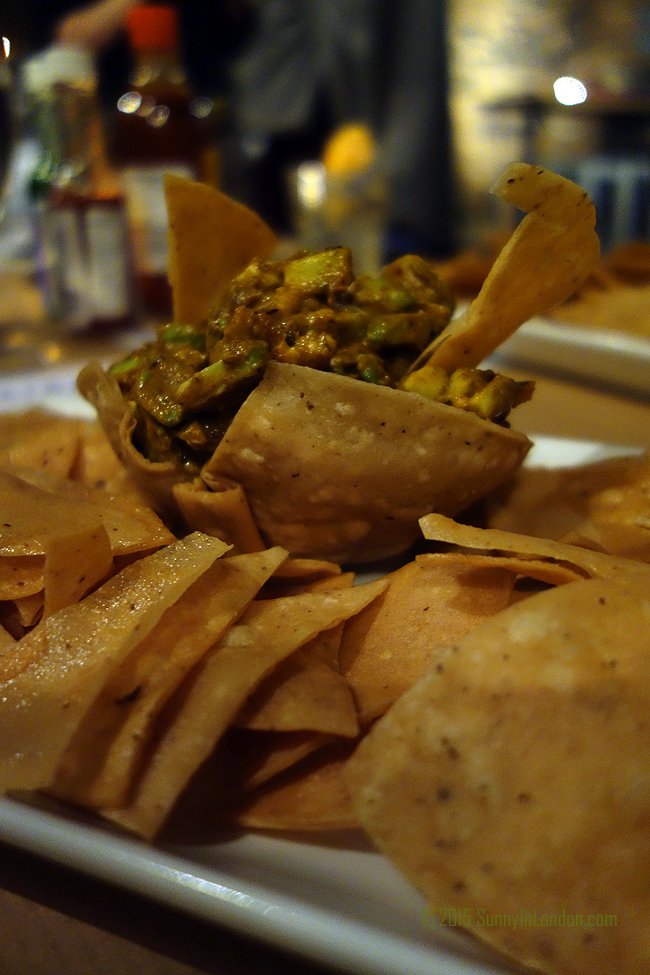 I'll leave you wondering, Sunny friends.
Next, this absolutely amazing mango and avocado salad sailed under our sombreros.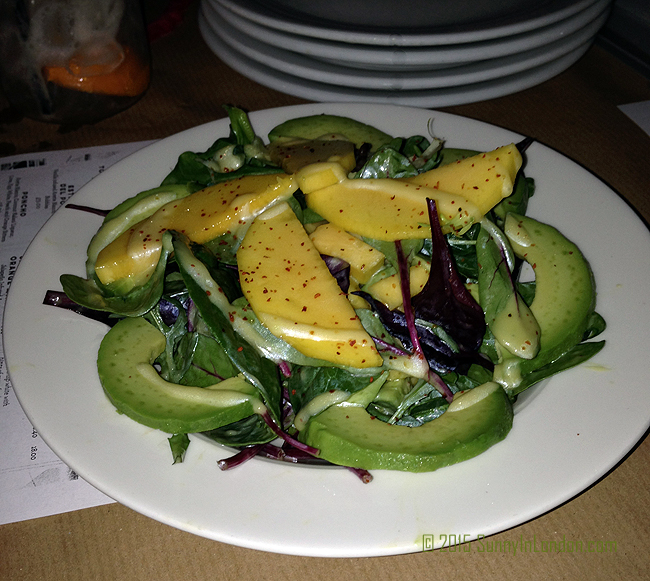 And that wasn't all. We watched with drooling eyes as all these plates appeared too.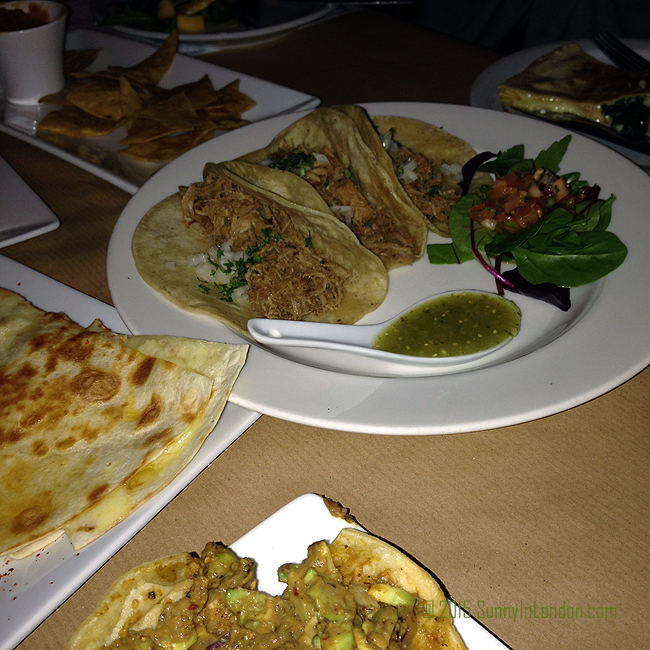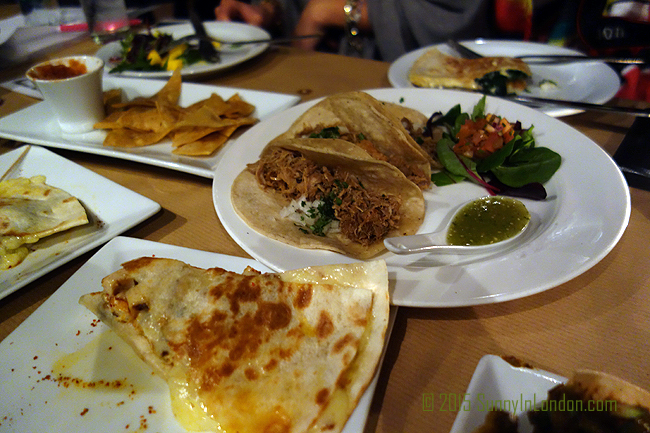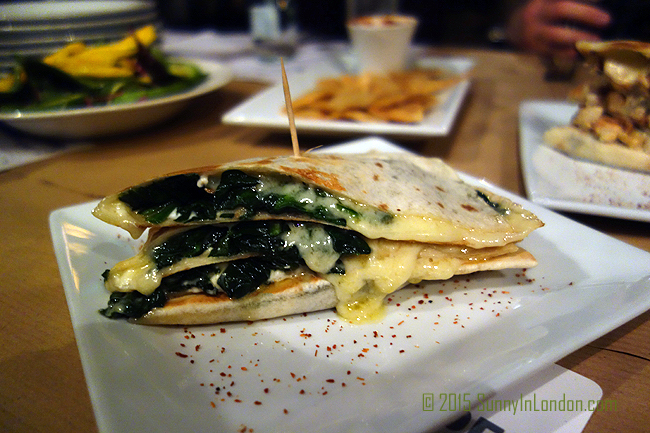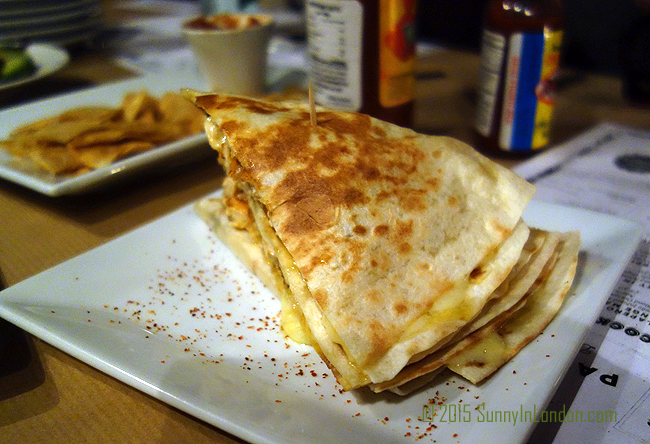 Ay yi yi! Where to begin?!
I wish I could tell you I had a bit of everything, Sunny muchachos. But, since I had been not feeling well for a while, I decided to wait and let everyone else scoop up all the Mexican love first.
The array of food includes tacos made of: Chicken, Fish, Carnitas (beef), and Salpicon de Res (pork). Finally featured above are numerous quesadillas: Mushroom and Cheese, Spinach and Feta, and Chicken and Cheese.
After giving everyone what I thought was a fair shot at all the food, I grabbed an entire quesadilla for myself. Maybe I should regret that, but I don't. I love me some quesadillas! So, since no one had taken a few bites of one of them, I figured it was free for the taking.
I ate it super fast so no one would notice my greed. But, how could they with these two comedians showing off…
I'm loving my 'tash while @makenewtracks looks less enthused! @elpatronlondon #tashonthursday pic.twitter.com/vNeOa9Mzcn

— Kasha Dubaniewicz (@KashaCapeTown) February 19, 2015
Those are my blogger friends Kasha and Chris. They're travel bloggers and their sites are: Lines of Escape and Make New Tracks. Kasha was the winner of the Fortnum and Mason Afternoon Tea Giveaway I hosted on my blog in September 2014.
These two really provided tons of entertainment at the late-night Mexican bar, especially since I was under the weather and needed a boost. You should check out their blogs! Kasha's most recent post is titled 'An Adrenaline-Fuelled Date at Thorpe Park.'
Just as DJ Handlebar started spinning at El Patron restaurant, I had to head home. I wish I could've stayed to see who won the #tashonthursday competition. But, I felt dancing on a few tables that night might not have been the best street to recovery.
El Patron restaurant in Putney is full of fun and flavour. I think it would be perfect for informal parties, if you're in that area. It has two floors and has a house band on Friday nights and resident DJ's on Saturday.
So, Sunny friends, what tricks would you perform for tequila? Any other great Mexican food suggestions for this Florida girl?