The Potions Class at Cutter and Squidge is one of the hottest events in London at the moment. Popularly referred to as the 'Harry Potter Afternoon Tea', it has people waiting months to get a seat. As a former high school assistant principal, I could not resist writing a review in the form of a lesson observation after attending the magical course at Cutter and Squidge in Soho, London. At the end of this afternoon tea review you can find a few tips for 'students' who want to attend this coveted 'class' in London.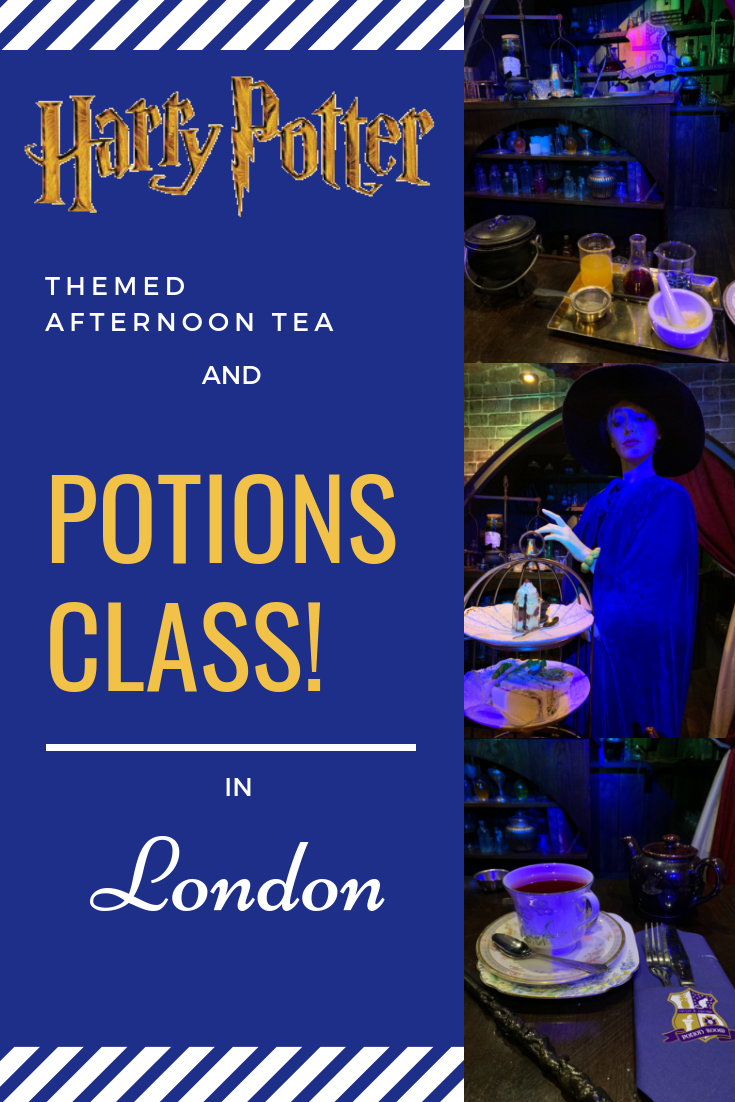 Dear Potions Master,
Thank you for inviting me as a complimentary guest to your Potions Class for the purpose of a review. Your lesson objective to entertain and educate students about potions at the Cutter and Squidge secret School of Wizarding Alchemy was clear and constant throughout the evening.
Potions Class Strengths:
Foremost, your classroom management ticked all the right boxes. Systems for organisation are clearly in place. The first evidence of this is the email pupils receive upon event ticket confirmation. In it- they are directed to arrive 15 minutes prior to the start of class. All students followed this directive on the evening of my visit. Further, your assistants were visible outside the classroom at the designated time and made sure to have pupils enter via small groups down the stairs to your room.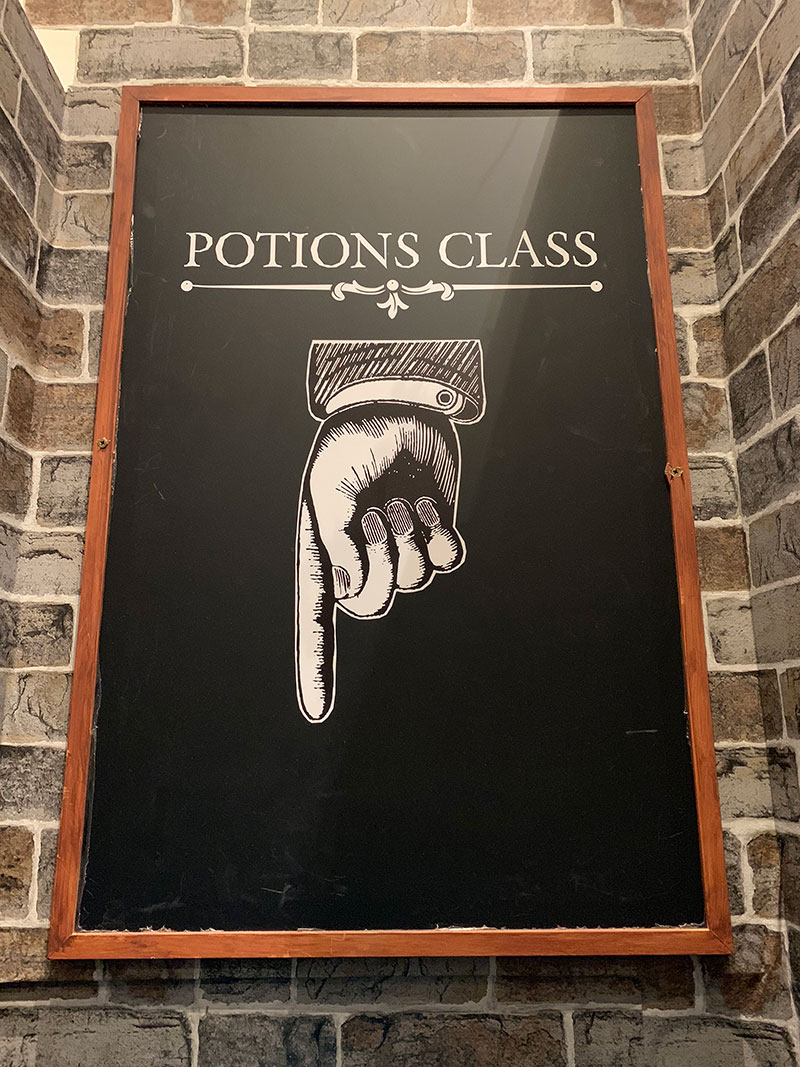 They also clearly had the seating plan for the evening in advance. This ensured an organised and efficient process, which further allowed you to start and conclude your lesson as scheduled. Specifically, it is appreciated that these steps were necessary since the lesson took place in the bakery's basement.
Without these steps in place, students could have been injured from pushing and shoving on the staircase due to their enthusiasm for the course. Upon entering the classroom students are given a place to hang their coat so they can quickly participate in the transformation to a wizard when they receive their cloak for the Potions Class. This also proves that you adhere to the Cutter and Squidge secret School of Wizarding Alchemy uniform policy.
Your class began on time, as promised. Places were set in advance accordance to the structure of the lesson plan. Students quickly found their wands near their seats and could easily access all tools necessary for the start of the class. For example, they had beakers with chemicals needed for their first activity, as well as plates and utensils for the food that followed.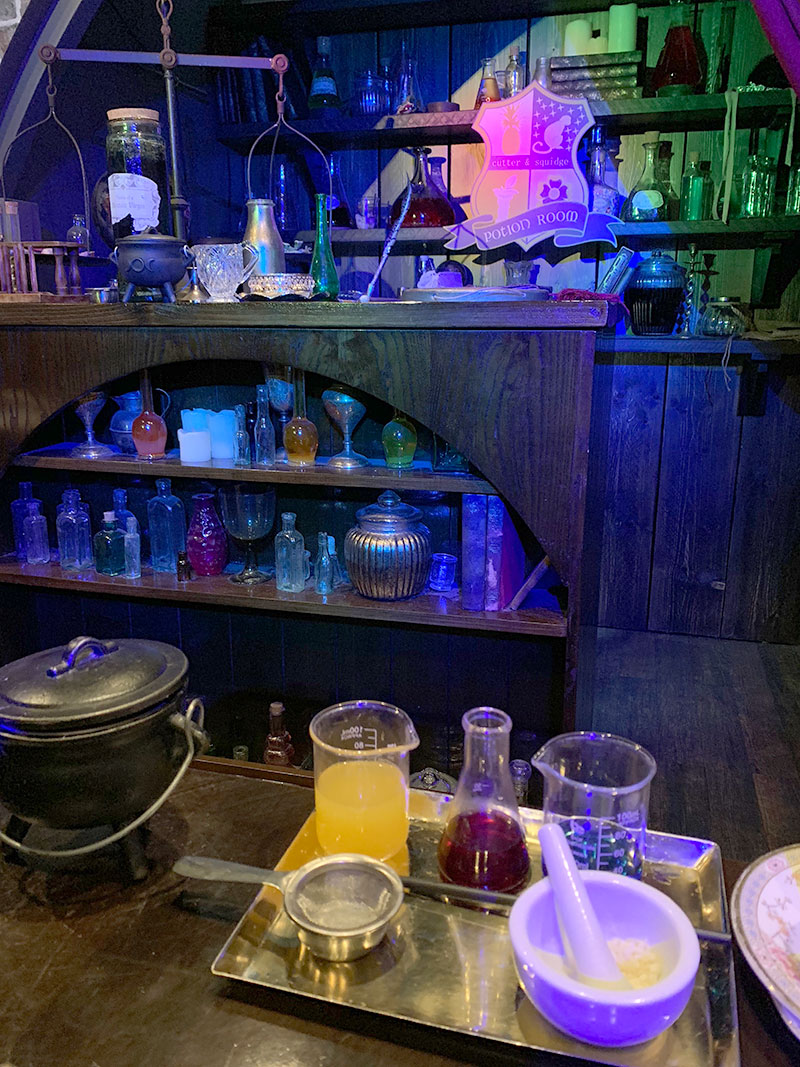 You displayed your passion for teaching consistently through numerous appropriate jokes. Most notable are the ones about a particular franchise that can not be named. While students most likely choose the class because it is the closest thing to an actual Harry Potter Afternoon Tea in London, you are careful not to make any direct references. Rather, the focus is on a wizard experience.
Throughout the lesson you keep students engaged when moving around to each of their desks, checking on their progress and making personal (and always professional) connections with them. Your evidence of this is in the surprise near the end of the lesson which includes each of these encounters. Students in the class are rewarded for their success in activities through the use of 'dibbles.' The items they can choose with them at the end of the lesson definitely encourage them to return to Cutter and Squidge for more inspiration and indulgence.
When students are creating Galaxy Juice, their first chemical mixture, you are keen to provide information about each ingredient and the order in which it needs to be poured to guarantee correct taste and appearance of the potion.
Classroom management is again supported with strategies of differentiated learning. Students are allowed to choose their choice of tea and diet preferences. Specifically, this is evidenced in the care you take to provide food options that are vegetarian, vegan, gluten free, dairy free and child friendly.
You had a strong engagement from students during the entire lesson. To prepare students for questions, you met with them quickly and privately to give them time to consider an answer before being called upon in front of the whole group. This builds their confidence, makes sure they are not embarrassed in front of the class, and keeps the entertaining momentum of your lesson strong.
Your assistants had knowledge of how to serve the afternoon tea portion of the lessons in a timely fashion to all students and took their various drink orders quickly. With regard to the content of the food for the afternoon tea, it receives outstanding marks in taste and visual appearance. Students had adequate time to enjoy all the tasty food and make conversation with their peers.
The atmosphere in the classroom also reflects the themed Harry Potter afternoon tea well. This is evidenced in the teacher's desk and countless wizard tools and memorabilia placed on the walls and desks.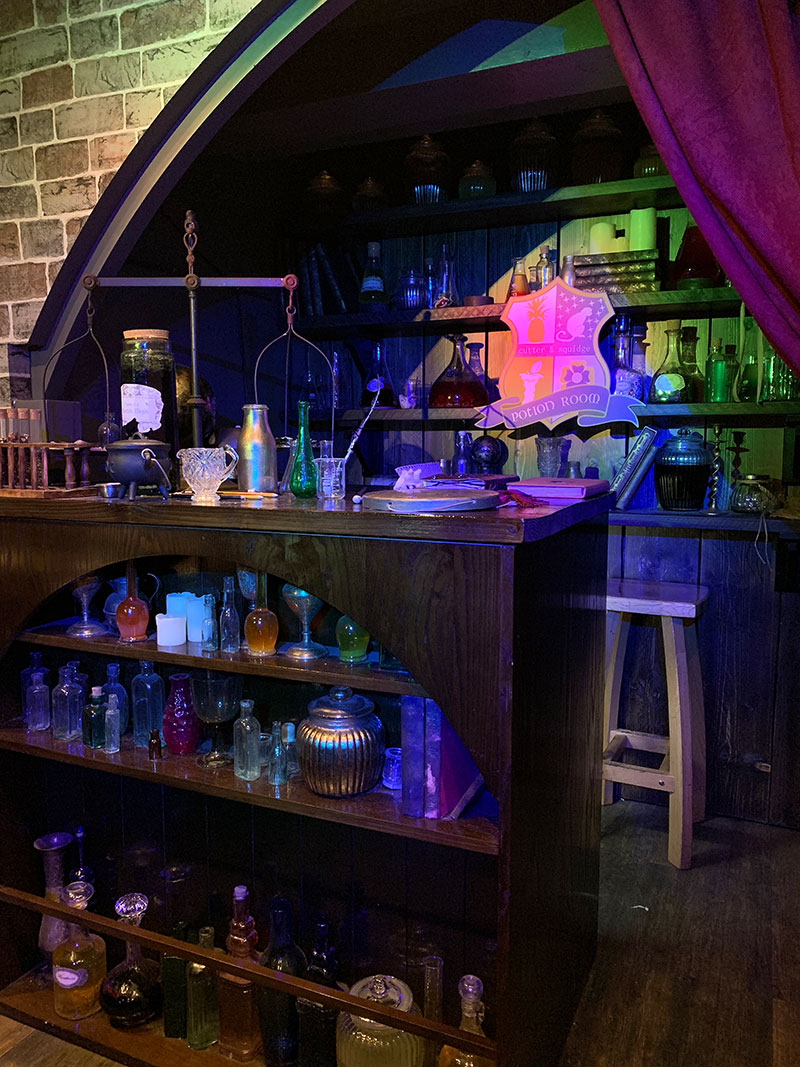 Potions Class: Area for Improvement
While the lesson is entertaining, moves at a good pace and features delicious food, there is one small area for improvement. You are commended on making sure students handle wands carefully and know where to put them at the end of the class. This direction ensures that the general public are not at risk from the occasional naughty student who would try to take them from the room and use them in an unsupervised environment. However…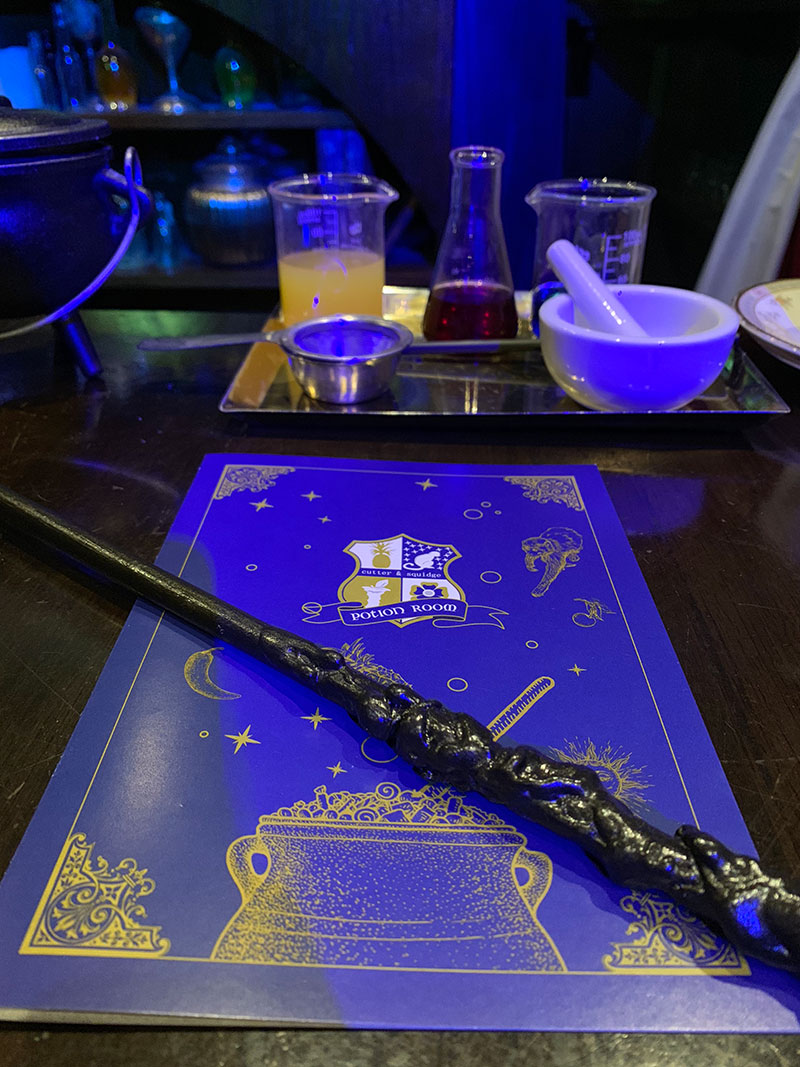 You should research the possibility of having students wear safety goggles or glasses during their lesson. I do appreciate that you will need to explore if this addition to the lesson would cause any copyright infringement on the franchise that shall not be named. I look forward to learning what you discover in this suggested area. I have made a few suggestions below.
Potions Class: Final Assessment
Thank you for inviting me to have this experience. It will be one I highly recommend to colleagues and any individual who inquires about Harry Potter themed activities in London.
My advice to future students in the Potions Class, AKA 'Harry Potter Afternoon Tea' in London is below.
Kind regards,
Headmistress Sunny in London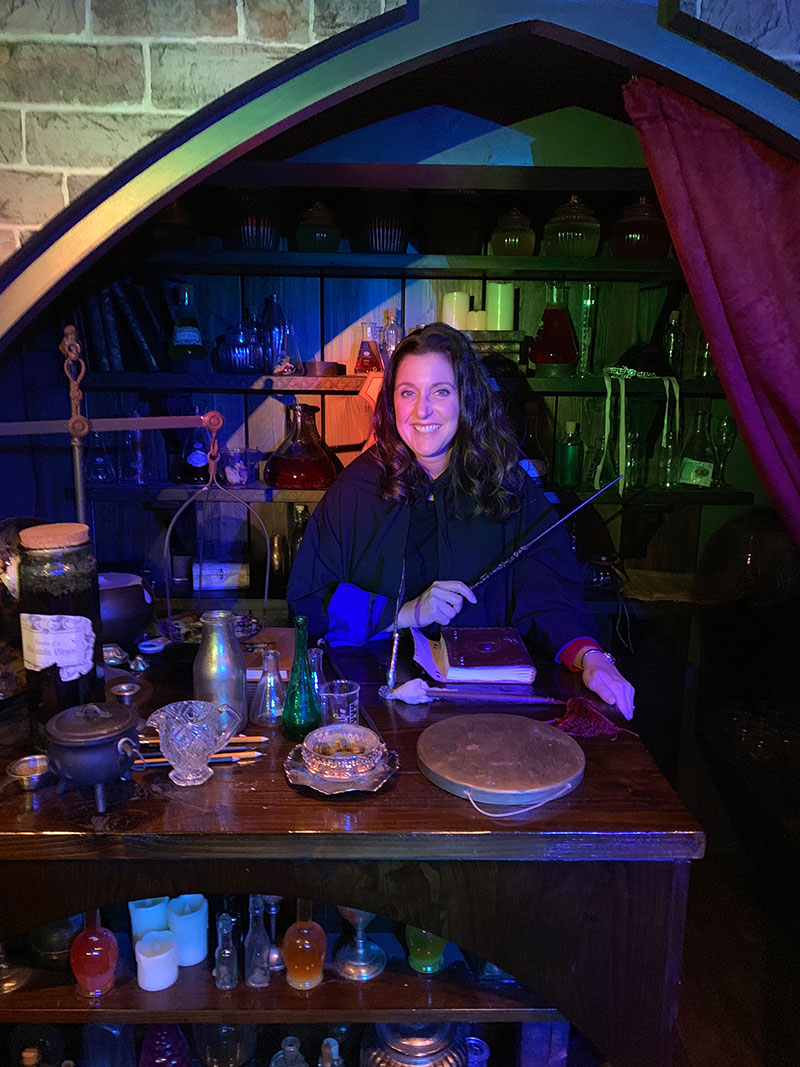 Harry Potter Afternoon Tea in London: Lesson 1
Don't be late! As detailed above, the class features an entertaining and delicious experience. You really would be naughty and deserve to stand with your nose in the corner if you arrive late and ruin it for others.
Harry Potter Afternoon Tea in London: Lesson 2
Play along. The Potions Class is a themed Harry Potter Afternoon Tea. If you don't openly or secretly want to be a wizard, skip it. You will need to recite chants, wave your wand and have an open heart about participation to truly enjoy the experience. In fact, I will candidly say that Death Eaters are NOT invited!
Harry Potter Afternoon Tea in London: Lesson 3
Save room for dessert. The class features surprises in all shapes. Be sure to plan on a non-stop food feast. If you aren't in to sweets, you should get on your broomstick and fly somewhere else, Sunny friends.
Harry Potter Afternoon Tea in London: Lesson 4
Book early. I am not kidding above when I say this Potions Class in London is a tough one to score a seat. Plan well in advance for your visit and go to their website as soon as you can to check availability.
For all the Harry Potter themed activities in London visit the Sunny in London Harry Potter Guide for Visiting London. And of course, leave your questions and ideas about all things Harry Potter in London below in the comments! But please know the Potions Class is full of surprises. I was careful not to ruin any in this review and am counting on the same from you too. However, if you follow my Instastories, you would have seen some fantastic views and videos of the experience!
Class dismissed 😉
WANT TO DOWNLOAD A FOOD FREEBIE?
SUBSCRIBE to the Sunny in London weekly email and immediately get the 'Local's Pocket Restaurant Guide to London.' It's the ultimate free travel accessory for your London trip. The Guide has top recommended restaurants from a local, organised by neighbourhood. With it you can easily find a place to eat when you're on a London street. Downloading the file to your phone means skipping Wi-fi and finding a fab foodie place- fast!
As part of the welcome, you will also receive several other free downloads that will guide you through trip planning, plus a weekly edition of the hottest happenings in London.