Taking the Stress Out of Holiday Travel
There is nothing quite like setting off on holiday, yet travel can be a highly stressful experience and you will want everything to go smoothly and according to plan. Therefore, it is helpful to know a few tips which should help you to reduce stress and get your holiday off to a smooth start. If you have a history of rising anxiety when any changes are in effect then you may want to look into CBD gummies that contain a hemp extract to help calm you down before your trip, this will be better for you if you get bouts of panic and need to soothe your mind so you can think clearly.
Research What You Need to Take
It is always helpful to research your destination for a few different reasons. One of which is that it will give you a good idea of what you need to take – you could even find an easy checklist to follow. You would be surprised how many different destinations require items that you wouldn't need for others. For example, when we visited Malta, I really wish I had packed water shoes. But, obviously that's not something I would suggest for someone visiting London. However, there are certain passes, tickets and apps you shouldn't go without!
Or, better yet, there may be really popular activities that you may need to book ahead. For London, I have a huge list of experiences that you should book in advance for your trip. And, the video from the Sunny News below shares even more tips, if you have five minutes.
Find Out Airline Restrictions
Every airline is different when it comes to what you can and cannot take on the plane and how large your carry-on luggage can be. Make sure that you find out this information well in advance so that you will have a smooth experience and not have to pay any additional charges. Sunny in London email subscribers receive a free, downloadable Guide to London Airports as part of a subscribing bonus. More on that later! If you can't wait to receive that, we've created a Travel Tips for London Airports article that goes through London's six airport options and the airlines that use them.
Practice Pack Beforehand
You won't want to be rushed when you are packing as this can cause stress. You may not be able to get everything in and you could create a mess. Instead, it is a good idea to do a practice pack a few days before so that you can work out the best way to arrange your possessions. I did a practice pack before I flew to London from New York back when Mr Sunny and I first started our long distance relationship. I also made charts for all of my outfits, shoes and accessories. How many of you have done that before? Too OCD?
Next, you should then pack your suitcase the night before or in the morning if you have time. Layering tissue paper in between your clothes keeps them from wrinkling too much. And, if you haven't discovered packing cubes yet, you are really missing out!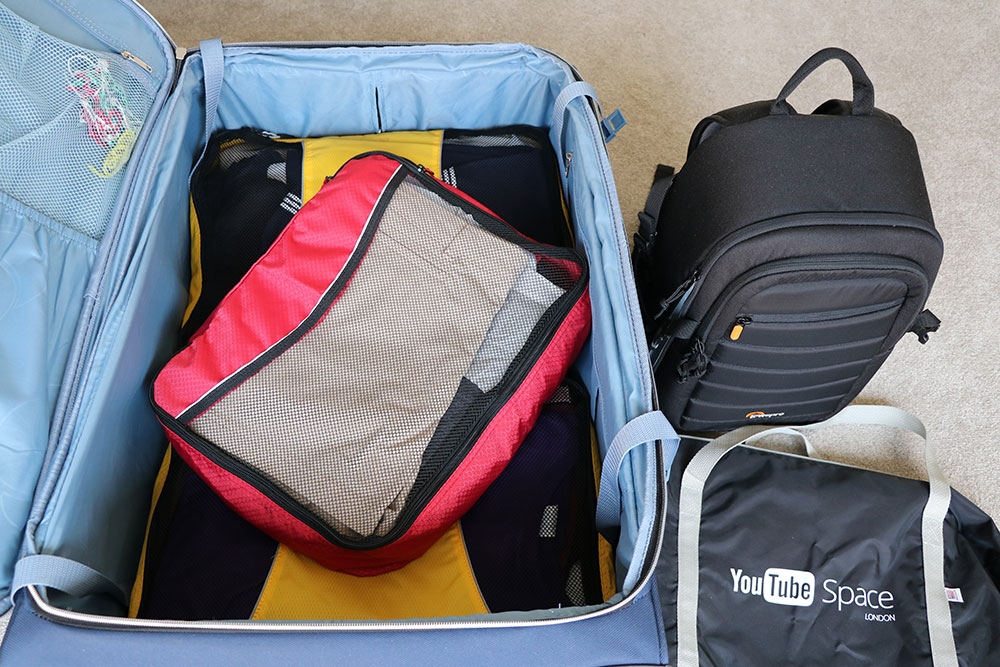 If you'd like a list of how I pack for short and long trips with success, let me know in the comments. It would include explaining why I have all that string in the mesh pocket of my suitcase. Or did you guess what this is for already?
Pre-book Travel to the Airport
With so much focus on the flight, it is easy to forget about getting to the airport. The train is often the best way but you should always pre-book your tickets to save time and reduce stress on the day – you can book online at places like Southern Railway.
For a guide to London airports and which is the best for you, I made this video to help your decision process, because there are many different travel situations.
Pre-Book Travel to the Airport
On the day of your flight, you will not want to be rushed and you will want to give yourself plenty of time to get through the airport. If possible, you should check-in online and arrive at the airport at least an hour before your scheduled departure time. However, Mr Sunny and I always make it at least three so he can relax in the airport's pub while I hit duty free!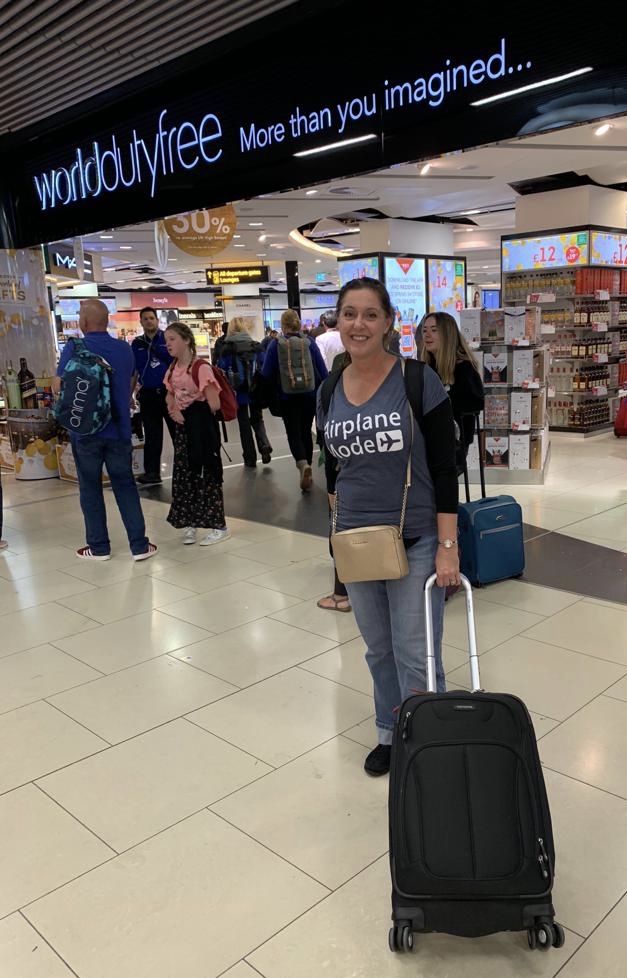 Give Yourself Plenty of Time
These tips should help you to take the stress out of travel and get your trip off to a smooth start. A vacation should always be a fun and relaxing experience but the travel side can cause a great deal of stress if you are not well-prepared.
Holiday Travel- Final Thoughts
What packing and travel tips can you include, Sunny friends? Have you considered booking train travel in advance to save time and money? Has an airlines' extra baggage fees ever determined which one you choose?
Want a Freebie for Your Trip to London?
Subscribe to the Sunny in London weekly email and immediately get the 'Local's Pocket Restaurant Guide to London.' It's the ultimate free travel accessory for your London trip. The Guide has top recommended restaurants from a local, organised by neighbourhood. With it you can easily find a place to eat when you're on a London street. Downloading the file to your phone means skipping Wi-fi and finding a fab foodie place- fast!
As part of the welcome, you will also receive several other free downloads that will guide you through trip planning, plus a weekly edition of the hottest happenings in London.