Get Picked Up at Locale Cucina Italiana!
Locale Cucina Italiana in Fulham has one of the best pick up experiences in London!
Ok, silly.  I'm a married lady, so I'm not referring to any type of flirting shenanigans. I'm talkin' tiramisu. It's an Italian dessert. The name of it literally means 'pick me up.'
I have to say, Locale's uplifting experience isn't just limited to dessert. No, mi tesoro, it's a whole lot more!
After a ten minute walk from the Parsons Green underground station, Mr. Sunny and I arrived to Locale Cucina Italiana. Naturally, it was a beautiful sunny evening in London.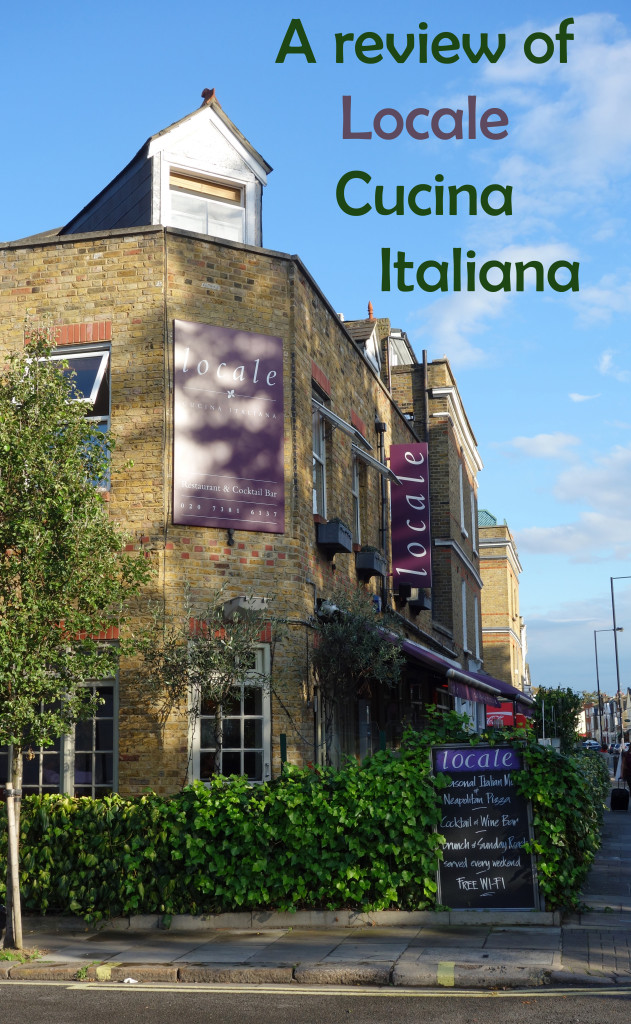 We were greeted and given a quick tour. It's a neighborhood Italian restaurant with an outside terrace and sexy cocktail bar.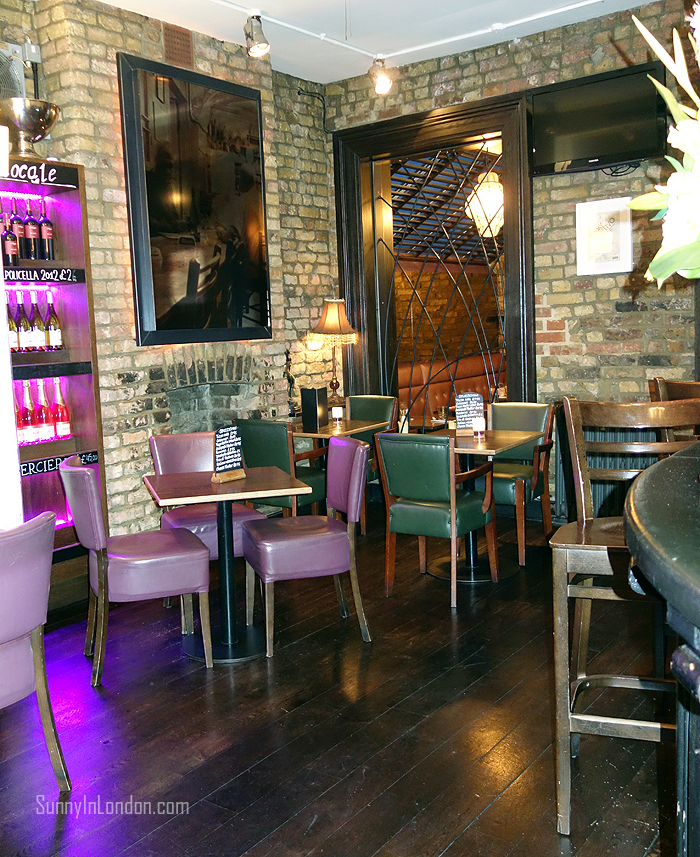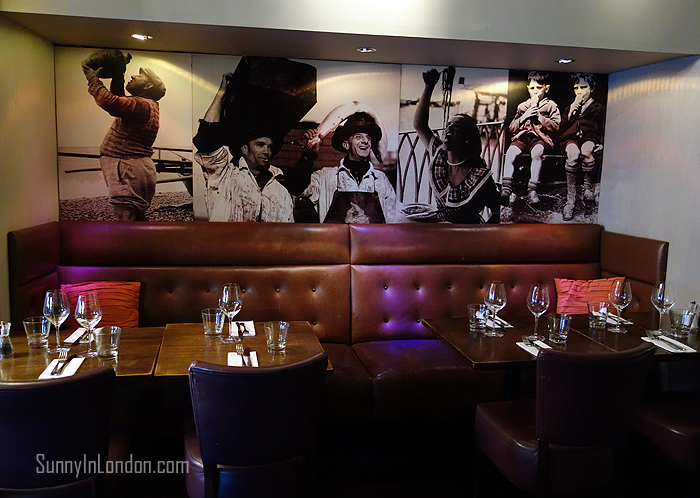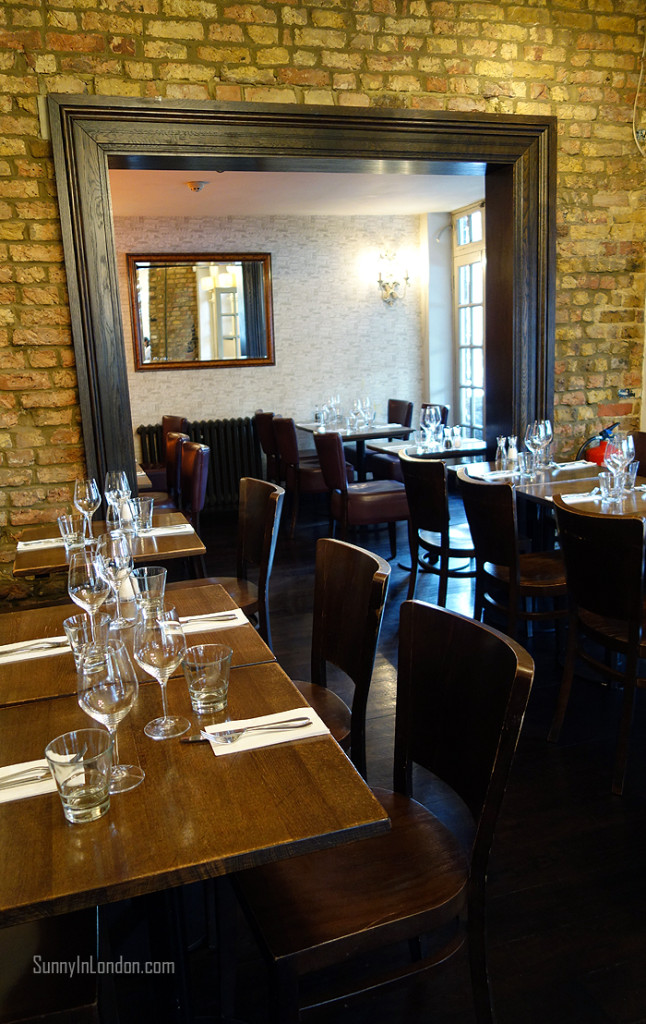 It was really tough for us to pick out our food. Too many menu items appealed to us.
Foremost, they have a completely separate gluten free menu. Do you know how rare that is for Italian restaurants?
I chose the Cappesante e Pancetta. It's pan fried scallops, garden peas and mint puree, with rocket and crispy pancetta.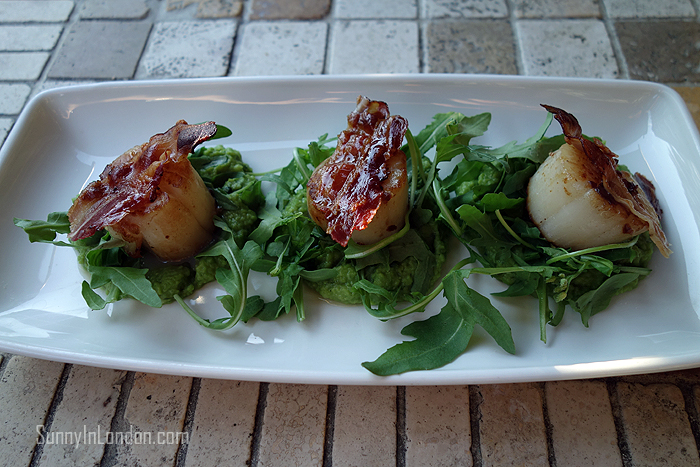 Naturally, Mr. Sunny selected his standard squid and had Calamari Fritti. That's golden fried baby calamari served with homemade tartar sauce.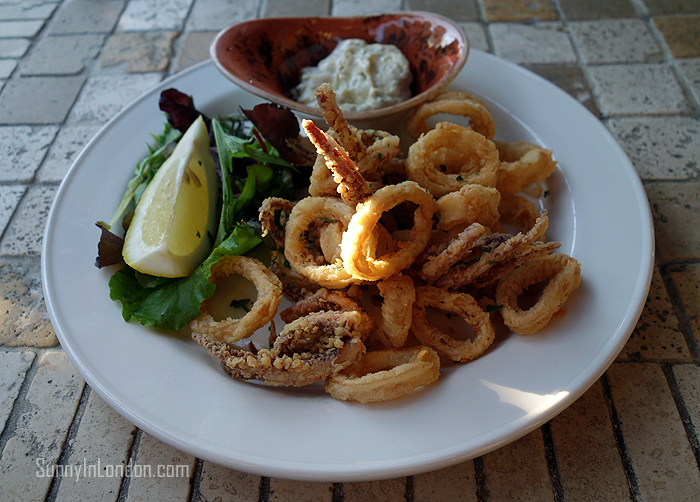 Both were molto bene!
Mr. Sunny struggled between several options. The great debate ended with him choosing one of the Specials- Tagliata di Manzo with Lobster Tail, upon our Server's suggestion.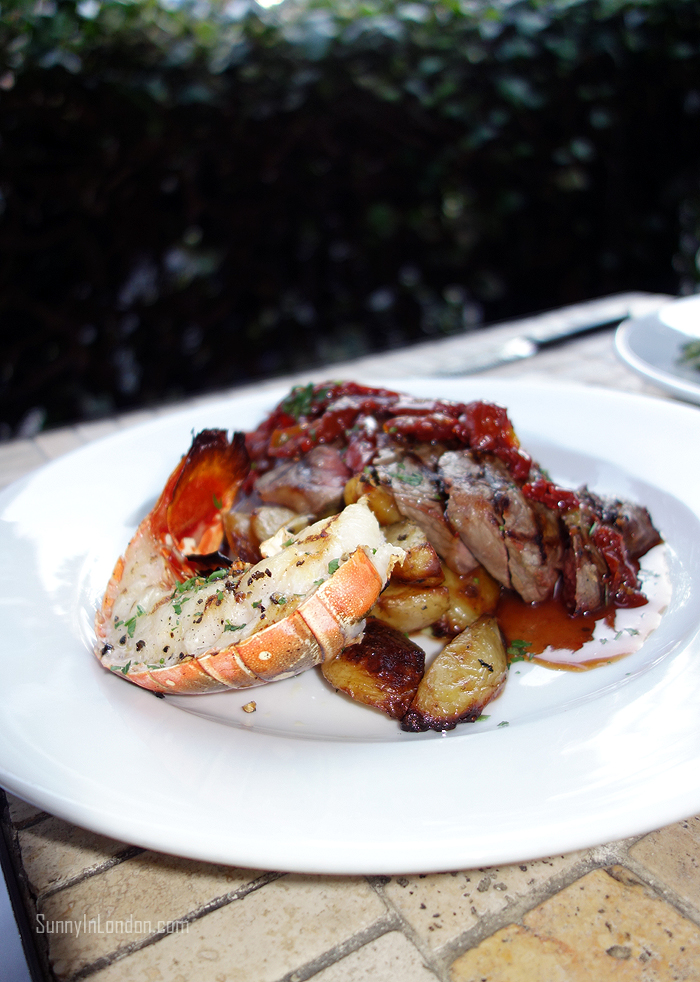 He says it was 'Gorgeous!'. I had a couple sneaky bites, and I have to say… he is RIGHT!
It was a total battle for me between the Lobster and Prosecco Risotto, fresh herb and sour cream versus the Pollo al Madeira. Sauteed chicken breast, French beans with melted mozzarella cheese, sauteed mushrooms, madeira sauce and roasted cherry tomato. Do you know how I decided?
You'll never guess!
I chose the chicken because it was gluten free AND photographs better than risotto. I guess you can say I took one for the Sunny team. 😉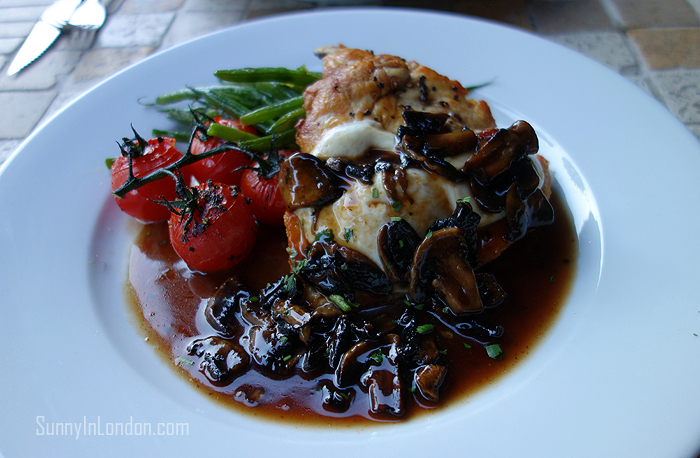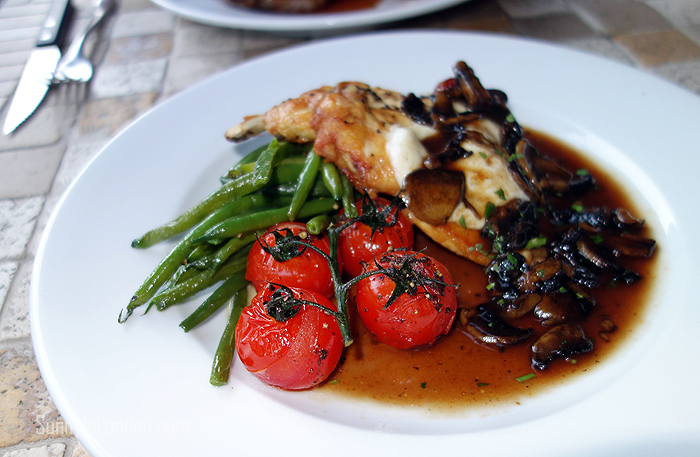 We were blown away by the amazing flavours in both of our Main courses. Tender, juicy and cooked to perfection. My Madeira sauce was remarkable!
In addition to these fabulous dishes, we also ordered the Sauteed Spinach and Creamy Mashed Potato.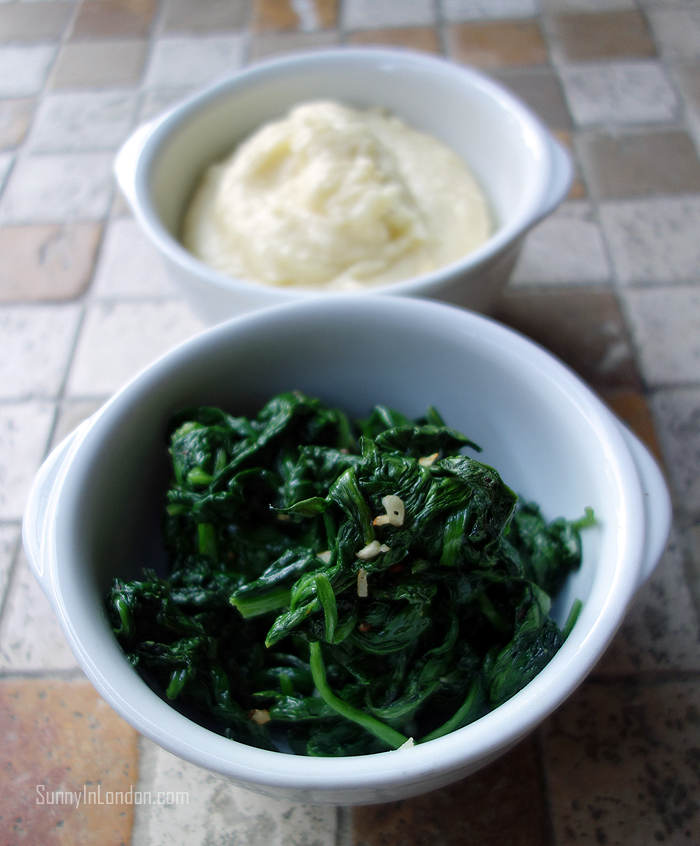 We enjoyed both of them. However, the mashed potatoes were without a doubt naughty. They were so creamy! I seemed to think they had a good amount of parmesan cheese mixed in to them. Soooooo yummy!
Here's everything we devoured.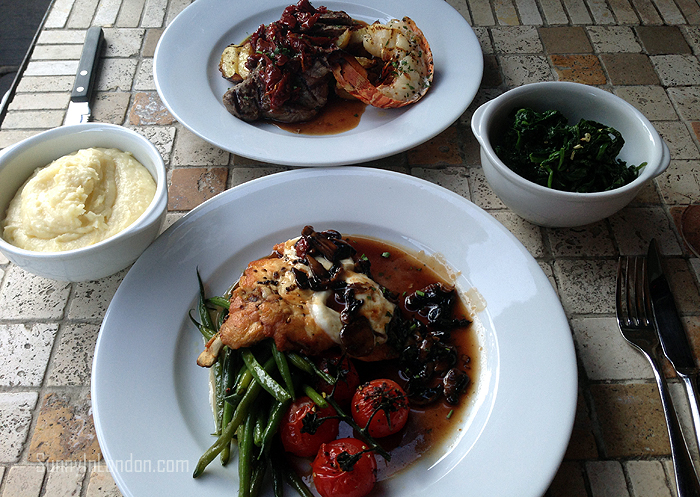 Even though we were full, we were coerced in to trying the tiramisu. I say 'coerced' because tiramisu is a tricky dessert. Both Mr. Sunny and I love it. The problem is, often it's not made right, so it can be very disappointing. Plus, he and I both make it ourselves. Because we were 'assured' Locale's tiramisu was excellent, we decided to give it a go.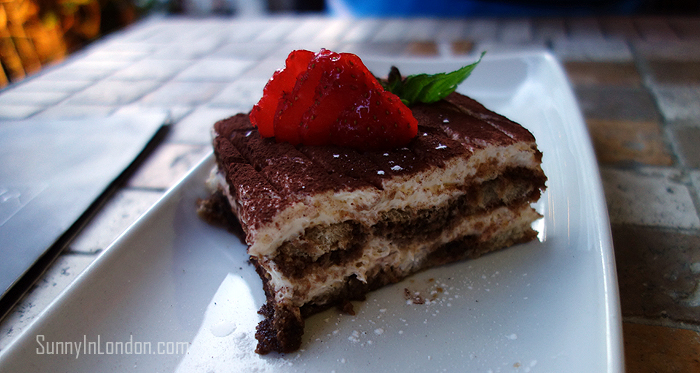 After his first bite, Mr. Sunny assessed it best with, 'Damn! We should've ordered two!'
To die for.
Oh! Ooops. I was so excited about getting to the sugary, creamy part of the post that I forgot to mention the booze! (Now, that's a first!)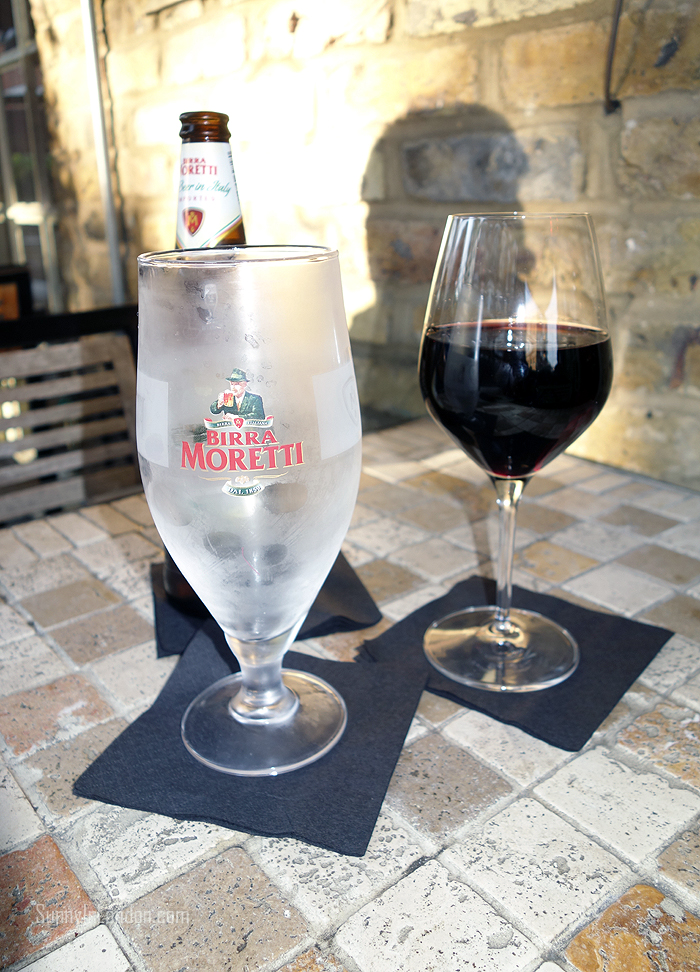 Mr. Sunny loved the frosty beer glass that came with his Moretti. My Chianti (which if you're a Sunny reader, you know I never order) was fruity and smooth. Again, I went with this wine because our Server said so.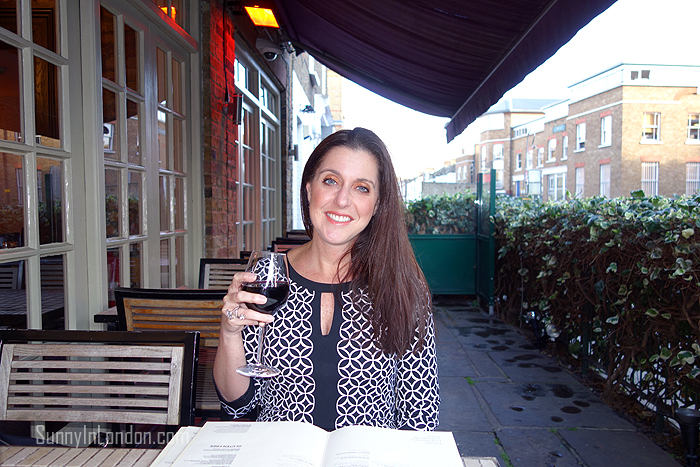 I did have a second glass. Mr. Sunny switched to one of his Italian favourites, Peroni.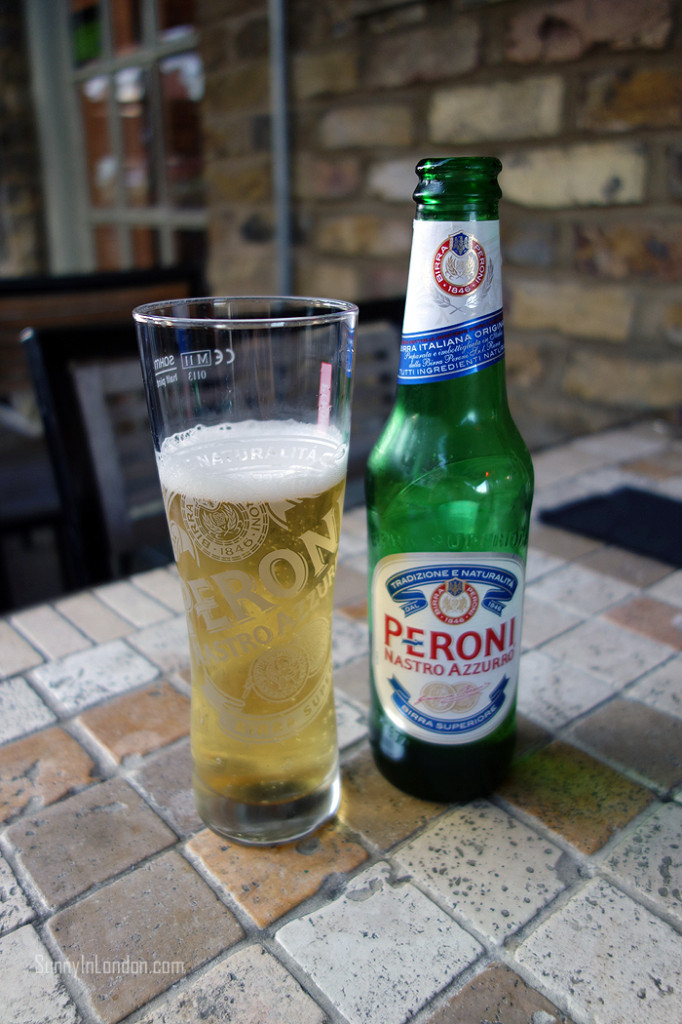 And, just as the sun was turning the sky a beautiful shade of orange and saying goodbye for the night, two limoncello shots arrived for us.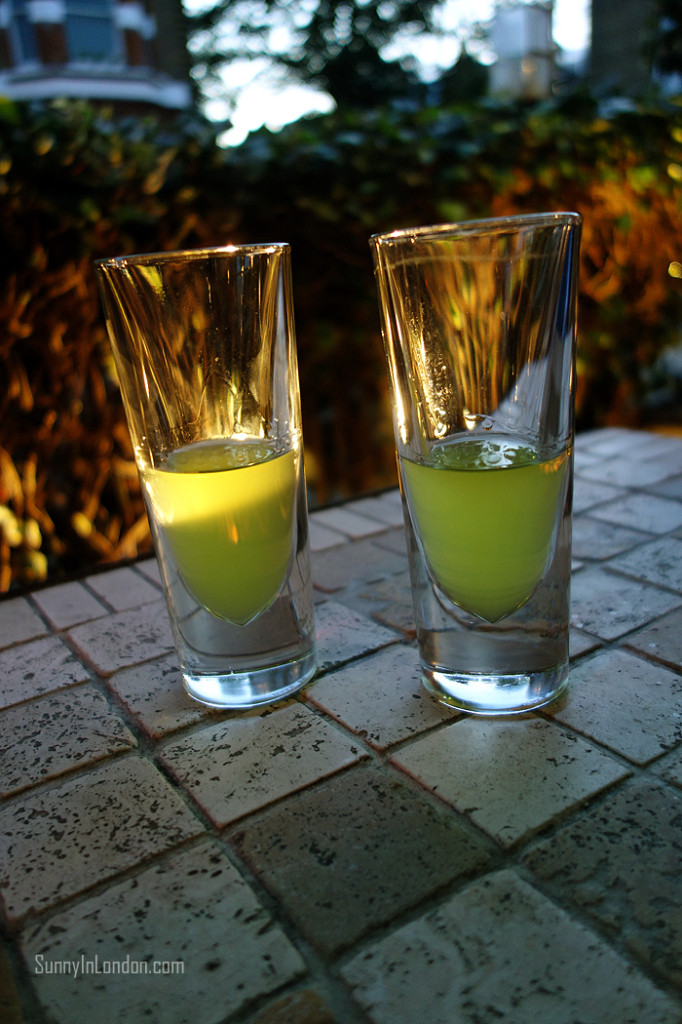 We were a bit surprised when we picked up the glasses and they were warm. Neither of us had ever had limoncello served this way. Another gold star! They were la la luscious.
Our entire experience was stellar at Locale Cucina Italiana. From our outstanding service to the fabulous flavours of the food, this restaurant gets a gold medal from us.
It's located at 222 Munster Road Fulham, London SW6 6AY. You can follow them on Twitter too. In fact, their Twitter account is fun and very engaging with followers. I love that. They also just started an Instagram account, so check that out. Their menu changes often to reflect seasonal changes and specials. Love that too.
If you think this restaurant is too far for you, my suggestion is… well, get picked up! And a tiramisu 😉
Our dinner was complimentary for the purpose of a review. However, this did not influence our opinion.
Our evening at Locale Cucina Italiana one of the best dining experiences Mr. Sunny have had in London.