Ping Coombes Breakfast Club at Chi Kitchen
Where's the coolest culinary club in London? The Ping Coombes Breakfast Club at Chi Kitchen!
If you've been reading the blog the past few months, you know Mr. Sunny and I really fancy Chi Kitchen. We reviewed their full menu as well as their Christmas menu as soon as it launched. It's safe to say we're slightly stalking Ping Coombes.
Ok, ok, we're not quite that bad. However, Mr. Sunny's favourite television show is Master Chef, so he really does want to meet her, as Ping Coombes is the 2014 winner. He was totally gutted to learn about my invitation to have brunch with the super star chef because the event was happening on a day he had another commitment. But, as luck would have it, Ping Coombes wasn't able to attend either due to becoming ill the day of the brunch.
The event was a private brunch for press to try the third occurrence of her Breakfast Club. In summary, twice a month on a Sunday she creates a special menu just for that day. The January dates haven't been released yet, but it you visit the Chi Kitchen website or follow the restaurant on Twitter, you'll be able to learn more.
Take a look at what she showcased at our brunch.
Ping Coombes Breakfast Club Menu:
We started on December 11th with a super delicious Banana Condensed Milk Shake and Malaysian Tea. I'm not a big fan of sweet drinks but these two tasty treats were just the right size to enjoy their sugary ingredients.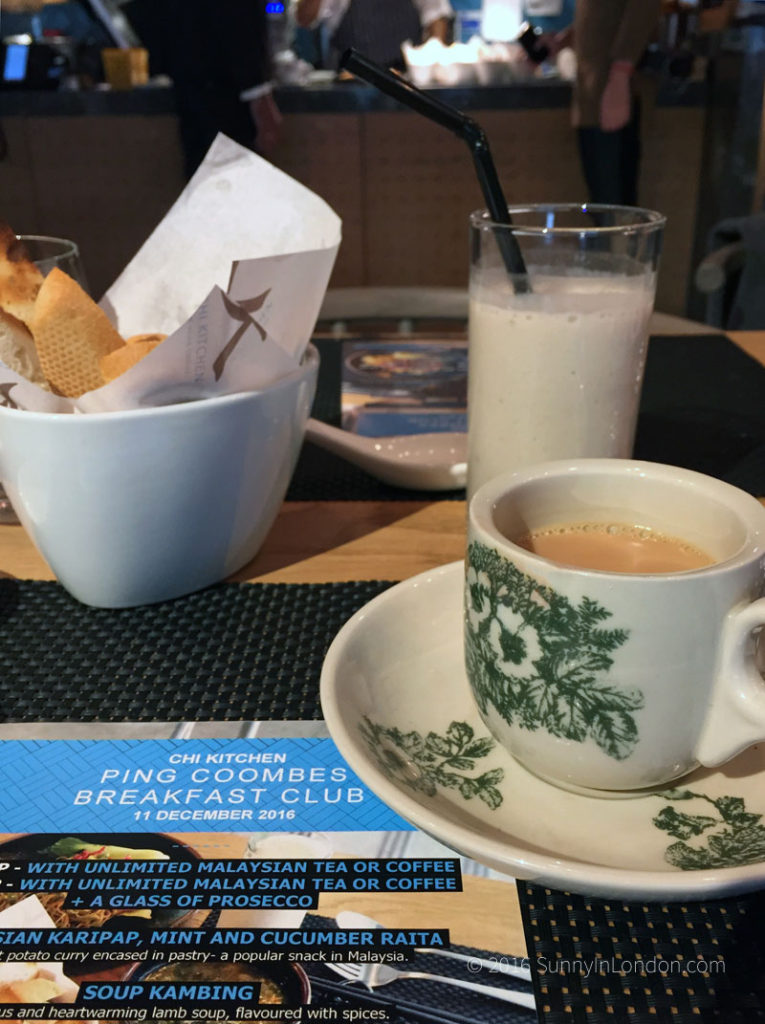 Next, we were treated to the Malaysian Karipap, Mint and Cucumber Raita, which is fragrant potato curry encased in pastry- a popular snack in Malaysia. This was delicious, and the truth is I could have eaten two.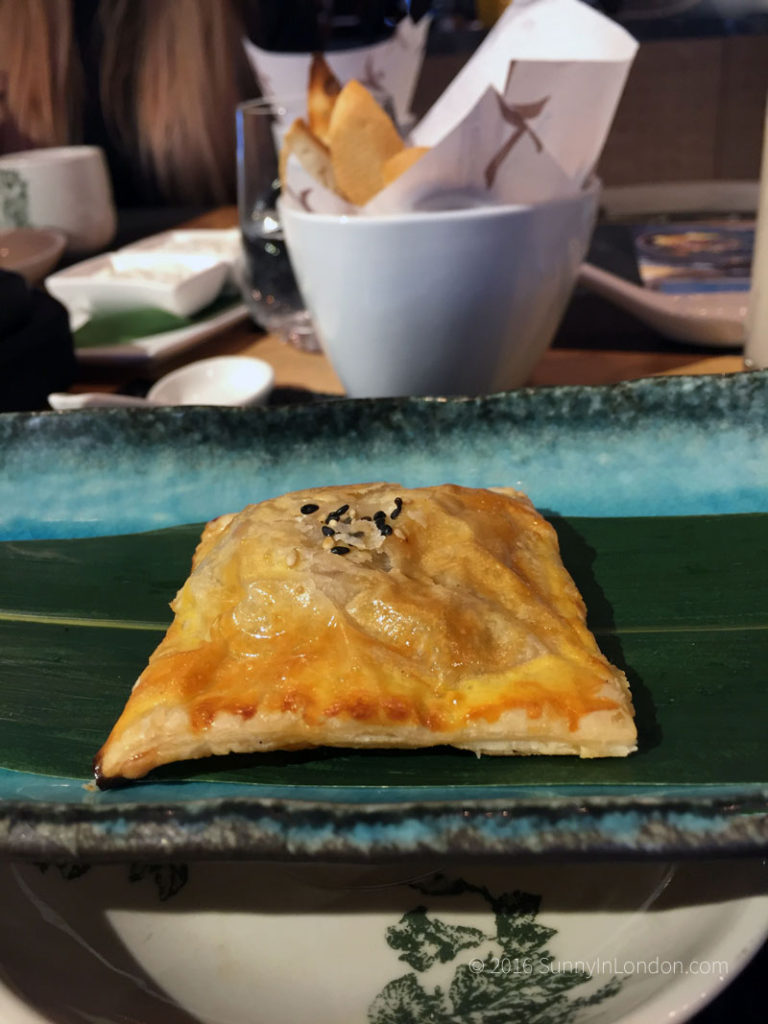 Following this delight was Soup Kambing, a delicious and heart-warming lamb soup, flavoured with spices. You can see from the picture that I became so enthralled with the food that I forgot to take a picture until half way through devouring it!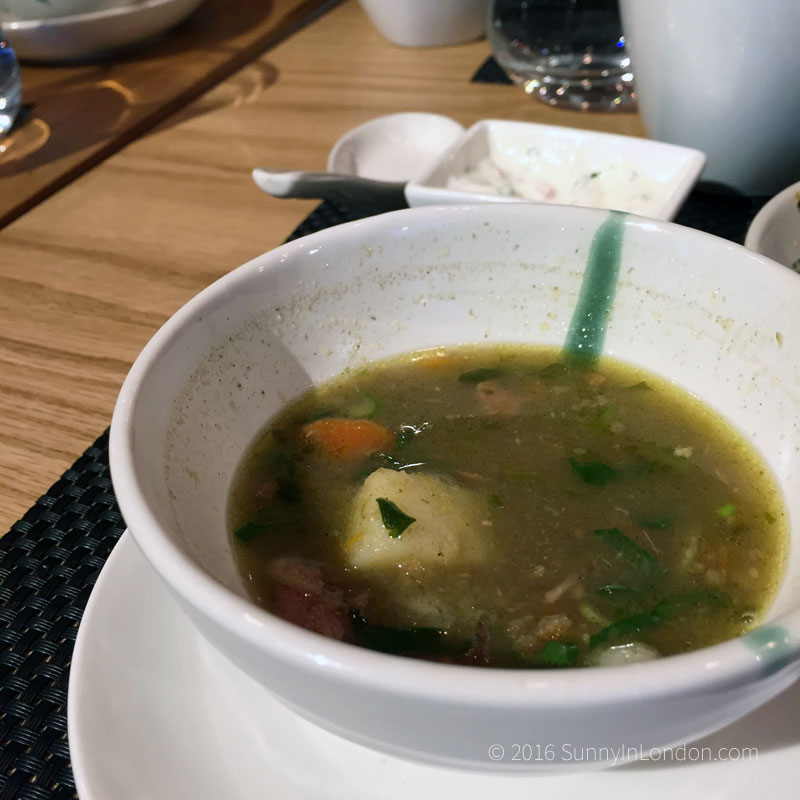 Finally, the last course of the Ping Coombes Breakfast Club brunch featured Chicken Char Siu Wonton Noodles. This is homemade chicken char siu, wonton noodles and homemade wontons served with pickled green chillies. Yum and Yum.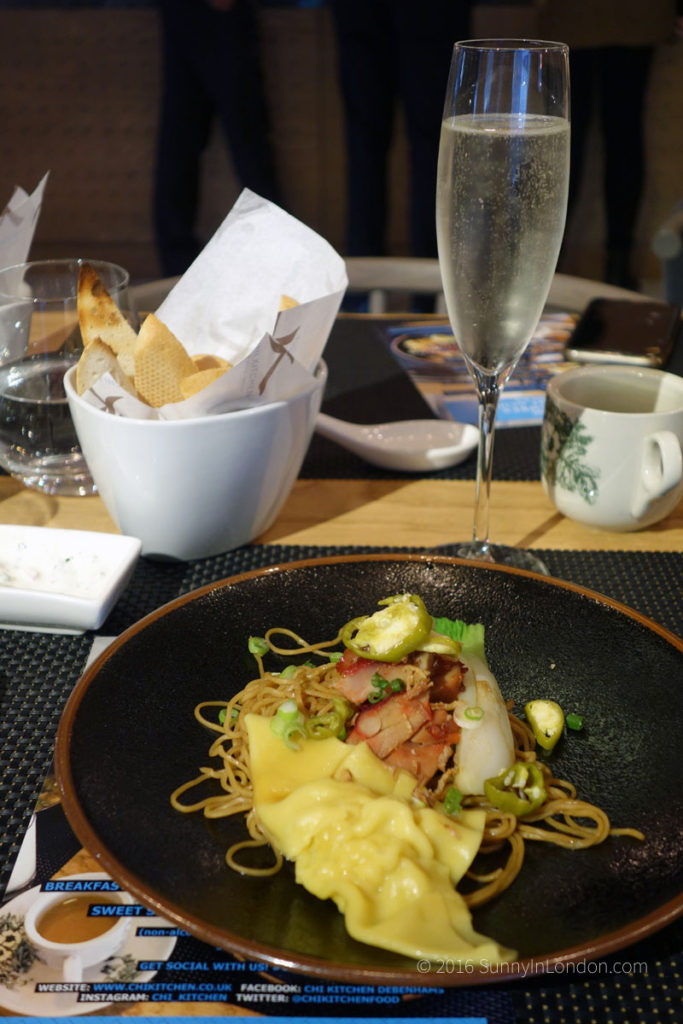 Ping Coombes Breakfast Club: Final Thoughts
There you have it! The brunch is offered at £20 per person with unlimited Malaysian tea or coffee. For £25 you can add a glass of prosecco. You can read my full review of the Chi Kitchen's menu to see all the other pan-Asian food they serve. And, if you're out Christmas shopping on Oxford Street during the December 2016 holiday season, you want to pop in for their Christmas menu too.
My brunch at the Ping Coombs Breakfast Club was complimentary. This sure doesn't affect my opinion of the restaurant, as it was the third time I visited. It was great to see Angela again, who is the restaurant supervisor. Her smile and energy truly represent the service and experience I have had for each meal.
In fact, I am so in favour of this pan-Asian location that I bought my mother-in-law the Ping Coombes cookbook, Malaysia: Recipes from a Family Kitchen. While she tries to replicate some of the wonderful food we've had at Chi Kitchen, I'm going to continue trying to convince Mr. Sunny to enter Master Chef. What do you think, Sunny friends?