When Sushi Shop in London sent me an invitation to attend a launch party for their limited edition box, one thing jumped off the screen to me in the email. The event was the same day as my birthday.
Mr. Sunny and I have attended blog events on our anniversary, but in the four years I have been blogging, I haven't chosen to go to a blog gig on my birthday. I wasn't going to rule it out immediately, so I spent some time reading the event details and press release. This one looked like a real star, so I sent back a RSVP to attend.
Images of the Sushi Shop caught my attention because they were so stunning. The concept for the event and product also seemed fun and different. That's tough to accomplish in the competitive London restaurant scene.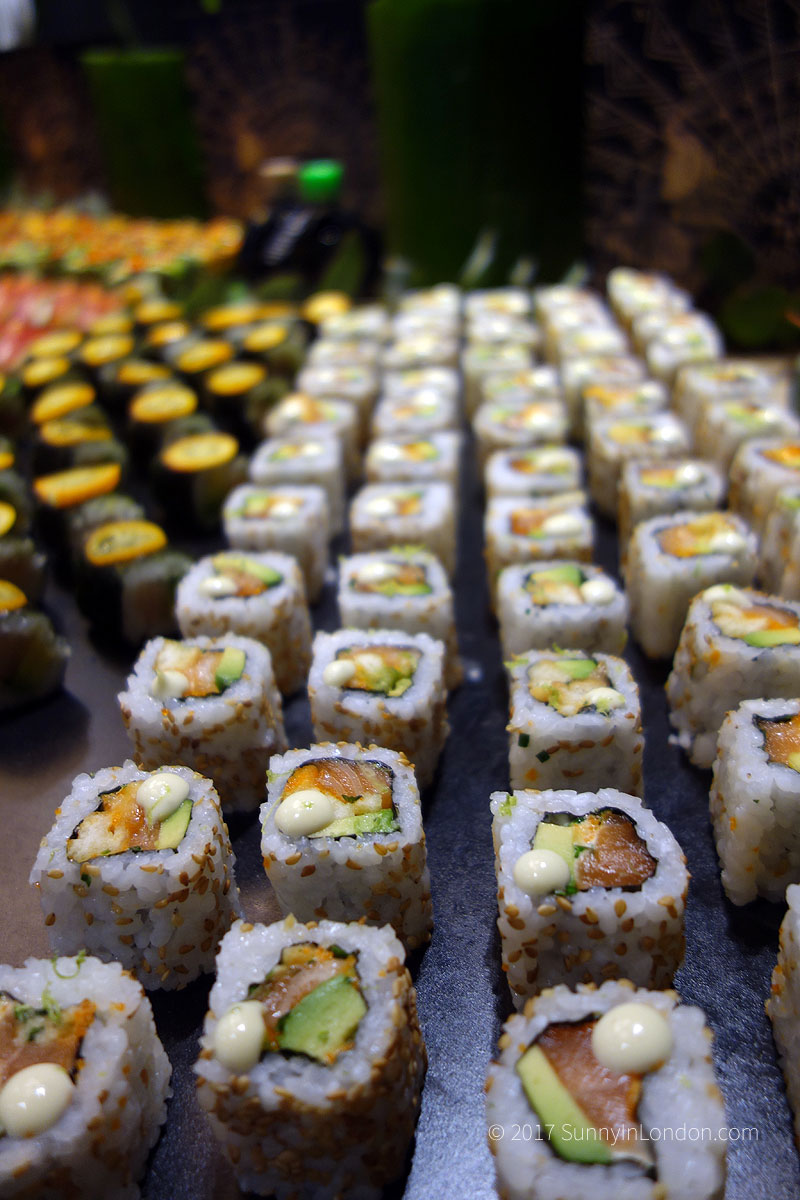 Sushi Shop in London: Concept
The event was to promote their collaboration with one of the most talented tattoo artists in the world, Scott Campbell. And yes, he happens to be American like me. 😉 Celebrities wearing his creative work include: Josh Harnett, Orlando Bloom, Helena Christensen, Penelope Cruz and Marc Jacobs. Literally, you would need to wait a year or more if you want to be on that list. Unless, you approach it through Sushi Shop!
When we arrived at the event, we had the opportunity to receive a temporary tattoo created by Scott Campbell.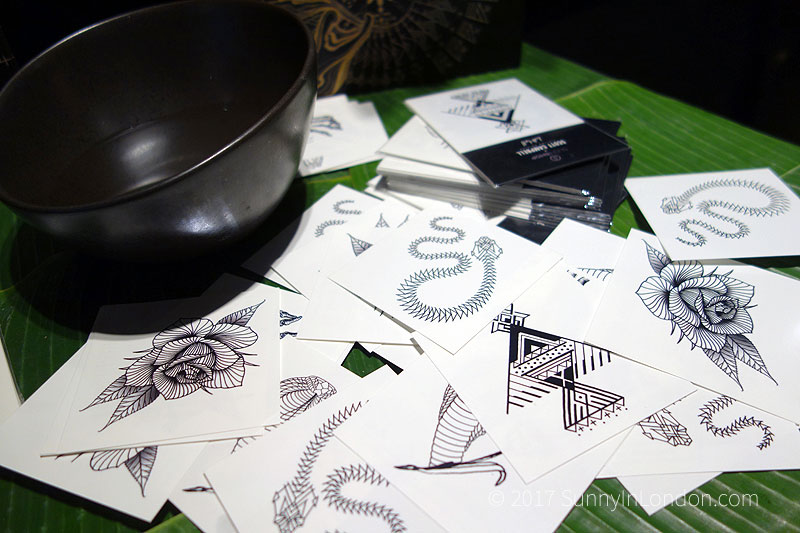 As a side note, mine lasted several days and really took some work to remove! I will post a video on my Instagram to show you the process.
Scott Campbell collaborated with Sushi Shop to offer sushi items that captured a sensory experience both through taste and visual appeal. The explosive box includes 42 pieces of sushi that really do live up to the full sensory journey concept. I know this because I tried every single one!
Sushi Shop in London: Limited Edition Box
Aside from a temporary tattoo station, Sushi Shop had tables covered with sushi to tease us upon arrival. We had the chance to learn a bit about the process through professional demonstrations. And then they turned us loose on the tables.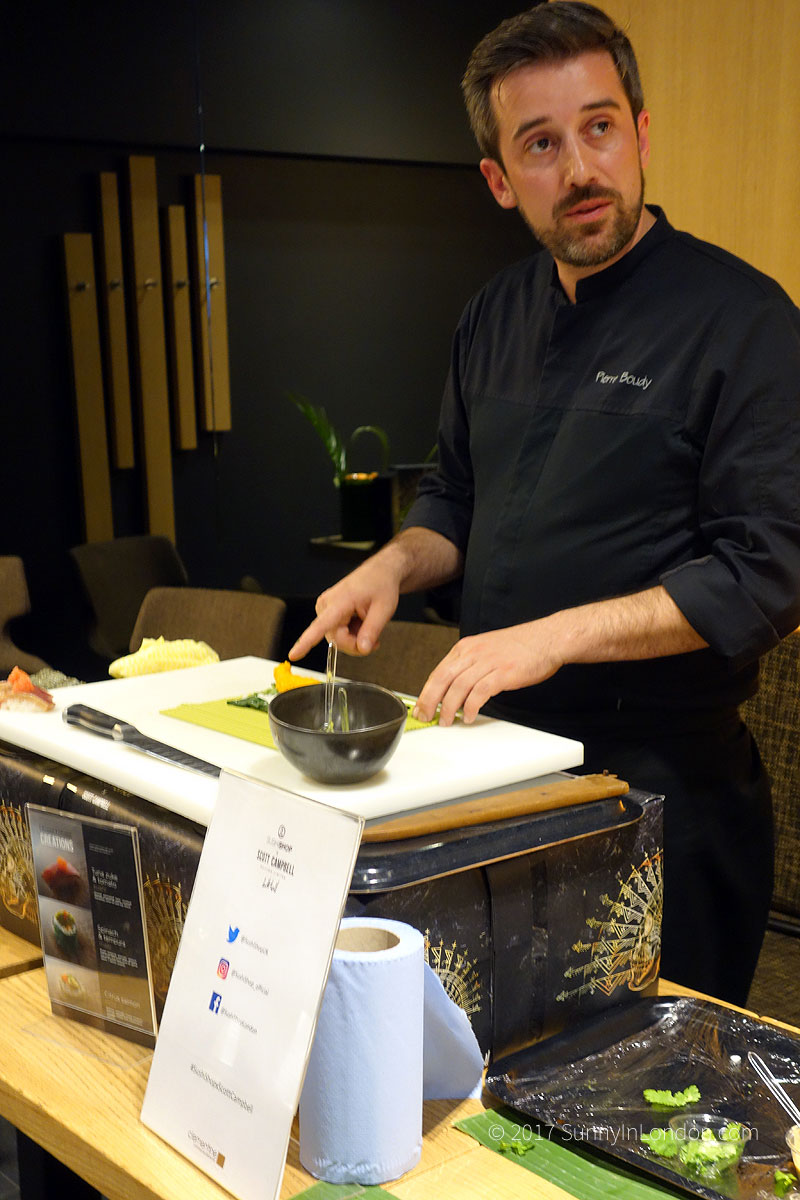 Some of the pieces in the box include citrus salmon rolls, spinach and tempura Maki, tuna zuke and tomato, cooked tuna avocado spring rolls, chicken caesar rolls. The last one absolutely stole my heart. Obviously, a chicken caesar roll isn't something you see every day. I loved it because of the surprise pop of a crouton you experience just after you bite in to it. Yummy!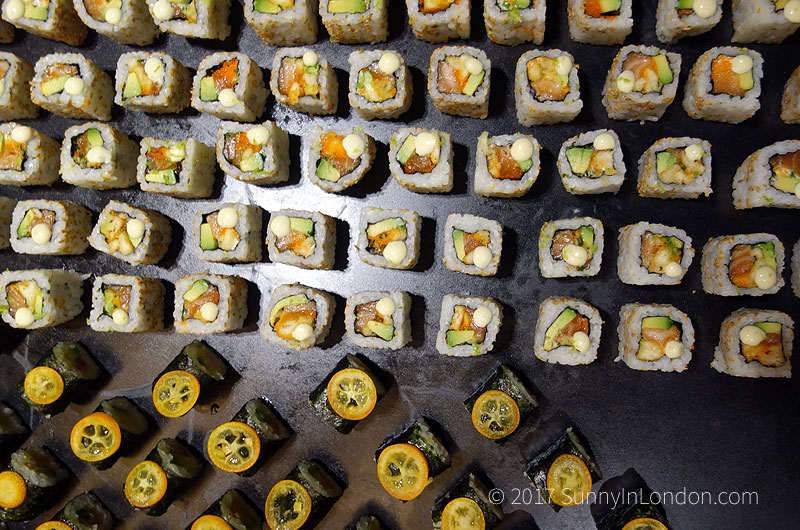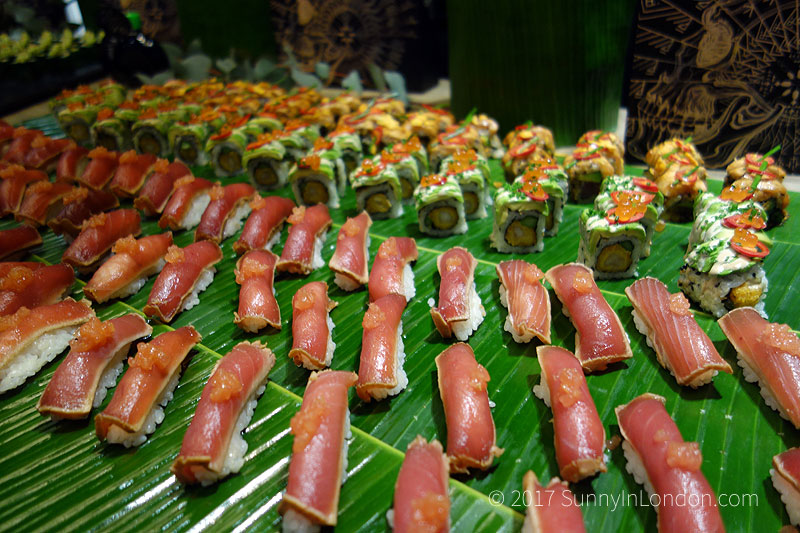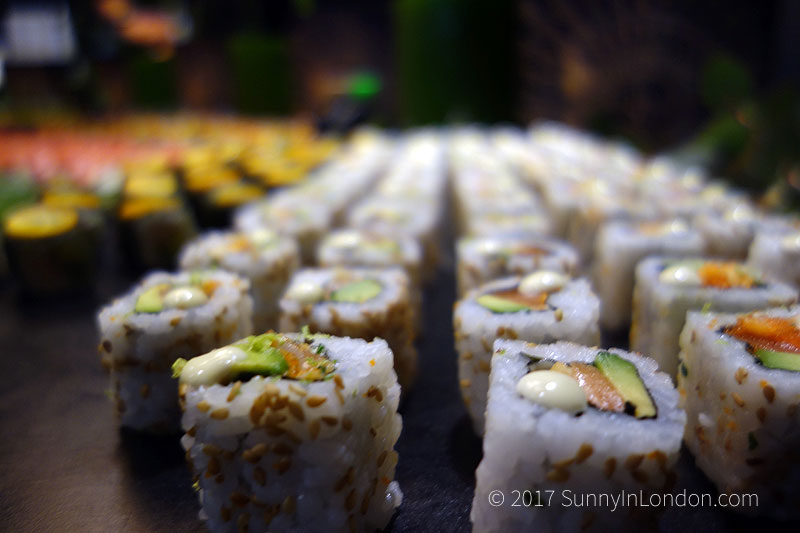 Feedback from other bloggers was fantastic. Every single one of us filled our plates several times and giggled that we were 'sorry not sorry' for the gluttony. The sushi is outstanding. Perhaps the biggest compliment came from a blogger who said she actually had just had a box delivered to her flat a few days prior to the event.
Twice in one week? Now THAT's good sushi!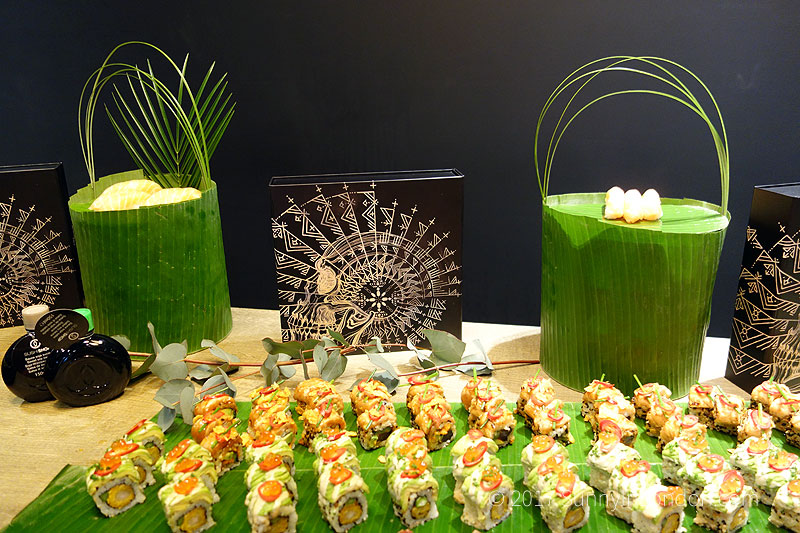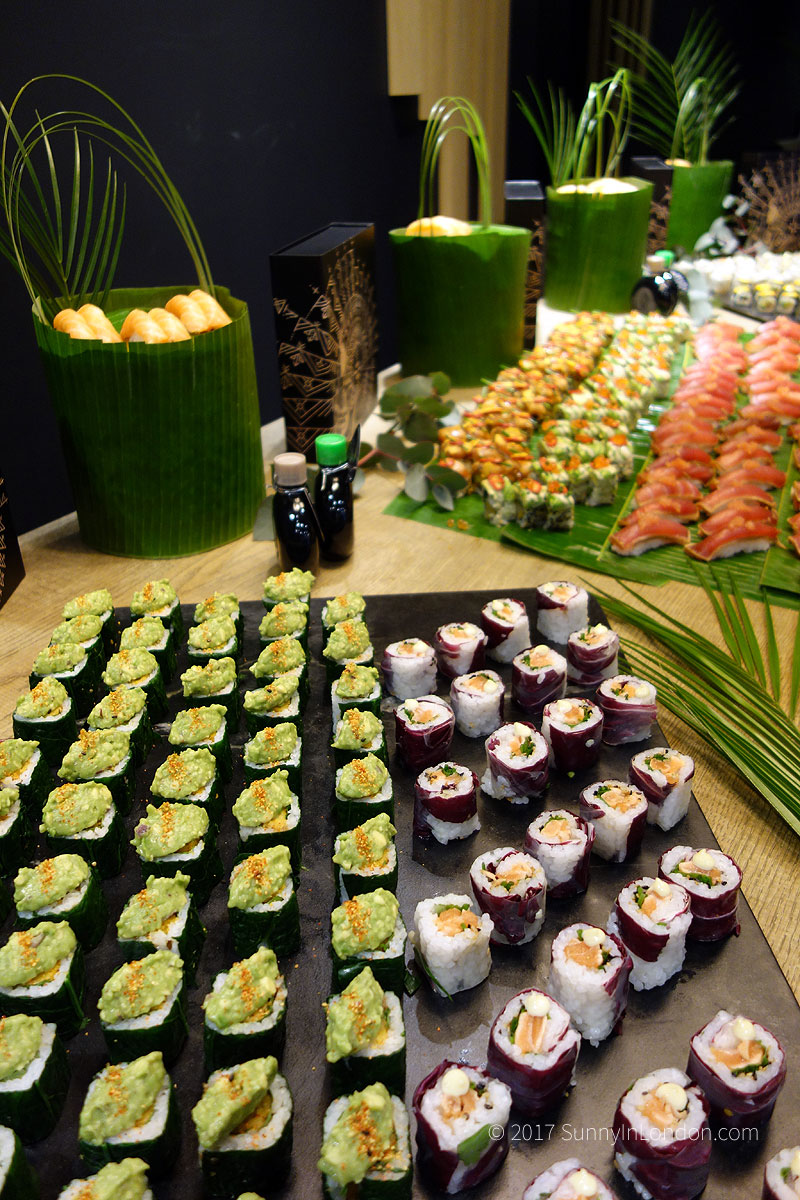 Sushi Shop in London: History and Happenings
Founded in 1998, the Sushi Shop brand developed in to a franchise from 2006. The French entrepreneurs who started it now have 88 retail outlets in France and 33 internationally. You can find Sushi Shop also in Belgium, Luxembourg, Germany, Switzerland, Italy, Spain, the United Arab Emirates and the Netherlands.
London locations include the Marylebone shop that hosted the event and Notting Hill and Old Brompton. Keep your eye open for more very, very soon too! Sushi Shop in London is open 7 days a week from 11.00am to 10.00pm. And, one of the coolest things is that they offer free delivery on orders of £12.90 or more.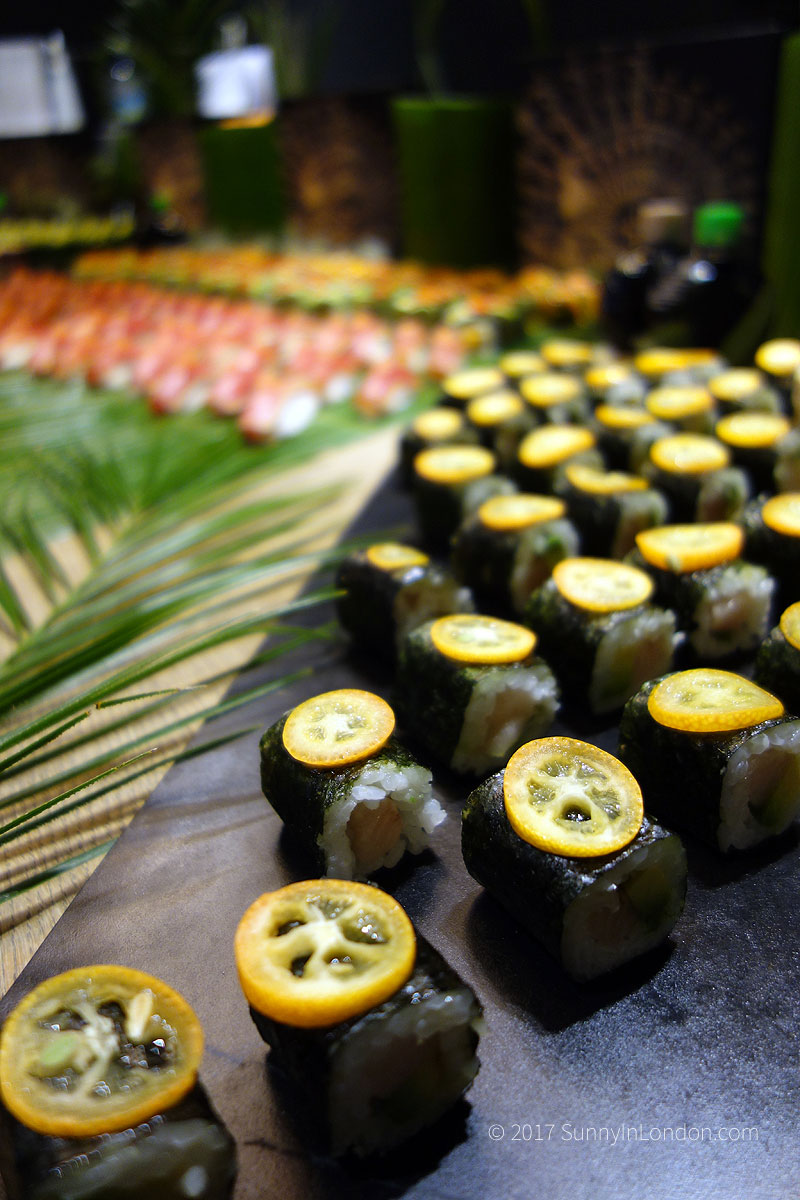 Sushi Shop in London: What's Next?
After the event, Mr. Sunny and I hit a pub for some final birthday celebration drinks. The day was memorable and I am grateful that I had the chance to learn about this exciting sushi venue and their limited edition box. Later that night, I found a card in my event gift bag to allow me to receive a complimentary box of sushi from Sushi Shop in London. It surely was a great gift on my birthday that I can't wait to use soon!