While we move to London because of its endless opportunities, sometimes they can be a bit overwhelming. So, on Tuesday evening, I decided to have Twitter choose my adventure, and I discovered a treasure, the White Mulberries Cafe London.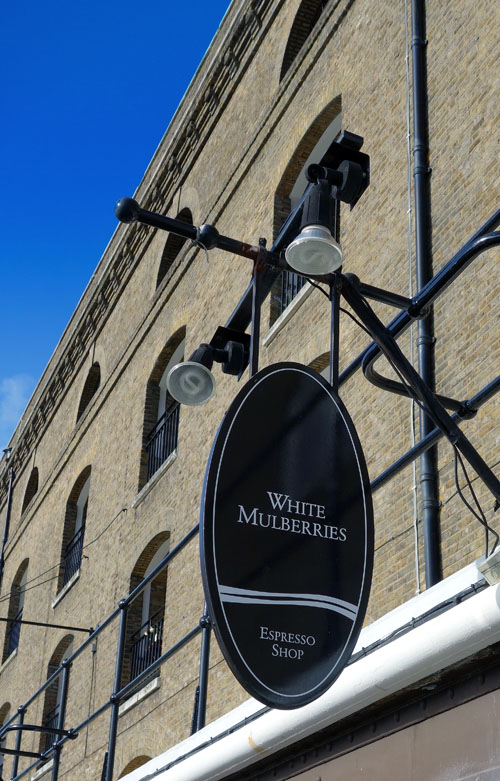 It's a charming story, really. I had a 10:00am meeting near the Monument tube station, so I constructed this…
Tomorrow I'll be in the Monument/Tower Hill area all day. Need food/activity suggestions. Weather looks good. Please help & RT

— Sunny in London☀️ (@Sunny_in_London) February 18, 2014
And the Twitterverse responded with open arms, as it usually does.
@Sunny_in_London @SammyDornDLT go to @WhiteMulberries for sure!!!

— Rebecca (@runawaykiwi) February 18, 2014
@Sunny_in_London I was also going to say @WhiteMulberries the @StKats Docks area is lovely!

— Sarah (@cookesarah) February 18, 2014
@Sunny_in_London Old Tom's in Leadenhall Mkt under The Lamb pub. Boot & Flogger just over Ldn Br in Southwark

— Mark (@MarKomms) February 18, 2014
@Sunny_in_London Activities: Climb Monument.Visit site where GtFire 1666 started.Visit St Magnus the Martyr, superb model of ancient Ldn Br

— Mark (@MarKomms) February 18, 2014
Here's how I made my decision…
@Sunny_in_London @cookesarah @StKats @runawaykiwi Thank you for the suggestions lovely people ! Yes, please make it tomorrow 🙂

— White Mulberries (@WhiteMulberries) February 18, 2014
I love it when a business takes the time to reach out to its potential or existing customers. Check out my post on how Neal's Yard Remedies is top notch in that category.
So, White Mulberries Café London grabbed my attention. And thank you for the great directions!
We are very flattered @Sunny_in_London 🙂 We are based at @StKats right opposite @DickensInn1.A couple of mins walk from #towerbridge Thanks

— White Mulberries (@WhiteMulberries) February 19, 2014
It was fairly easy to find. This is the view from outside. Notice the Tower Bridge just in the center?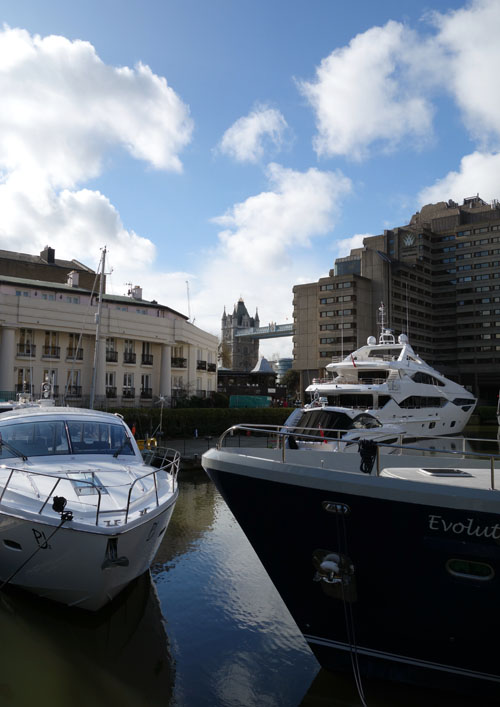 It's located in this building…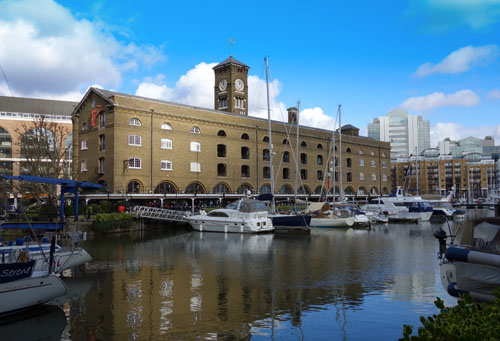 I fell in love as soon as I walked in. That is, after I squeezed through the crowd! It's certainly a popular place. I introduced myself as "Sunny in London" and thanked them for recognizing me on Twitter. It was tough to choose from all the delicious options.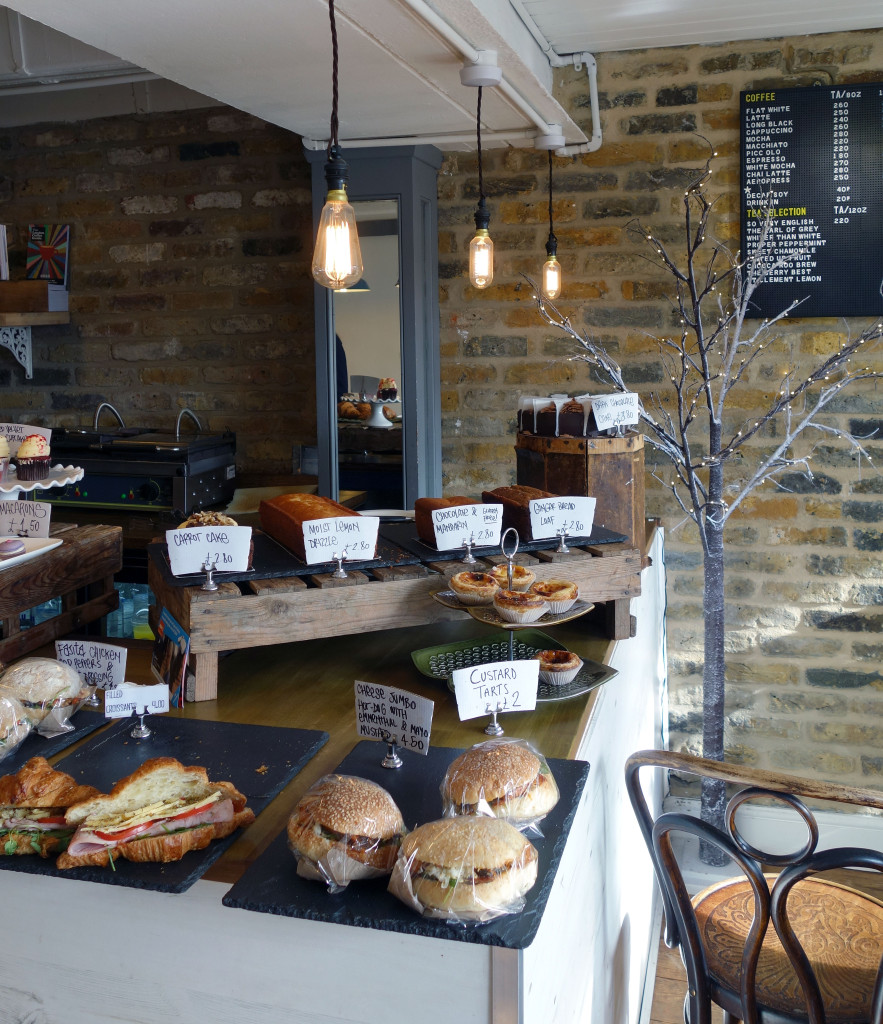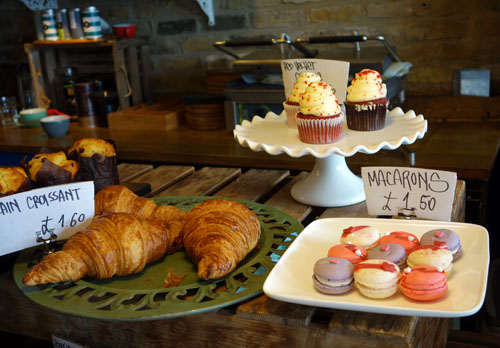 Sandwiches, brownies, and cronuts… OH MY!
But, trying to keep things fairly in check with my waistline, I opted for two macaroons and a latte.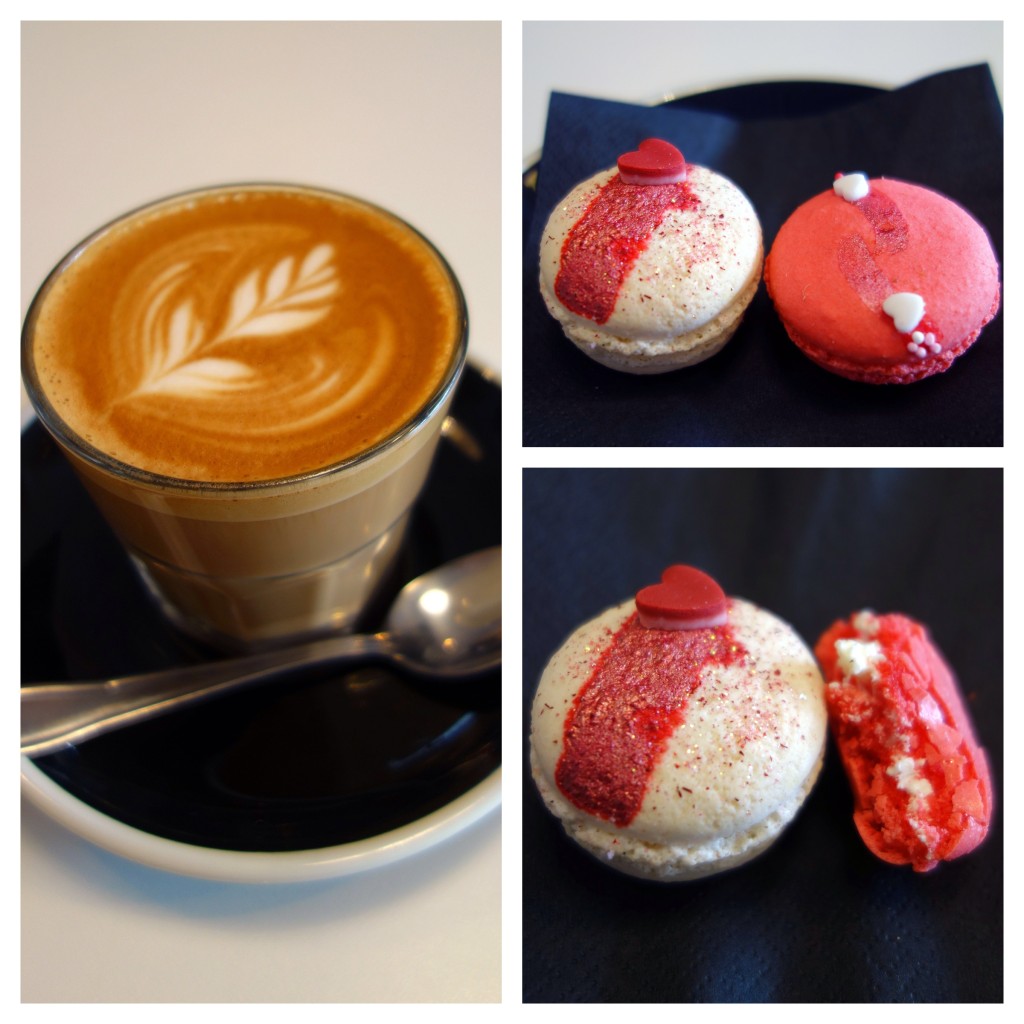 These weren't just any macaroons, my Sunny friends. Can you guess what kind they were?
The pink one is made with Rose Water, and…. YEP- the lighter one is CHAMPAGNE! SCOOOOORRRRREEEE! You know Sunny loves her bubbly!
They were sweet, moist drops of sunshine that dissolved in my mouth.
Weather (pun intended) it's a sunny in London day, or not, you need to get to White Mulberries Cafe. If you don't believe me, you're just simply out to defy the Twitterverse. And THAT can't be SMART!
Special thank you to my tweeps for the referral and White Mulberries Cafe for the complimentary treats.
@Sunny_in_London Did you find somewhere to eat ? I forgot to reply. I used to work near there! Try the Drift or if you love burger Bodeans x

— New Girl in Toon (@newgirlintoon) February 19, 2014
So, Sunny friends, what other recommendations do you have? Has the Twitterverse ever helped you make an amazing discovery in London?