Chestnuts roasting on an open fire and Winter Wonderland cocktails under your nose!
Ok, ok, that's not how the song goes. But, when you've had a few festive drinks at One Aldwych Lobby Bar this holiday season, you'll probably start making up your own Christmas lyrics too to suit you.
It's no secret that Mr. Sunny and I frequent this luxury Covent Garden hotel as much as possible. So, when we were invited to enjoy their Winter Wonderland cocktails, we ran right over.
In fact, we kicked off our two year-anniversary celebration with these drinks before dinner that evening.
One Aldwych hotel looks stunning this holiday season.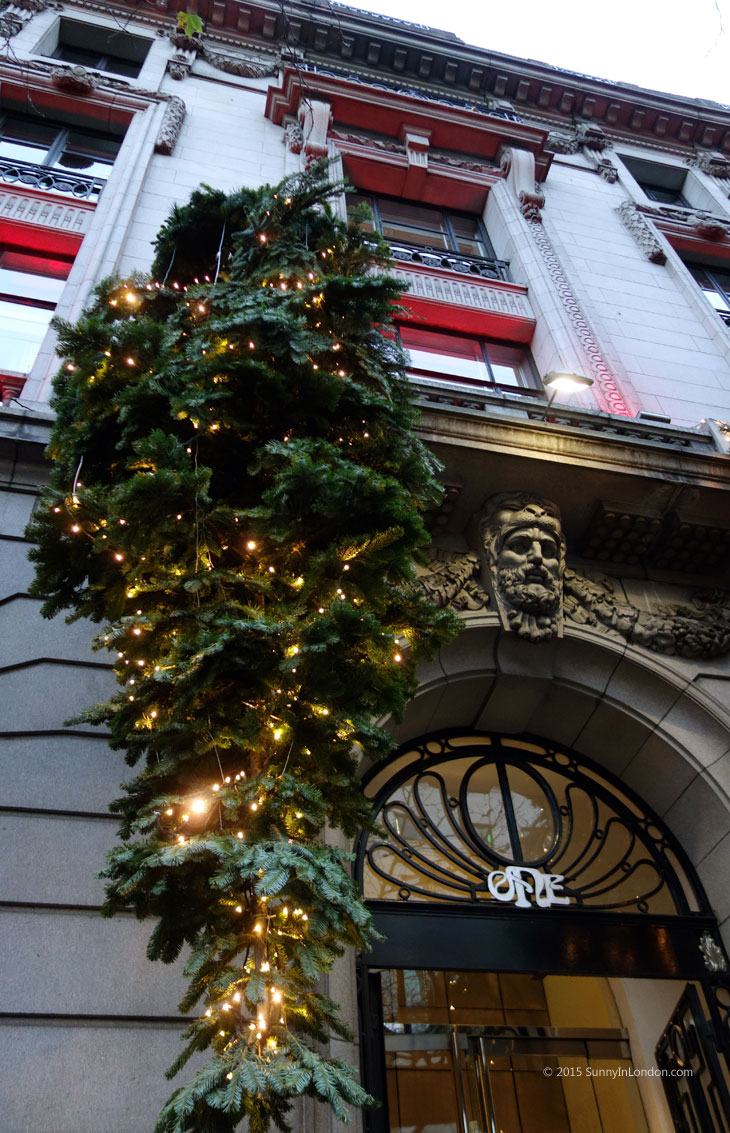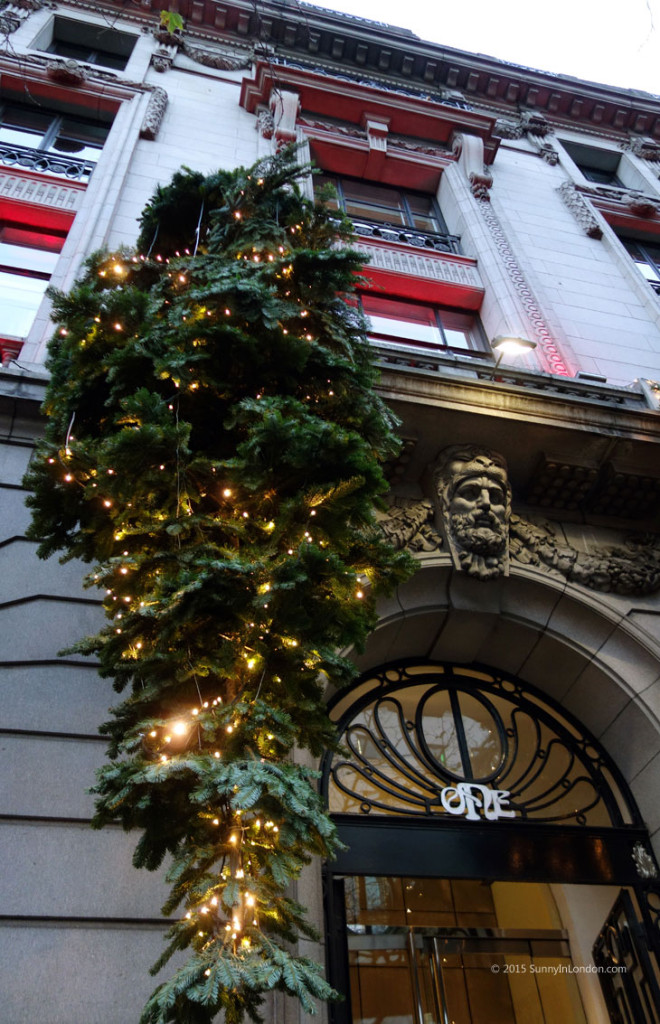 As you enter Lobby Bar, you see a magical snowy white Christmas tree. The hotel's resident florist, Mark Siredzuk, designed it. The Christmas tree is 25 feet and has 130 shimmering birdhouses which have white sparkling dogwood branches, frosty asparagus fern and hundreds of red-breasted robins.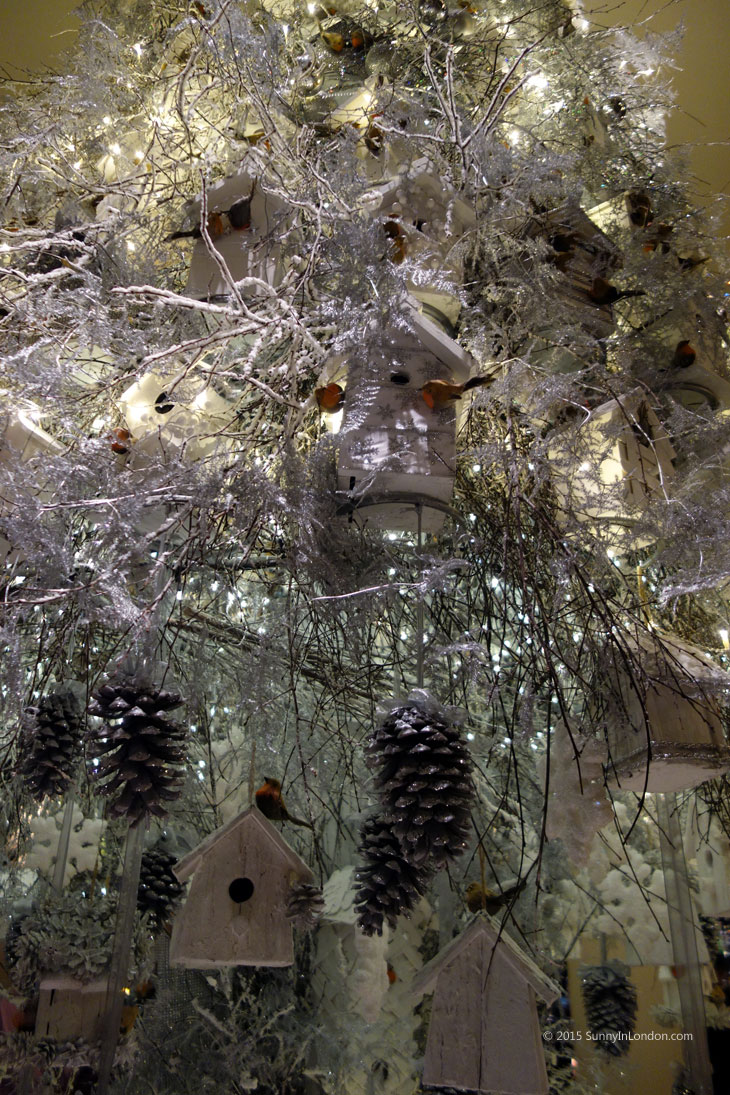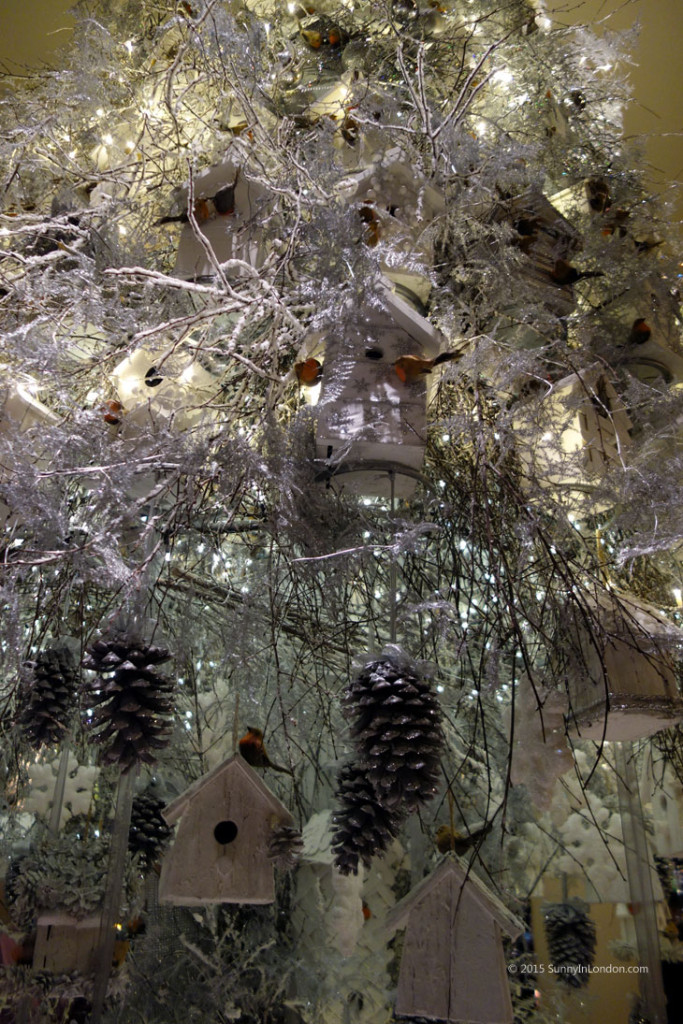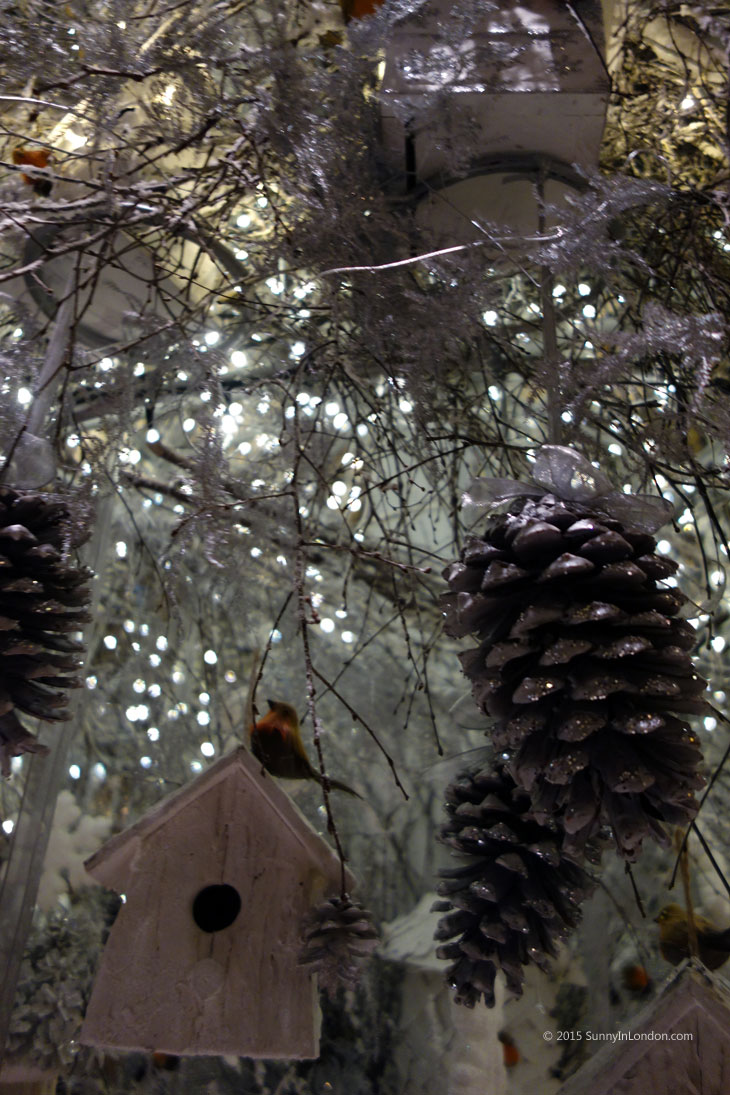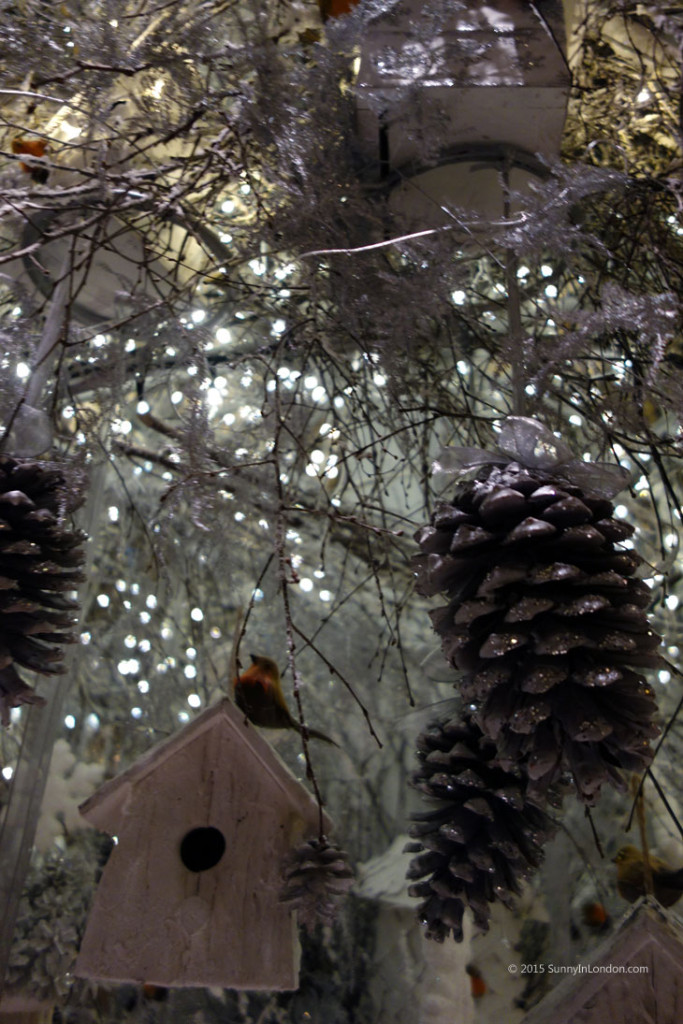 The Winter Wonderland cocktails all feature Four Roses Bourbon. They reflect the rich, spicy notes of sweet oak, caramel and ripened red berries.
First, Mr. Sunny had the Almond Warmer which is served in a brandy glass and has Amaretto, Antica Formula, Angostura Bitters, pomegranate syrup, sugar syrup and fresh lemon juice.
I sipped on the Winter Wonderland. It's topped with cinnamon foam and served in a martini glass. The drink has Dom de Canton, Cherry Heering, Chuncho Bitters, wild berry syrup, cinnamon, sugar syrup and fresh lemon juice.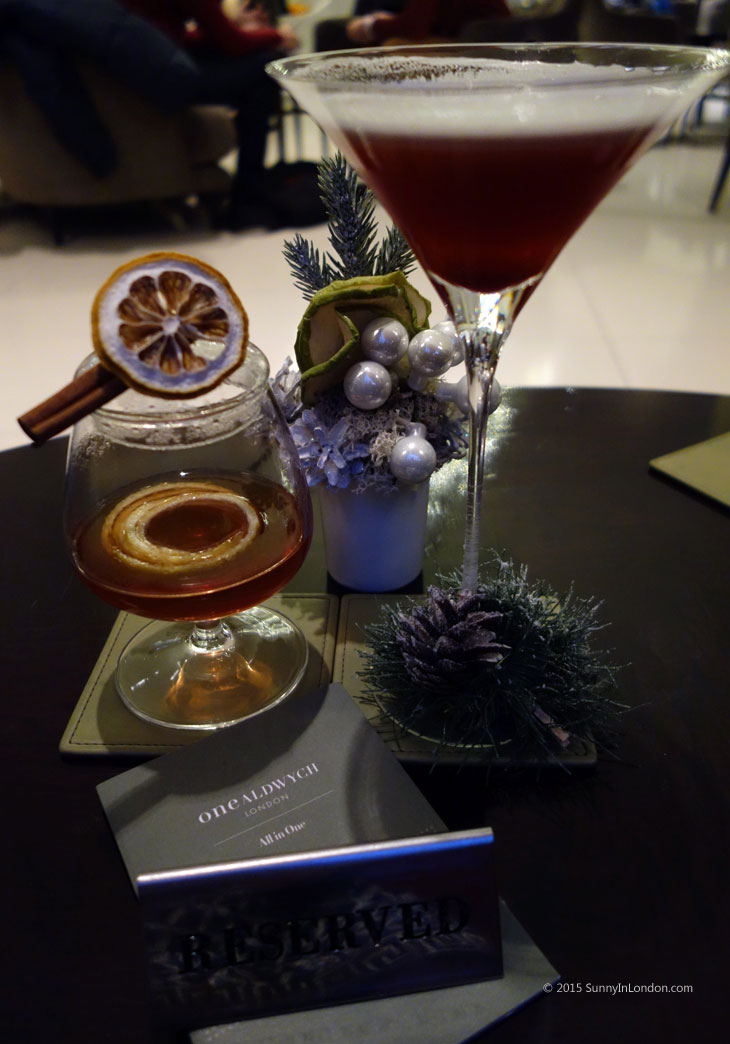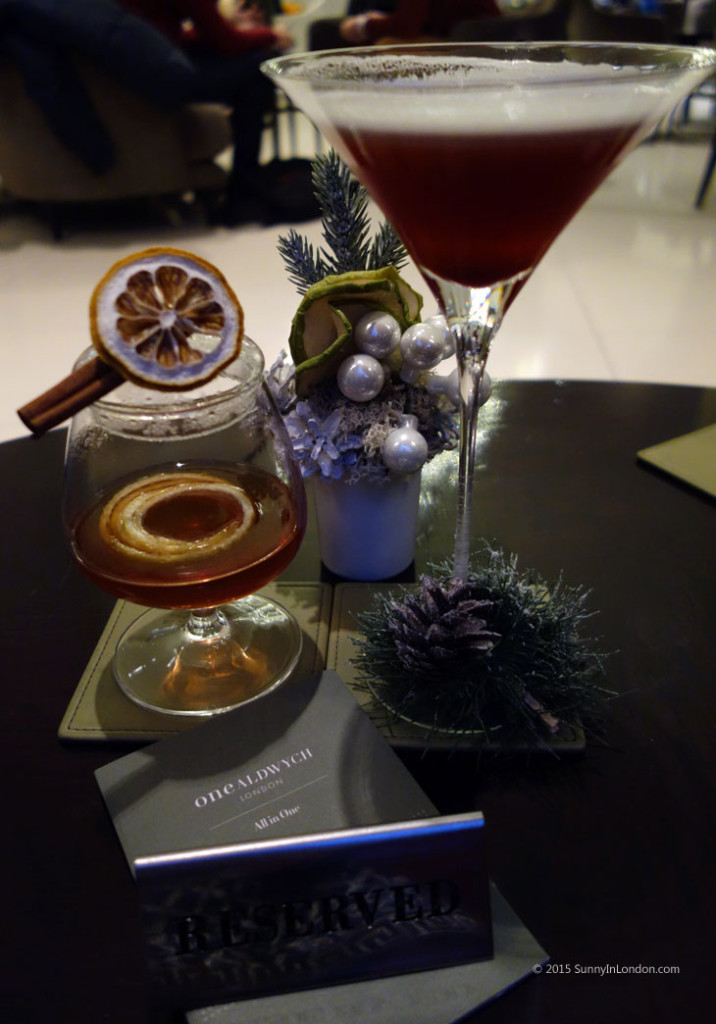 Next, we tried the Rockin' Robin and the Bourbon Goose.
Even though I usually don't prefer the taste of Ginger, I did enjoy this drink which has ginger and lemongrass cordial, Calvados, Green Chartreuse, Angostura Bitters, sugar syrup and fresh lemon juice.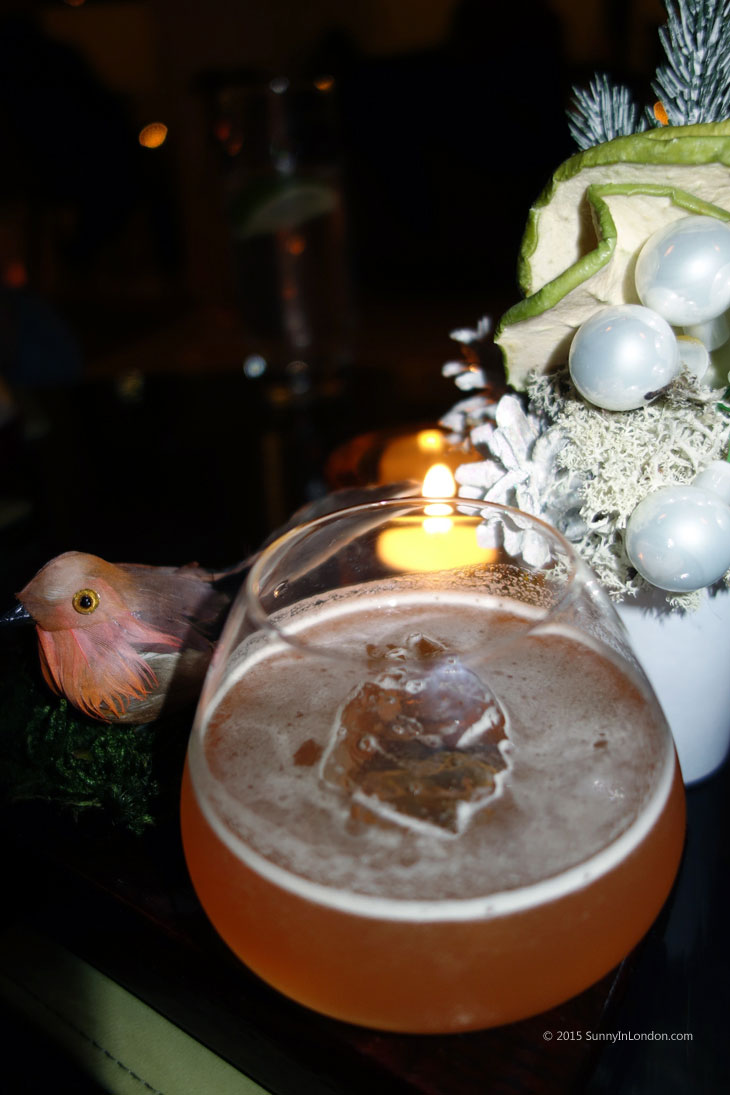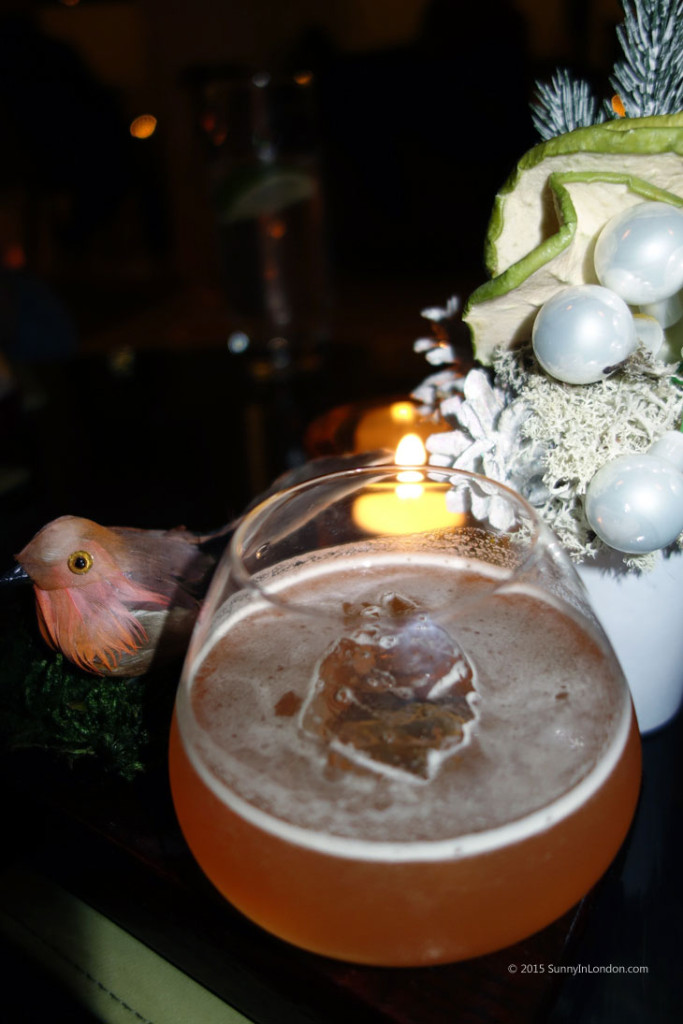 Mr. Sunny was a bit silly with his Bourbon Goose. As a guy who feels most comfortable with a Stein in one hand (or actually one in each hand!), this dainty drink was a little to tiny for him. At one point he joked, 'I had better not sneeze or my glass will tip over.'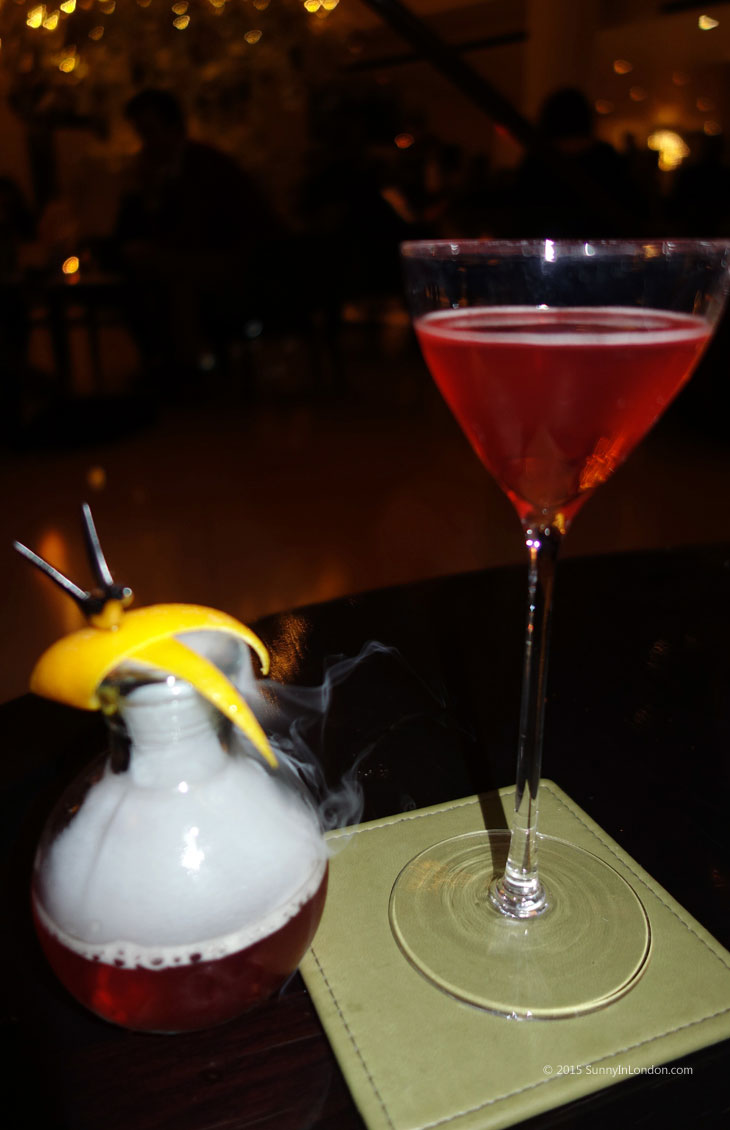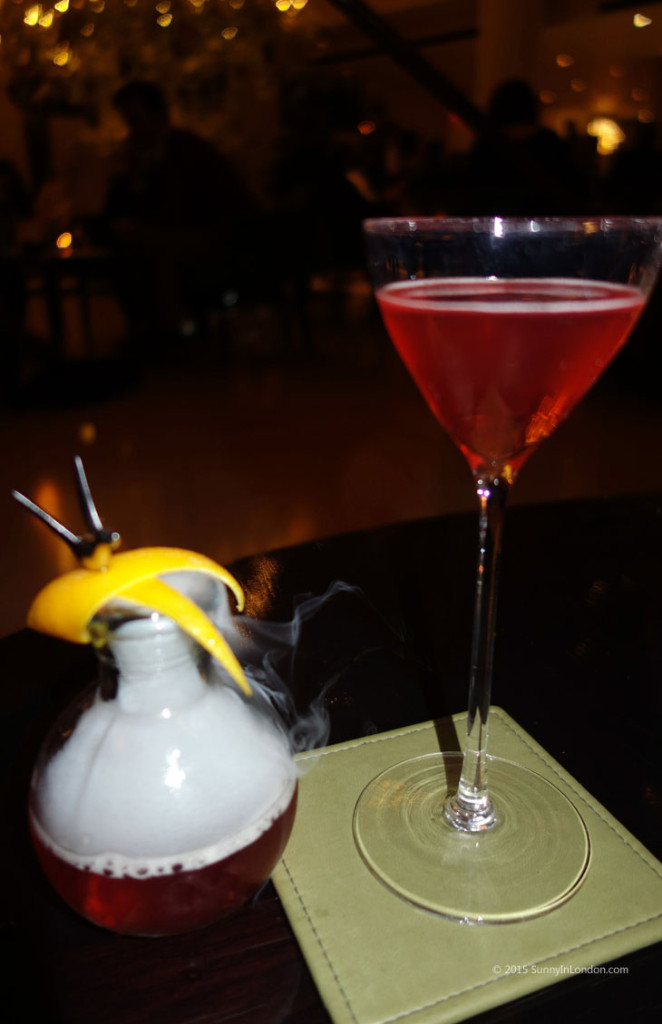 I enjoyed looking at his drink because it had the magical mist similar to what One Aldwych hotel serves for their epic Charlie and the Chocolate Factory inspired Afternoon Tea.
Besides the Four Roses Small Batch Bourbon, this drink has Grey Goose Orange, Benedictine, orange blossom, grenadine and sugar syrup.
The drinks share the warm sensations of Christmas feelings with their unique blends. When we finished, we took a short stroll on The Strand to see the new holiday lights and headed off to dinner.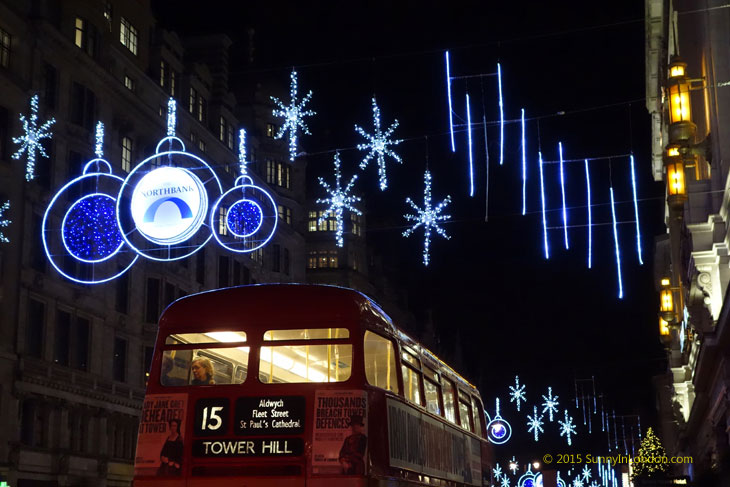 If you're in the Covent Garden area, perhaps after ice skating at Somerset House, the Winter Wonderland cocktails at One Aldwych are ideal. I also learned while I was visiting that they are offering gift vouchers for over twenty experiences at the hotel, including their spa treatments.
In July I had an Oskia Signature Glow Facial at their spa and was so relaxed after it, I didn't care about going on camera sans make up for a vlog about my stay at One Aldwych.
Other gift vouchers include a 'One Great Weekend' hotel experience and their dinner and movie nights for the 'Film and Fizz' events. This year they're showing holiday classics such as It's a Wonderful Life, White Christmas, Miracle on 34th Street and The Holiday.
Finally, Indigo restaurant, which is where I had the best piece of lamb I've ever eaten in London is offering a tantalising festive lunch and dinner menu in December too.
We'd really like to thank One Aldwych Lobby Bar for kicking off our two-year wedding anniversary with the luxurious Winter Wonderland cocktails and a special sweet treat too. We can't wait to visit again soon and wish the whole staff a happy Christmas and New Year!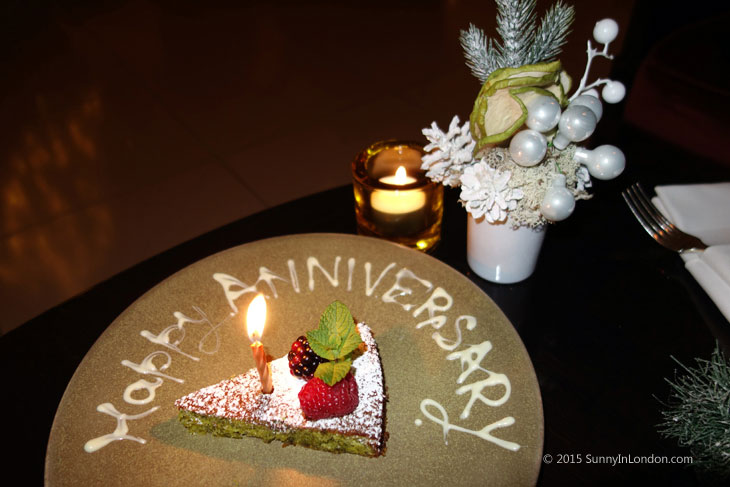 To read more about everyone's five-star experience at the luxurious One Aldwych, you can see their TripAdvisor reviews.