Kua Aina Burgers, Beer and Breakfast?
Would you be excited about celebrating your wedding anniversary with burgers? If you have ever been to Kua Aina on Goodge Street, you absolutely would think this is a fabulous idea.
Their party for their first birthday at this location was on a night I couldn't attend. However, because Mr. Sunny and I had been struggling with what to do on our two-year anniversary (which was two days after their party), I asked Kua Aina if we could visit then to check out their new menu and Christmas specials.
This plan proved perfect!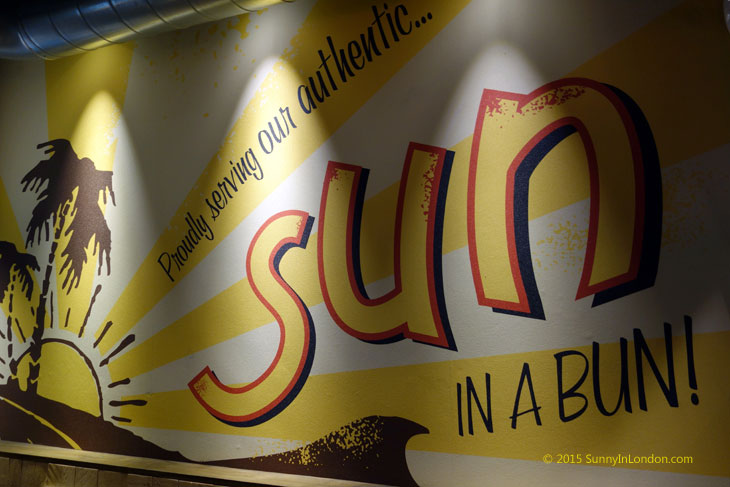 As soon as we entered Kua 'Aina a staff member greeted us with a huge smile, living up to their traditional Hawaiian hospitality theme. This is consistent with the Carnaby Street location, as I have eaten there too.
We chose a great table in the back of the restaurant and were eager to get started.
Our server Sarah wasted no time in bringing us two cool cocktails. Mr. Sunny had Draught Longboard Lager (beer, of course), and I sipped on a Mango Daiquiri.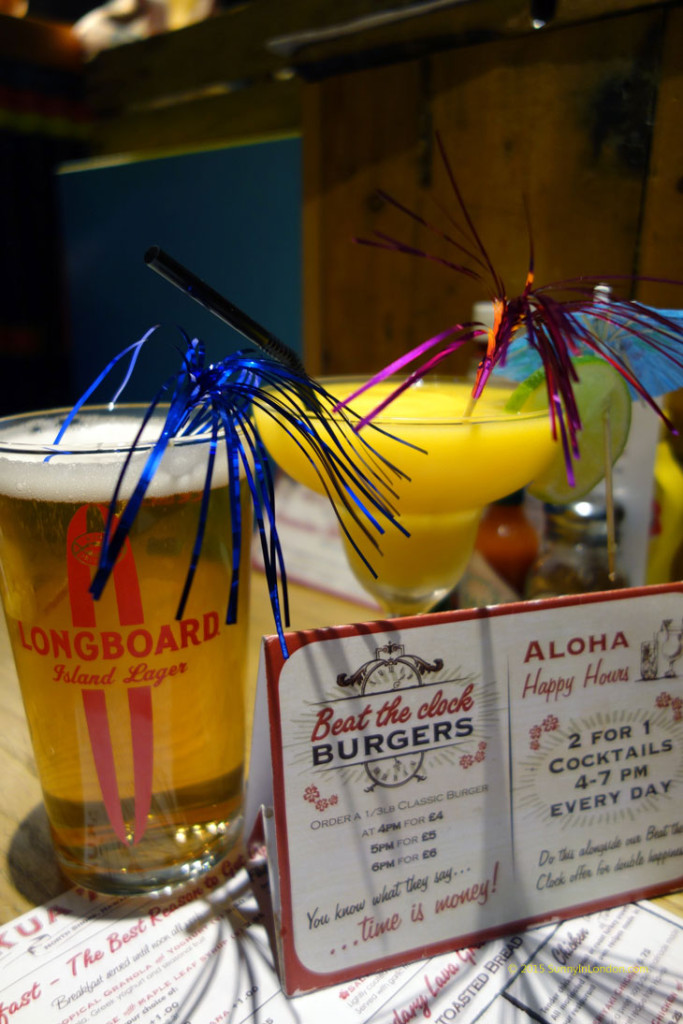 Hallelujah for liquid sunshine!
We definitely went over board on the Starters, but you know how much we love Squid! With it we included orders of Coconut King Prawns with Sweet Chilli Sauce and Chilli Cheese Fries.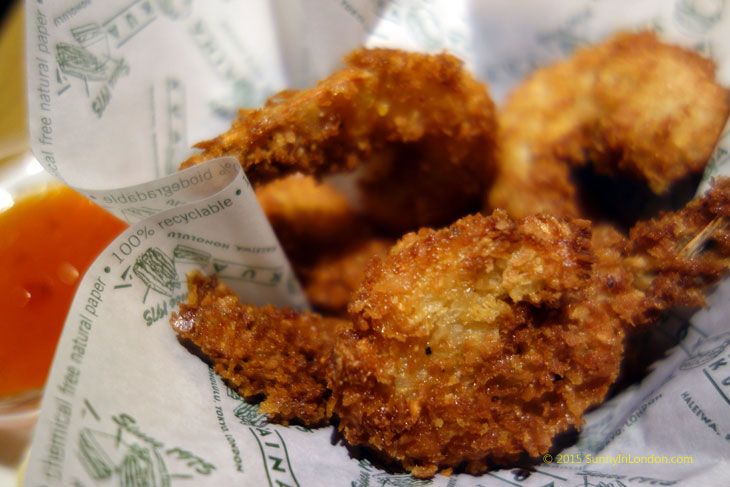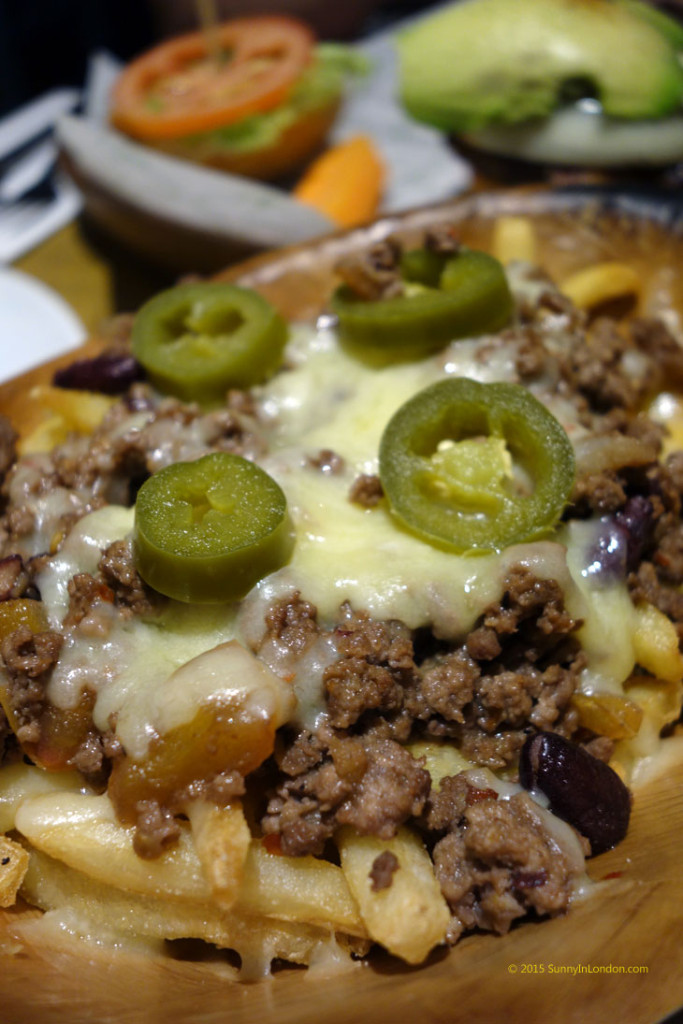 It was a huge mistake for us to order so many fried dishes because when my Avocado and Bacon Burger with Halloumi Cheese arrived, I was so full that I could only manage about five big bites of the delicious burger. It was devastating.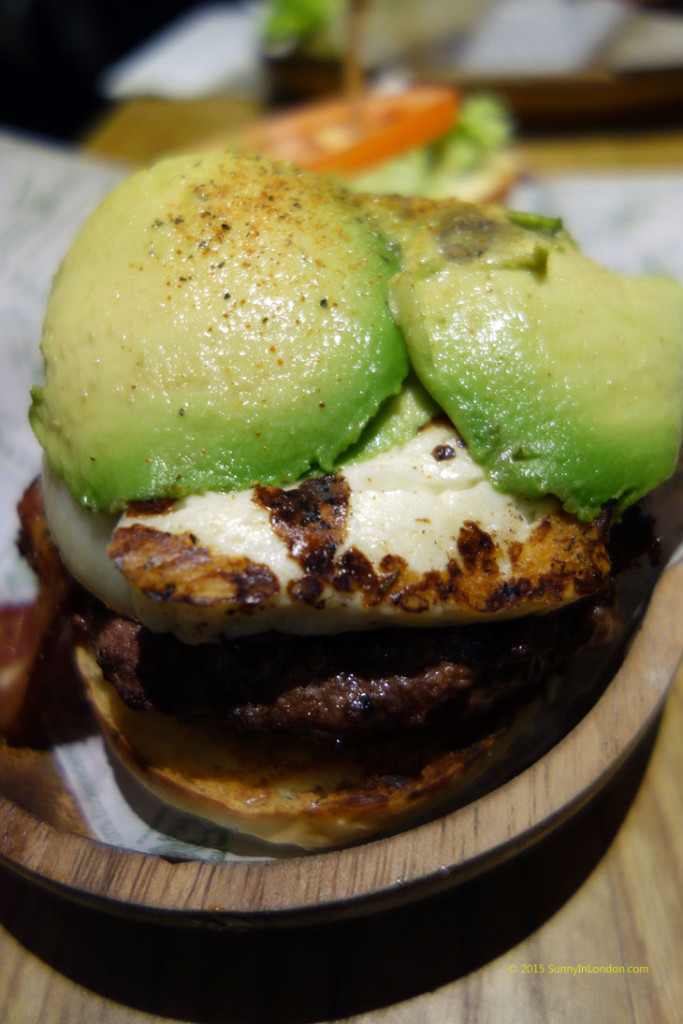 The good news is I did have enough sense to only order 1/3 pound of meat and didn't get the bigger burger option.
Mr. Sunny, however, took on 1/2 pound of meat in his Bacon Cheeseburger with Portobello Mushroom with Swiss cheese.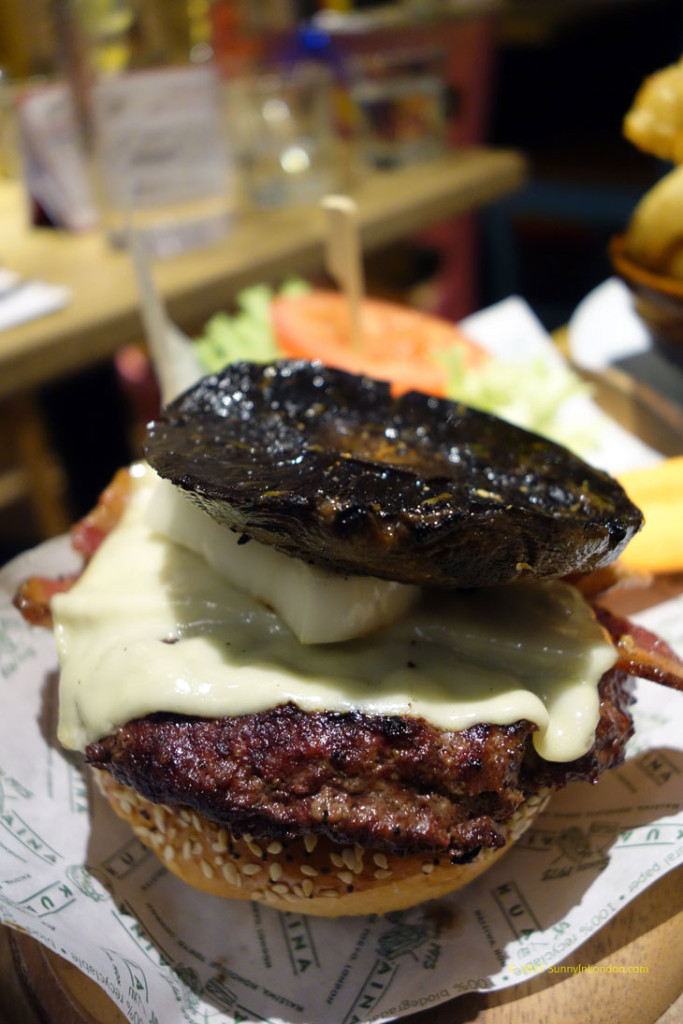 He not only finished his burger at Kua 'Aina, but he helped nearly wipe out the remaining chilli cheese fries as I sat in food coma wishing I hadn't been so greedy with Starters.
Oh, and did I mention that he also got his mouth around all of these Longboard Beer Battered Onion Rings too?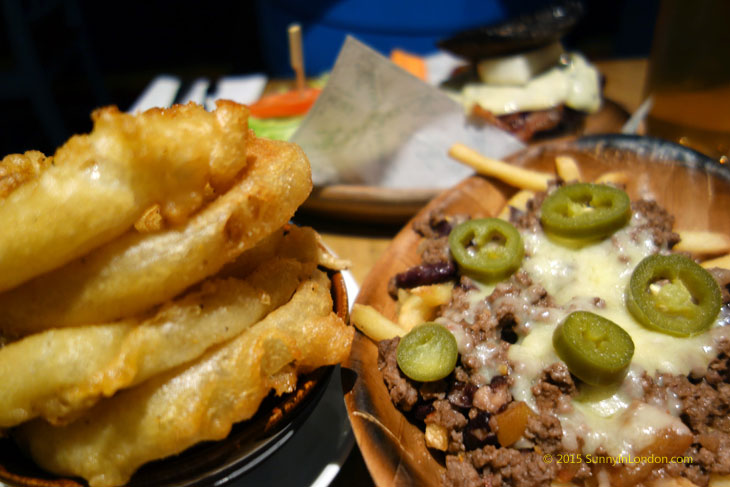 Yep. He really did throw down for our two-year wedding anniversary celebration at Kua 'Aina on Goodge Street!
If you aren't familiar with this Hawaiian restaurant chain, it's celebrating its 40th anniversary on Hawaii's North Shore this year. The Kua 'Aina on Goodge Street has served up over 11,500 Avocado burgers to London. They've also chilled, pulled and poured over 9,200 craft beers from Hawaii's Kona Brewing Company.
No, they weren't all to Mr. Sunny 😉
Their new menu has Mahi Mahi Finger and Fries, and focuses on breakfast, starters, dessert and drinks.
To be honest, I'm actually really excited about returning to try their Aloha Vegetarian Breakfast and the Kua 'Aina Fluffy American Pancakes. It would be nice to have a traditional sweet American breakfast in London some time!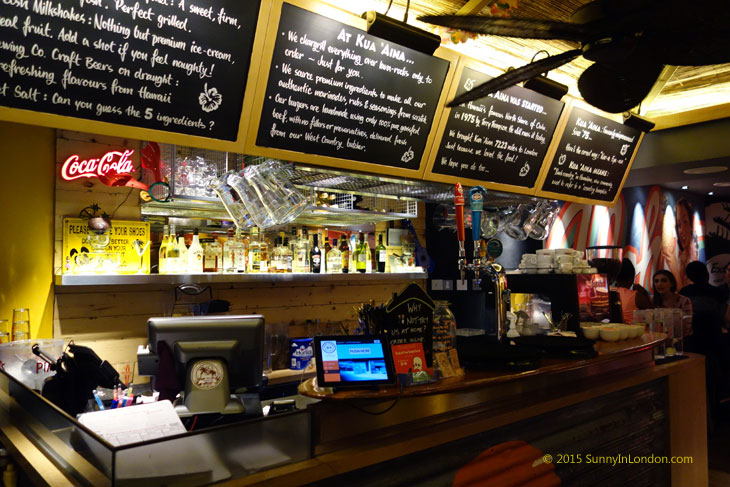 They also make an Eton Mess with a Hawaiian twist. Hmmmm.
Their 'Mele Kalikimaka' menu (AKA Merry Christmas) is available for groups of 10 or more. As a Christmas special, they'll have Mince Pie Milkshakes and Egg Nog Cocktails. I'll pass on both of those, but you can let me know how it goes when you get there. Instead, I'd prefer an Avocado Cocktail or Lychee Cocktail.
We had our meal complimentary for a review, but that doesn't change my warm thoughts about Kua 'Aina on Goodge Street or Carnaby. The moment you walk in you feel the sunny vibe of Hawaii through the decor, food and service. I'd really like to give a shout out to our server Sarah who absolutely dazzled us with a sunny smile and energy. Maholo!