Botannika Review – Brasserie in High Barnet
When a new food hotspot opens and has a gorgeous interior, you hope that the food and service match the expectations that the design implies. Although it wasn't flawless, my visit to Botannika brasserie in High Barnet, London ticked all the right boxes and lived up to the images and standard that I anticipated.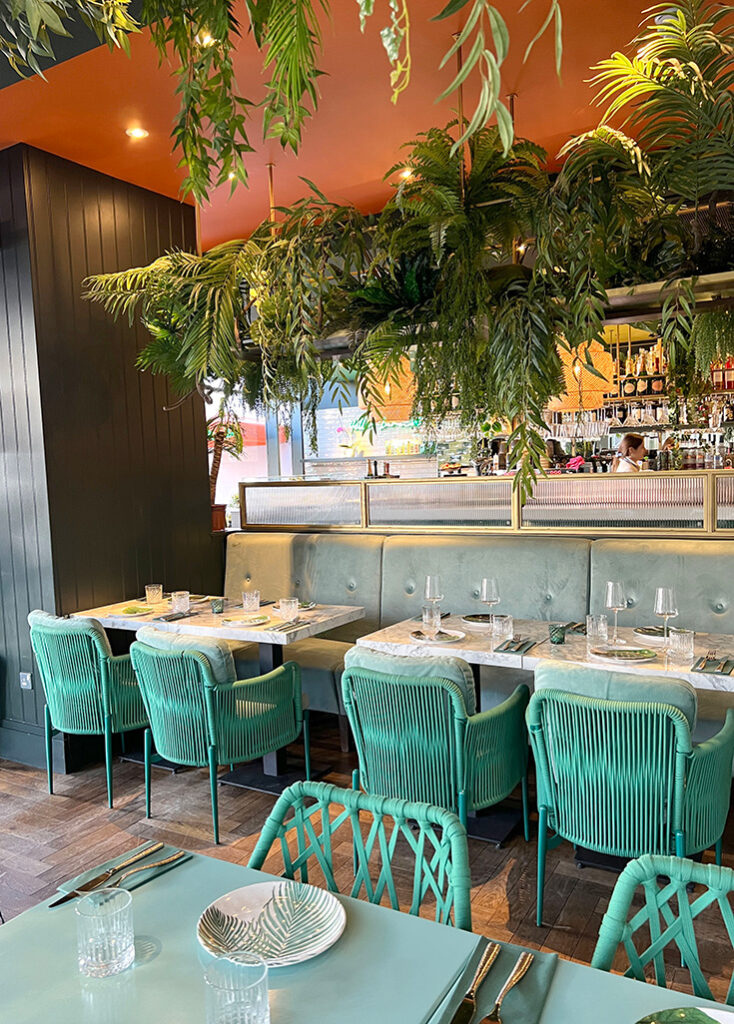 Botannika Brasserie- Atmosphere
I arrived around 5.45pm on a Friday evening to have a catch up with a friend who is also an American in London. We are passionate foodies who generally visit both the trendy and well-established restaurants in Central London. In fact, we met just days after restaurants reopened in April 2021 when we were dining next to each other at La Goccia in Covent Garden.
We meet up locally, since we both live in North London. A big part of our conversation includes exchanging thoughts on all the foodie spots we've hit separately since our last meeting.
Botannika was her suggestion, since she had had a positive experience there midday and wanted to try their Evening Menu.
It was nearly empty when I arrived, which was surprising given the local hype it has had since opening. But, to be fair- 6pm was a bit early to judge.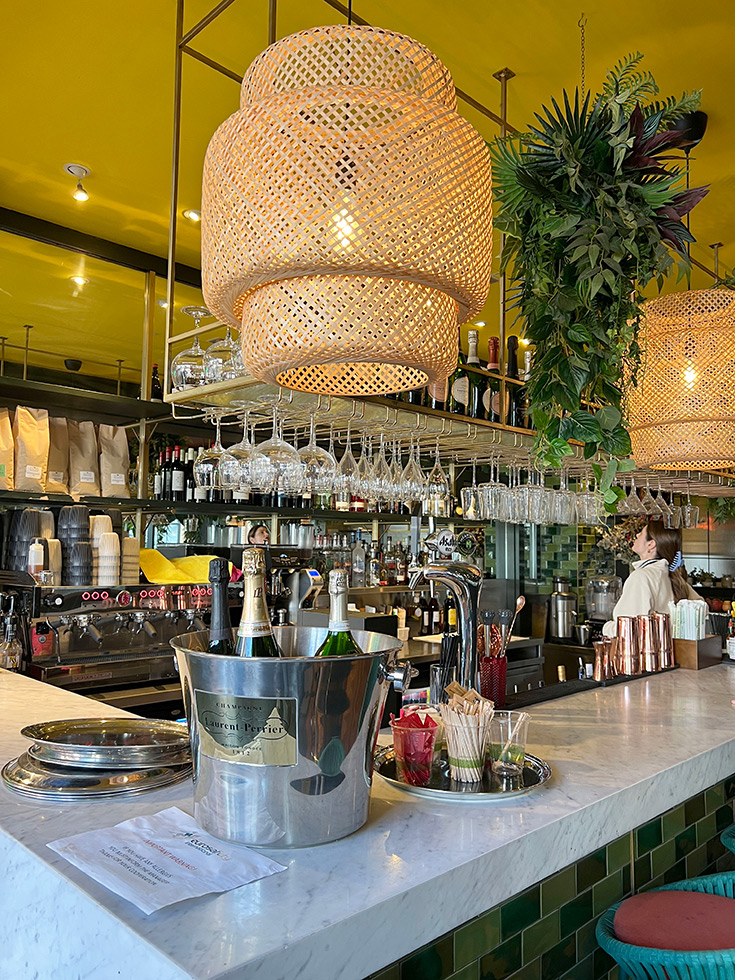 I requested an outside table that paralleled the High Barnet high street because the weather was a lovely sunny Spring night. While waiting for her arrival, I couldn't resist the fun cocktail menu and selected a Blood Orange to sip on.
This mixture of vodka, Elderflower Liqueur, Blood Orange Juice, Fresh Thyme and Tonic Water can best be described as silky smooth. I could've easily had several.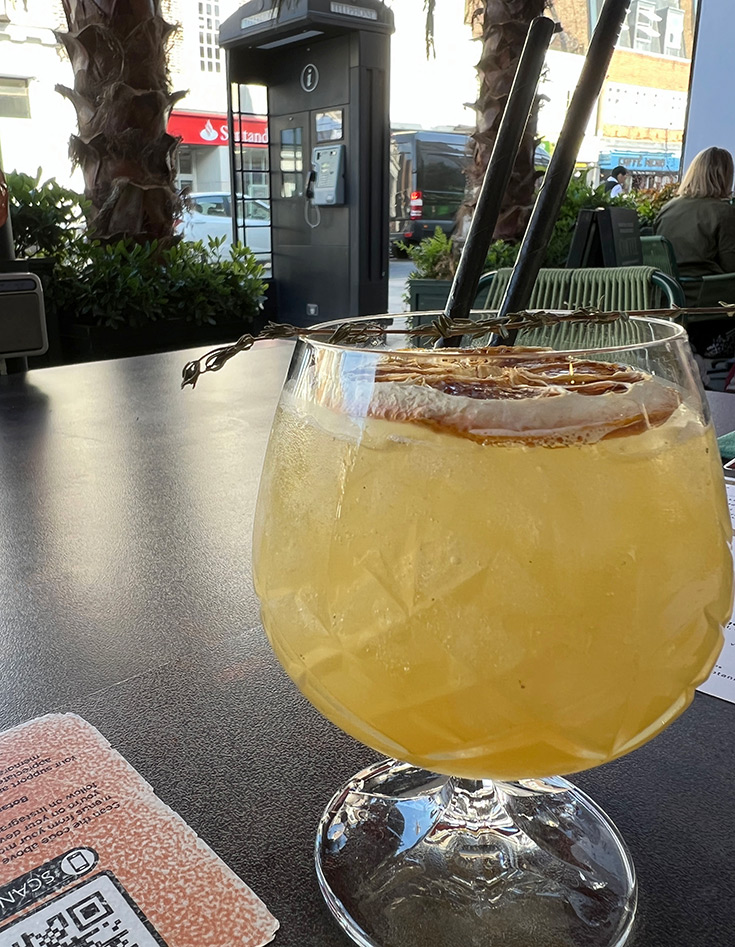 As I waited for my friend's arrival, I felt the decor and ambiance lived up to its promise. Botannika brasserie's website indicates its aim is 'to restore the zen through serving healthy, tantalising dishes that can be enjoyed within a space that enables an escape from the daily hustle.' Had I been seated inside, this would've been entirely true.
However, it's tough to 'escape' when you're facing a neighbourhood high street. Had I chosen to sit inside, the full impact of the zen like atmosphere would've enveloped me. It's stunning and simultaneously tranquil.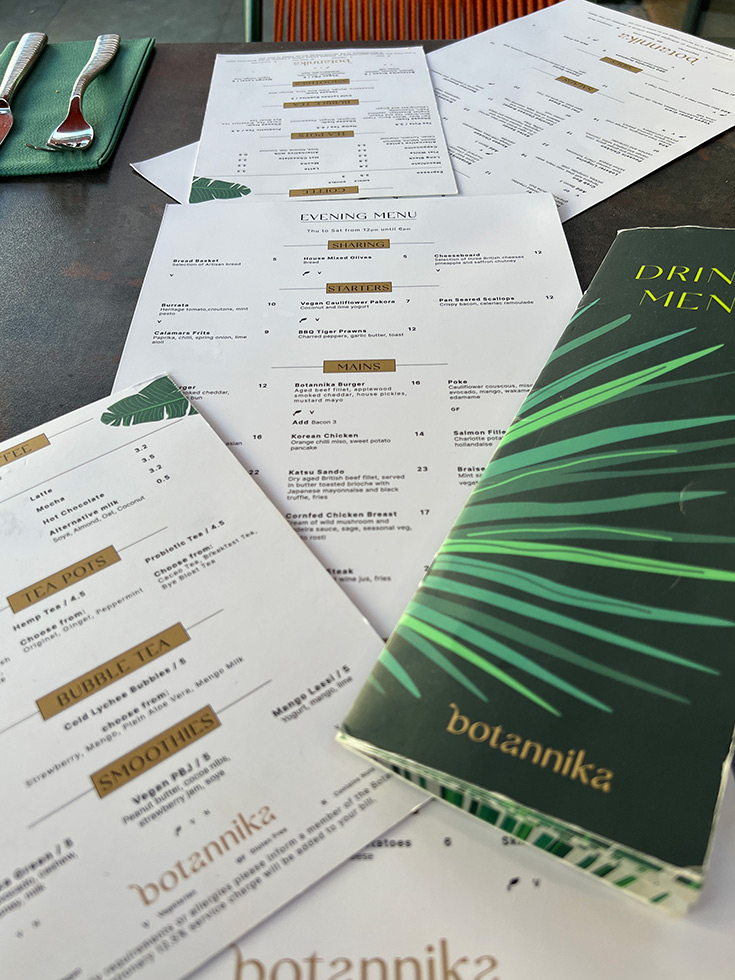 Botannika Brasserie- Food Quality
Once my friend arrived we gave the Evening Menu a good examination. We chose the Calamars Frits Starter and a bottle of red wine to share. Both were lovely.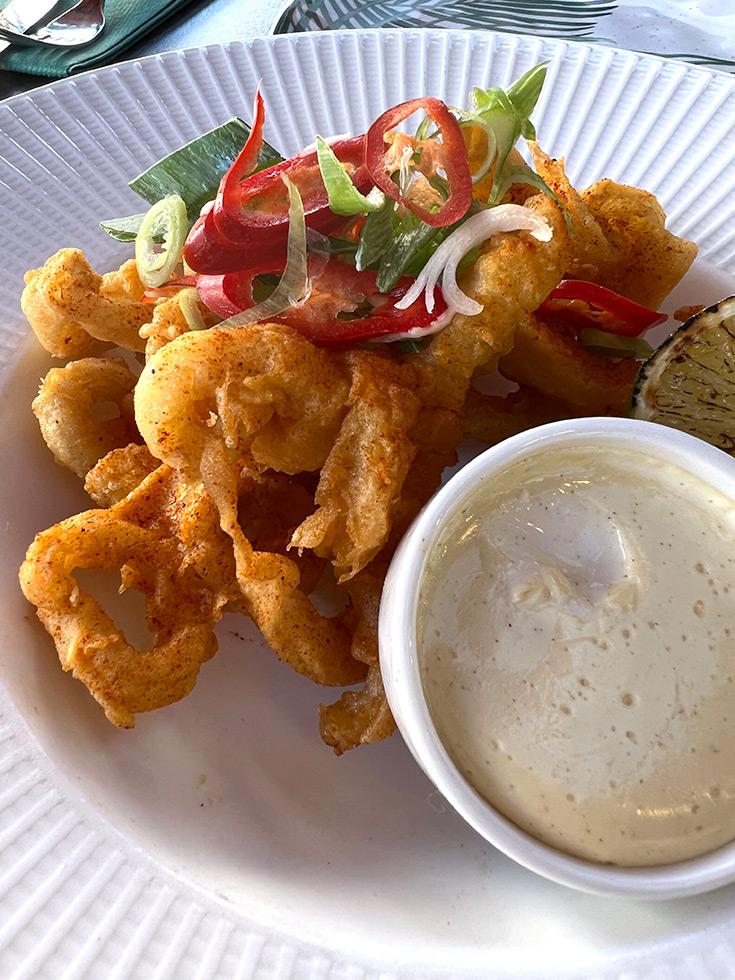 For my Main, I made an unusual decision and chose the Beetroot Gnocchi. This was a surprising leap for me because I am not fond of beetroot. The ingredients were listed as 'textures of beetroot, mint hazelnut and pesto.' Individually, I don't like any of them, so I don't know what drew me to the dish. My mind was set- I was taking the gnocchi bet.
The gamble paid off because the Beetroot Gnocchi is exquisite. It's not something I would randomly crave in the future, but it is delicious enough to create a reason for me to return to Botannika brasserie with my husband.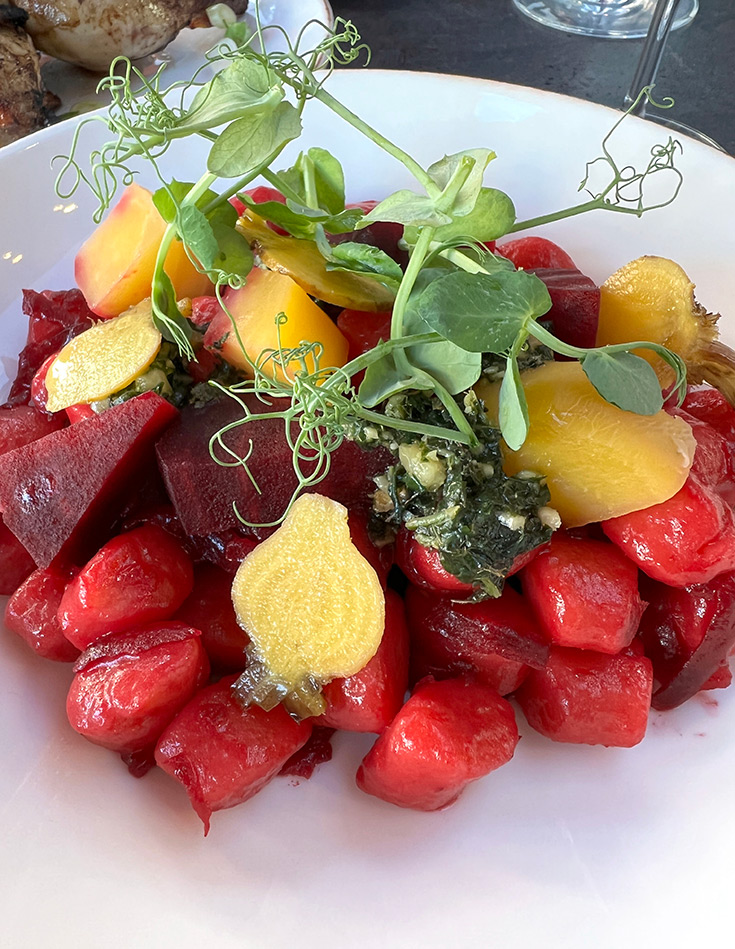 My friend didn't have as much luck with her dish. She ordered the Poussin Chicken and when it arrived, she didn't feel it was cooked entirely. The staff was swiftly accommodating and returned it to the Chef. However, upon its second arrival she said it still had a couple bits that were slightly undercooked.
I don't have any experience cooking Poussin Chicken, but my husband indicated when I got home that it's quite difficult to get right.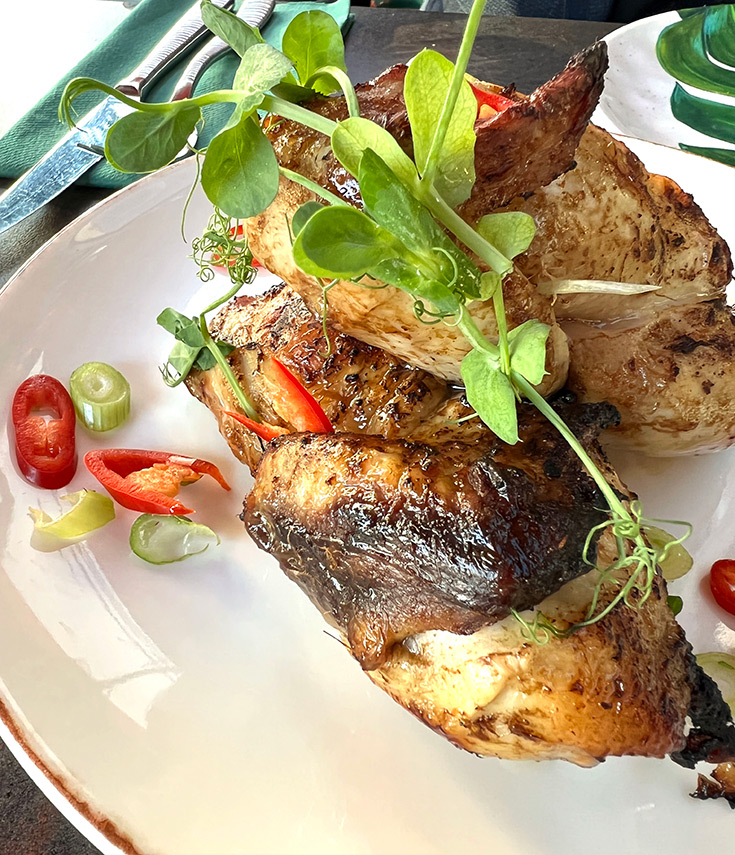 Botannika Brasserie- Service
Our service throughout the evening was great. I think this is why the Poussin Chicken episode didn't affect our evening too much. The restaurant was extremely apologetic and brought my friend the house mixed olives to eat during the interim of waiting for the chicken to return.
The staff was friendly and attentive and truly seemed to care about our enjoyment of our evening. From what I hear, Botannika Brasserie is quite bustling during the week and brunch on weekends. I would be curious to hear from others if the service is any different during those times.
That being said, my friend and I agreed perhaps our next catch up would be to return to Botannika brasserie during one of those times.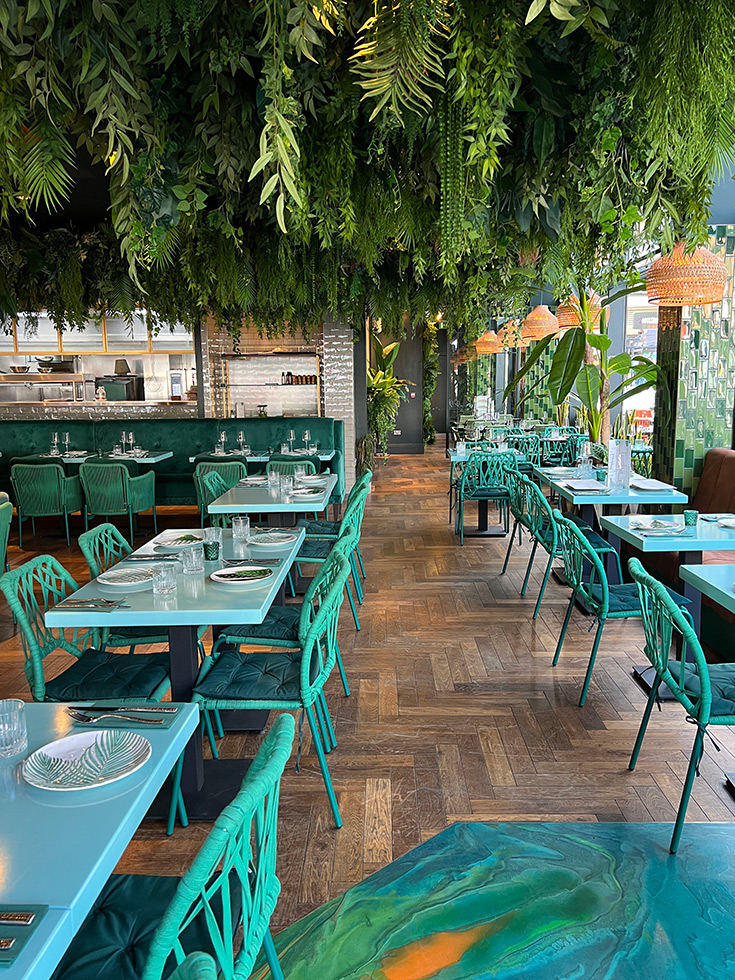 Botannika Brasserie- Final Thoughts
With the rising cost of petrol and well, basically everything, it is tough for restaurants to maintain reasonable prices. I found the drinks menu and evening menu to be very fair for Greater London. Should people be able to continue their pre-Covid lifestyles with the rising costs of utilities and day to day life, I think Botannika brasserie will be around for a while in the High Barnet area.
It offers a colourful environment and great selection of organic, healthy items. I will look forward to trying their coffee, healthy shakes and freshly pressed juices in the future.
Botannika brasserie is located in The Spires at: Unit 1 The Spires, 111 High Street, Barnet EN5 5XY.