Two huge trends are happening in London's food and drink scene at the moment- The Bottomless Brunch and Rooftop Bars. Mr Sunny and I have a diary full of brunch engagements over the next few weeks. What's exciting to see is that every range of cuisine in London is making a huge effort to differentiate its brunch offer from the others.
Our latest brunch adventure was to Mezcalito in Chelsea. This restaurant met its target of offering a Mexican themed brunch and atmosphere when we visited on a Saturday. Their sign outside which simply has the word 'Mexico' with an arrow pointing to the entrance and the words 'Real Life' with an arrow to the street accurately captures the vibe of the venue.
Mezcalito Bottomless Brunch- Ambience
We were one of the first guests to arrive for a 12pm booking, which is their opening time. It's located just off the King's Road at 119 Sydney Street, London SW3 6NR.
After a quick introduction and clarification that we were there on an invite via the restaurant's PR company, we were seated at our table.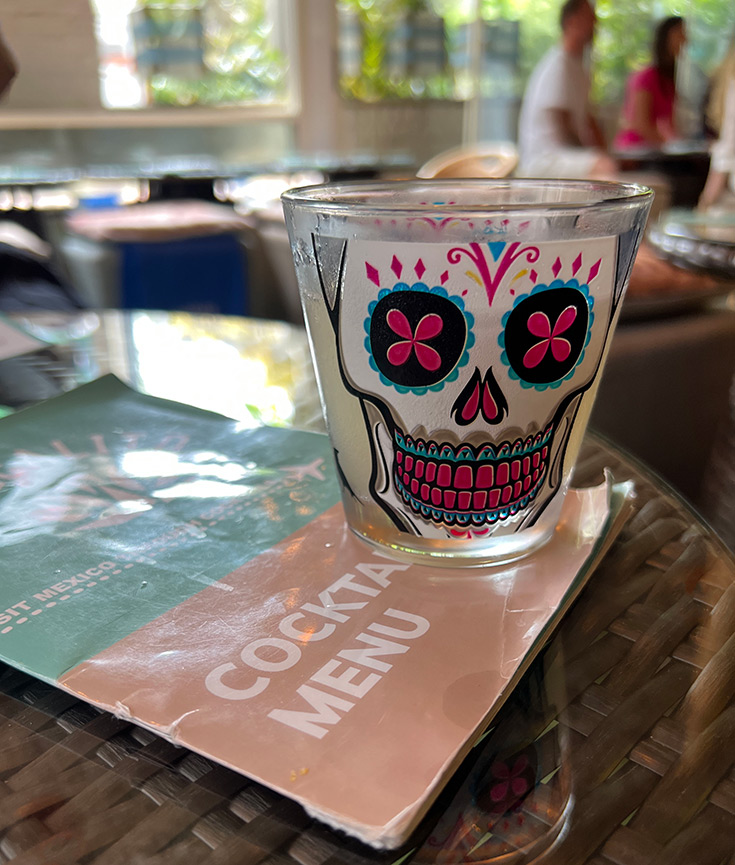 By just glancing around at the seating arrangements, we could see that the restaurant had many large party bookings that day. One striking difference in the room where we sat is the physical structure of the seats. Patrons sit on low cushion seats that are placed around circular tables that are similar to sofa end tables.
You can see more of this on the TikTok video I published of our experience.
We could've sat in a more traditional booth in another room. However, that room had very low-lighting because it was where the DJ would play all his sets in the afternoon. Had I not been responsible for video and photograph for the review, I would've chosen those seats. But I needed to be near as much natural light as possible.
The energy was high once more guests arrived and the restaurant quickly filled. Across from us was a group of about 8 girls and behind us seemed to be 5 young couples celebrating someone's life event.
The popularity of Mezcalito was quickly obvious. The vibrant decor does make you feel whisked away to Mexico- as promised with the sign outside. It's quite a savvy strategy for the restaurant, given so many of us might avoid holiday travel this summer due to the hassles created by the pandemic. 
Mezcalito Bottomless Brunch- Quality of Experience
It's always interesting to see what happens with a bottomless brunch in terms of how the staff responds when you ask for a top up or new drink. At Mezcalito, it seemed drinks whizzed by us constantly and we also quickly received our next round when we were ready.
Mr Sunny started with a frozen margherita and I enjoyed Prosecco throughout our time there. It's important to note that the £35pp of the Bottomless Brunch is for the 4 specific drinks. Those are frozen margheritas, Corona, Prosecco and Rosé wine.
The tequila menu is extensive, and I showed it in my TikTok video. However, cocktails like that are separate from the Bottomless Brunch offer. That's the same with the food.
This is a good price if you are able to drink a lot in the 90 minute time slot you are given. However, if 2 drinks make you tipsy, you might want to just get them separately.
Mezcalito Bottomless Brunch- Food
We ordered the nachos as a Starter. Next, I chose to have the Chorizo a la Mexican quesadillas. They include Chorizo sausage with onion, chilli habanero & melted cheese. I really enjoyed them but since they aren't very photogenic, they're not here. Check that TikTok video to see it all.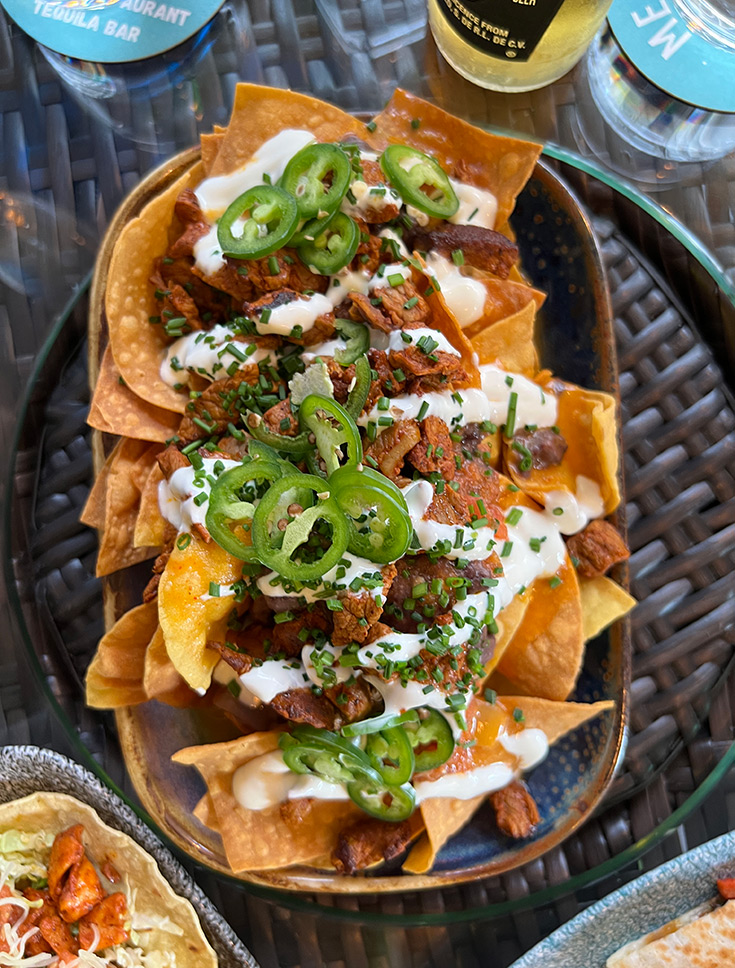 Next, Mr Sunny selected the Pollo Al Achiote tacos and the Camaron Baja Style tacos. I was saving room for dessert.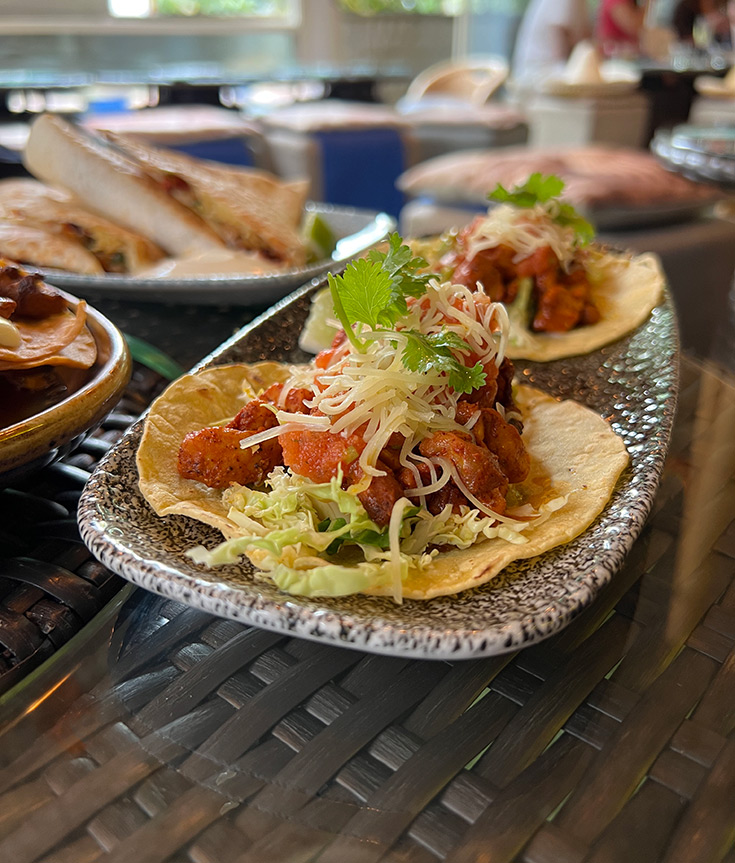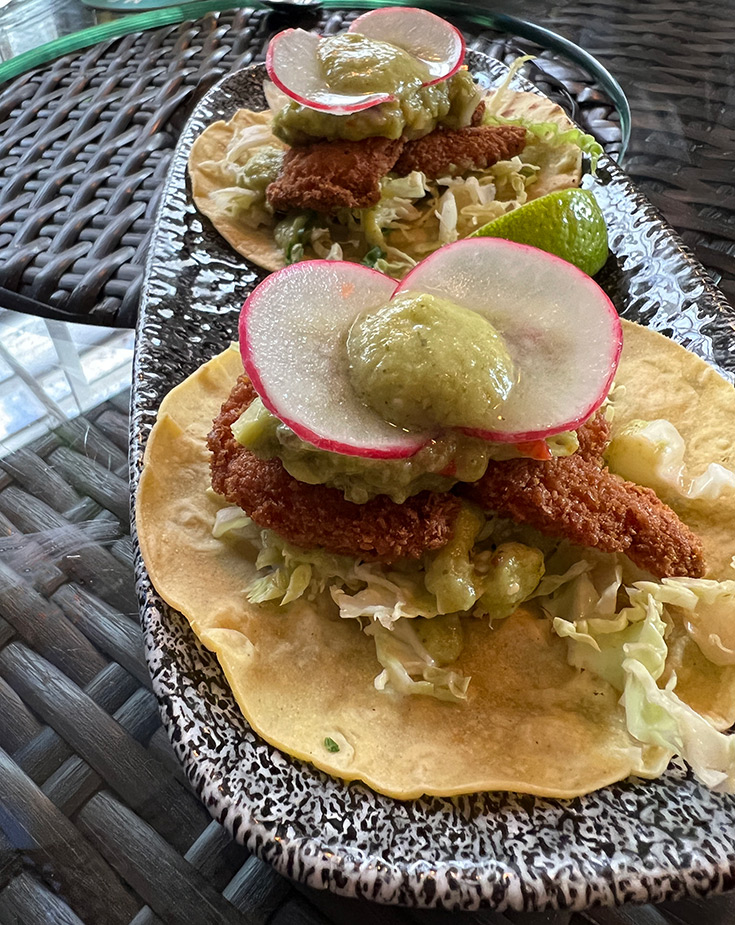 I had identified that I wanted to try both desserts on the menu when we viewed it before arriving. So- I selected the Platanitos Fritos AND the Churros Rellenos to end my feast. Both were delicious.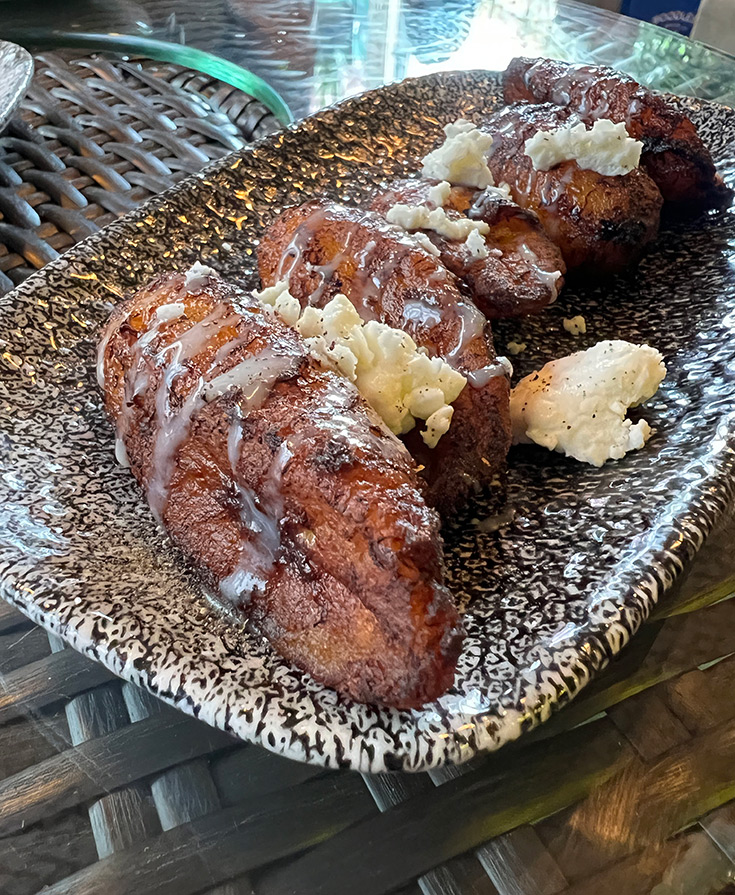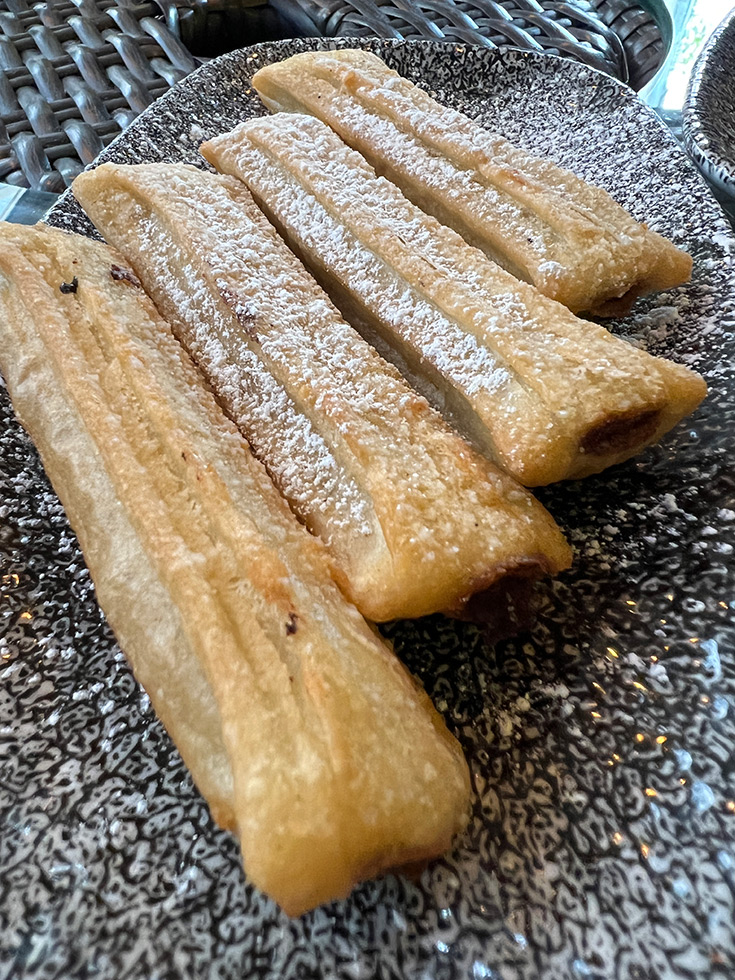 Mezcalito Bottomless Brunch- Final Thoughts
The atmosphere and 'tapas' style of food makes Mezcalito a great restaurant for meeting mates for a catch up or casual celebration. To be honest, when we left around 1.30pm the DJ had just really started getting his musical groove going. I wish we had arrived later so I had more time to enjoy his sets. The vibe was incredible.
We found the staff to be really hustling through all the tables. It didn't seem like our service was any different from any other group. The people working were doing a great job of getting everyone's drinks to them and kept the food flow steady. This is commendable given the lively guests and their requests. Clearly, they had a system for their busiest day and weren't overwhelmed by the packed restaurant.
If you aren't in the Chelsea area or want a meeting place in North London, you can visit their newly opened Islington restaurant. If you do, please let me know how it goes.
There's more about food and pubs in London below. But, if you want regular updates about what's happening in London, subscribe to the weekly Sunny News.
Adios, Sunny amigos!