Derren Brown Ghost Train at Thorpe Park Review
Were you thinking that Ghost Train at Thorpe Park would never open? When it did open, did you think it would be worth the extended wait? Perhaps the illusion of an actual attraction was all that Derren Brown and the amusement park would accomplish?
Mr. Sunny and I attended the very eagerly anticipated launch party for the attraction in July. We had been invited when I inquired about visiting Thorpe Park in March.  Needless to say, we were curious what could delay the Ghost Train so long.
Having never been to Thorpe Park, I was curious how it would measure against the amusement parks where I spent most of my childhood in Orlando. In fact, you could say I have spent years in them because I did work at Universal Studios in the tours and events departments. For this reason, I'm 'professionally trained' on ride and attraction openings. Therefore, this review will be either extremely critical or extremely knowledgable. You decide the lens.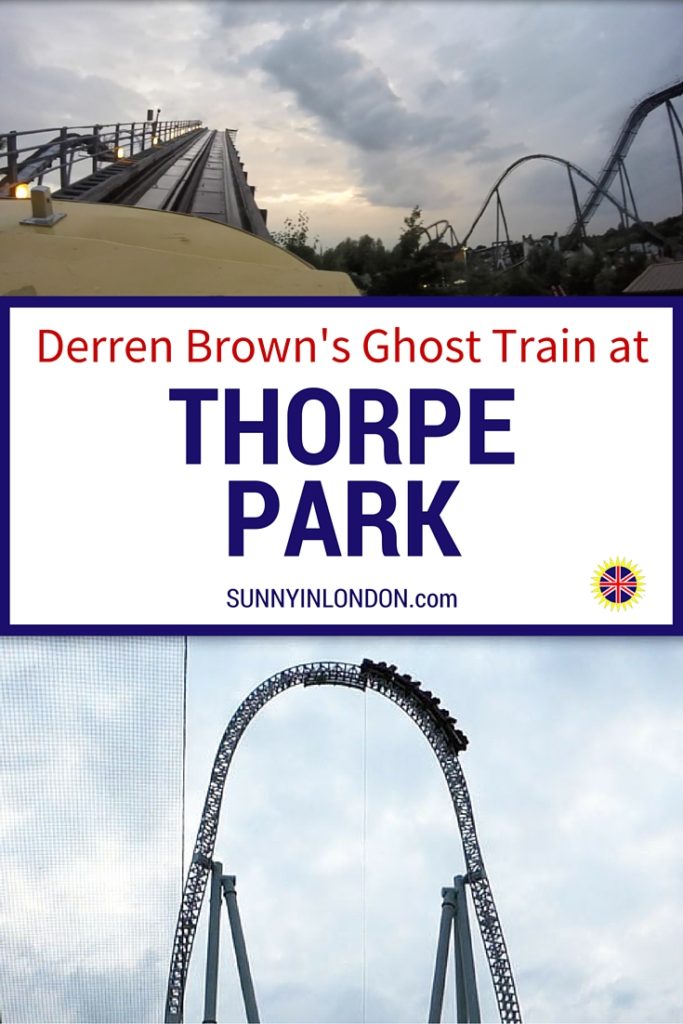 Experience aside, what I know nothing about is Derren Brown. In fact, I don't even like scary stuff. Every year I get invited to the Jack the Ripper walking tour in London. I've never gone because I don't think I could sleep after it. Any horror film I have seen has been under duress. I can probably count them on one hand.
Based on these elements, this is what we think about the new attraction.
Derren Brown's Ghost Train at Thorpe Park: Thumbs Up
It's a very British attraction. What I mean by this is, most of the 13 minute experience takes place in a seven-tonne railway carriage suspended in air. Ghost Train is also housed within a Victorian warehouse modelled after one found near a station in London.
It has made the leap beyond the standard haunted house that we previously sought as live entertainment to induce fright.
The effects were cool. The first phase of Ghost Train involves a quick pre-show from a Derren Brown hologram. I would've loved it if Tupac and Biggie Smalls had been sitting behind him. However, that would definitely have contradicted the first point I made here.
Not everyone's virtual experience is the same. Mr. Sunny and I saw different characters and storylines while on Ghost Train. His journey had females and mine featured males.
Derren Brown's Ghost Train at Thorpe Park: Thumbs Down
Organisation is lacking. A 13 minute attraction shouldn't have a one hour wait at a launch party. Once inside the actual Ghost Train, not all of the space in each area was utilised. Why not fill the carriage of people to move the line faster?
Further, there was nothing to do while standing in line. Couldn't they have monitors showing information about what was involved in making Ghost Train? Things they'd like you to notice and appreciate? At the very least, Thorpe Park should put up some posters of optical illusions for people to see and discuss as they wait. What about some live entertainment via magicians?
No touching. No touching EVER. When they announced the actors would likely touch us, and they requested we not strike them back, I was shocked. Obviously, I am not saying I was looking forward to getting in a fist fight with an amusement park employee. I just don't feel like being touched by someone in the dark that I don't know. Shrek's Adventure, London Dungeon, and The London Eye find unique ways to use create terror through non-living gimmicks. (Yes, those links are all my reviews on the blog) For example, at Shrek's Adventure, guests sit on boxes and feel hard movement under them. They are supposed to be boxes filled with rats. It's pretty creepy. Can Ghost Train include hot air being blown on to the back of people's necks to simulate a zombie breathing behind them?
Mind the Glass. My husband wears glasses. At one point during Ghost Train guests are rushed from one room to another. In this 'panic' an employee grabbed my husband's headset and pulled it off of him quickly. The person also pulled off and nearly broke my husband's glasses in the process. Mr. Sunny was not happy.
The Daily Train. If you ride the London Underground (not like an arse) on a daily basis to work, you likely already feel like you're on a Ghost Train (or ride from hell) every day. This is especially true during peak travel times.
Darren Brown's Ghost Train at Thorpe Park: Final Thoughts
With some focus on the organisation of the queue, additional mechanical effects and moderation of the performance from the employees/actors at the attraction, Ghost Train could be very interesting. The visual effects are impressive. We had a really great time on the roller coasters that were open at the launch party.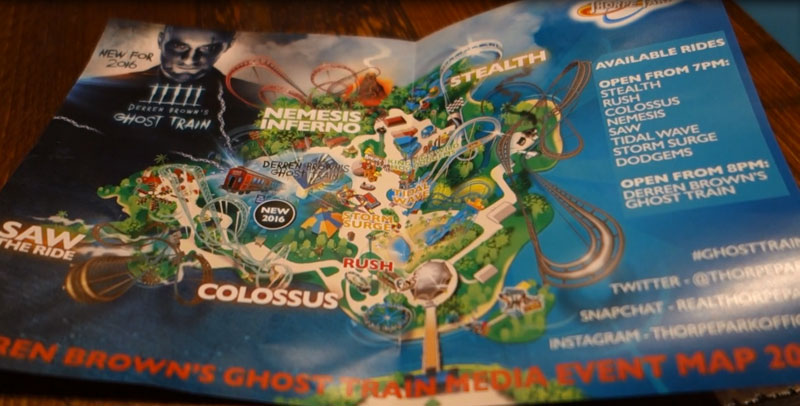 We rode everything except Storm Surge and Rush. Nemesis was our first ride. Next, we hit Stealth and Colossus. Tidal Wave is Mr. Sunny's favourite because he likes water rides. Me, not so much. My favourite is easily Colossus. Saw The Ride tossed us around quite a bit too.
I have a few teasers of pictures from our evening below, just after the two-minute YouTube video I made of what a visit to see Derren Brown's Ghost Train at Thorpe Park could involve. Go on then, take a little virtual ride with Mr. Sunny and me. (Yes, that's us talking at the top of a ride in the beginning and also him chasing me on the bumper cars too) …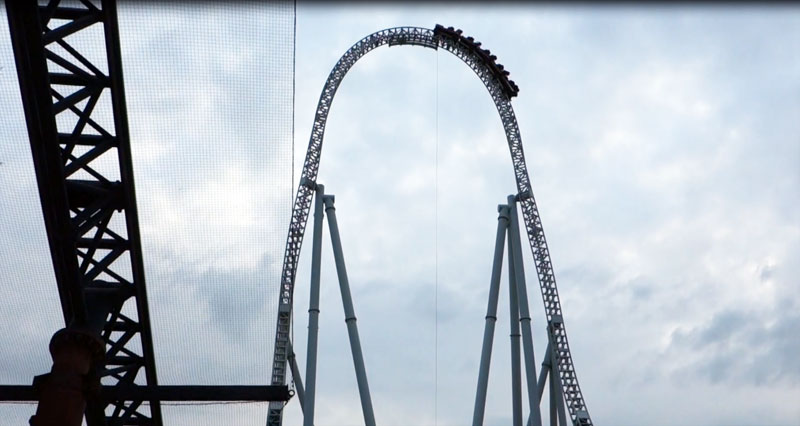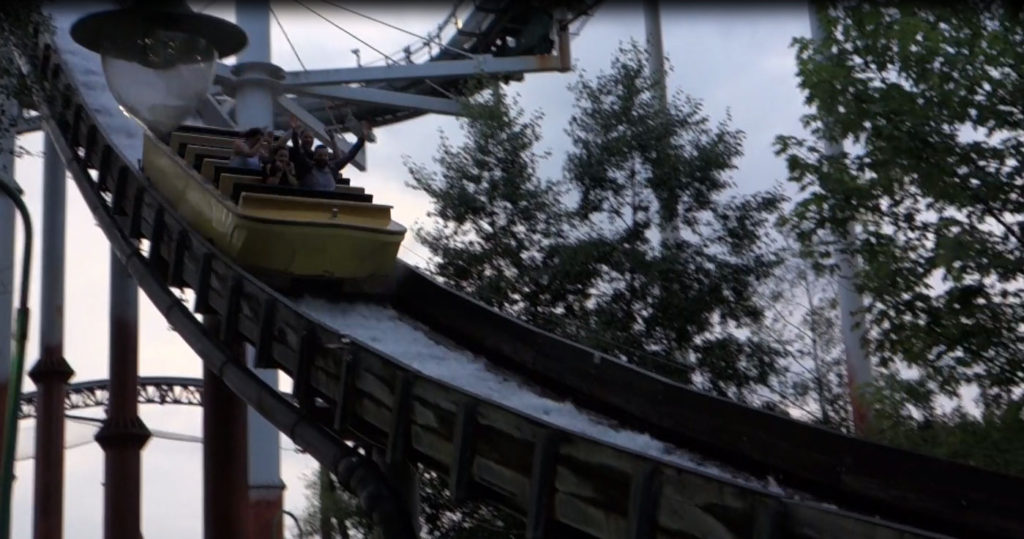 Have you had the chance to experience Ghost Train at Thorpe Park yet? What did you think? What is your favourite ride at the amusement park?