La Tasca Spanish Tapas Restaurant is La-fan-tastic!
Recently, I spent an entire sunny afternoon wandering Trafalgar Square, the Strand and Covent Garden. By chance, I stumbled on La Tasca Spanish Tapas Bar and Restaurant and enjoyed a fantastic meal accompanied by outstanding service.
This restaurant features an excellent wine list and three stories, the top of which is available for large parties.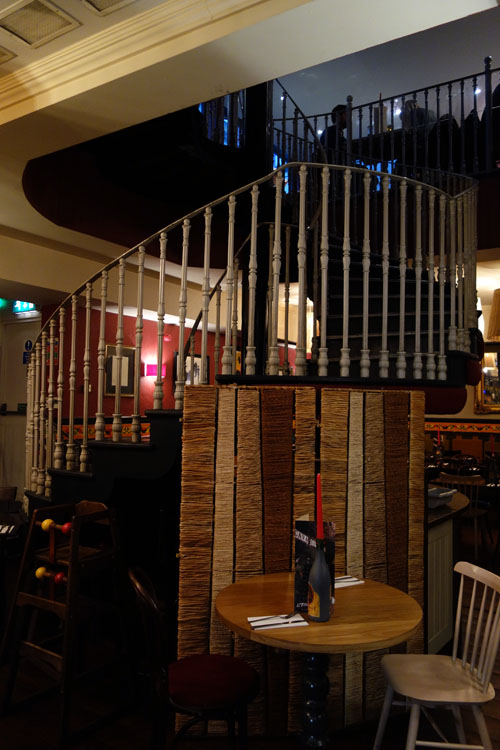 The staff who greeted me were very friendly and eager to seat me at exactly the table I preferred. Even better, once I got situated, they whisked over a smashing glass of Marques de Morano Tinto. If you're a Sunny in London reader, you know that Rioja is my preferred "vintage grape juice."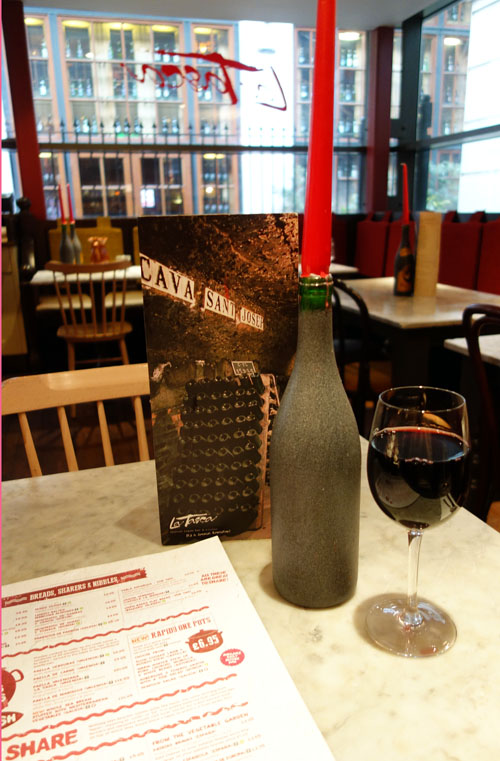 The authentic menu was impressive indeed, as there were clearly labeled vegetarian, gluten free and lower calorie options. But, let's be honest, who's thinking low calorie when facing an array of tapas dishes? 😉  Not any fun Sunny friend, for sure!
My server suggested three of the most popular menu options. I trusted her expertise, and it certainly was a great decision.
First, I had the Warm Winter Salad for £4.95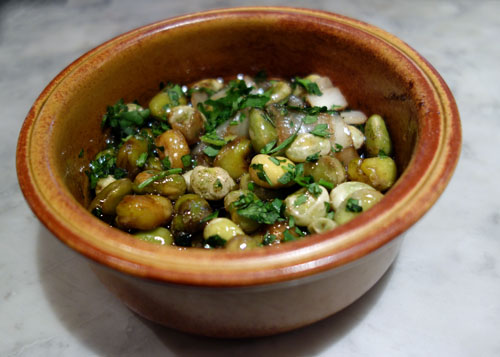 It's a classic Spanish dish featuring broad beans and Serrano ham. It was yummy.
Next, I enjoyed the Gambras Al Ajillo (Andalucia) which was also £4.95.  Feast your eyes on these succulent butterflied king prawns sautéed in a chilli and garlic infused oil.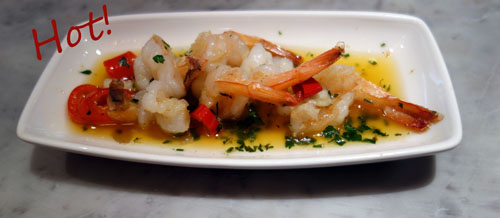 These cooked crustaceans were amazing, and the chillis sure put a nice little AYE CARUMBA in my mouth. Beware to those who don't fancy a dish with a hot, sexy kick!
I saved the most tempting dish for last. It's the Pollo con Crema (Castilla) £5.25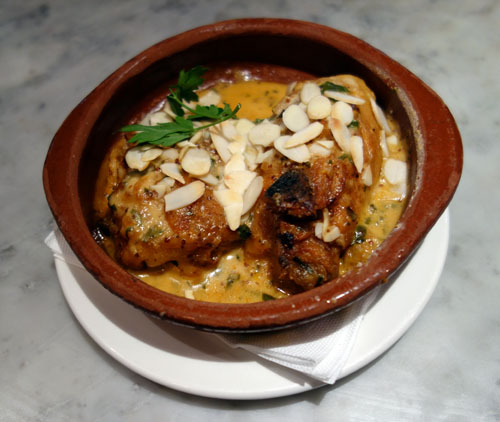 It's marinated chicken thighs with a creamy spinach and mustard sauce and was by far, my favourite. The chicken literally melted off of the bone. The toasted almonds really took the excellent flavor up another level. It was divine!
I learned two important things after I left.
One: La Tasca Spanish Tapas Bar and Restaurant is steps away from Porterhouse Brewing Co.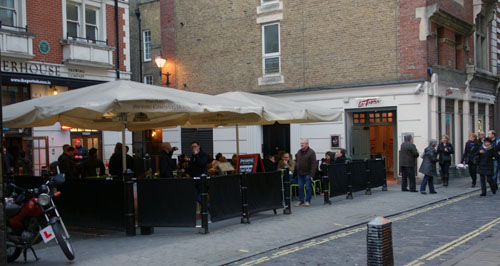 Sometimes on the small London streets I'm not always sure which direction I'm heading. So, I literally didn't realise that I ended up the same place I was just a few days before when I went on my Covent Garden Pub Crawl.
Two: The La Tasca Spanish Tapas Bar and Restaurant has a Loyalty Card you can sign up for via their website. It indicates you can receive offers including: updates on the latest rewards, 20% off food from the main menu and a monthly treat, and member only offers & incentives.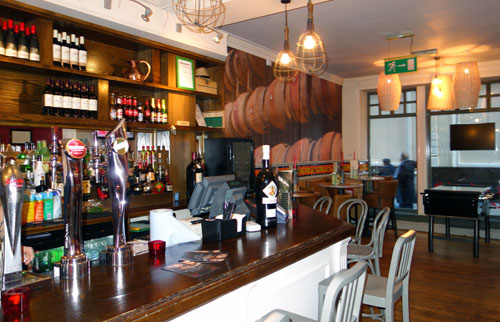 I'll definitely be back to try their "Famous Paellas." It seems like it'll be fairly easy to do since La Tasca Spanish Tapas has 40 locations throughout the UK and overseas! And, once I sign up for and receive this special card, they'll certainly have a loyal tapas customer in me.