If you haven't been to Shake Shack in London yet, I'm sorry. I'm just sorry. You really don't know what you're missing.
Sunny friends, let me give you 5 reasons why you must go to Shake Shack. Now!
1. Shake Shack is the best deal for a burger.
You may remember the Burger and Lobster review I wrote a few months ago. I was very impressed by the quality of the burger. However, the price tag is a whopping £20. The Double Shack Cheeseburger is £7.50. It's 100% Aberdeen angus beef, which is grass fed on Scottish pastures. It's damn juicy.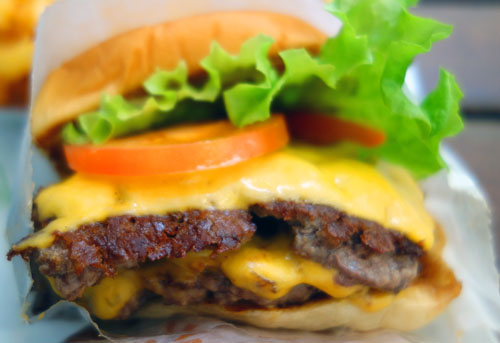 In fact, it's served wrapped tightly in paper. By the time you are finished, the paper is soaked, your hands are gooey, and your stomach is full!
2. Shake Shack has beer.
Unlike typical other street burger joints, Shake Shake also has beer and wine (white, red and rose). Although I skipped the wine options, Mr. Sunny was very excited about having beer with his beefcake. He happily washed them down together. Ahhhhhh!
3. Shake Shack has custard.
For the month of April, Shake Shack featured these flavours:
– Monday, Honey Roasted Peanut
– Tuesday, Arabic Coffee Crunch
– Wednesday, Chocolate Mint Fudge
– Thursday, Strawberry Blonde
– Friday, Malted Marshmallow Milk Chocolate
– Saturday, Salted Caramel
– Sunday, Red Velvet
Taste the sunshine, with a scoop of Honey Roasted Peanut Custard. pic.twitter.com/NPxy1uFWPc

— SHAKE SHACK UK (@shakeshackUK) April 14, 2014
Custard is always a great way to get a scoop of inner sunshine!
If you're curious about May, keep an eye on their Custard Calendar.
4. Shake Shack is in Covent Garden.
Sunny readers know this is my favourite place in the world. While I'm not a fan of the constant flood of tourists, I adore the charm of this London area. Shake Shack is located in the heart of the historic market building.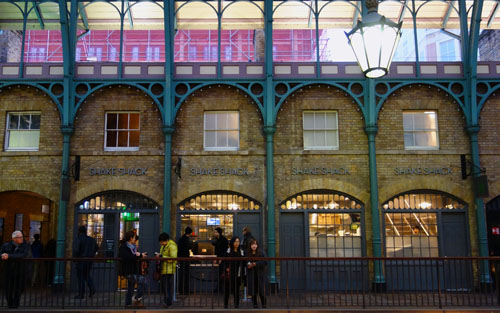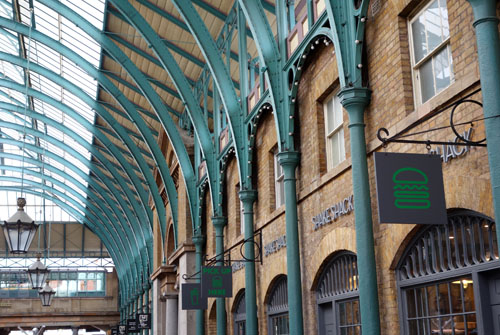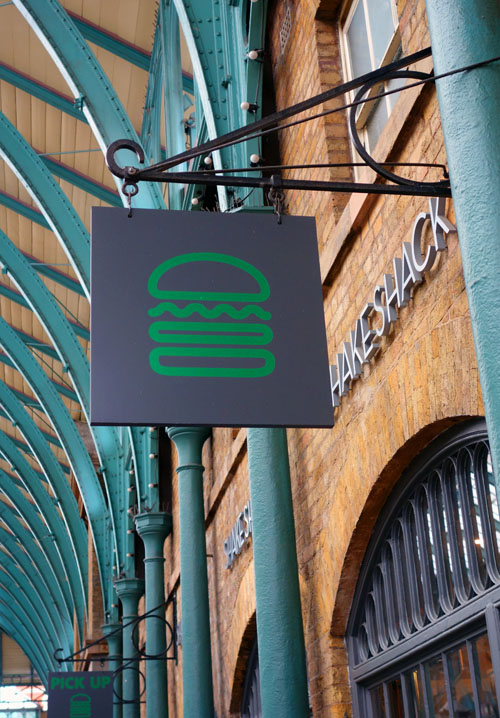 They offer you the option of eating either inside or out.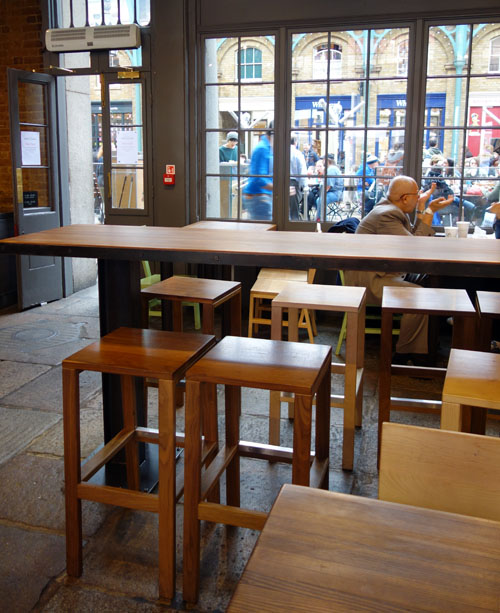 And, they do a really fabulous job of monitoring the queue. Mr. Sunny and I got lucky the day we visited. However, don't be surprised if you have to wait for your juicy adventure in these…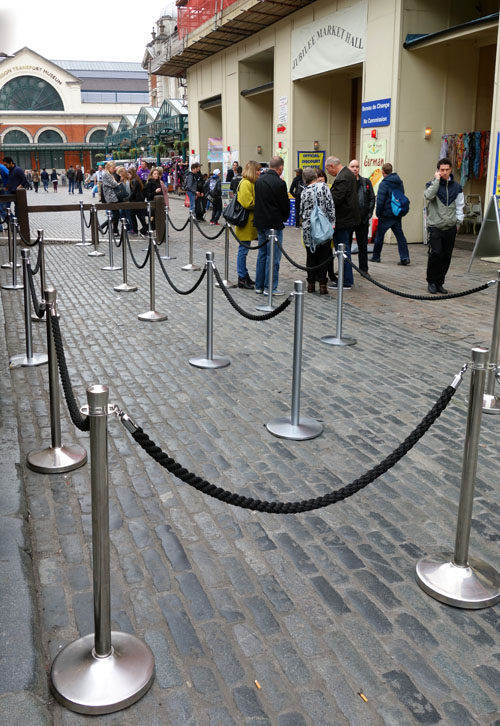 It's worth it. Trust me.
5. They're very active on social media.
As a blogger, I pay close attention to how a company or small business engages with followers on social media. Shake Shack is a sure thing!
They seem to follow back and retweet everyone who reaches out to them. I love that. They're one of my favourite Twitter accounts to follow.
They make following them worth your while by having promotions you don't want to miss…
Ready. Set. Go! Head to the Shack with your @LondonMarathon medal and receive a free Custard! pic.twitter.com/vos9xnYtkA

— SHAKE SHACK UK (@shakeshackUK) April 13, 2014
Finally, they're truly marketing geniuses. With the most photogenic burger in the town, Shake Shack rocks the mother of all Instagram accounts…
So, there's 5 solid reasons why you need to shake, shake, shake your booty on over to Shake Shack. I've also had the pleasure of enjoying Shake Shack at the JFK airport in New York City. The quality of food and service is equally as outstanding.
Get thee to Shake Shack, Sunny friends…
It's never too early for Shack… pic.twitter.com/ct4ALvIVfU

— SHAKE SHACK UK (@shakeshackUK) April 12, 2014
Let me know what you think when you do!