Where should you be able to count on getting a great steak in London? Mr Sunny and I confidently threw our dice on Smiths of Smithfield in Farringdon. Can you guess why?
Those familiar with Farringdon probably know that the newly refurbished Young's pub is directly across from 'Smithfield Market', which is formally named the London Central Market. It's the largest wholesale meat market in the UK and one of the largest of its kind in Europe. I could write a whole blog post on it alone, and likely will in the near future.
However, you might not know how much Smiths of Smithfield offers inside. Besides delicious steak, of course!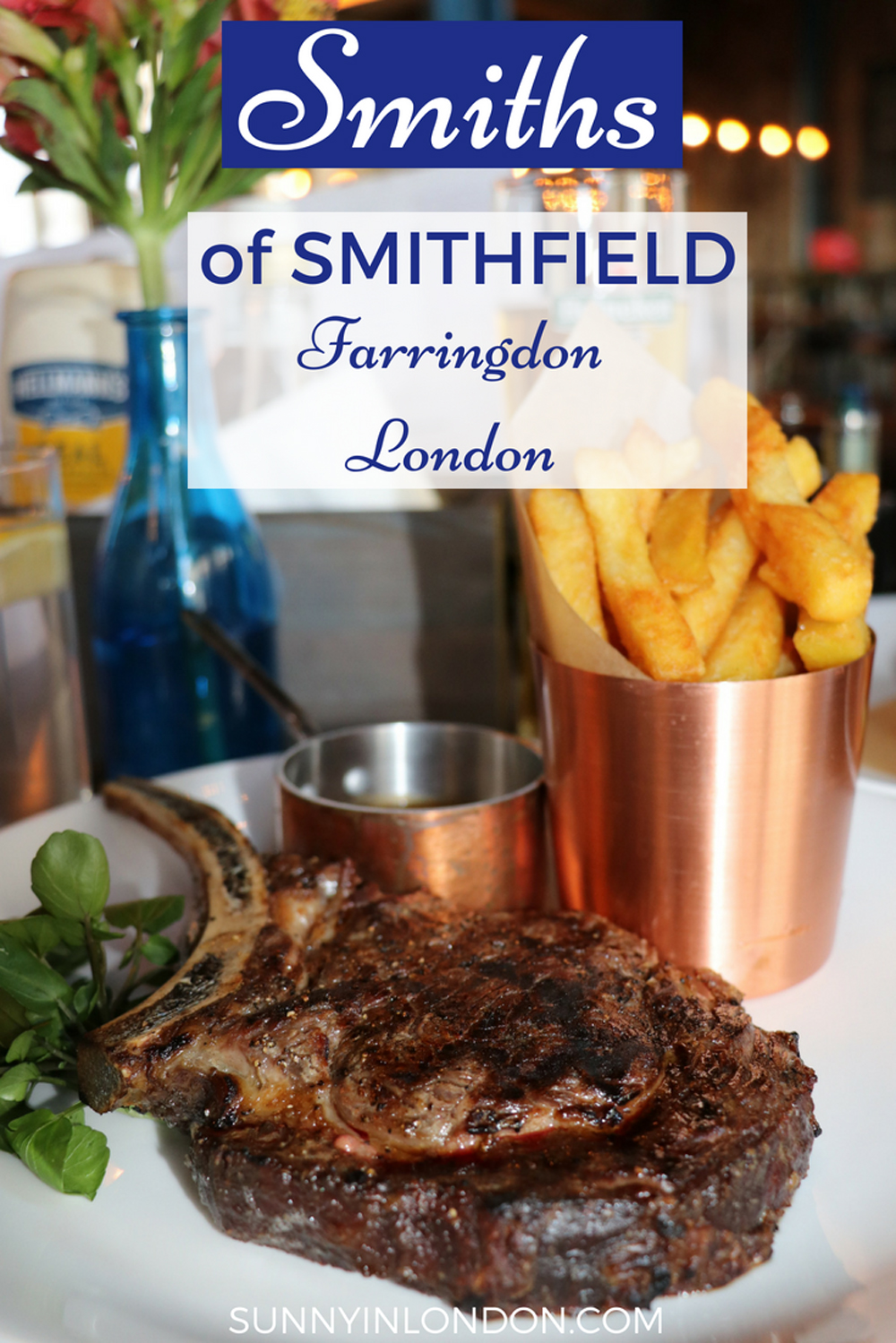 Smiths of Smithfield: Food
Foremost, everything we had is of excellent quality. For Starters, we had the Devon crab and Markham Farm asparagus salad, citrus dressing and the Seared Cornish scallops, smashed new season peas, smoked bacon loin crumb and lobster sauce.
These were on The Grill menu, even though we were seated in the Cafe and Bar, which is the ground floor.
For our Mains, I devoured the 'SMITHS' Burger, cheese, ale onions, shredded lettuce, ketchup, mayo, pickles and fries. Mr Sunny had the 16oz 28 day aged Scotch bone in ribeye. He graciously let me try a piece.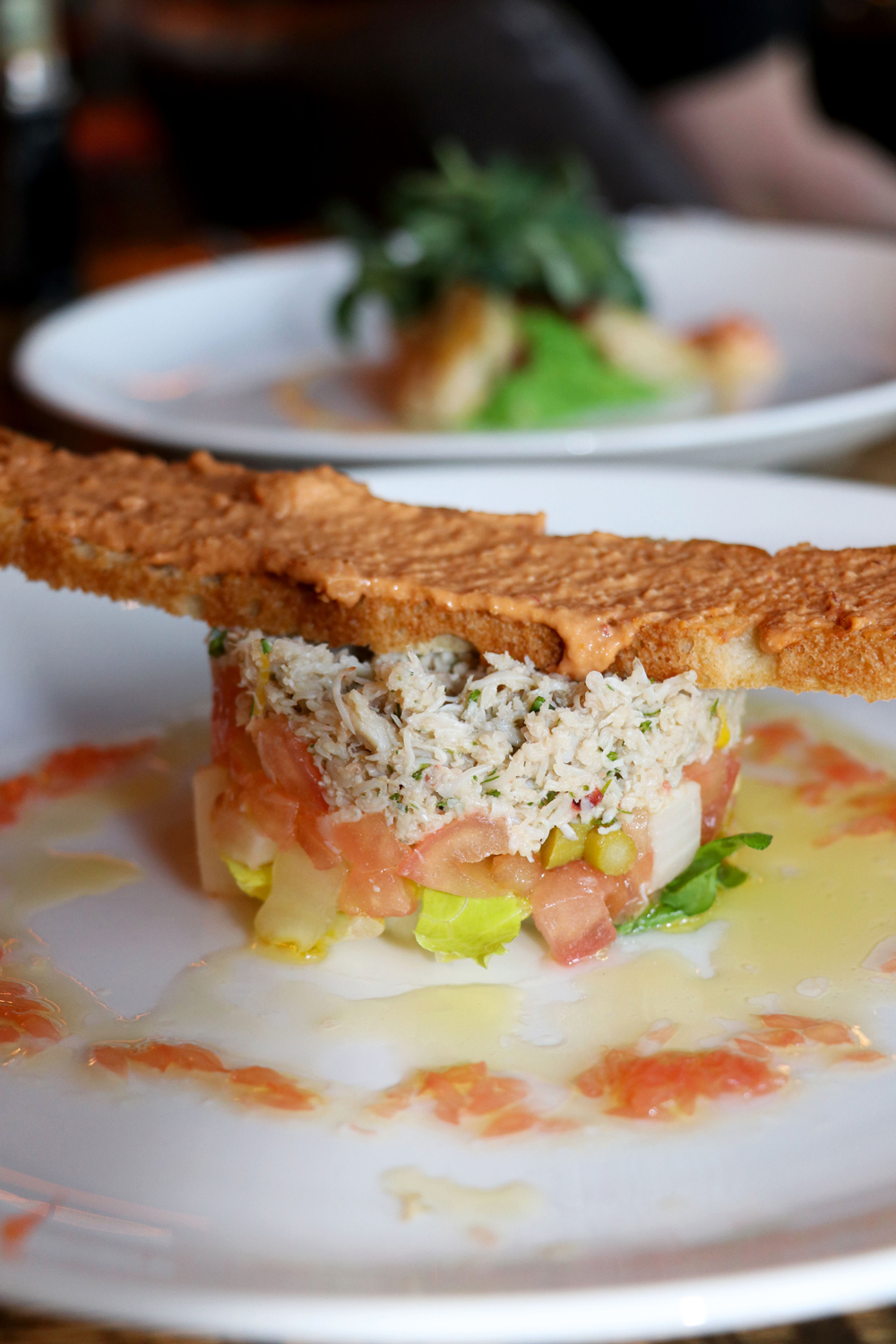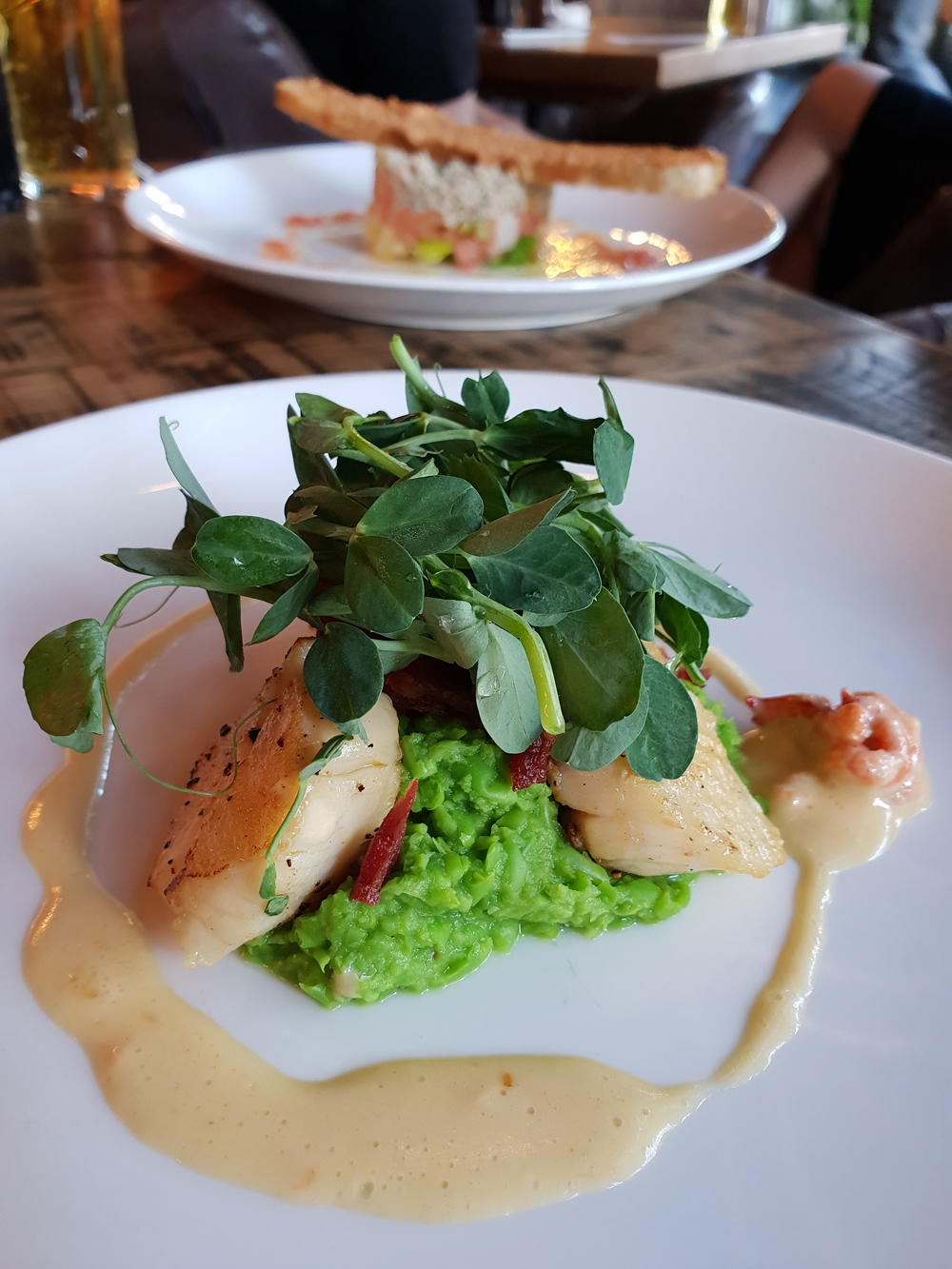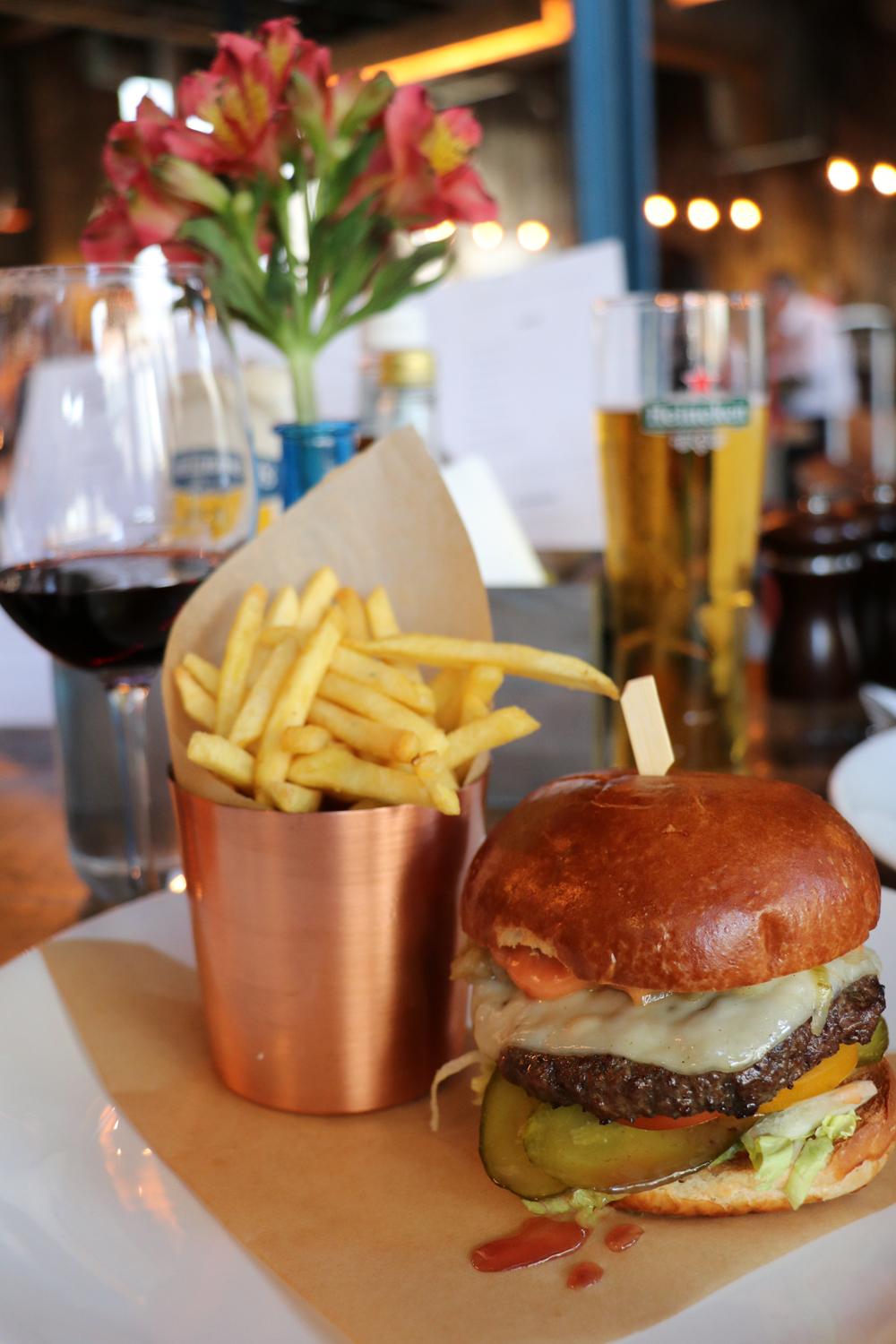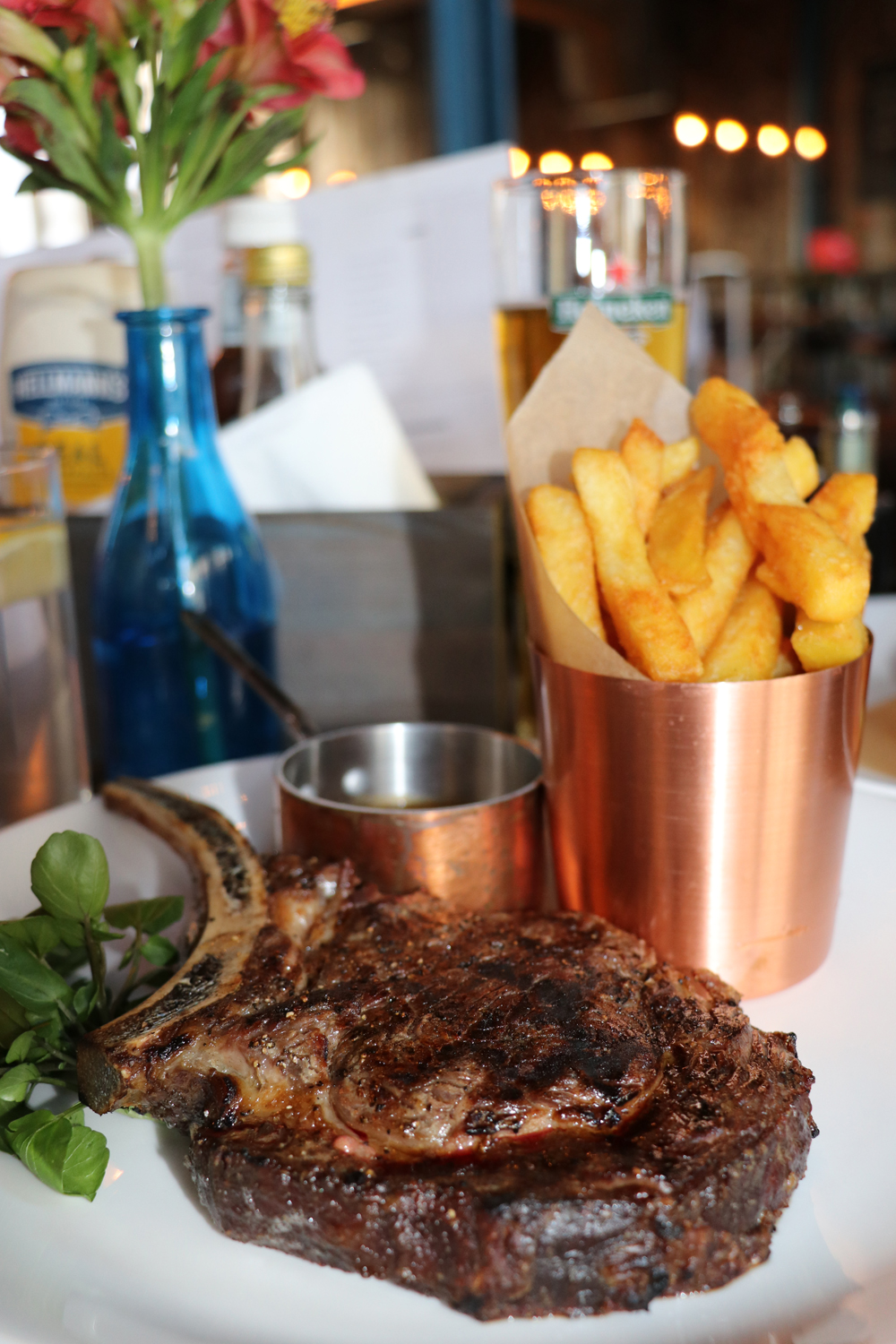 I write graciously because after I tasted it, I have to admit I wouldn't blame him for wanting every last bite to himself. The flavour was incredible and it was cooked to perfection. You would like to assume that would be the case when you order a steak across the street from London's most popular meat market.
We are happy to report that both meat selections were excellent. The real shocker came at the end…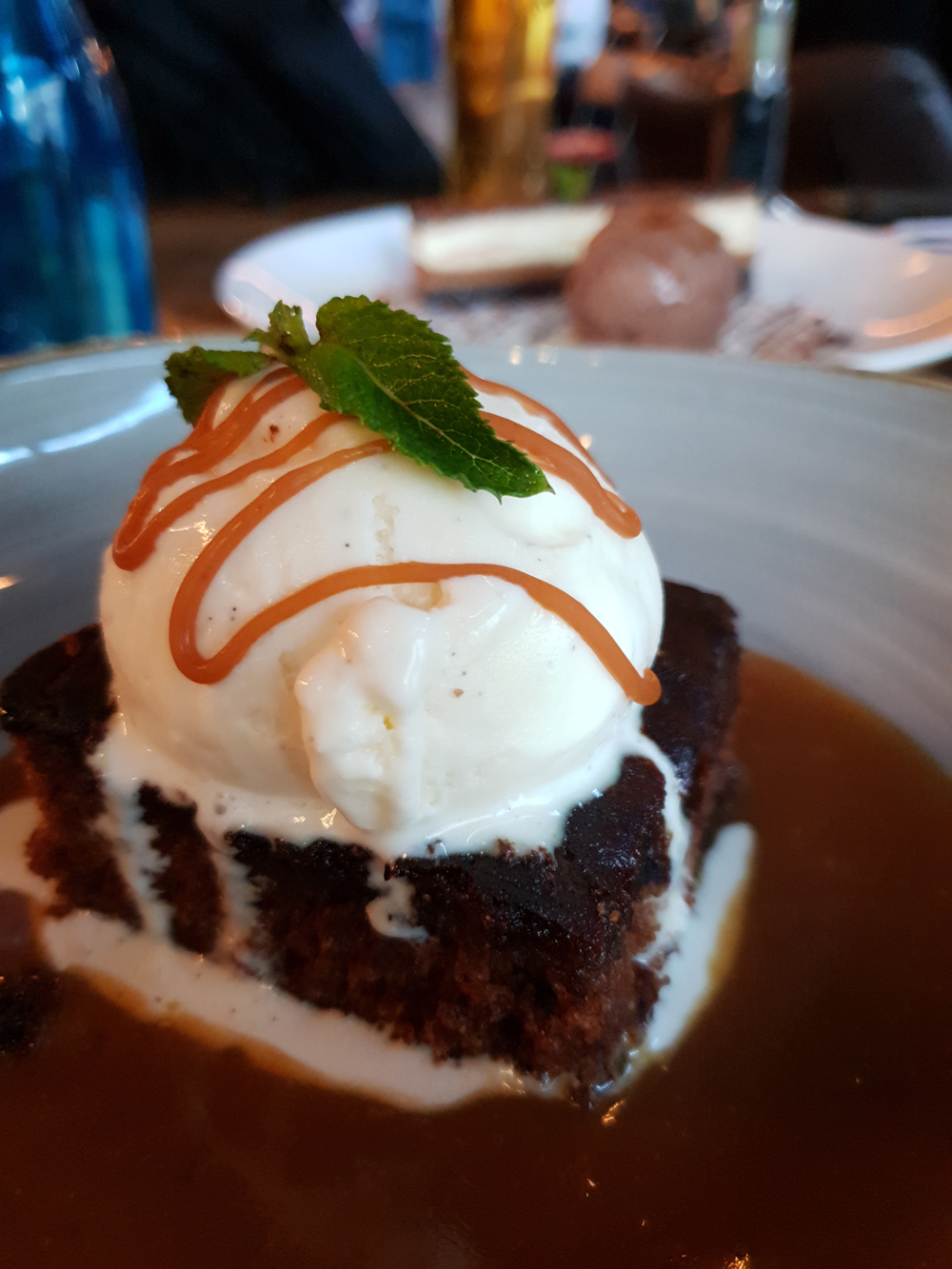 That's the Sticky Toffee Pudding. It's something I order when I really want to splurge. This one is no joke. In fact, it was the highlight of my evening. When we commented about how we were really caught off guard by a dessert being so melt in your mouth amazing 'at a steak joint', the manager indicated that's a common reaction from those that order it.
Mr Sunny had the Snickers cheesecake. And while there wasn't anything wrong with it, the dish can't compare to what was on my plate!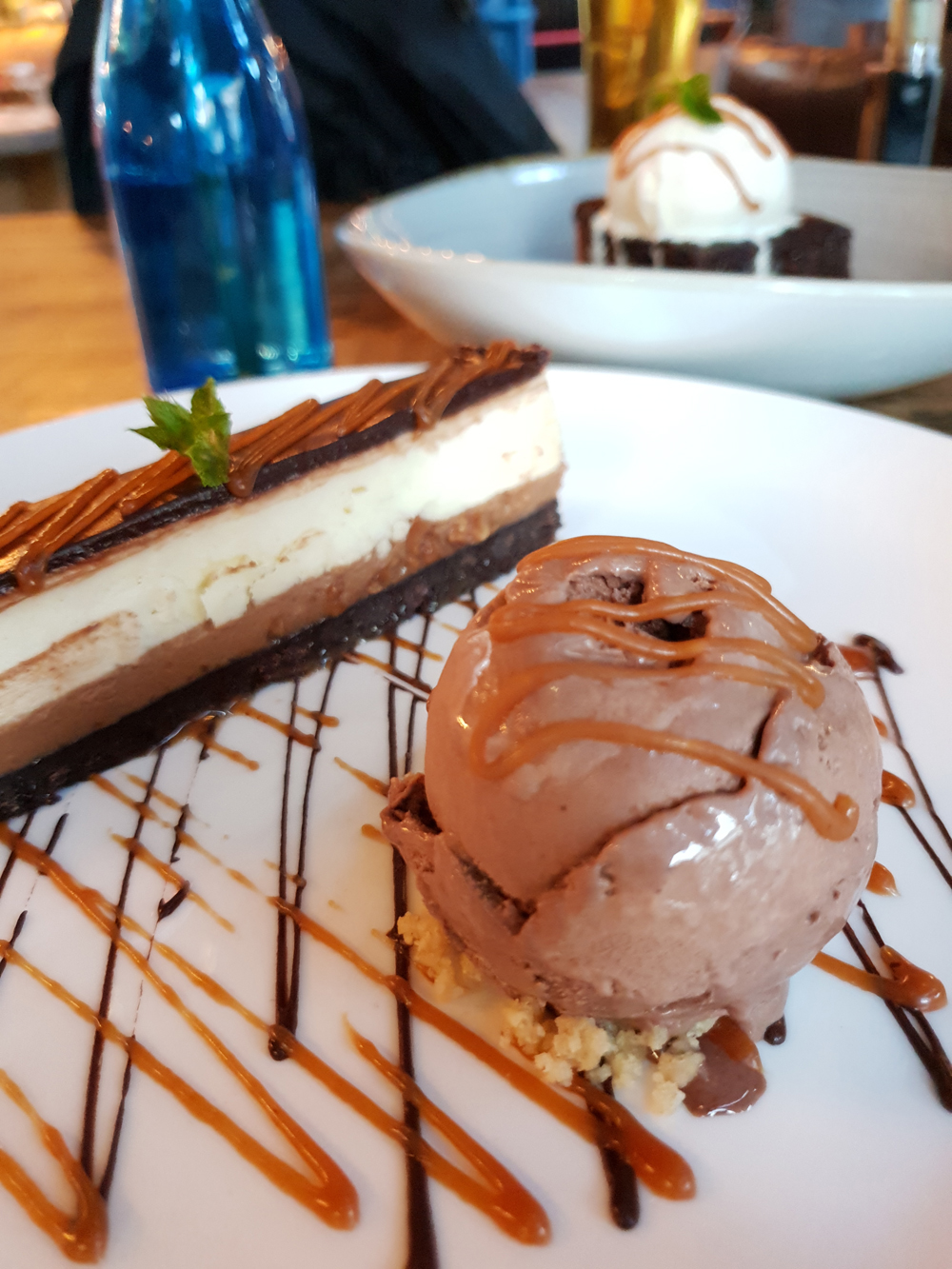 Smiths of Smithfield: Ambience
The ground floor offers an all-day dining room and bar. They serve breakfast and apparently the brunches are a smashing success. The manager, Jonathan, indicated it is best to book in advance if you are planning brunch at Smiths of Smithfield on a weekend. He indicated the place is packed with both locals and tourists.
Another surprising selling point to this Young's pub is the change in ambience from level to level. We had a quick tour at the end of our meal and loved what each floor offers.
The Grill reflects the butchery heritage of its Smithfield location. I took a picture of a refrigerator filled with meat ready to be prepared for customers, but I didn't think blog readers would salivate like we did over raw meat hanging. It is just an in person kind of pleasure trigger, I think.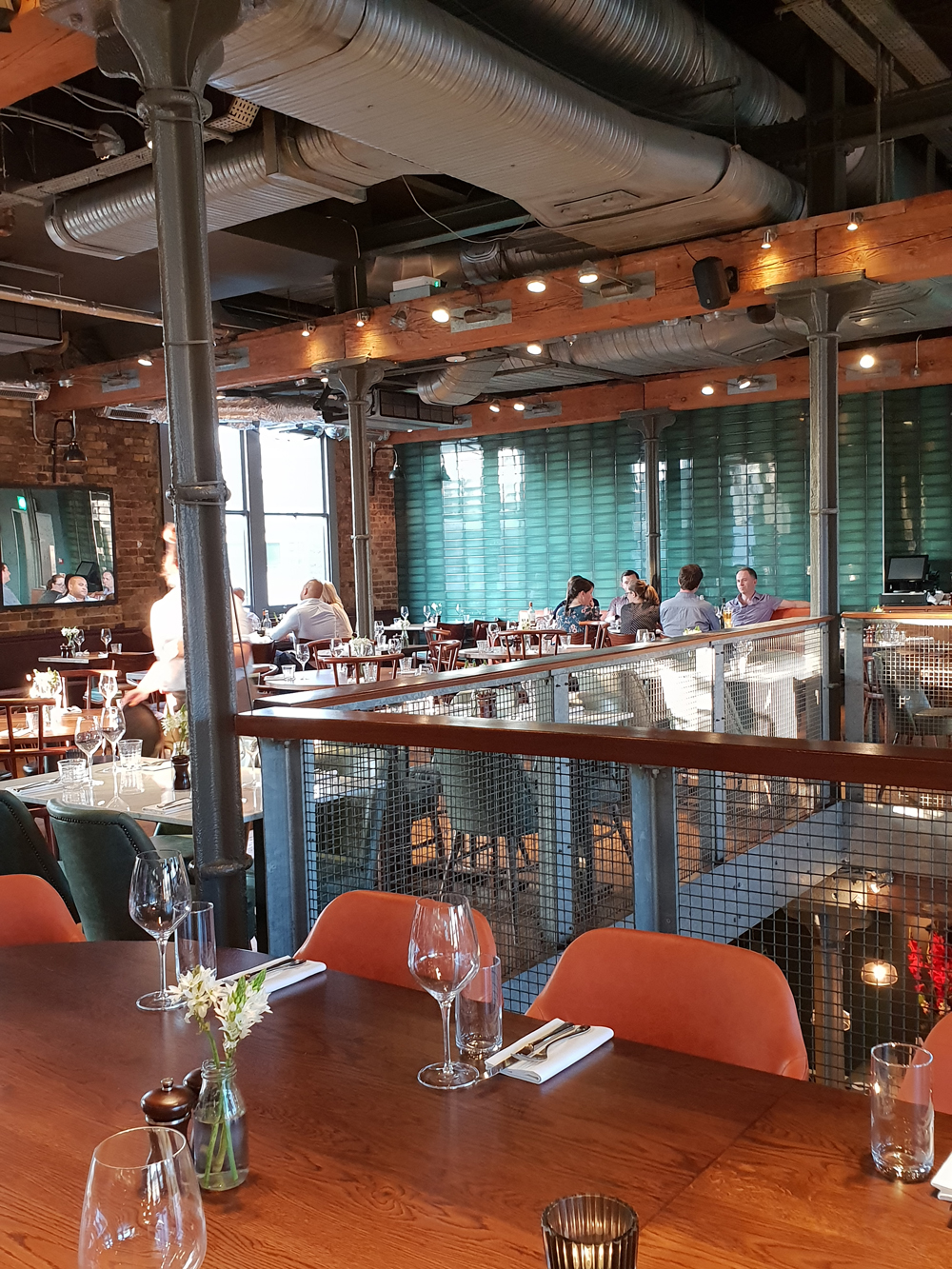 No 3's terrace is a half bar, half dining location. When I saw it, I was really jealous of the people enjoying their food and drinks there. The view, especially during the golden hour of the evening, is stunning and not the 'typical London skyline' shot you anticipate when a person says a place has a great view.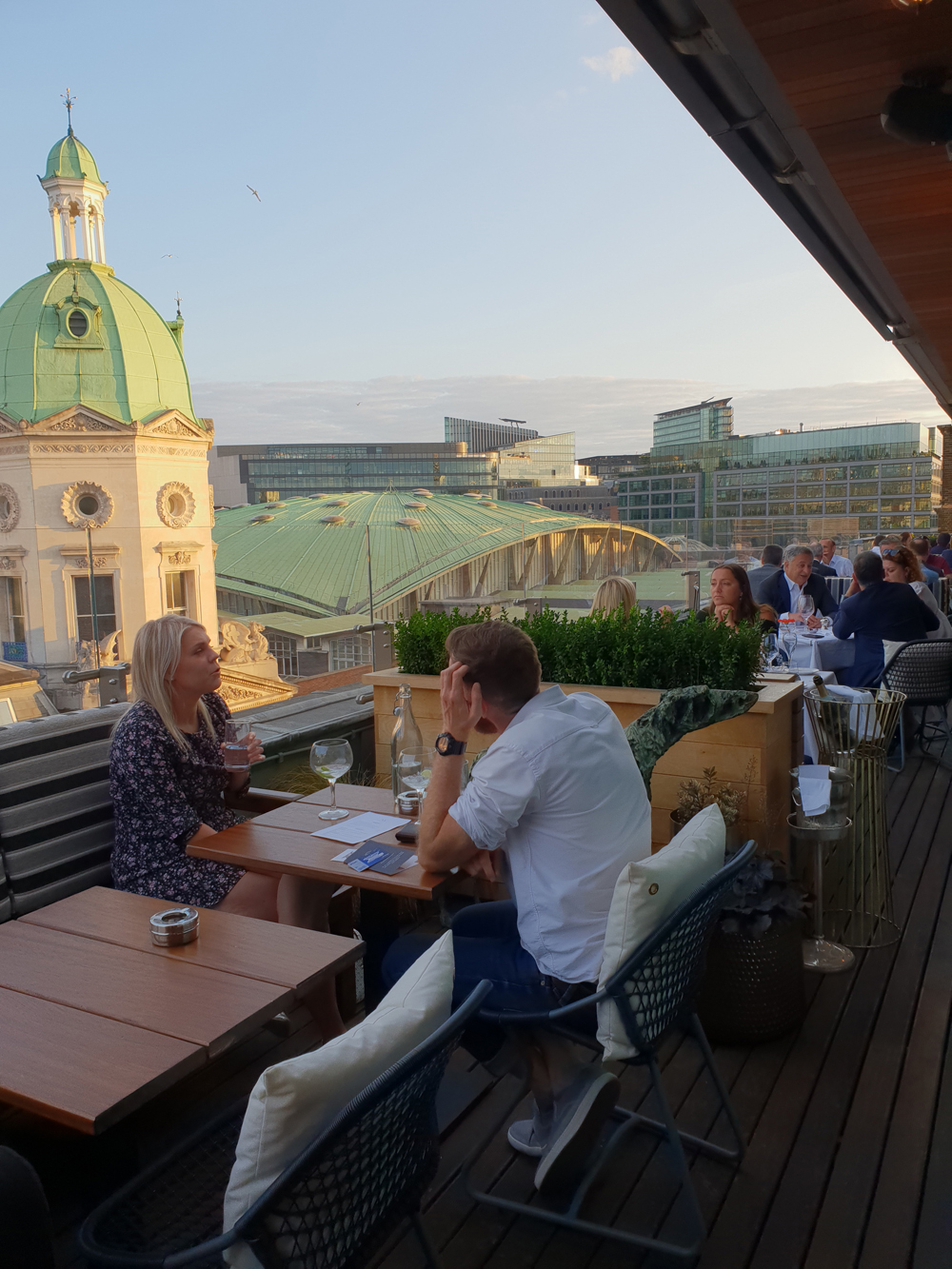 Smiths of Smithfield: Service
As I have often written, when you are receiving a complimentary meal and the staff knows in advance that you are there for the purpose of a review, speculation on how true the experience is can be called in to question.
This actually was the first time that blogging about a location may have actually caused problems with my service. Don't panic- nothing 'bad happened.' But, there was some confusion with my arrival that made our evening different.
My schedule allowed me to arrive an hour prior to the booked table. Rather than stop somewhere else for a drink and wait for Mr Sunny to finish work like I usually do, I decided to hit Smiths of Smithfield early and be a paying patron at their venue.
I indicated to the greeter at the door that I was early for a review and hoped to enjoy a glass of wine on my own, prior to starting the review. However, rather than unload all my camera gear at a table and then relocate when Mr Sunny arrived, I chose to sit at our actual table.
The server assigned to that area seemed a bit perplexed as to what was happening, because each time he asked if he could get me any food, I indicated I was there for a food review that started later and the wine was a separate bill. He also indicated a bit later that he was new to the venue. Other than this small comedy of errors in which the staff could not separate my casual drink from the start of the formal review, the evening went without a hitch.
Timing for all courses was excellent, and everyone was informative and friendly. The true test of the success of this Young's venue was during our tour of the other levels.
They were packed!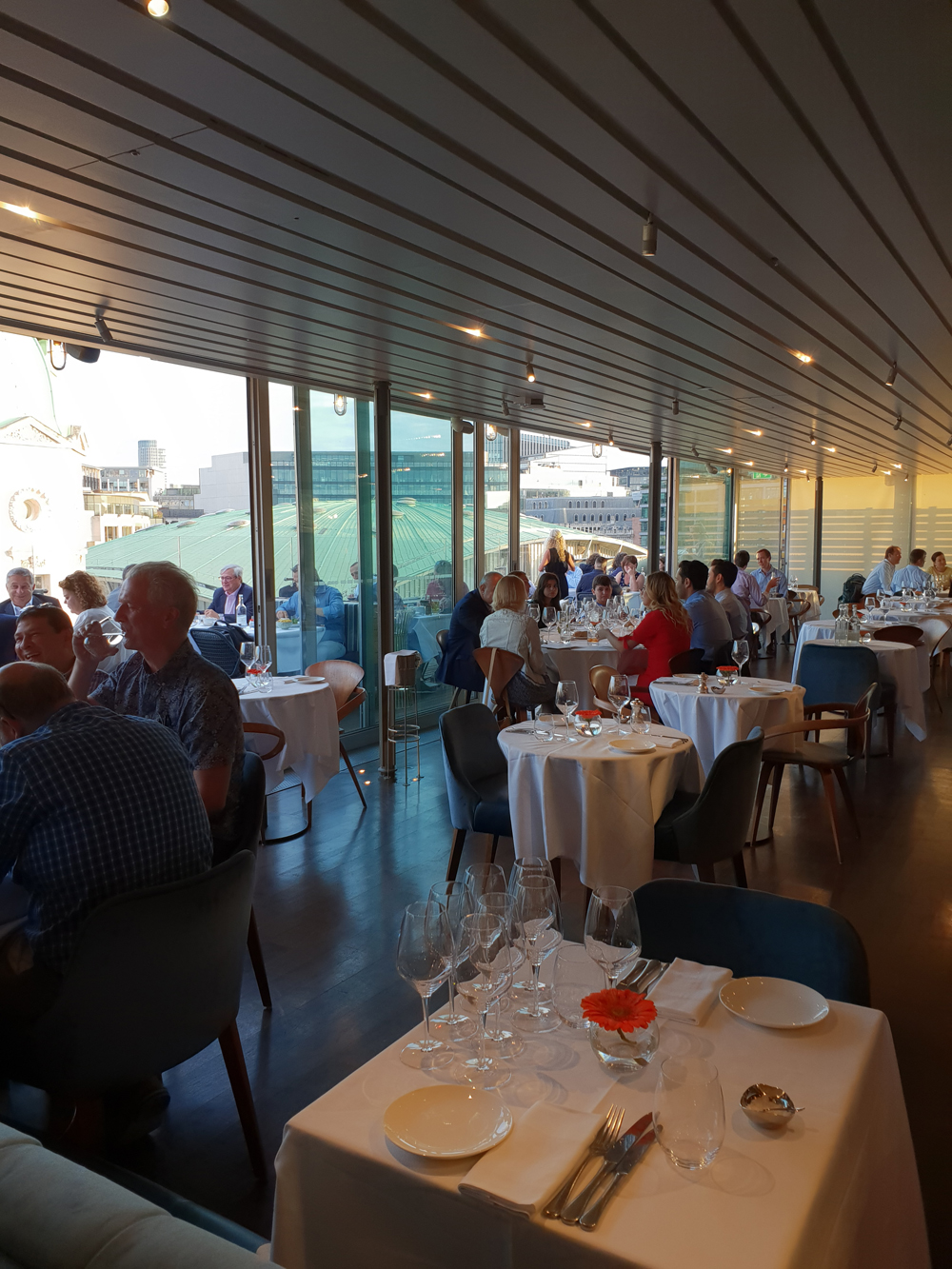 Smiths of Smithfield: Final Thoughts
I am intrigued by the brunch offer at Smiths. Mr Sunny is salivating on the chance to eat at No. 3 Restaurant and Terrace because he mistakenly read its menu and had already decided his course for it before our food review!
You really want to keep an eye on the events coming up at Smiths of Smithfield, especially in the Autumn. That would be my suggestion for you too, if you don't want to miss their exciting news!
Now, I'm curious how many of you have ventured to the London Central Market in the very early hours of the day? Mr Sunny has gone many times but it is something I have not done yet. What suggestions do you have for me or what questions can he try to answer for you about the location?