What's better than a delicious, creamy gelato on a  sunny London day? Each time I've been through Soho on my food adventures (see my reviews of Burger and Lobster, Bubbledogs, Wahaca and Wagamama), I've been teased with this store front on Wardour Street…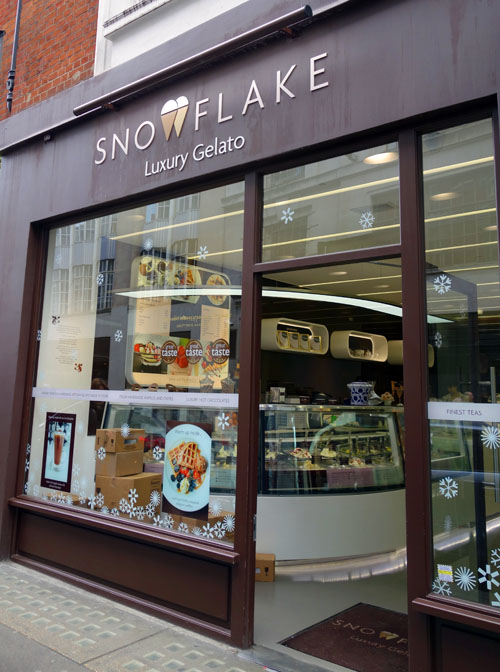 I would always pause, drool through the window like a puppy, and wonder what was in 'luxury' gelato. One day I popped in just to have a quick glance to tease myself further.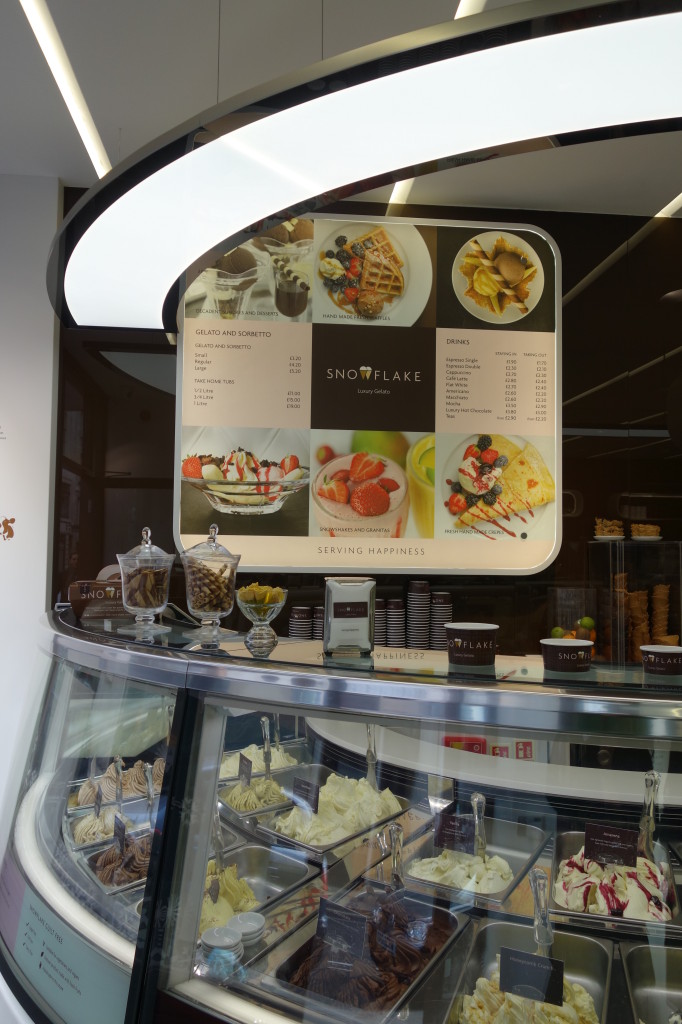 Not only did the gelato look silky smooth, but also the interior was sleek and sexy too!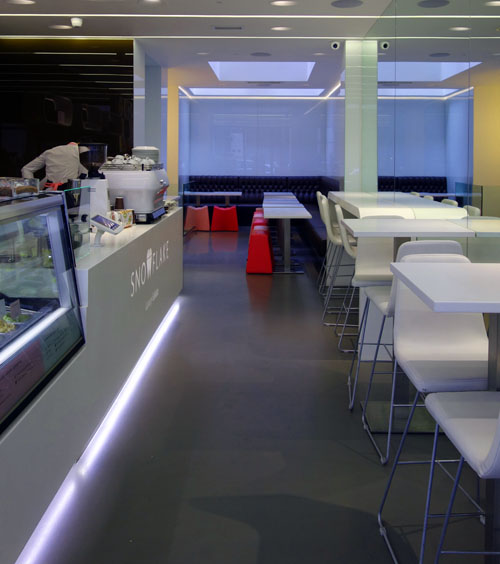 On the last gorgeous, sunny London day, I decided the curiosity had to end. I made a date with Mr. Sunny for dinner and GELATO!
Mr. Sunny and I were overwhelmed with all the unique, mouth-watering options.
I sampled, verrrry thoroughly, many of the Chef's Specials and other flavours… Nugget, White Chocolate and Strawberry, Oreo Biscuit, and Dark Chocolate Sorbet. It was soooo tough to decide.
Mr. Sunny picked the Coconut and Pistachio.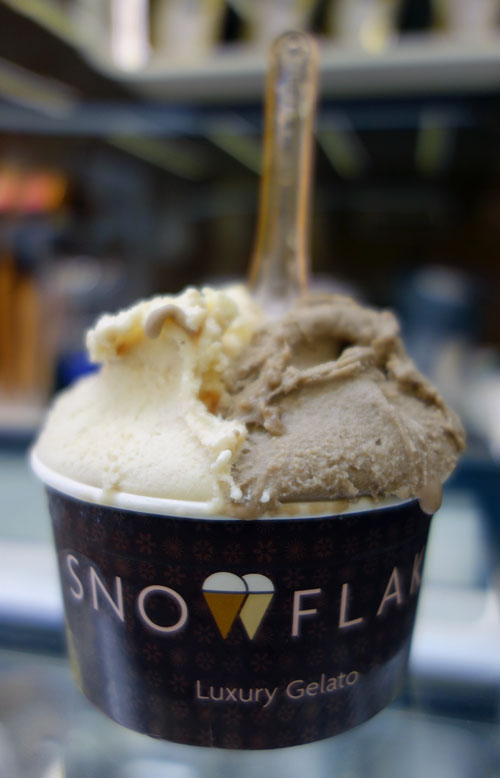 And I had the Nugget and Oreo Biscuit…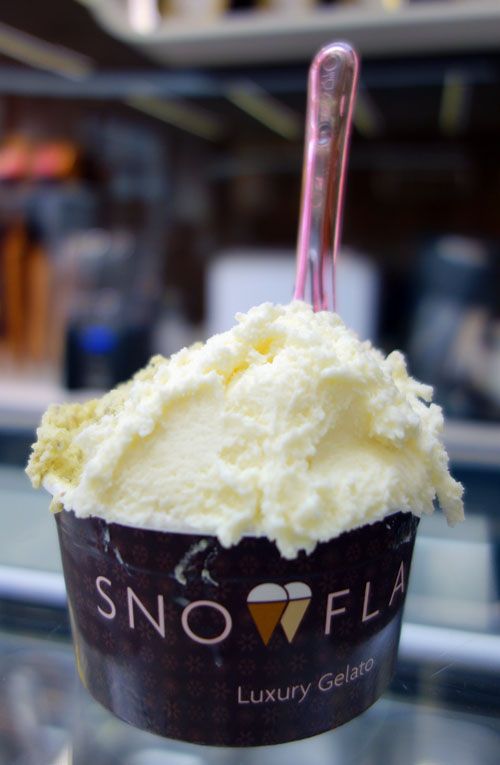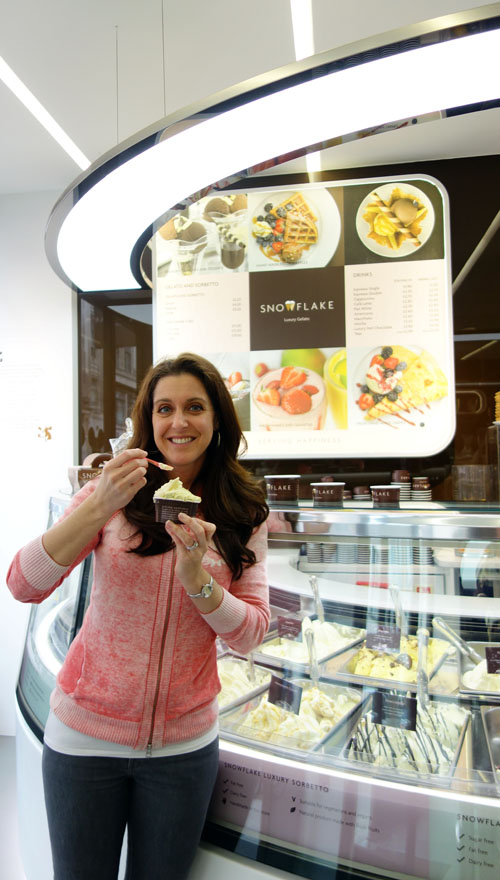 Now I understand what luxury gelato is. Snowflake hand makes their gelato in their Soho and Bayswater boutiques each day. They use the freshest ingredients, and you can taste the difference!
I was excited about also sampling their new Spring flavours, floral Violet and Rose Petal Gelato, but they were sold out that night. So, I decided on this comfort prize…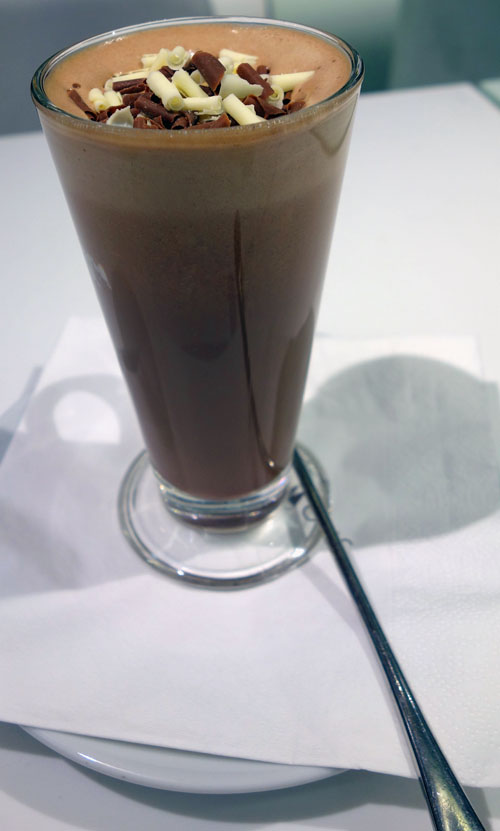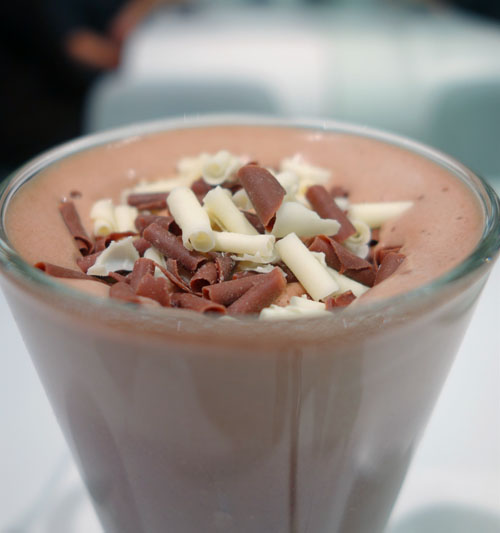 Roland made it special for me. It's a chocolate shake combination of chocolate mint and chocolate chips with luscious lashings of chocolate on top. Did I mention that it has chocolate? 😉
I drank it all. Wouldn't you?
Important scoops you should know about Snowflake:
– They're the first gelateria in London to offer 100% organic flavours. The new range includes: Hazelnut, Almond, Chocolate and Classic Vanilla.
– They have a 'Guilt-free' range of fat, dairy and gluten free sorbettos, containing less than a teaspoon of added sugar. Flavours include: Peach, Pear and Apple and Elderflower.
– They SUPPORT CHARITIES and SCHOOLS with discounted rates!
– They definitely encourage you to go back for seconds…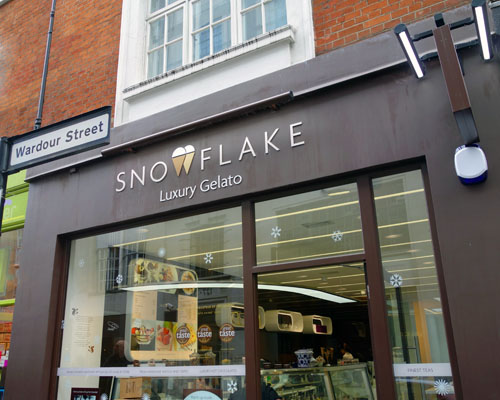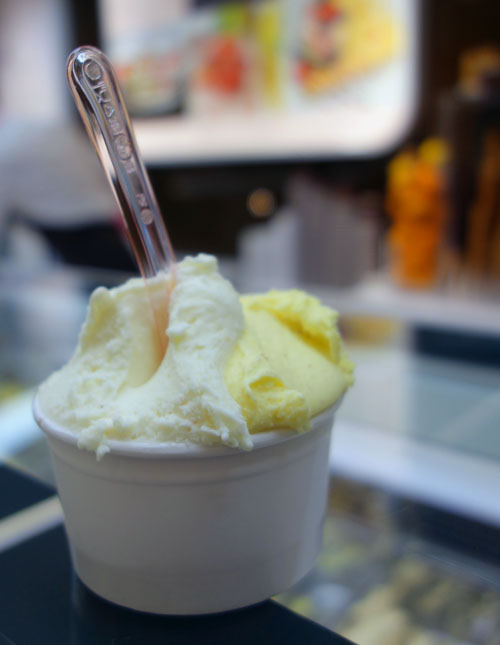 A few days after my date with Mr. Sunny, I went back to the gelateria. I couldn't resist the Original Snowflake and Biscotto.
Check out Snowflake on the next sunny London day. Also…. Don't tell Mr. Sunny I went back without him! He'd be very jealous! 😉
You can find Snowflake Luxury Gelato at:
SNOWFLAKE SOHO
102 Wardour Street
London W1F 0TP
SNOWFLAKE BAYSWATER
43 Westbourne Grove
London W2 4UA
Thank you Snowflake for my complimentary drink and gelato.