Grand Hotel Excelsior Malta Review
What do you look for in a hotel when you travel? The Grand Hotel Excelsior Malta offered our top priorities when we planned our Malta holiday. Those two things are an excellent view and a substantially sized pool. However, no trip is perfect. In this hotel review I will share what we loved about the Grand Hotel Excelsior Malta and the 'what would make it better' feedback too.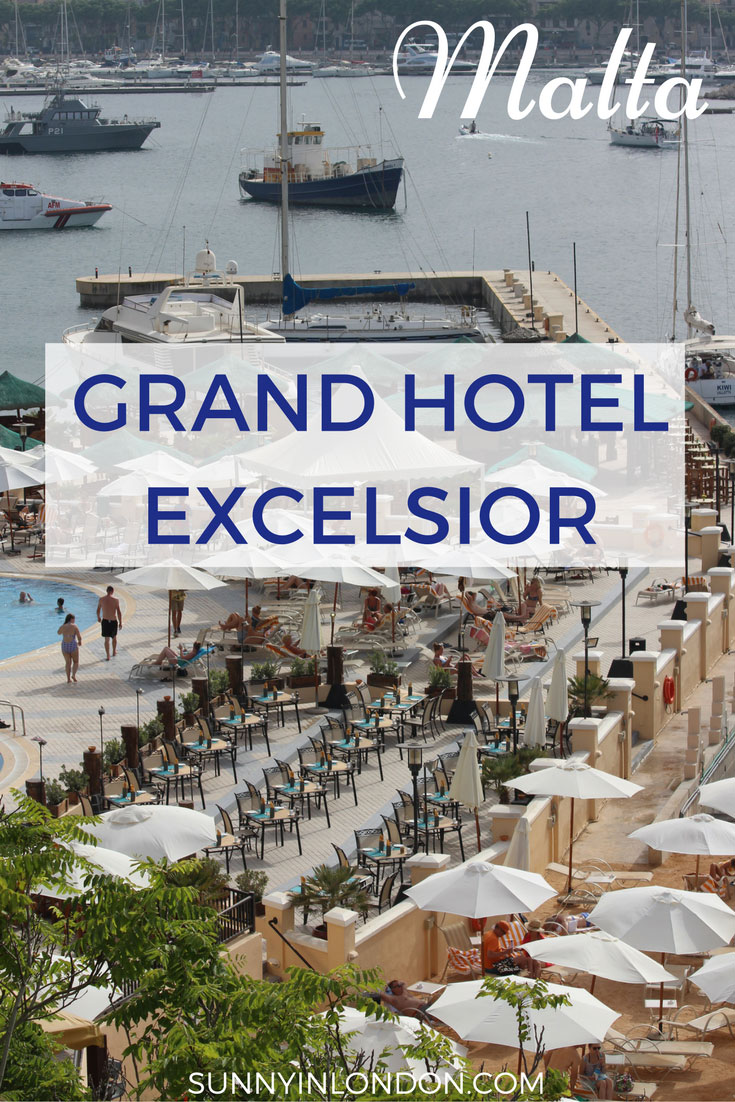 Grand Hotel Excelsior Malta Review: Location
My husband makes sure when he leaves London that he has full access to a ginormous pool. This hotel doesn't disappoint in that category. After talking to many people who have travelled to Malta, they have said that hotel pools are often on the roof. We wanted sea level access at our Malta hotel, and this is exactly what you get here.
In fact, it has a small beach that allows you to jump right in to the sea.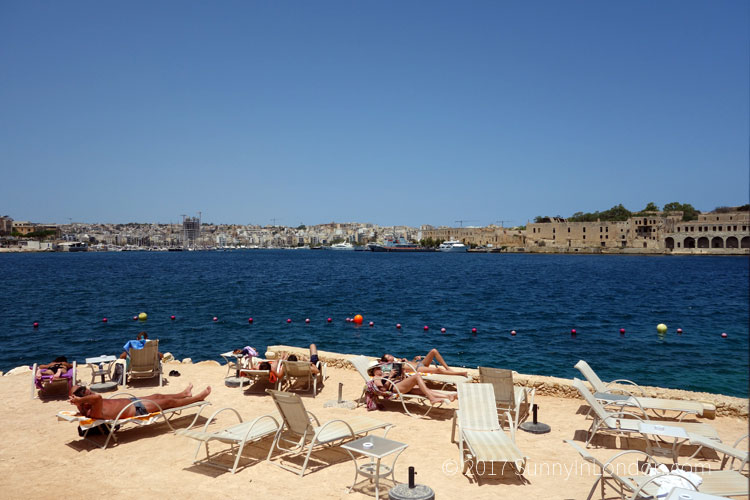 Another added bonus was the Tiki Bar. We sat here our first night in our own little 'cabana.' Unlike Las Vegas, Hollywood and Miami hotels, anyone could grab a seat in one of the covered areas. There was no need to pay extra to book one privately.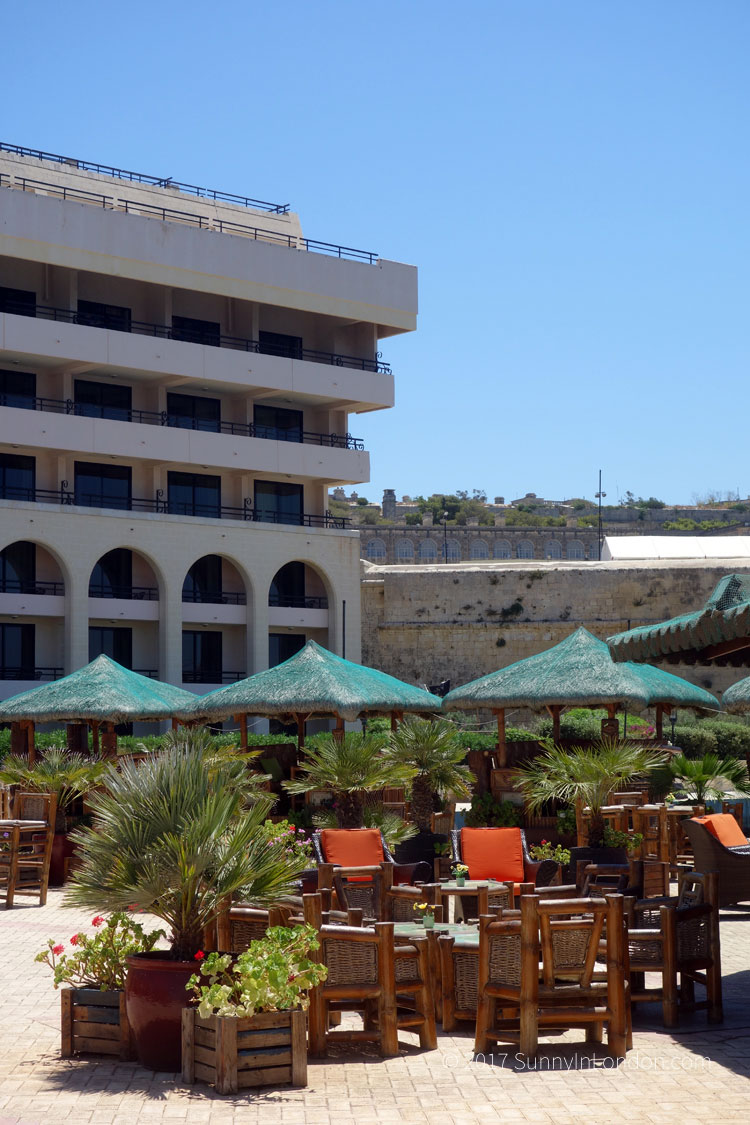 What was slightly disappointing though was our room's view. If you look at the picture above, our room was not one of the rooms featured in that photo. Those rooms are considered 'pool view.' I opted for seaside view with a balcony and our room was on the 10th floor around the corner to what you see. Certainly not a shabby view for us, but if you look at the picture below, that is what you'll see in a poolside room. It's also the view you'll have every day, should you choose to enjoy the breakfast buffet at the Grand Hotel Excelsior.
That being written, I can also say our room was really quiet and we loved the balcony. Maybe someone who was in the poolside rooms might not be able to say the same about the volume? It might also be slightly annoying facing everyone at the pool each time you wanted to step outside for fresh Malta air.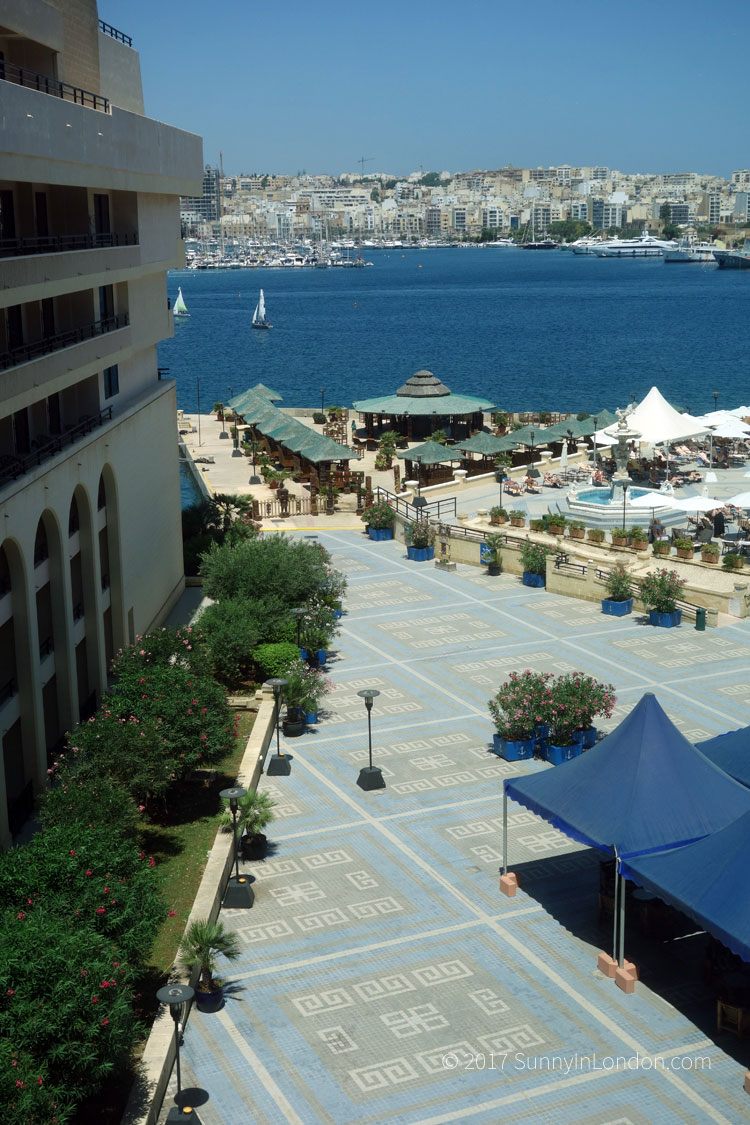 With regard to the location, it proved to be a little difficult when we wanted to do things in Valletta on our own. If you read my Travel Tips for Visiting Malta, you'll see the stair cases that you must take to get in and out of the hotel.  Bring your flat shoes, girls!
It's about a fifteen minute walk to where the action is in Valletta. As of this blog post, you have to walk through a large city centre construction site. Since Malta is quite windy and dusty to begin with, walking through this is a bit annoying. However, that is to not fault of the hotel and it is a safe walk.
If you're hoping to save a little on beer and wine, the Grand Hotel Excelsior Malta isn't in a great spot to do that. We had hoped to grab some beer and wine at a little convenient store at some point on our trip. However, there aren't any within a 15 minute walking range. Plus we didn't have the energy to carry big items all the way back to the hotel after a long day in the sun.
Grand Hotel Excelsior Malta Review: Food
We really enjoyed the hotel buffet breakfast each morning and definitely stocked up. You can fill your plate with a traditional English breakfast. However, Mr. Sunny indicated English people might want to know that the sausages were Richmond Irish sausages, not what you see regularly in London at hotels and restaurants. There is a continental selection, tons of pastries, fruits, yogurt, crepes, etc. The omelette station gets a bit crowded. So, if that's what you want, you need to arrive a littler earlier.
While we enjoyed that atmosphere of having drinks at the Tiki Bar, the food we had poolside at the hotel wasn't spectacular. Mr. Sunny noted that beer was €5.50 at the hotel. Elsewhere around Malta it was usually €2.50-€5. We ate dinner outside one evening and grabbed a lunch at the pool another afternoon. Both of these were again due to the hotel's location. After a full day of cruising around on a boat and bus tour, we simply didn't have the energy to head back out for a walk up the stairs and trip in to Valletta. On another day, we chose to chill at the pool most of the morning before our Game of Thrones tour guide picked us up.
Oh, and that tour was certainly our favourite moment in Valletta. If you're a Game of Thrones fan, don't miss this video of the highlights!
Grand Hotel Excelsior Malta Review: Guest Services
While the hotel is continuously referred to as 'worn' in TripAdvisor reviews, that doesn't mean the employees are tired. We found the people at the Guest Services desk very helpful with restaurant and tour information. They also helped mediate between us and the company that we pre-booked for airport transportation. They were quite annoying about trying to sell us more than a ride, so we appreciated our hotel intervening on our behalf.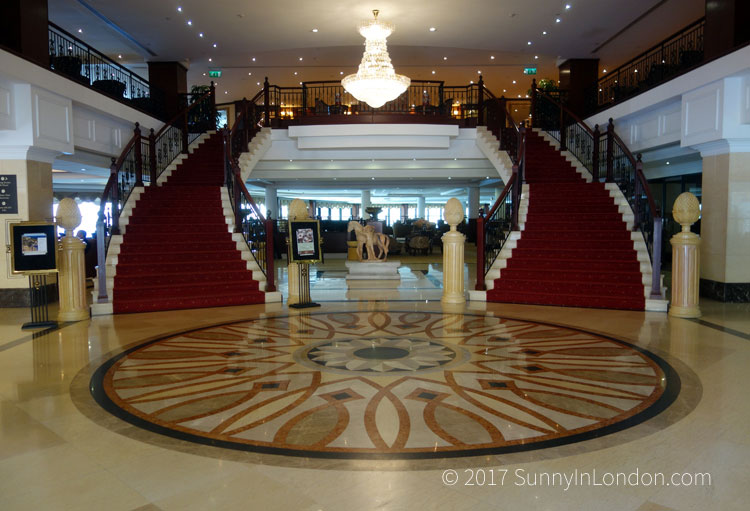 Our room was kept to impeccable standards. The attendants were quick to visit and refresh it while we were gone.
I found the lack of shelves in the shower to be really annoying. However, Mr. Sunny loved taking a bath every day with his favourite Molton Brown products that we grabbed super cheap at Duty Free just before our flight.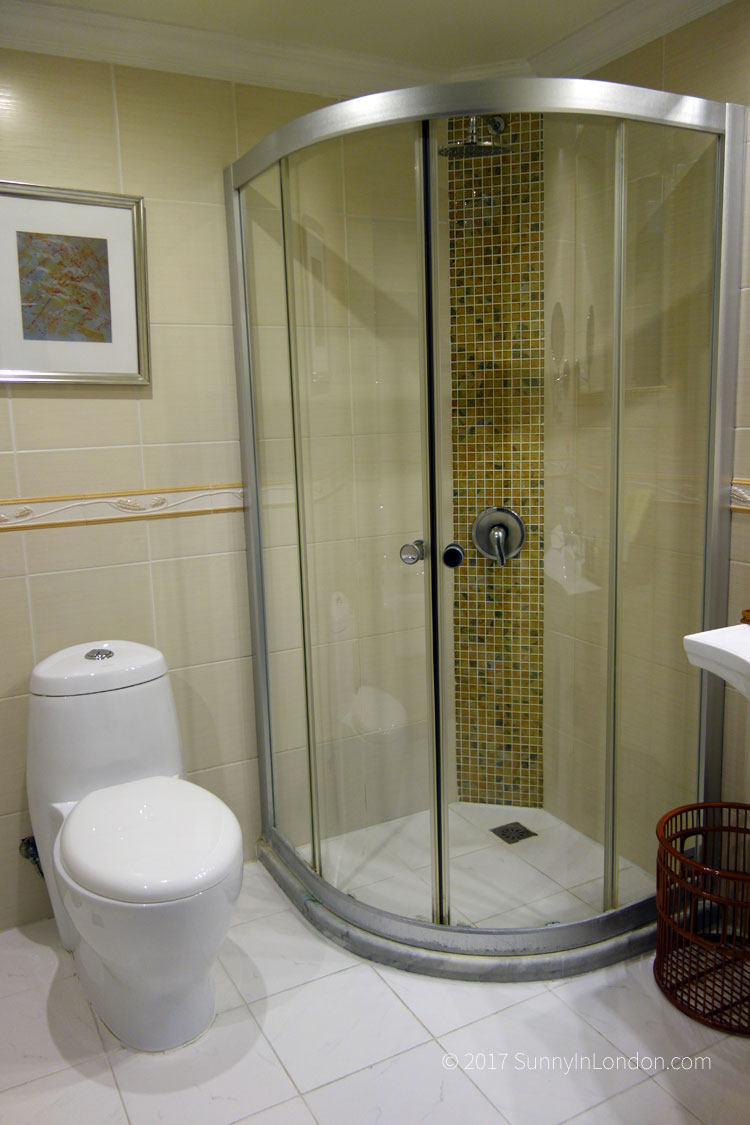 The room was spacious and had tons and tons of storage. Needless to say, the welcome drink gift in our room of local wine was a smashing hit too!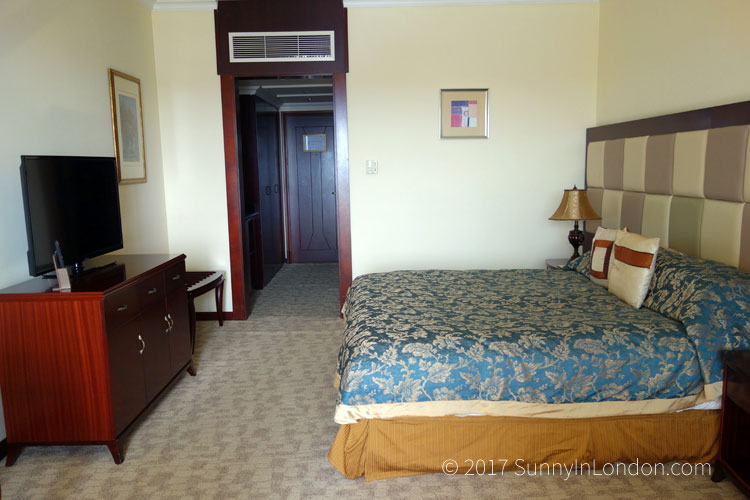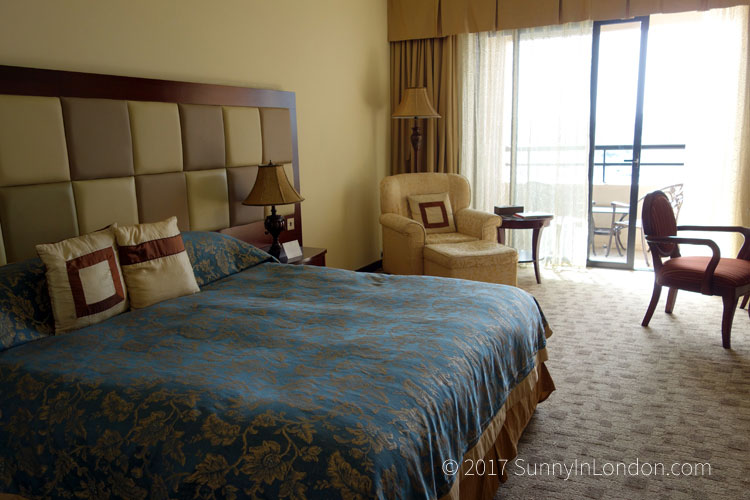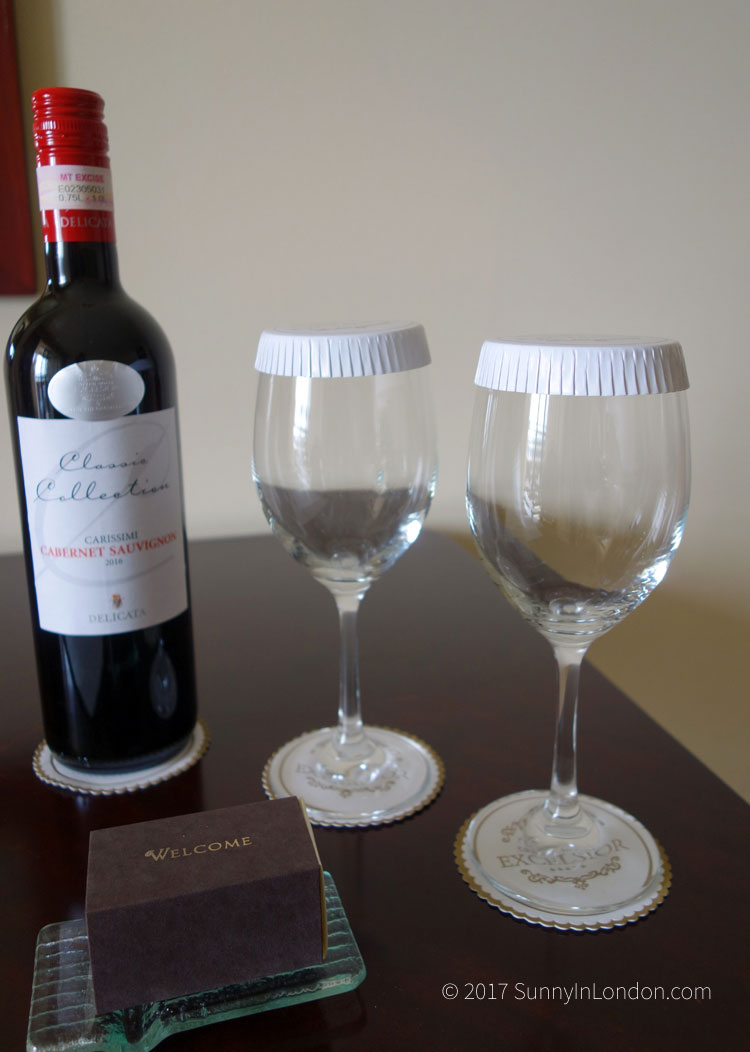 Grand Hotel Excelsior Malta Review: Final Thoughts
If you're looking for a hotel that feels like an all-inclusive, then this hotel is for you. Access to the sea and a big pool is certainly a selling point for the Grand Hotel Excelsior in Malta. We were there for five days at the end of July. Whether or not the hotel was at full capacity is something I don't know. We never felt overwhelmed by crowds. However, as with any resort or cruise accommodation, you'll want to grab or save your chair at the pool early! Also, there didn't seem to be many children at the hotel. Since we don't have kids, this is something we appreciated on our Malta holiday.
I would love to know your recommendations for hotels in Malta, so please leave them below.
More on Malta:
To make sure you don't miss any Sunny updates about visiting Malta, be sure to subscribe to the Sunny News. Videos and advice articles about Malta on the blog include:
On the blog you can also find my review of Air Malta  I haven't created a video of the cruise and Blue Lagoon experience yet. If that's something you would like to see, please let me know in the comments. Also, leave any questions you think I can answer about planning your Malta trip here or on YouTube. If you have been to Malta, it would be great if you can add your advice here too!