5 Tips for How to Survive the Holidays as an Expat
As an expat living in London, sometimes it is tough celebrating the 'most wonderful time of the year' when you're in a foreign place. That's why I have written a list of strategies for how to survive the holidays as an expat.
You're not going to find all the answers to every problem expats encounter during the holidays here. However, I will list five strategies for you that have worked for me to make the holidays spirited and happy in another country.
Maybe these tips will help you, and hopefully you can add some more. I feel it helps expats to share ideas either in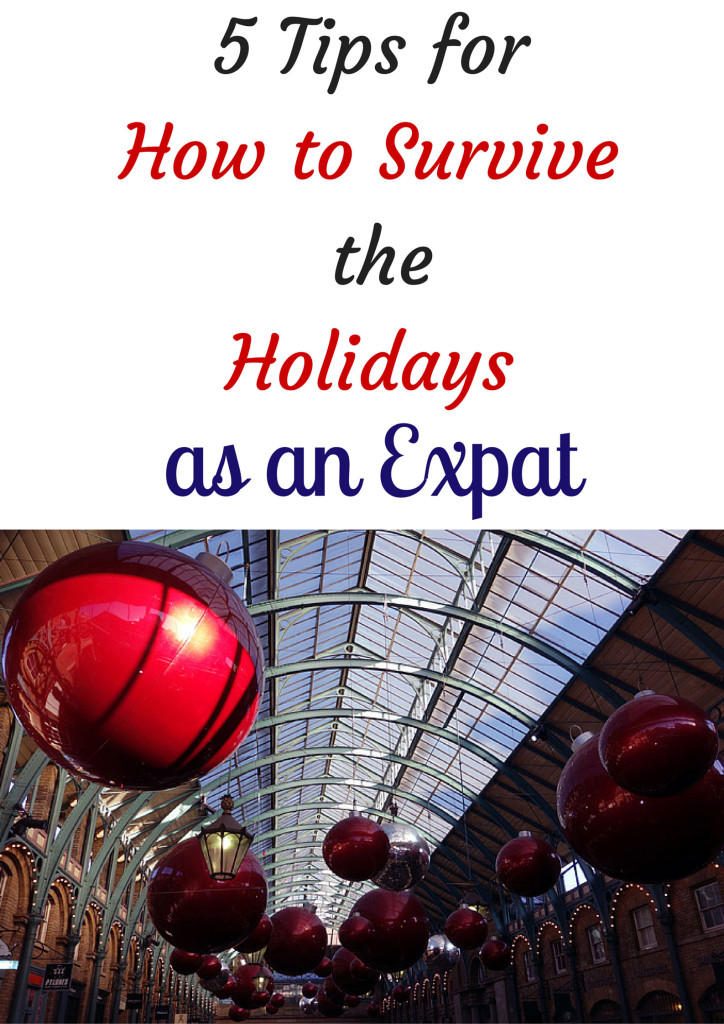 1. How to Survive the Holidays as an Expat: Embrace the Place
You wouldn't have left your home country if you weren't adventurous and excited about other cultures and traveling. Remember that during the holidays.
Embrace all that your new location has to offer. For example, this year for the holidays in London I've decided to spend several days a week in November and December seeing sights and doing activities that I could never experience in Florida.
In October I researched when all the neighborhoods and streets I love were turning on their Christmas lights and having launch parties to celebrate the event. I tried to get to each one on the day it happened or soon after.
Next, I focused on ice skating. There's no way I'm going to step on to the ice myself. However, ice skating seems like a fun (and definitely romantic) holiday activity. Seeing people enjoy it is very exciting to me.
In my home state of Florida, there are no outdoor ice skating rinks, even in December.
My research lead me to several other things to do in London for Christmas that I didn't know about (including the Hogwarts in the Snow Harry Potter Studio Tour). Many of the activities I found are free too!
2. How to Survive the Holidays as an Expat: Get Up and MeetUp
I've always been keen to gather expats together for social events. Most recently I organized a fun, casual dinner for 7 American expats I've met as a London blogger.
We agreed to leave the cameras outside and met at Dirty Bones in Kingly Court of Carnaby in London last week.
During our evening, we talked about being married to British men, UK Schools vs American, benefits of acquiring UK citizenship, and confusing things British people say and do. BTW American friends from dinner, I still can't figure out the different interpretations you suggested for closing an email to a British person… 'Kind regards'?
If aren't a blogger and haven't connected with people through that pathway, you should investigate Internations. I've attended a few of their events and definitely recommend it to expats in large cities all over the world.
You might find it's more for single people, but if you're an expat living on your own in another country this will likely be your target audience for friends, so give it a go!
3. How to Survive the Holidays as an Expat: Get Crackin'
It helps to learn about your new culture as quickly as possible. While you're making friends from international backgrounds, don't forget to integrate the new ideas of your resident country. Learn about how people celebrate Christmas or other holidays in this town and see if you would like to adopt any of these activities as new traditions.
In England, I've become quite intrigued with Christmas Crackers, even though at first I thought they were really silly.
4. How to Survive the Holidays as an Expat: Make and Bake
After three long years of waiting for all my personal belongings to arrive in London, I will finally reunite with the contents of my townhouse in the US in mid-January 2016. I'll write a blog post about the international shipping process later, as well as a review of the international shipping company I am using. I'll include why I've waited three years to send all of my items in these blog posts too.
When my 45+ boxes arrive in London, I will finally have all my baking pans and dishes that I used faithfully every year in America before I moved to London.
This means next year I will be baking all my favourite Italian Christmas cookie recipes for my husband (Mr. Sunny), his family, my friends, and all his work mates.
If you like to bake and cook, this is a great way to make the holidays special no matter where you are. Yes, you'll have to struggle a bit to find all the ingredients to which you are accustom, but along the way you may learn about some new ones that might spice up your life too!
Now, I just have to hope that all my roasting pans and cookie sheets fit inside my tiny London oven!
5. How to Survive the Holidays as an Expat: Find Your Flicks
When I'm not out exploring London's Christmas events and I want to avoid the holiday crowds, I watch Christmas movies from America in my flat so I can be in the holiday spirit.
Unlike in America, Christmas specials and movies aren't on often in London, so I have purchased many American Christmas Movies through Amazon UK
. I lost count how many times last year Mr. Sunny watched Fred Claus
with me. It's my favourite.
How to Survive the Holidays as an Expat: Final Thoughts?
Sunny friends, those are a few tips that work for me during the holidays living as an American expat in London. Since I really do believe that it helps to make virtual friends in the expat community, I'd love it for you to leave your strategies below.
Please make sure to include where you are from and where you are living. I look forward to everything you will share!
You can find more of the blog's Christmas features here. There are also many posts on Expat Life too, plus one that includes an international shipping discount. If you're interested in a weekly newsletter about London and don't want to miss any Sunny news, you can subscribe here.
Happy Holidays!