How to Find a Flat in London
How to find a flat in London can be one of the biggest challenges, when you first start planning your move. In America, I felt the rules were pretty simple. You search online and look at different apartment complexes, take virtual tours, and set up an appointment to view a unit that you like.
Easy peasy.
When I moved to London as an American expat, the steps and obstacles for how to find a flat was something I didn't realise would be such an exhausting process. After going through this three different times, I can offer some moving advice to those considering or planning a move to London. In fact, I put together a video with 10 Tips for Finding a Flat in London and have an additional five to share below. So, if you keep reading and watch the video, you'll have 15 tips for how to find a flat in London!
1. Find a Flat in London- Rent Prices
London is known for having some of the highest rent prices in the world. Brace yourself. It's next to impossible to live in Zone 1 now. When I first moved to London, I lived on the edge of Covent Garden. Those days are clearly over. In fact, it's even a little tough to find affordable, reasonable flats within Zone 2 currently. If you don't know what I mean by a 'Zone', you need to check out an Underground/Overground map, STAT!
2. Find a Flat- Share
To compensate for the ginormous cost of living in London, most people flat share. This isn't something for college grads. I am talking about adults that move to London tend to flat share when they first arrive because it means they have an opportunity to live closer to vibrant areas.
3. Find a Flat- Set Up Alerts
Properties also tend to go pretty fast once they are advertised. If your search involves something very specific, you'll find it's best to set up alerts with popular websites like RightMove and Zoopla. Those are the two that my husband, a man born in London, and I used each time we moved. Nestpick is another useful website for apartment search, as it is an aggregator – meaning it pulls various offers from different websites and provides you with a platform where you can sort through all the listings, searching by dates, dimensions, amenities etc.
4. Find a Flat- As It Is
Know that a landlord is going to show a property as it is. Luckily, more and more landlords these days are making investments in properties in different states and countries. When searching for a rental property, some landlords may not even live near to the flat. This ensures that the property will be shown in whatever state it's normally in, which is a benefit for the potential renter.
In America, I was felt that an owner would fix up a few things (or more depending on what damage the previous tenant did) before putting a rental on the market. That is not the case in London. If you watch the video above, you'll learn what you can do to get around the fact that some things need to be done before you sign a contract.
5. Find a Flat- Your Neighbors
Just because you choose a gorgeous г3,000 a month flat in a nice neighborhood doesn't mean your neighbors are of the same caliber as you. Landlords who own multiple properties are required to rent a percent of them to people on benefits. While landlords still receive the rent amount, it is subsidized by the council. This means your neighbors could be living in a flat just like yours and not pay for it. Their lifestyle could likely be very different from yours.
More Advice About How to Find a Flat:
I have found that utilities like water, electricity and mobile phones are much cheaper in London. If you've lived in America or another country, what questions do you still have about the process after you've watched the video above? Do you have any additional advice or experiences you can share for people who read this and need help? Are there other websites you found useful?
The blog also has a Guide for Americans Visiting London which is a collection of the top experiences I recommend. You'll definitely want to bookmark it and visit the Pinterest boards created to help with your planning too.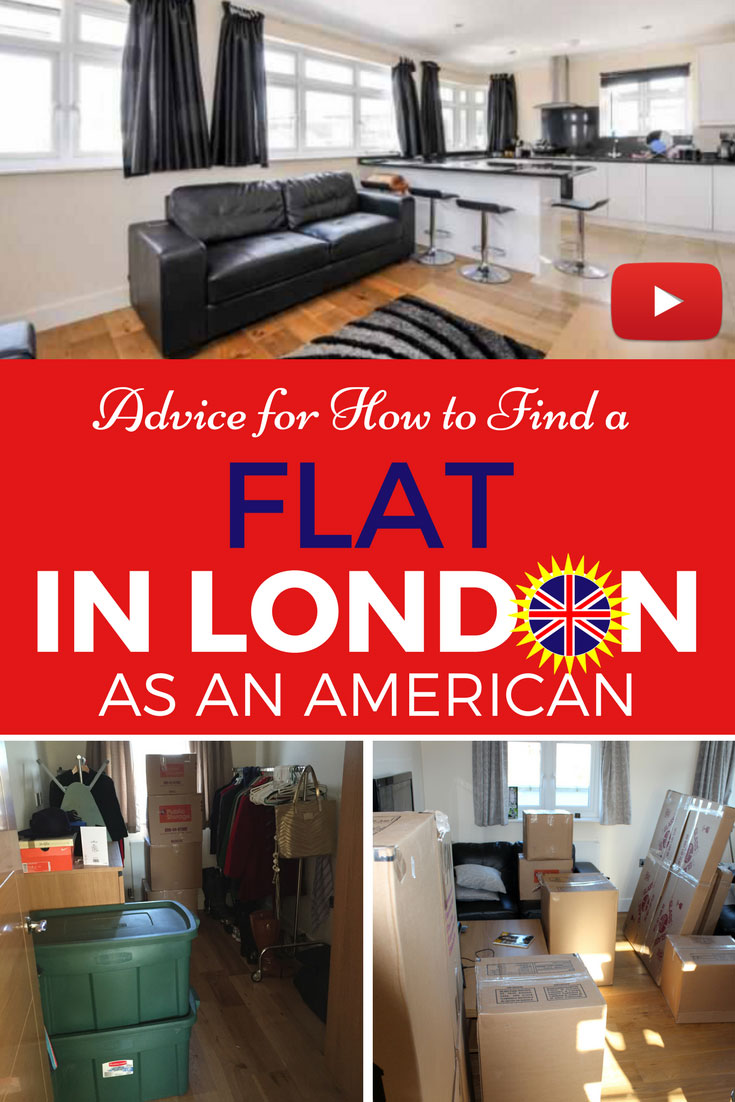 Related blog posts about Moving to London include:
Living in London- An American Rant
What Electronics to Ship When Moving to London
Advice for Americans Working in London
US vs UK Living- Kitchen Differences
UK Visas and Immigration Specialist Interview
Moving to London: What Household Goods to Ship
How to Have the Best International Shipping Company Experience
The Expat Chat playlist on my Sunny News YouTube channel is worth watching and subscribing to so you don't miss upcoming advice on living in London too! Here's an example of what you'll need to know about schools…